By Dhriti Gupta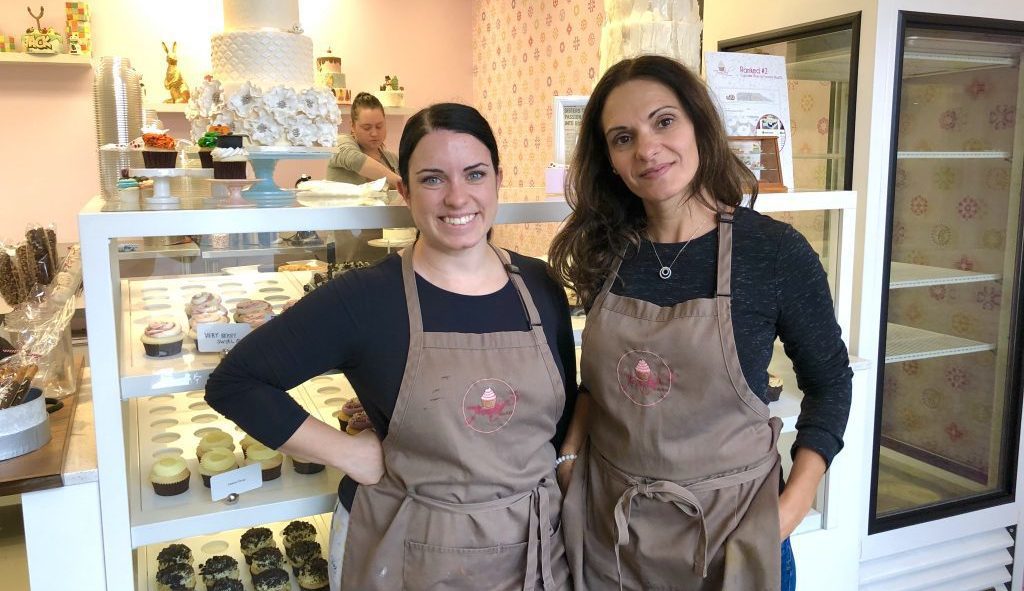 Somewhere in the east end of Scarborough, if you take an unexpected left turn just down the road from the parallel tracks of the rumbling GO train, you'll come across a small brick storefront nestled in the corner of Centennial Plaza. Tiered cakes covered in fondant and ribbons line the windows, carefully adorned with delicate sugar flowers and edible pearls.
Inside, Vanessa Abate has her back turned to the wooden counter with the cash register, fingers deftly adjusting the speed of a lime green stand mixer—one of the rainbow assortment of appliances arranged neatly along the back wall.
The smell of freshly whipped buttercream and vanilla fills every inch of the pastel pink interior. A lovingly illustrated chalkboard welcomes you to Simply Frosted Cupcakery, detailing the prices of a single, a half dozen, and a dozen cupcakes.
One would never have guessed that the unit used to be home to an optometrist's office, at one point lacking the glass display case that boasts rows on rows of tiny cakes of every flavour.
The transformation can be credited to Vanessa's sister, Enza Abate, who can be found through the sliding door that separates the office at the back of the store from the classroom filled with steel tables and cubby holes.
After 17 years of experience in the interior design business, there was no question that she was going to be the one to renovate the storefront when the sisters made the jump to a physical space for their then budding business seven years ago.
Back against a rolling office chair, Enza's fingers tap quickly at the keyboard, eyes flickering over client orders and consultation bookings on the screen. Handling client interactions has always been her strength, leaving the actual baking of the custom creations to Vanessa.
"Maybe they were just getting married and now we're doing like their second child's birthday…it's kind of cool to see them grow with us."
"We both know what we do well, so we kind of divide and conquer," Vanessa said. "To be honest with you, if it wasn't done with her, maybe we wouldn't have been as successful. We definitely have days where we want to kill each other, but I think that's just normal."
The bakery hasn't just grown with the sisters, but alongside the larger community—and even the GTA as well.
"We have the regulars that come in every Friday and we know their flavors," Vanessa said. "But we also have people that come from Brampton and Mississauga. We have a client that's been with us since the very beginning, and she travels all the way from Hamilton."
Vanessa says she loves watching their returning clients go through different phases of their lives.
"It's really cool just to see repeat clients from seven years ago, maybe they were just getting married and now we're doing like their second child's birthday, or a baptism for them. So it's kind of cool to see them grow with us."
In every aspect of their business, Vanessa and Enza do their best to foster a special sort of familiarity with their clients. On their five year anniversary, they sent out a mailer to the whole neighbourhood inviting everyone to join them for a celebration, complete with prizes and free cupcake decorating lessons in their classroom.
Vanessa says she and Enza wanted to take the time and thank the community for their support and take the opportunity to celebrate this big milestone.
"They say like 80% of businesses will close within the first year, and a good percentage won't make it to five years," Vanessa said. "So coupled with the fact that we are two women, in the food industry, it's huge."