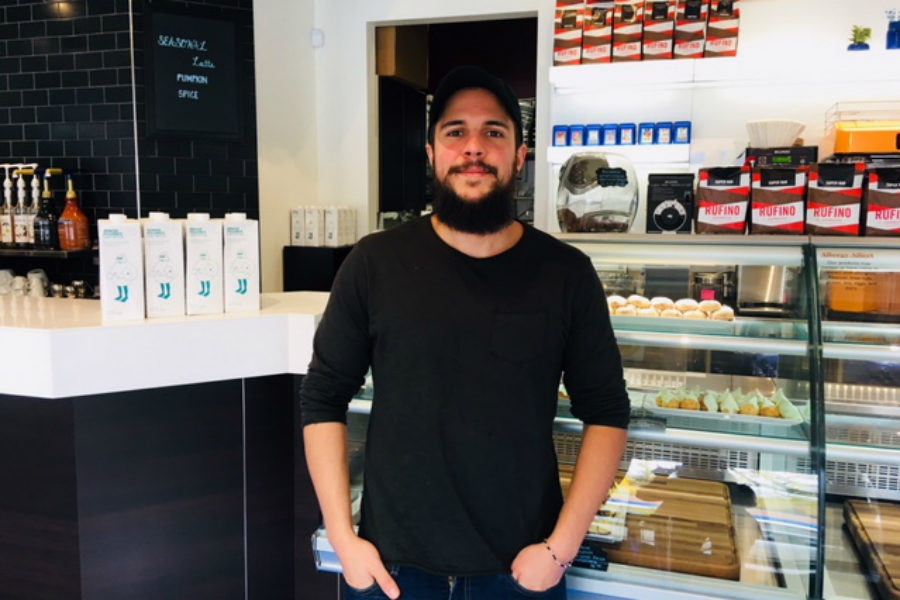 By Yasmeen Aslam
People do not have to go far to grab a taste of gelato — it can be found through the talent and creativity of one person in a Canadian town. Walking down the calm streets of Oakville, a large, lime green ice cream cone can be seen hanging on an angle from the side of a shop called 'La Dolce Vita'.
When entering the shop, the chime of a bell is heard and bright splashes of abstract paintings add life and colour to the dark blue walls of the café. The light sound of pop music can be heard playing in the background. Soft and smooth mounds of creamy gelato sit in an array of containers within a large glass case along the counter.
Behind the counter, a bearded man wearing a baseball cap, black shirt, and jeans stands while smiling. He scoops out a large amount of orange coloured gelato into a wafer cone for an eager customer and the flavour is pumpkin spice — a creation introduced for the fall season. That man is Chris Iannuzzi and he opened La Dolce Vita, which means "the sweet life", in 2014 with one purpose in mind: to introduce his Italian culture to the town of Oakville.
Growing up in Oakville his entire life, Iannuzzi realized that there weren't any gelato shops and Italian cafés where he lived. Coming from an Italian family that is both passionate about their food and culture, Iannuzzi wanted to emulate that through his own gelato shop and café.
After graduating from Sheridan College, he opened La Dolce Vita with hopes of bringing a taste of Italy to Oakville. Iannuzzi came up with the name after spending time in Rome, where there was another café with the same name. He was also inspired by the Italian film La Dolce Vita and knew right away that was the best choice for his café.
Gelato is the main attraction at La Dolce Vita and Iannuzzi creates a variety of flavours, some new and some traditional. He crafts his gelato from scratch, making sure his customers can taste Italy in every bite.
When asked what flavours he would recommend, Iannuzzi declares two without hesitation — Sicilian pistachio and Piedmont hazelnut. He says that the nuts from both flavours come directly from Italy, proving that his gelato is literally a taste of the country. "Our recipes are traditional Italian recipes, so we make sure the ingredients reflect that," Iannuzzi says while smiling.
His gelato continues to attract a wide array of customers — some even come all the way from Buffalo, N.Y. to get a taste of his creations. As for the future, Iannuzzi hopes the success of La Dolce Vita continues to grow. "I hope people come from all over to gather here and try our gelato. I would just like to keep it up and continue to keep people happy with our products and service," Iannuzzi says with pride.