By Alya Stationwala
Taking the deep dive into one's creativity starts once an artist finds comfort in themselves and their space, something Leslieville has offered Toronto musician, Moonjali.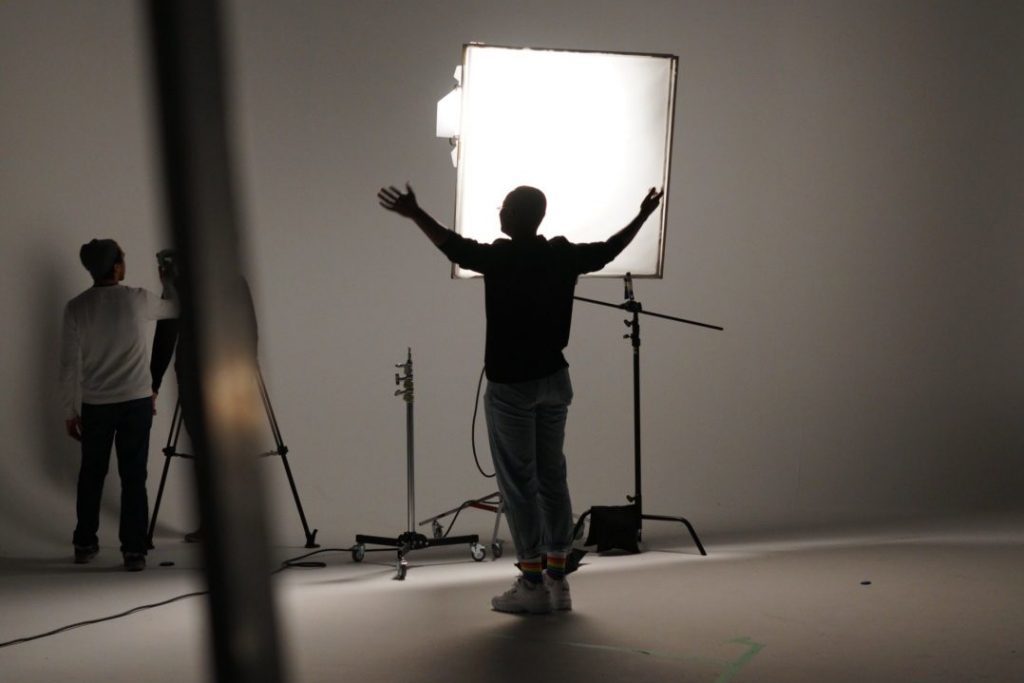 The black door hangs slightly ajar and the chemical tinge of fresh paint fills the air. It's dark except for two lights shining onto the set, bouncing off the pure white of the walls. In the back corner stands Moon, his shadow casting a harsh contrast on the floor. His song blasting on the speaker, you could barely notice the directors discussing how they're going to frame the shot. Drowned out by 'White Lines', his shadow starts to dance along the walls, softly swaying to the beat. The light begins to pulsate, matching the rhythm of the song, defeating his silhouette while the glare on his sunglasses takes over. The camera sits comfortably on a black tripod that stands across from Moon, seeming to dictate his movements, and yet he looks so free as he dances, getting lost in his song. His rainbow socks offer a pop of colour to follow as he floats around carelessly, enjoying his moment in the spotlight.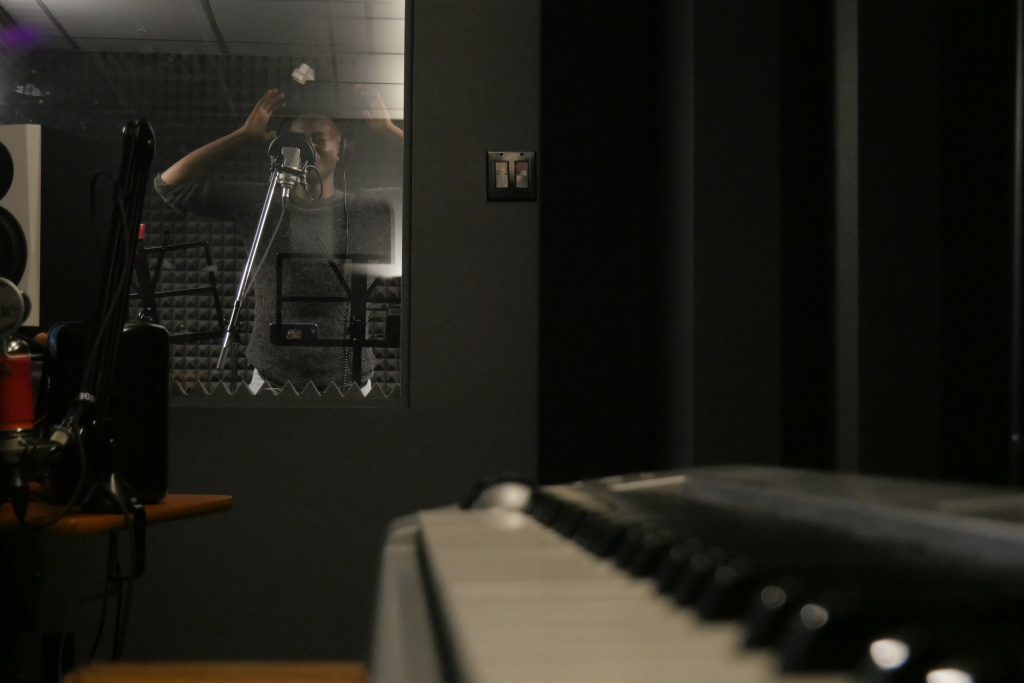 Mondjali Milton Mayenga Benzu – stage name Moonjali or Moon – has had a passion for music his entire life, but at 15 he missed his shot and has spent the past eight years building himself back up. Now in Leslieville, he has found a home where he can cultivate his creativity and talents without the weight expectation bringing him down. Now, it's his turn to focus on himself.
Growing up shy, he came out of his shell only in the arena of sports, telling his mom he wanted to be an Olympian. But in 2011, when Moon was 15 years old, a YTV singing competition called the Next Star caught his attention. He adopted the name Milly Benz and auditioned alongside 500 kids from the Montreal area in the show's nationwide search.
He recalls that he was still speechless much of the time, talking little with the other contestants because of his reserved nature. But during his first ever recording in a studio, it dawned on him: "This is where I'm meant to be."
The judges seemed to have agreed, because the young singer made it into the top six in the competition.
Despite the pressure of the camera focused on him, he sang endlessly, performing for the directors. He drank hot tea to keep his vocal chords going, but in the end he lost the competition.
With no winning title under his belt, he returned to the basketball court and the running track. His routine was four hours of training and weights after class every day, but even after the loss, Moon found himself skipping basketball practice to learn how to play Taylor Swift songs on his guitar. In grade 11, he quit his search for a gold medal to follow a different path.
After trying out university for a while, he dropped out to pursue music full time. Dubbing himself Moonjali – a variation of his first name built from the crescent moon shaped birthmark that follows the bridge of his nose to his eyebrow – he spent the next two years recording demos. Still, it wasn't until he moved to Toronto for business school that he met the person who would help him finally find his home.
Browsing through the food aisles in his local Loblaws, he was checking off his grocery list when he bumped into someone in the aisle. New to Toronto at 22 years old, Moon wanted new friends and he convinced himself that he should try starting a conversation. In a stroke of luck, it turned out that this stranger's mom was Adrian Sheepers, a production coordinator in Toronto, and when she noticed her son having a lively conversation, she couldn't help but join in. Moon found himself gravitating towards his phone and pulling up his "In the Life of" style YouTube videos. His voice and laughter beamed through the scratchy phone speaker as he showed his art to two soon-to-be friends. By the end of it, he earned a dinner at the Sheepers' house and through the potential she saw in him, he managed to win her over. A few days later, she took him to a project she was working on in Leslieville on the Revival Studios lot and he found himself across from the place he would soon call home. That day, Sheepers called a friend she knew who was into music, Adam Weitner, founder of AstroLab Studios and told him that she found someone he might be interested in. A few days later Moon met him, and Weitner became his official co-manager alongside Stuart Stone, a Toronto musician and filmmaker.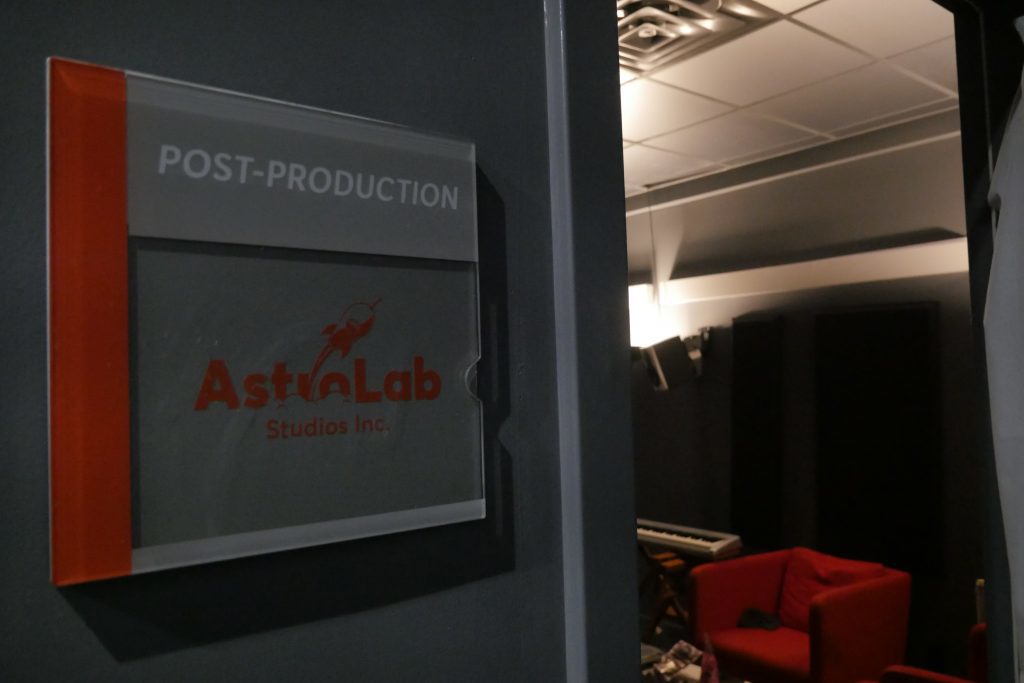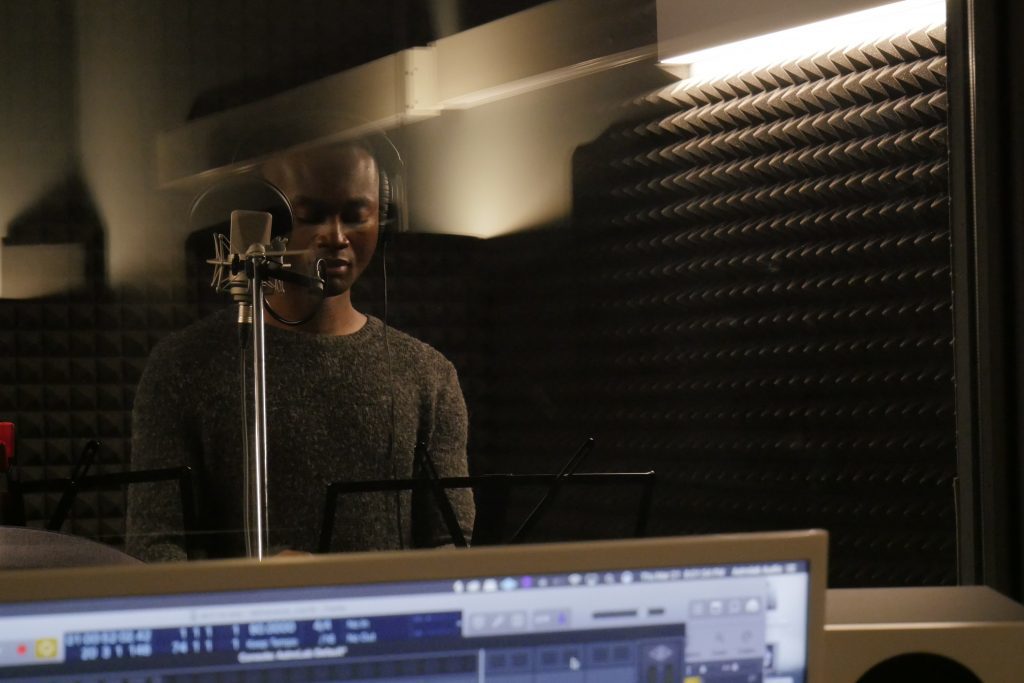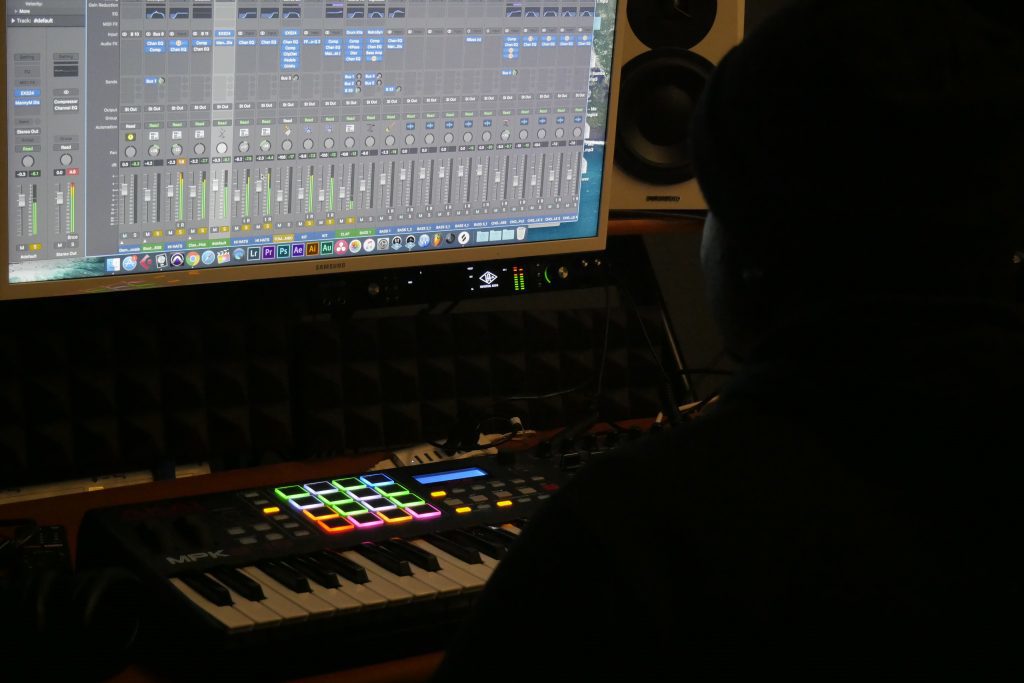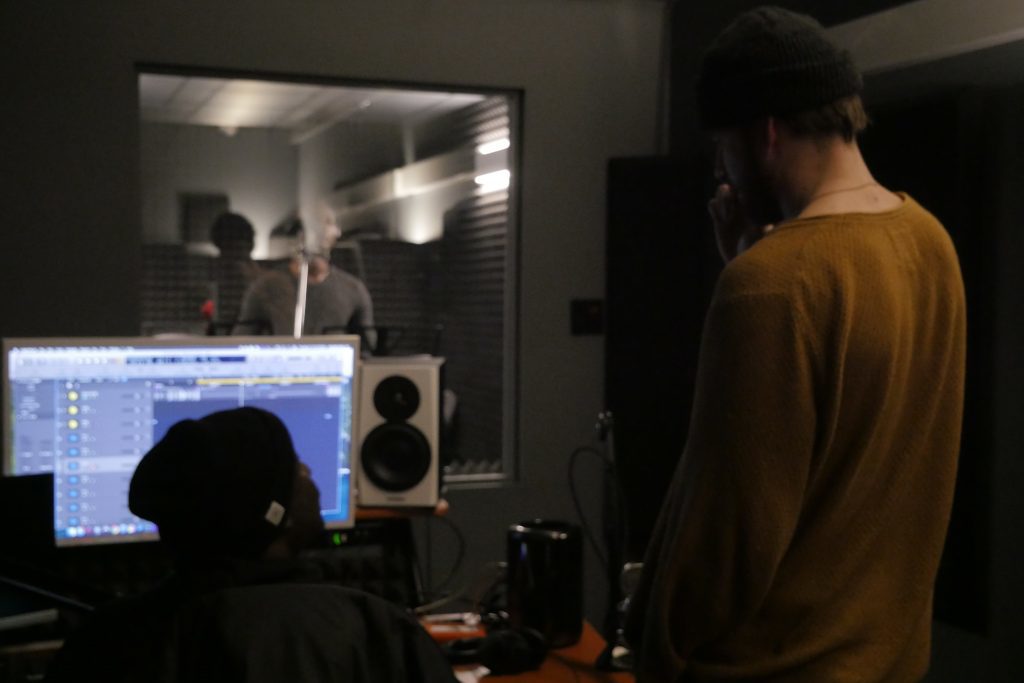 At Astrolab, Moon found a place to balance his life and passion. The studio was new on the market when Moon came into view, just two years old, and together they've flourished artistically.
When Sheepers called on that fateful day, Weitner, too, found an opportunity: to pursue his own passions musically, and through his studio, with the help of an artist who is just starting to come into his own. He created Astrolab to provide on-demand space for artists and had found himself moving increasingly towards music in the Leslieville neighbourhood which is already brimming with businesses devoted to the film industry.
In the studio, Moon's wrote his single 'White Lines', reflecting back on a time when he was struggling and looking for ways to find a confidence he wasn't even sure was within him.
His eyes shift downwards as he tries to change the subject from that part of his past. The birthmark wrapped around his eye creates a dark shadow on his pupils, getting rid of the natural shine. He hesitates before he manages to find a path around delving into things that happened before he got to this point in his career.
There was a time in his life when things weren't so positive – when sad songs filled his playlists and lyrics poured out of him in a different tune. However, during a recent session in Weitner's studio, Ariana Grande's 'Sweetener' played on full blast between takes as he laughed about how much he loves his socks.
The way his soft smile and the deep timbre of his laugh brightens a room makes it hard to picture the pain that might lie behind. Moon has shifted his muse from sad tones dictated by other people to
writing
about his personal growth – self-love.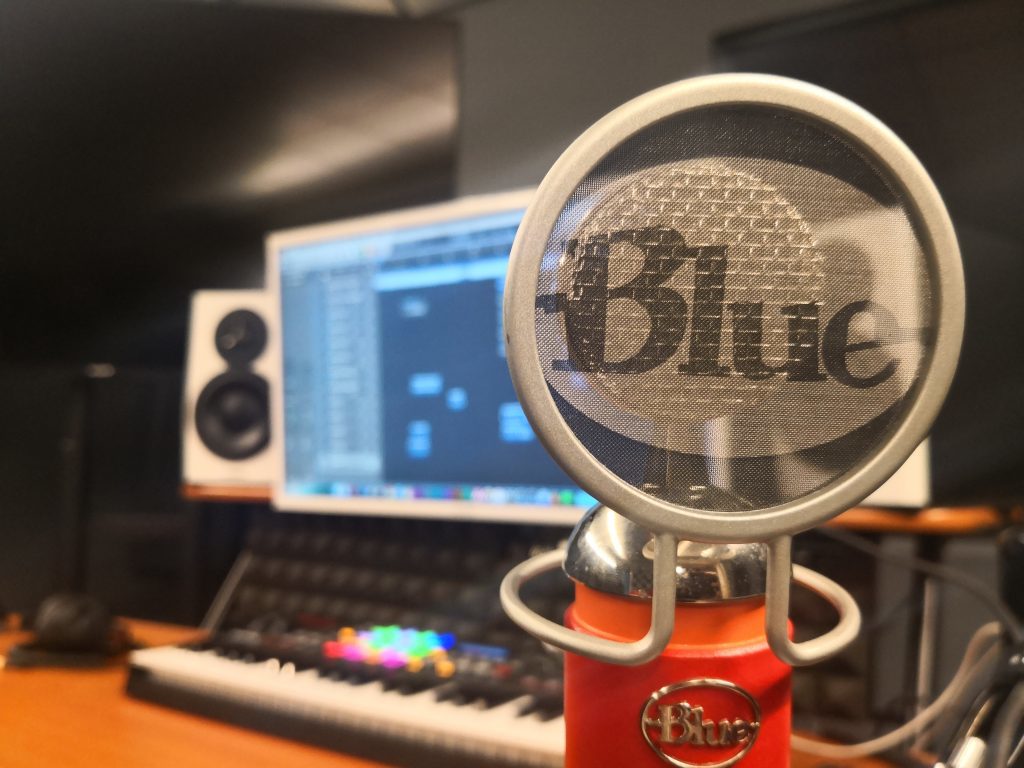 Electrical equipment hangs from the ceiling and wires snake around the floor, but there is no sound. All there is, is Moon. His smile radiates as he uses the creative space, making the most out of the three hours he has. His mouth mimics the lyrics as they repeat over and over, but he never stops dancing. He is all there is in a sea of white, like a fish in a tank, free to go where he pleases as long as it's still within the frame of the camera. And yet, there is no hesitation or missteps in his movements. His hands swim through the air and head bobs to the soundwaves; his confidence beams through the harsh lights. Then the music abruptly stops. Out of the shadows, behind the camera, Adam asks, "Can you try it again without the glasses?" Moon smiles and replies, "Fine, as long as we get shots of my socks."
Here is the official video of Moon's first single, 'White Lines'.