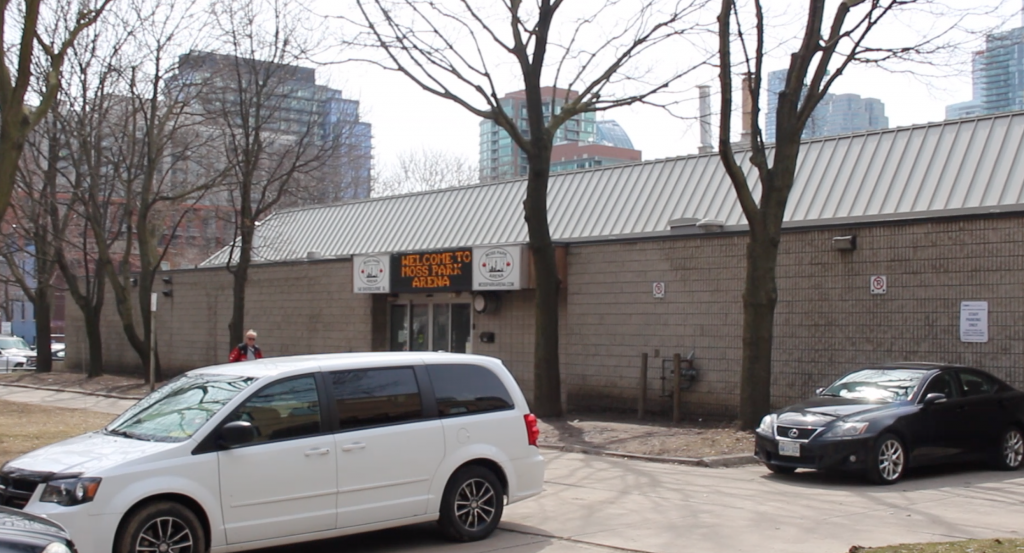 By Lara Kuipers
The
automatic
doors zip open. Red and blue paint covers the walls. The smell of sweaty equipment, cold air, and something musty fills the room. It's the typical scent of an old hockey rink. A quintessential "barn" known as the Moss Park Arena in Toronto's downtown core.
Hockey bags and sticks are piled in the corners of the front foyer. The skates being sharpened, almost like a roaring chainsaw, echoes through the halls from a small skate shop at the front of the arena.
It's slightly chaotic at the rink this Saturday afternoon. The sound of hockey is competing with parents chatting and kids running around. It's a place where everyone knows everyone.
Jogging back and forth from the John Innes Community Recreation Centre beside the arena, in blue jeans with a pink sweater tied around her waist, is April Hodgins. She's been the convener of the league for three years and the unofficial for a few years prior.
It's a busy day for Hodgins as she keeps an eye on the games while also presenting medals to the Timbits players at their end-of-year banquet in the gym of the rec center next door. Little boys and girls no more than eight years old eat pizza off paper plates as they wait for their team to be called up. Not long after, Hodgins is back at the arena where the current game is reaching its midway point. This hectic routine goes on all afternoon.
For Hodgins and other members of the Moss Park House League, it's just another regular Saturday at Moss Park Arena for this unique league. Unique because it's a completely free league, one of only a few of its kind in Canada. It was created for kids in the area who can't afford to play organized hockey. They don't have the newest, shiniest equipment, or even a fancy arena to play in, but to these kids, it doesn't matter. For them, the beautiful sport of hockey allows them to have fun, stay safe, and dream big.
Currently, the league has about 280 kids registered from ages roughly 3 to 16. The players are divided into four
divisions
based on age and skill. These kids and their families take part in
fundraising
activities such as bake sales and auctioning off signed jerseys to help defer their costs. Earlier this year, they received signed Auston Matthews, William Nylander and Nazem Kadri jerseys for auctions. The ice time they use is
donated
by the arena and the league provides donated equipment to players. According to Hodgins, about 50 to 60 per cent of the players in the league rely on that donated gear. When it's not being used, it's kept in an equipment room in the arena.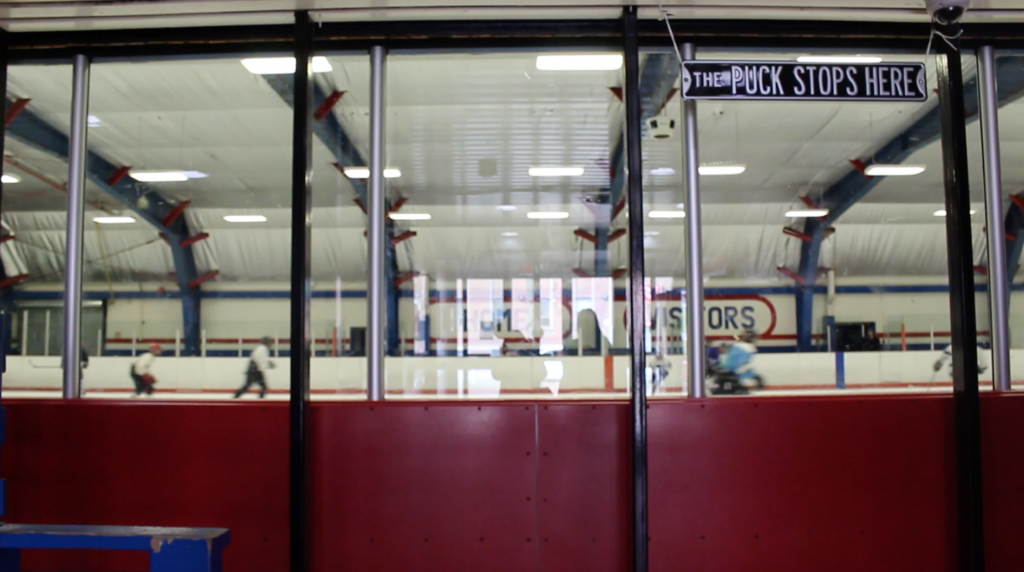 The league also has a few special events including their own all-star game, outdoor game and a skate with Santa. Hodgins says
NHL players
Connor Brown, William Nylander and Frederik Andersen stopped by for the skate with Santa organized through Bauer a few years ago.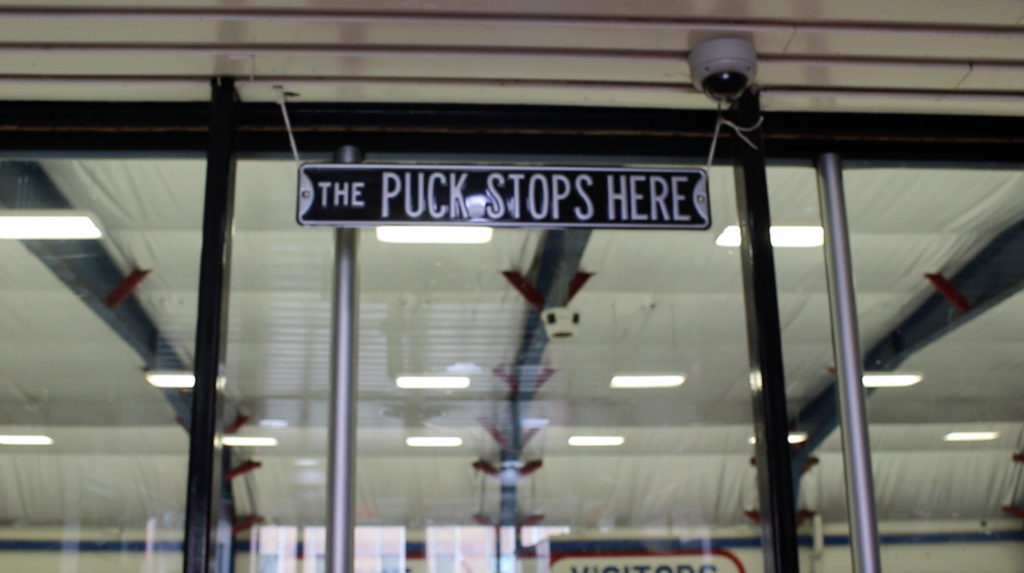 However, a visit from players of that calibre is not so unusual for the league, as another player stops by once a year. Instead for this player, it's more than just a visit to an arena – it's a visit back home.
Glen Metropolit, now 44, was seven when he started playing in the Moss Park House League. It was the first league he played in. Eighteen years later he was playing in his first NHL game. He would go on to play just over 400 games in the NHL with seven different teams before playing professionally in Europe. He retired in 2017.
Before he was under the fancy lights and cameras of the NHL, Metropolit was just another kid in the league. He recalls his first day, an early Saturday morning in the 1980's. His mom took him to the rink, but she didn't know how to dress him up in the equipment, so someone at the rink had to walk her through the steps. She had dressed a young Metropolit up when they realized he was missing the cage to his helmet. With his face exposed, he went on the ice anyways. As luck would have it, he took a skate to the mouth, cutting open his lip.
He remembers going to a birthday party at McDonald's immediately after. "I had a Happy Meal and I remember the salt from the fries killed it," says Metropolit.
Still, he went back to the arena every Saturday morning after that to play the game he loved. For him, it was more than just a place to play hockey: it was an outlet and an escape. "That was what saved me," he says.
Now, he tries to make the trip up from Florida, where he currently lives, once a year to visit the arena, calling the rink and the league "something special."
While some, like Metropolit, have paths that lead them away from the league, others, like Jeff Heffern stay for decades. Heffern played in the league before transitioning into timekeeping the games when he grew too old to play. Now he teaches hockey schools and works at the arena, "I think I'm going to be a lifer here," he says.
Now at age 33, he has been working there for 18 years. He says he's been there for so long that kids who have grown out of the league themselves are coming back to tell him that he coached them or gave them their first stick when they were younger.
Jeff Heffern, Moss Park Arena employee for 18 years, shows what his work and the arena is like on April 2, 2019. After 61 years, Hodgins says the league has become multigenerational. Some of their coaches played in the league and some even have grandchildren playing in the league, but the league is always adding newcomers to their close-knit community as well. Hodgins adds that they have some children who've recently come over from Syria, and some children who hadn't seen ice before they were introduced to the league. She says it's giving children like these the
opportunity
to play hockey that's a driving force behind the league, "it's why we're all here," she says.
For other children, Moss Park has been their home for quite a while. Like 13-year-old Ethan Buckareff, who has been playing in the league for seven years. Ethan says it's the sense of community that keeps him coming back. "I've never thought about switching leagues," he says, standing rink-side in his full gear and holding his helmet, as the Zamboni does laps around the rink behind him.
One of the moments that make it so enjoyable for Ethan was the first time his team won a game. He recalls it being 3-3 when the final buzzer went, queuing them into an extra overtime period. After nobody scored in overtime, they went to a shootout, and Ethan's scored the game-winning goal. "I was very proud of that," he says.
While not all games are sweet victories like that one, even when his team loses, Ethan still enjoys playing. "We got destroyed," he chuckles with a big post-game smile, "but you know, it's all fun—the point of hockey is to have fun."