By Giulia Fiaoni
Rev. Gregory Daly and his partner are walking down a cement ramp and towards the basement of a church, wishing they had access to a space like this when they were young.

The muffled lyrics to '70s classic "Got To Be Real" by Cheryl Lynn seep out from beneath the doors where a sign that reads "Toby's Place: Mondays, 3:30-8:30 p.m." is hung.

They enter the basement and see a table at the centre of the room with two dozen chairs sitting around it. Across the room, two individuals are singing karaoke and practising their drag queen walk. They are feeling inspired by the film they had just watched, "Paris Is Burning," which documents the lives of New York City drag queens in the '90s.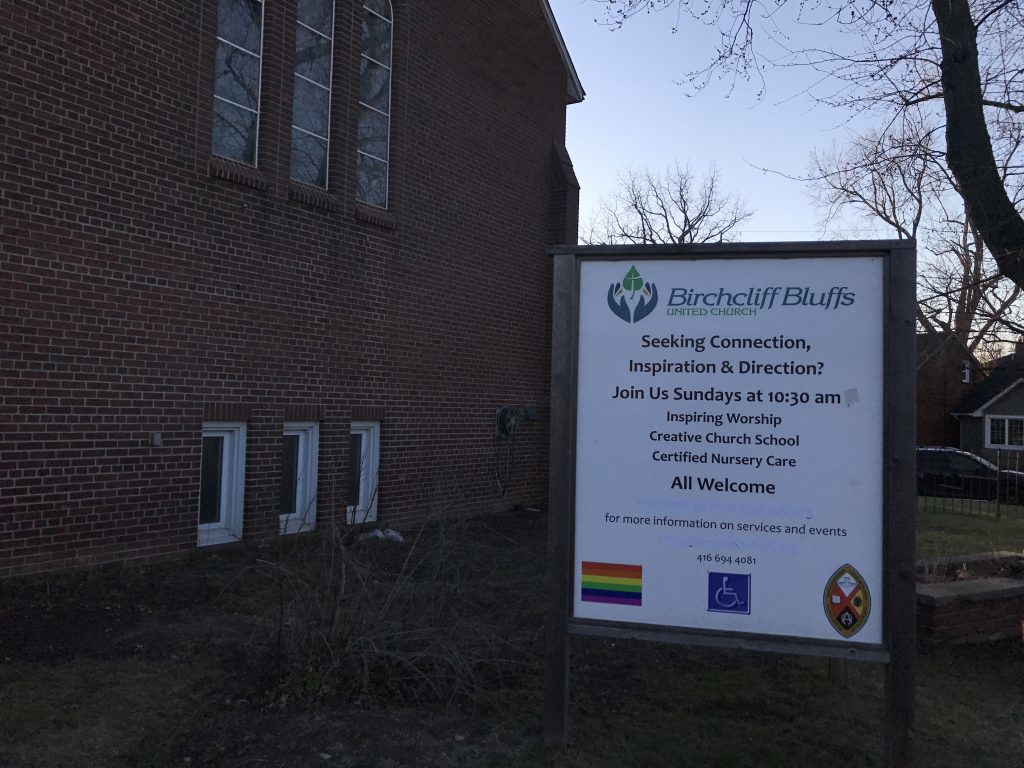 A diverse group of young adults fill the seats surrounding the table. They have just finished eating dinner – kale salad and vegan sausage. Over the music, they chat about recent news, school and their families.

Daly and his partner notice that the room is sectioned off into shared amenity spaces: a shower, the main kitchen, a boutique, and a hangout spot occupied by LGBTQ2+ pamphlets.

There is a quiet reflection area tucked away towards the back of the room, next to a washroom with a paper sign labeled "All Gender" covering the original plastic signage fastened onto the door behind it.

This is what a typical Monday evening is like at one of the only safe spaces identified for LGBTQ2+ youth in Scarborough, Ont. and something that Daly and his partner dreamed of decades ago.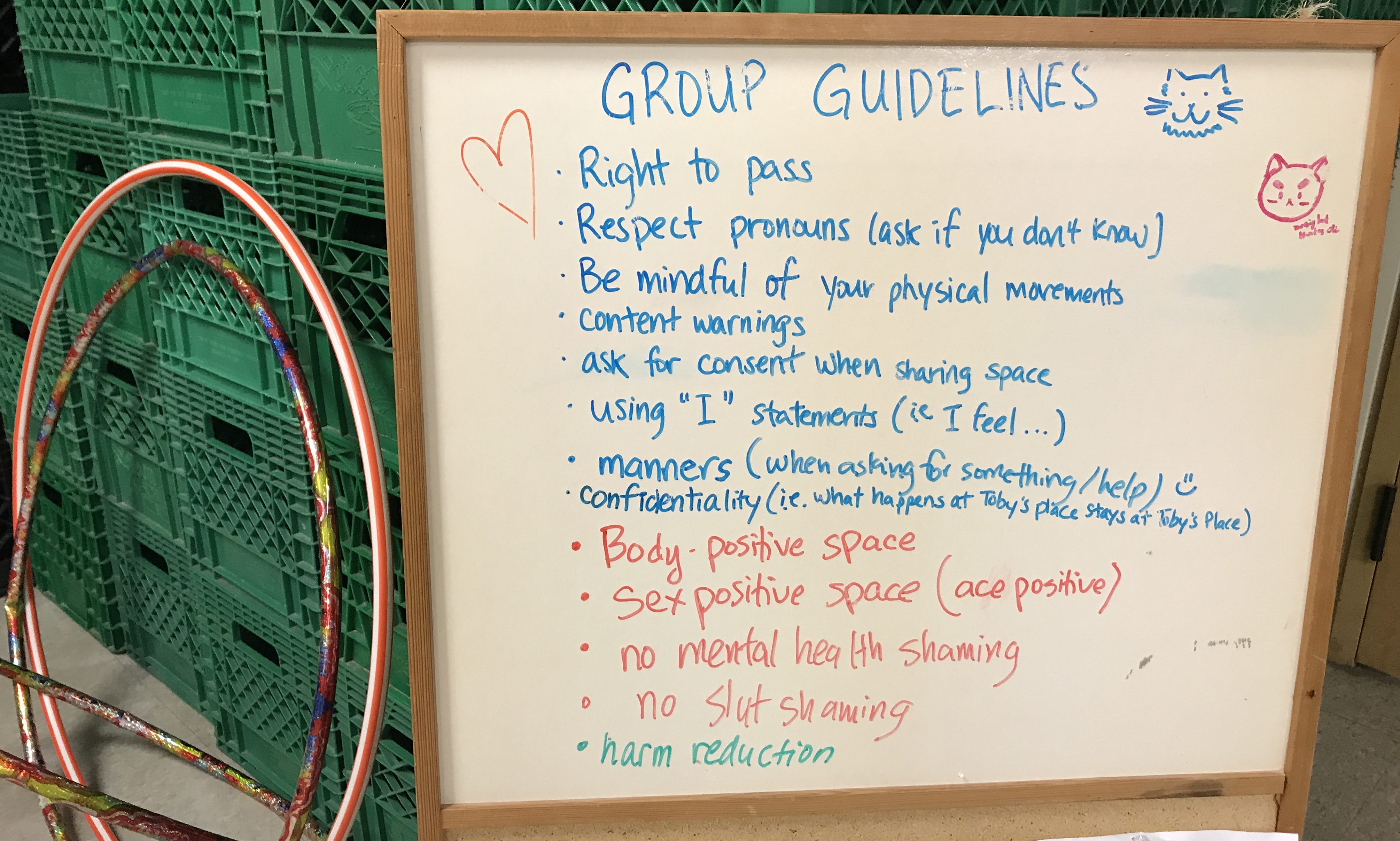 Toby's Place attendees practising their drag queen walk at BBUC on March 25, 2019. (Giulia Fiaoni/T·) // The group guidelines board at Toby's Place on March 25, 2019. (Giulia Fiaoni/T·)
Upon entering the space, Daly's partner immediately starts to cry. "Oh my god, I wish there was a place like this for me," he says.

Daly came out as a gay man in the early 1980s and his partner in the mid 1970s. He explains how it was an era where something like Toby's Place did not exist, especially not in the basement of a church.

After experiencing exclusion from his childhood Baptist church, spending 20 years as an urban planner, going back to school at age 50 at the University of Toronto, and graduating with a Masters of Divinity degree, Daly says he was feeling particularly called to minister at Birchcliff Bluffs United Church (BBUC).

He saw the intentionality behind BBUC's actions in publicly welcoming the LGBTQ2+ community through Toby's Place.

Now 56 years old, he is officially ordained as a minister of the United Church of Canada and started his position as the Lead Minister of Word and Sacrament at BBUC in February of this year.

"We're going to be public, and intentional about our welcome, so that people who have been specifically excluded are now specifically and intentionally included…that's what Toby's Place is about. It's about including people and saying, 'you are valuable, essential, vital, as a person, just as you are and you're welcome here.'"

The idea for the safe space came from a member of the church who realized that there were few to no identified safe spaces for LGBTQ2+ youth in Scarborough – a suburb of over 630,000 people. He believed that BBUC could provide the funding and resources for one.

The safe space was named in remembrance of Toby Dancer, who was an accompanist for the Emmanuel Howard Park United Church choir. Dancer identified as a transgender woman and was actively involved in the church until her death, caused by an overdose, at the age of 51.

Toby's Place opened in September of 2017 and is run by program coordinator Amanda Christie.

Christie spent months working through the details of what Toby's Place would look like. She runs the program every week with Dee, who works as the youth facilitator, and Ai, who volunteers.

The three of them set up the space, run workshops ranging from self care to salsa dancing, cook dinner, and take part in group and one-on-one talks with the attendees, all within a few hours every Monday. At around 8:30 p.m. they pack everything up and into the back storage closet until the following week.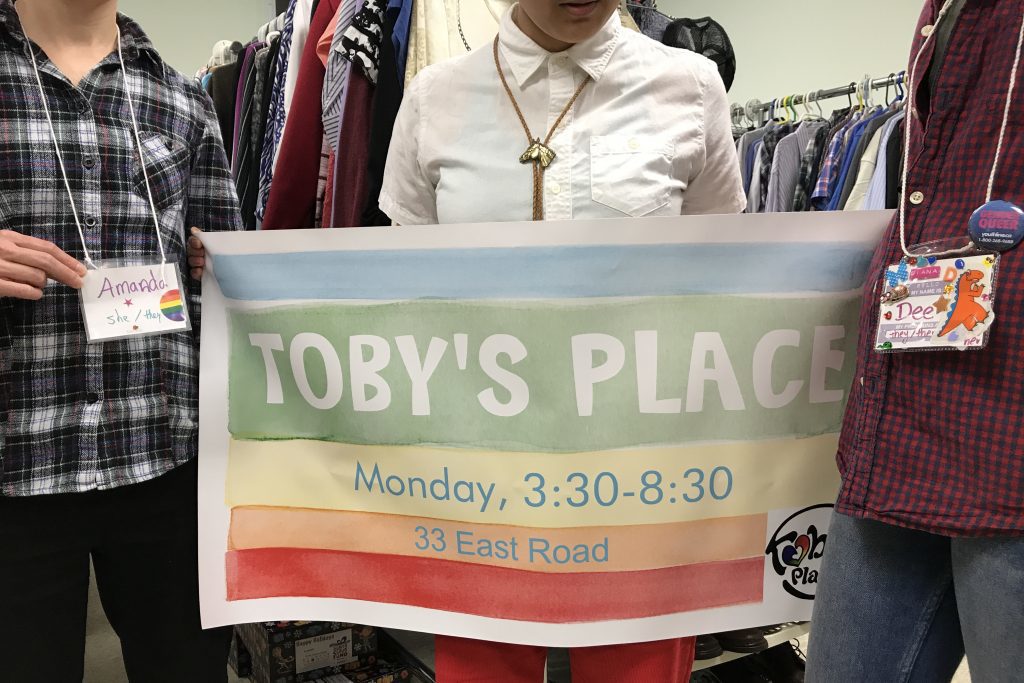 A frequent attendee of Toby's Place is Sky-Ravinn Ffrench, who commutes over 40 minutes every Monday to get to BBUC. She is in her Grade 12 year at Wexford Collegiate School for the Arts and has been accessing the safe space for about a year now.

Ffrench lives with her grandparents, who struggle with understanding her sexual and gender identity as a gender-fluid, bisexual person. Every week, she tells her grandparents she's volunteering at the church, but instead Ffrench uses the safe space for herself.

"They don't get the gender fluid part. They've registered the bisexual part and then just pushed it out of their brains, so they're just like 'Oh yeah, she just has a lot of gay friends and borrows my ties sometimes.'"

Besides her grandpa's closet, Ffrench also gets the ties she wears from the church boutique at Toby's Place. Everything within the boutique comes from donations given by BBUC churchgoers and those living in the surrounding community.

As Ffrench walks around the boutique, she points out that the multi-coloured jacket she is wearing is something she had found in the boutique months ago.

She strolls over to a hanger full of colourful ties and starts to sift through them while talking about her relationship with her grandpa.

The first time she wore one of her grandpa's ties, she was four years old. She was getting ready for school when she grabbed a shiny gold tie from his closet to complement her bright pink shirt. She was good at tying ties because she helped her grandpa pick out his outfit and tied his tie every Sunday before church.

Ffrench strutted around the playground that day, wearing the oversized tie, swaying down to her knees.

She remembers her grandpa picking her up after school and proceeding to yell at her for wearing his tie. At the time, she thought he was upset that she took it without asking, but years later she learned that wasn't the reason.

His experiences as a Jamaican man raised in the '40s was at the root of his concern for her that day on the playground. He worried that because she is a black woman, dressing masculine would create an opportunity for others to bully her.

Today, Ffrench's grandpa insists on helping her pick the right blazer and shoes to match the ties she still borrows from him.
While he does not fully understand Ffrench's gender fluid wardrobe, he tells her that if she's going to dress to stand out, she has to do so with confidence. She says that he's more supportive now because he's realized that she wears some of his ties better than he does. She smiles while saying this.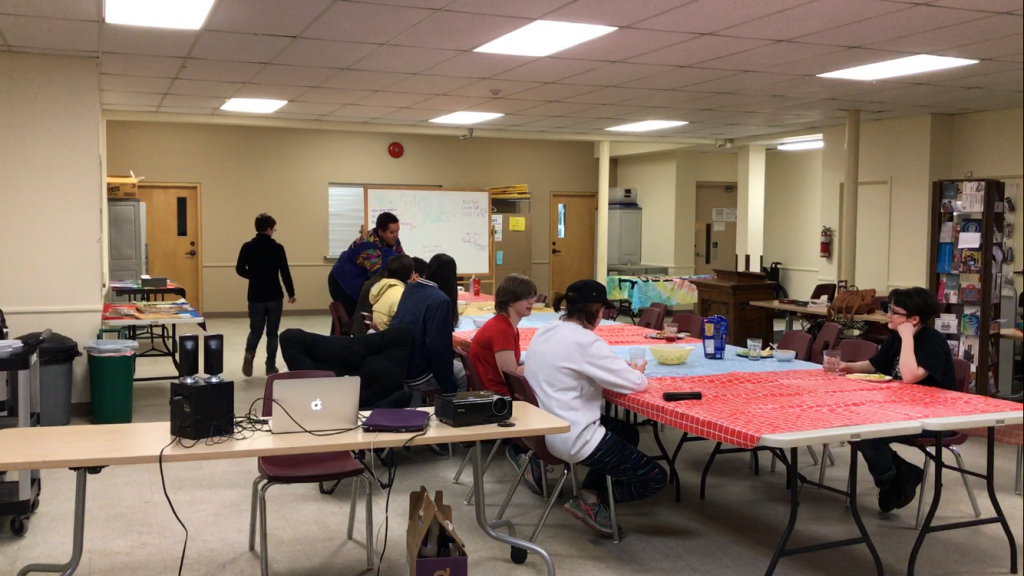 Another attendee's journey to Toby's Place started with a haircut.

It was just months before Colvyr (who uses the pronoun they) started attending Toby's Place when they found themselves roaming the shops of a Markham, Ont. strip mall.

They remember shaking as they entered an unfamiliar barbershop alone. They hadn't planned on cutting their hair that day.

Colvyr had gotten their hair cut just a few months prior, but were talked out of getting the cut they actually wanted and had been picturing in their head for years.

This time, they explained to the barber exactly what they pictured – cut short, right above the ears. Their hair extended past their shoulders at the time and the barber immediately questioned their request, but Colvyr was insistent.

They took off their glasses and put their trust into the hands of an unknown barber in a shop they had never visited before.

Today, Colvyr sits in the quiet reflection lounge on a bright red bean bag chair reflecting on that moment. They're also thinking back to the months following that day, the months when they started attending Toby's Place and their confidence was magnified.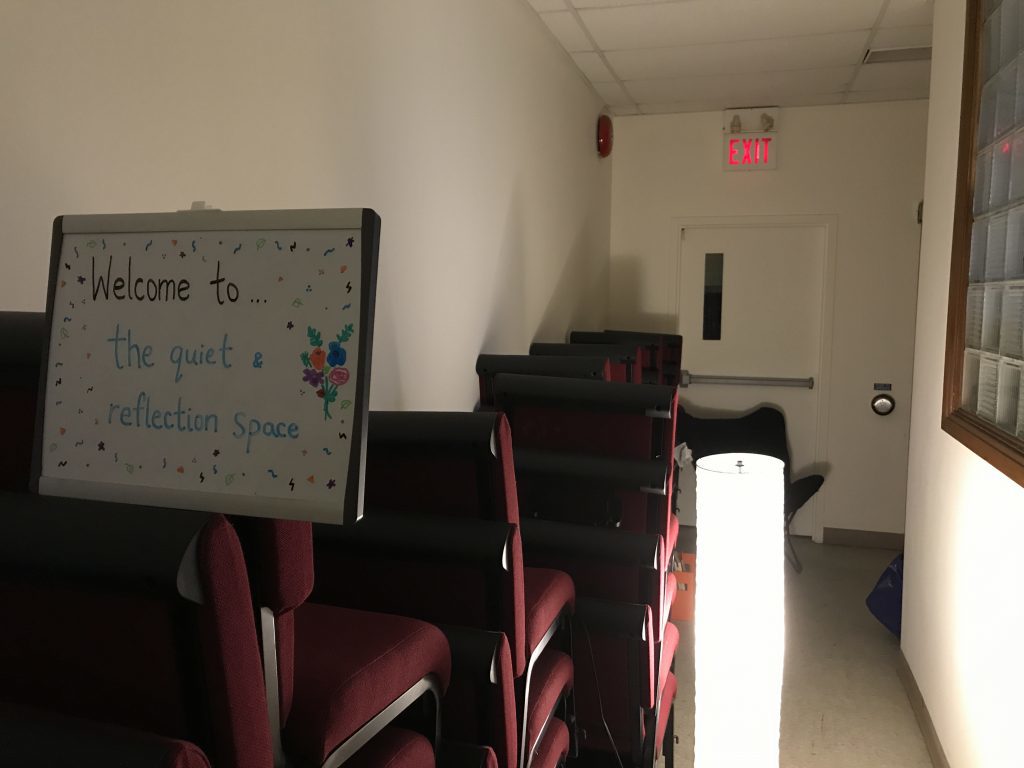 Colvyr reaches up to touch their hair like it had just been freshly cut again.

"Before I even cut my hair, it almost was like I was controlling someone else's body, because when I looked in the mirror, I had no sense of self. The funny thing is in Grade 7, when people started talking about self esteem, I was like, 'Oh, yeah, I have great self esteem. I don't hate myself,' when the actual reason was, I had no sense of self. I didn't look in the mirror and see myself," they explain.

Colvyr says that they saw themselves in the mirror for the first time that day of the haircut. The feeling reminded them of when they're taking a test and know they've answered the question correctly – it just felt right.

Colvyr is 16 years old and also commutes roughly 40 minutes to get to Toby's Place each week. They attend Bill Crothers Secondary School in Markham, Ont. and take the GO Transit train from school to BBUC every Monday.

As a transgender, non-binary person, Colvyr explains how the haircut is the first of a handful of changes they hope to eventually make to their appearance.

At the time of the haircut, they were not yet out to friends and family. The confidence to tell their friends came from spending time at Toby's Place each week.

To this day, Colvyr's parents are not fully accepting of Colvyr's identity and still call them by their birth name. Colvyr says that they feel at peace when visiting Toby's Place, knowing they will be seen as they are and called exactly what they prefer to be called.

Ffrench and Colvyr enter into Toby's Place each week feeling the same joy and acceptance that Daly and his partner were searching for decades ago.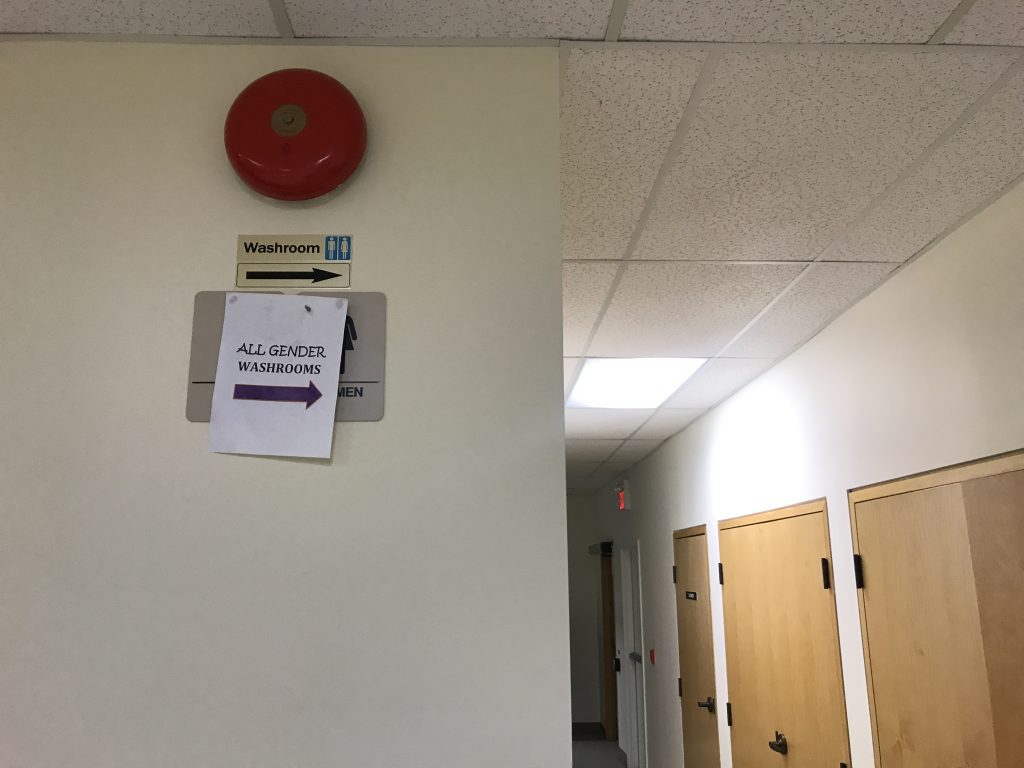 Only months into his position at BBUC, Daly feels encouraged by the space and is hoping to eventually be more familiar with those who are frequent attendees.
"My goal is that we're going to be able to enter into some kind of community relationship where we're safe to share stories, safe to share experiences, and safe to create new meanings together."

Daly understands and addresses the apprehension some may feel because of his influence as a church minister.

"Toby's Place isn't about building up the church from the standpoint of, 'Come to Toby's Place and come to church on Sunday.' That's not what it's about," he says.

"It's is about creating a space where people feel safe to be their authentic self and that just happens to be taking place in a church. I think it's important that it takes place in this church, at Birchcliff Bluffs, because we believe that everyone has intrinsic value, just as they are, and should be able to live authentically as they are, wherever they are, including southwest Scarborough."