By Shannon Schaefer
For Toronto woodworking entrepreneur Tom Fidgen, a violent wind storm that ripped through Toronto in 2013 was the beginning of the opportunity of a lifetime. The storm toppled a century-old maple tree in the city's Leslieville area – a tree whose bright red leaves inspired the song The Maple Leaf Forever, Canada's unofficial national anthem. Now, Fidgen owns several pieces of the historic wood.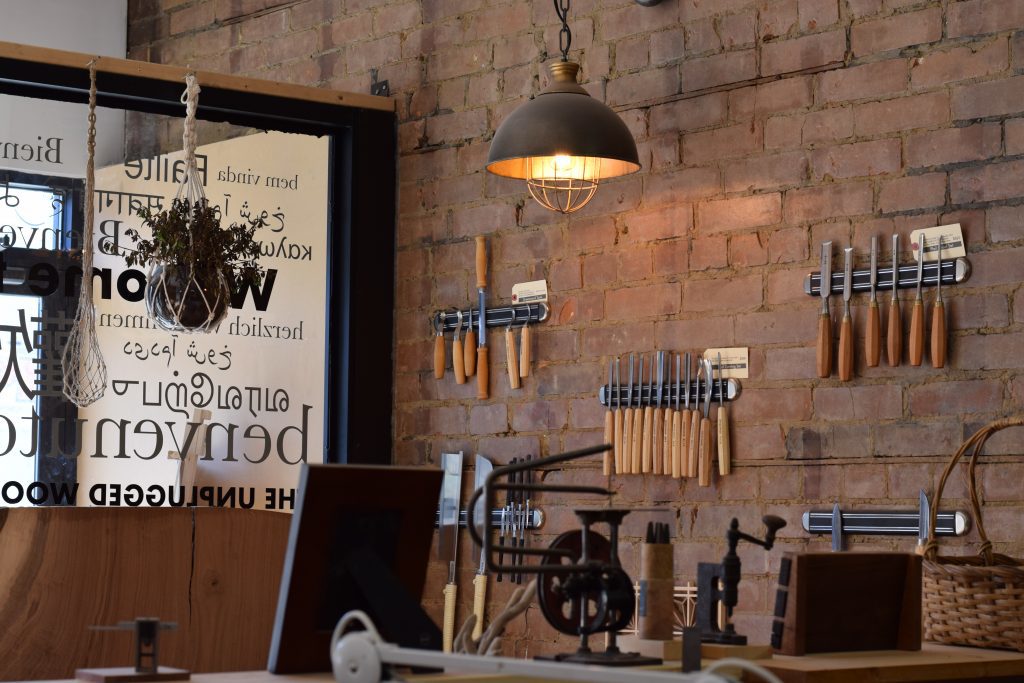 "The reason there is a maple leaf on the flag of Canada is because [of] Leslieville," Fidgen says as he leans forward on his wooden chair, focused on recalling the story that took place in the neighbourhood where he now operates a woodworking school and shop.
"Alexander Muir was the principal of Leslieville School … walking home from school one day, a maple leaf fell down and landed on his shoulder. He picked it up, went home and wrote Maple Leaf Forever which became the original national anthem."
"And now, we've got some of [that tree]," he adds with a pride-filled grin that brightens his face as he recounts his role in a special project that aims to make use of the remains of the once mighty maple.
Fidgen chose several pieces of the silver maple's long and bending limb wood which he will use to craft furniture for Ottawa's Library of Parliament. Currently, the long strips of wood are laid out inside a dark storage room where a delicate air-drying process will take several years to finish.
There are no chemicals involved in the process, but it is an intense test of patience – the project's success will depend on the quality of the wood, which will be determined by how it dries.
Limb wood is often under great tension, so the drying process is critical in preventing the wood from cupping and twisting when it begins to get carved. Fidgen explained.
Once he determines that the wood is properly dried, he will begin to handcraft multiple pieces out of the historic wood using his hand tools. His current project plans include a guest book stand and a lectern.
Fidgen's pieces will contribute to a projected total of 5,000 items that will be crafted from the wood of what had become known as The Maple Leaf Forever tree – including a bench dedicated to late NDP leader, Jack Layton, and a guitar for Canadian musician Colin Cripps.
This project will help to carve out Fidgen's legacy as a woodworker and is an opportunity that he welcomes with gratitude as it serves as recognition for his years of contributions to the woodworking industry – blood, sweat, slivers, and calluses included.
"When you're passionate about what you do, it doesn't feel much like work, does it?" he says with a slight laugh, his cheeks rising as he smiles and reflects.
Beyond the Maple Leaf Forever project, Fidgen owns a woodworking studio that specializes in hand tools. The black and white shop sits on 1028 Gerrard St. East where a thick bold font on the glass store front window reads "The Unplugged Woodshop" with a hammer and hand drill logo appearing above the words.
This is Fidgen's newest venture.
As you enter The Unplugged Woodshop and push through the swinging wooden doors, you are the smell of fresh pine and the chattering of students.
Glancing into the studio, a row of eight woodworking benches sit with pine bar stools tucked beneath them. The studio's white walls are decorated with rows of shiny and rustic-looking tools.
Fresh wood shavings and sharpened pencils decorate the tops of the woodworking benches where students have spent their day attending the Joinery Bootcamp. This bootcamp is one of Fidgen's, the lead instructor, most in-demand classes as it teaches the techniques necessary for furniture and cabinet making.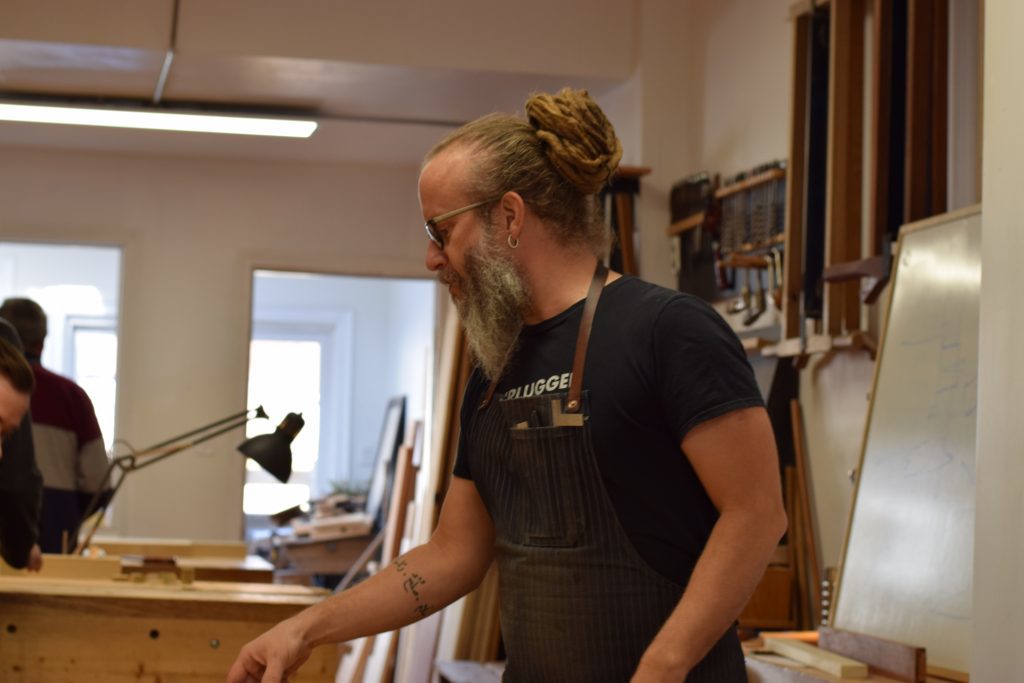 Fidgen, who stands tall with a blonde braided ponytail, greets every student with a smile as they return from lunch to finish their one-day learning experience. He remembers each student's name and personally addresses their work; the students respond with wide smiles.
As they grab brown-handled back saws and metal marking gauges, the students listen attentively as Fidgen resumes teaching. He speaks slowly as he explains the precise detailing the students must perform as they measure the next piece to their project – the students' do not lift their eyes off their work but they nod with understanding as they follow each instruction.
It may sound stressful but Fidgen's calm energy and the light background music that fills the studio help to create a tranquil environment – the studio's vibe is simultaneously focused and relaxed.
The students' projects currently look like ladders with three rings and two stabilizing frame pieces. By the end of the day, they will have attached a back leg to transform their project into a three-rung quilt rack.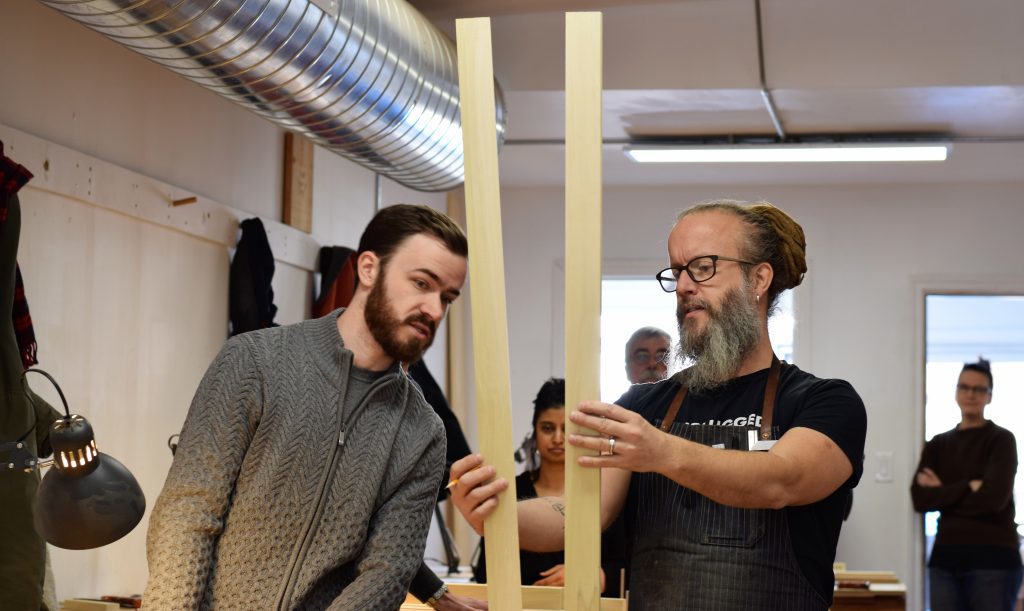 A glance around the studio shows a student working at every workbench; there is not a single spot left open – it is a successful day of teaching for Fidgen.
Finding this success was not easy, though, Gerrard St. East is Fidgen's second location. Originally situated at Carlaw Avenue and Dundas Street, The Unplugged Woodshop sat nuzzled into the third floor of an old brick building. Small store signs hung from the third-storey windows, only drawing the attention of those looking up.
Fidgen describes his old location as being an "industrial labyrinth" that would often drive customers away.
"The difference is … no one ever came into our shop there and went, 'Oh I saw your storefront'. This storefront that we have now, we had none of that before," he explains.
He says his move to Leslieville was critical and that he had to move quickly to transform what started out as little more than a room with dirt floors, scrapped walls and no lights, plumbing or power.
Fidgen chuckles as he recalls wondering, "Can we make this happen?"
Five months later, classes are continuously sold out.
As students hammer upstairs in the studio, Fidgen heads for the quiet of the Unplugged Woodshop basement to reflect. He sits in a chair in front of the room where The Maple Leaf Forever wood has sat for the last couple years drying.
His shoulders slowly drop as he exhales and takes a sip on freshly brewed coffee that is filling the room with a rich aroma. He appears relaxed as he reveals that there is a new project that he hopes to begin:
"Luck is definitely a big part of life," Fidgen says in a light voice as reflects on his years of combining his passion for woodworking with the reality of making a living, "and so is the hard work."