By Latoya Powell
In the midst of tall condos and developing buildings, lies a disjointed community. One that engages online, but appears to be disconnected in person. However, Liberty Village Cares tries to bring a connection to the community.
Christopher Balkaran waits for a TTC bus to arrive, as the sounds of drilling reverberate through the neighbourhood of Liberty Village. The bangs of the cranes dropping construction materials high above are masked by the melodies streaming from his headphones.
Up the street, a woman who appears homeless is panhandling for money. She wears multiple layers of clothes. Her faded pink T-shirt lies over a mustard-coloured blouse that is beaming in the sun. She is treading slowly person to person asking for spare change, approaching the bus stop near Balkaran.

The woman begins to wave. At first, Balkaran does not recognize her. But as she gets closer, she seems familiar.
Balkaran looks at her again, squinting his eyes. He takes a couple of moments to recall where he knows her from. But when he does, it is almost a eureka moment: Strachan House.
For the past year, Balkaran has been volunteering with Liberty Village Cares at Strachan House. Every Sunday, the program prepares dinner for the residents of Home First Society supportive housing.
Sometimes when he sees the residents on the streets, they wave, some stop him and say thank you for the Sunday dinners. Others, like this woman, give back in their own way.

"I usually ask people for money, but since I see you on Sundays, I won't ask you," she tells Balkaran. She walks away to continue her quest for spare change. As she passes, Balkaran chuckles.
Cre-e-e-e-e-e-e-e-ek. The squealing sound of brakes grabs his attention as his bus pulls up.


Liberty Village has about 20 condo buildings, with units costing between $350,000 and $1.3 million. This neighbourhood consists of mostly young professionals with an average age of 32, according to the 2016 census.

Most of the neighbourhood is engulfed by towering condos that soar as high as 27 storeys. Men walk around in tailored suits on weekdays, while some women sport the latest trends, clutching their custom mocha frappuccinos. The neighbourhood is brimming with designer clothing stores, luxurious spas and all manner of high-end products.

However, on the crust of Liberty Village, at Strachan Avenue and Wellington Street West, sits a faded pink lowrise building. Dusty windows and water stains mark the exterior. Inside, worn out, sandy concrete floors and scratched wooden staircases lead to an indoor lush green garden on the second floor. This is the only housing for chronically homeless people in close proximity to Liberty Village. This is Strachan House. Here, some people wear oversized, unkempt clothes, while some women walk around with smeared makeup on their faces.

The disconnect between Liberty's middle class, where the average income is $79,441 a year, and some of the most marginalized community members is evident. However, Liberty Village Cares fills that gap. The not-for-profit manages to embrace Liberty Village's privilege by creating opportunities for all members of the community to give or receive.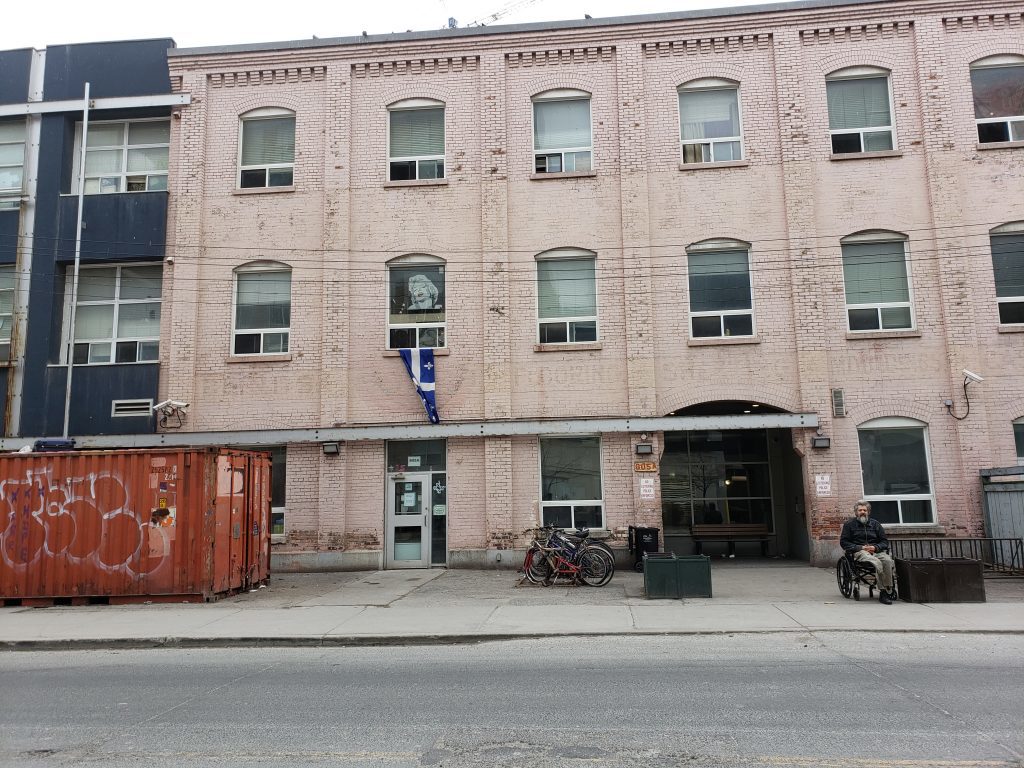 Four and half years ago, Jagger Long and his team of volunteers launched Liberty Village Cares. They host and create events, hold fundraisers and plan activities so that all members of the community, including children, can get involved.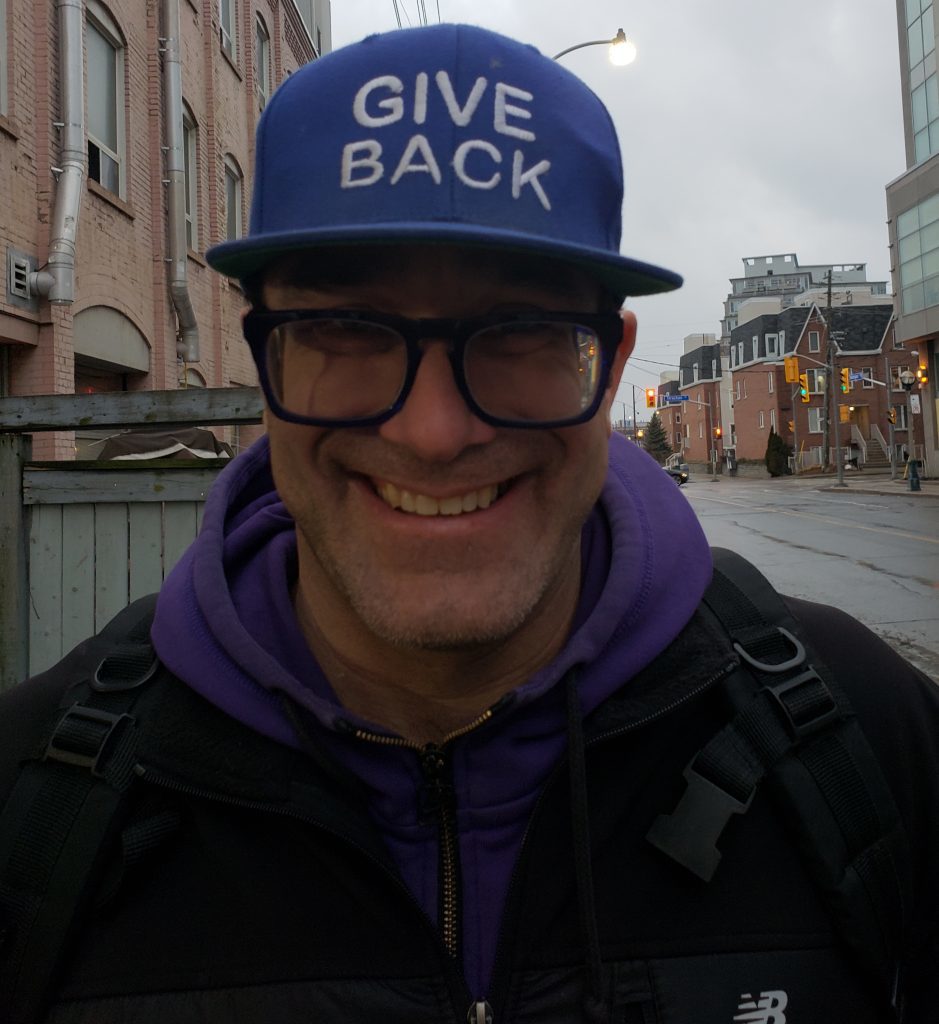 Long's caregiving fervour is infectious. He radiates passion as he greets everyone with a warm smile and cheerful voice.
"I simply want to give back," says Long. His modesty, kind heart and tireless efforts get poured into the organization's programs. "I'm always thinking of ways I can get everyone involved," he says.

Liberty Village Cares is a great way to constructively deal with the inequalities in the neighbourhood, says Katie Kinsella, who has been a resident for four years.

"Liberty Village is a relatively privileged neighbourhood and not everyone living in downtown Toronto has access to the same types of amenities and services that Liberty Village residents do," she says. Kinsella, has been volunteering with Liberty Village Cares for the past seven months.
Balkaran, a resident of Liberty Village agrees.
Most volunteers hear about the grassroots program online.
"What I see is that most of the community development happens online on Facebook," says Balkaran.

When Balkaran first came to Liberty Village he was unable to connect with any communities until he walked in into the local Metro grocery store and asked if they knew about community groups in the neighbourhood.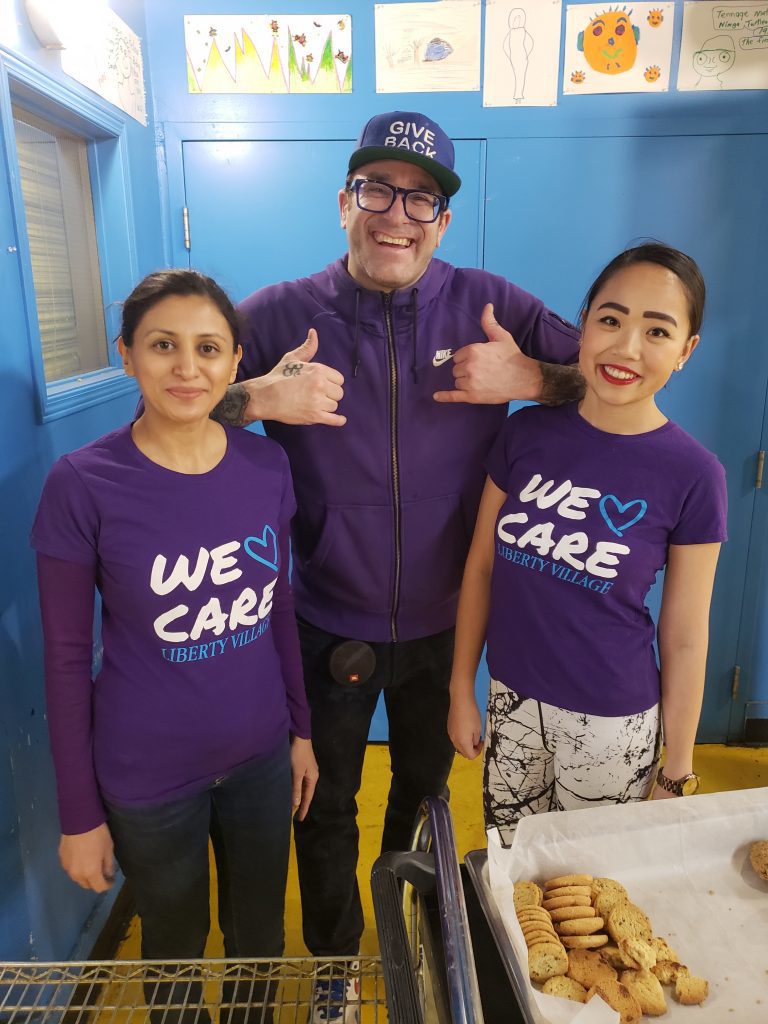 Then he googled Liberty Village Residents Association and got a better sense of community, he says. "Later, Liberty Village Cares came along."

Lanja Fletcher, a former volunteer with the organization, says some people use the LV Cares Facebook group to share other initiatives that they are a part of.

She says she once reached out to the Facebook group asking for a laptop and cellphone donations for the Syrian family she was sponsoring for their first-year in Canada. She was extremely impressed by the quality of the technology people were willing to donate.

"People is what makes LV Cares what it is and Jagger is a great leader," says Balkaran "(The) team is very welcoming and very easy to talk to and you never feel like you're being judged in any way, so even if you want to talk about something. Everyone is eager to talk to you."

Long says he wanted to create a space to connect like-minded people to volunteer opportunities and create some along the way.

The Strachan House program is one of the organization's most successful ventures. Every Sunday, the volunteers serve dinner to up to 60 people.

* * *

Dawn Rzepka hovers over the stove in a corner of the kitchen, preparing large silver pots of corn and peas. The scent of herbs roasting on crispy potatoes.
On the right of the rectangular-shaped kitchen, two other volunteers stand beside Rzepka chopping six barbecue-flavoured baked chickens, donated by the local Metro.

Parallel to them, on the far side of the kitchen, are two women. One is chopping medium pieces of lettuce for a salad while the other butters sliced white bread and places it, angled, into a rectangular tin pan.

Rzepka grabs two oven mitts and places them on the handle of the pot of peas. She prepares to carry the pot to the deep stainless-steel sink to drain the water.
"Coming through," she yells, dark brown ponytail swinging as she strides across the kitchen. "Hot pot!"

Long rushes behind Rzepka and shouts, "Two more minutes!" His brown eyes scan the room, seeking any missing items.
Within moments, the front counter is filled with pale brown chicken breast, bright green beans, steaming yellow corn, crispy potatoes wedges, a large caesar salad, beef broth gravy and buttered white bread.

There's a rush of excitement in the kitchen as they grab the final items: tongs, serving spoons and bacon bits for the salad.
listen
They are all ready to go. Silver horizontal shutters are the only thing that separate Strachan House from the kitchen. On the other side, awaits a long line of residents, who smell their dinner wafting through the cracks.
Rzepka grabs a white cardboard plate. As the shutters rise, she begins to serve the residents.

"When I first started, it was more about getting neighbours involved with giving back, it was more about providing an opportunity to (residents) to make a difference," says Long.

Long explains that the connection he made at Strachan House was a lot different than what he was used to since it was his first community program with a weekly commitment.

"After a few weeks (here) we started to hear comments from them," he says. "Some of the residents started to open up and say thank you for treating them like people." They would also say,
"We know we're not welcomed in the neighbourhood but you guys treat us like real people," according to Long.
"It (helped me) to realize that, wow, this is having a much bigger impact."
[doptg id="9″]