By Jasmine Afnan Al-kholani
Sarah Hussain starts her day off with a cup of her favourite drink, a sweet coffee.
She wakes up excited for it and for the work that will follow. This coffee is not one she impatiently waits in line for or rushes to gulp down before work. It's one she brewed in her kitchen, in the comfort of her own home.
With the lockdown still in session, she drinks it quietly alone at home. Occasionally, the silence is disrupted by the ping of a text message or the swoosh of an email arriving. Notifications start to flood in around 11 a.m., officially kicking off her workday.
Hussain is CEO and founder of the human resources company Bridge HR, giving her total control of her schedule and environment. Although she is her own boss today, this did not come without struggles and barriers she had to overcome.
When Hussain was a sales associate at a large fast fashion store in 2013, she experienced discrimination and prejudice from her managers daily. She visibly stood out from the rest of her coworkers, being the only Hijabi and Pakistani associate. She went to every shift knowing criticism and hostility awaited. Back then, her morning coffee tasted
bitter and wasn't as enjoyable, knowing it would be followed by a dreadful day at work.
Hussain frequently asked herself, "if it's your manager that's acting this way towards you as an employee, who do you go to for help?" Not one to dwell on things, she knew she had to find a solution to this problem.
From a young age, Hussain had been interested in entrepreneurship and had wanted to start a business. Her retail experience inspired the idea to launch a company that works to
influence organizations to incorporate diversity and inclusion initiatives.
And that is what Bridge HR strives to do for their clients.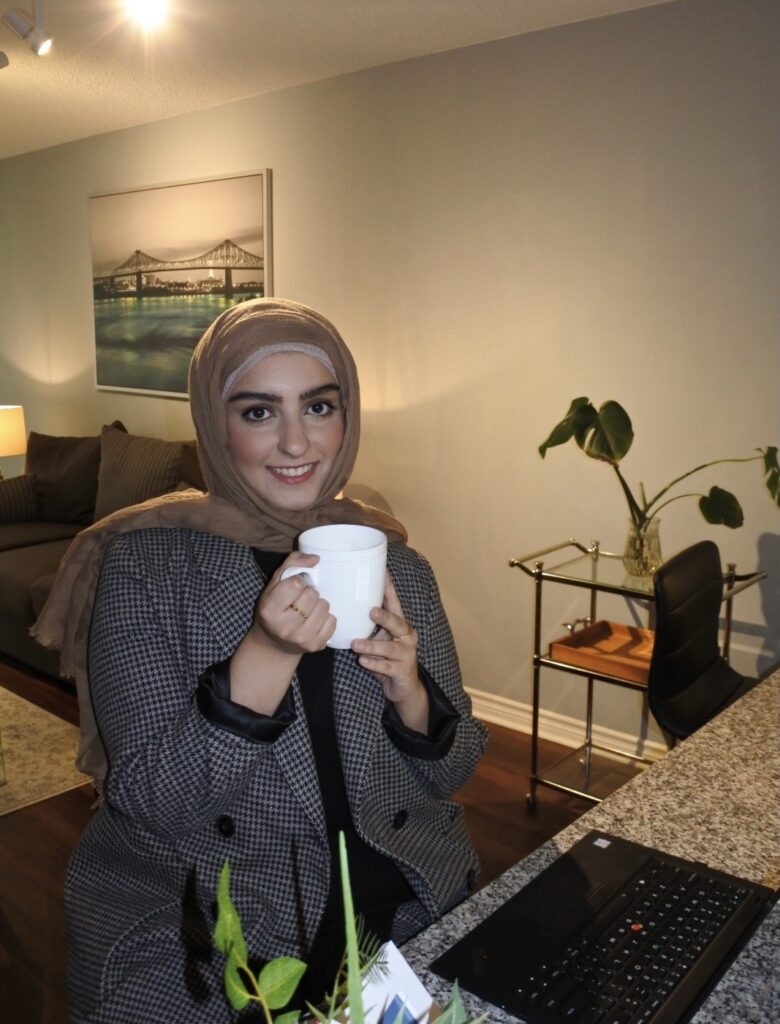 When she first launched in October 2020, Hussain was worried that as a young minority woman, potential clients would not find her credible. As she looked back at her
retail experience, though, she realized her differences were also her strengths.
When Hussain was working retail, a customer came in who didn't speak English. Hussain noticed their frustration and wanted to help. They were wearing a hijab, and she took a chance by asking a question in Arabic. The customer's concerned look eased with relief and they immediately asked Hussain for an ankle-length skirt. Hussain was able to help this customer and many others after she realized her differences gave her skills other employees didn't have to help her connect with customers. Hussain knew her potential, but her managers did not. "When I was working in retail, human resources was never made available to me. There was no support or resources provided to help me or people like me," Hussain explains.
Hussain believed the managers lacked training and understanding when it came to diversity and inclusion practices and wanted to change that. She wanted to "bridge" the gap between human resources and employees. For Bridge HR, what's most important is to discuss the problems that are swept under the rug. What are the clients' concerns? What kind of help are they seeking? What can the management team do to improve the work environment? "I noticed other people weren't happy with their workplace and they hated HR. I knew that there were solutions you can place and tools that could be used to bring change," she says.
One tool Bridge HR utilizes is social media.
Hussain usually has a second cup of coffee before brainstorming ideas for Bridge HR's Instagram posts (@bridgehr). When the caffeine kicks in, she takes her work to the couch and sits in her joggers. She stays in the same place most of the day, but her hands are constantly moving. Laid out in front of her is a notebook, computer and phone. She swipes her phone with one hand and clicks her laptop with the other. She sends a voice message to her nine other associates: "Maybe we can give examples on how to answer common interview questions or maybe find a solution to something people struggle with during
interviews."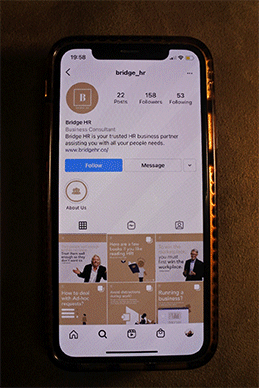 When scrolling through Bridge HR's Instagram, you notice it's structured more like a handbook than a stream of promotional posts for the company. Bridge HR tries not to force their brand on the viewer and only ever displays a tiny company logo on the top right corner of each post. The posts introduce advice on common questions and concerns the followers have. Hussain also features links she thinks followers will find helpful: a human resources podcast, business tips and COVID-19 information are provided.
Squeezing diversity and inclusion into a small box on Instagram is difficult, though, so the company has also decided to develop courses. These include training sessions for the clients' employees on inclusivity, management leadership and maintaining a non-biased workplace, as well as demographic analyses.
"HR professionals play a massive role in building and leading a diverse, respectful and inclusive workplace culture that provides every employee with opportunities to grow, contribute and thrive within it," says Sheh Shojaee, director of operations and strategic human resources for Chartered Professionals In Human Resources (CPHR), which offers professional development and networking opportunities for other organizations through their human resources teams.
In recent years, there have been more demands for workplace evolution regarding diversity and inclusion practices. In 2019, a public service employee survey was conducted by Statistics Canada, where 182,306 employees answered whether their organization implements inclusion and diversity practices to which 78 per cent answered yes. Hussain believes the number should be 100. "People shouldn't have to choose between being unemployed or facing discrimination. They should have access to resources and support to ensure that you aren't being discriminated against," she says.
Shojaee believes that though Canada is moving in the right direction, there is still much to do regarding inclusivity in the workplace. "There is a need for organizations to reevaluate how inclusive they are as employers because having a diverse team is a competitive
advantage," she says.
Hussain's goal for Bridge HR is to influence the Canadian government to mandate the fulfillment of diversity and inclusion courses in every organization across Canada. She hopes to continue promoting and spreading Bridge HR's programs until this goal is met.
Even after a long day of work, Hussain goes to bed knowing there are still many challenges to positively influence every workplace in Canada.
Still, she wakes up every morning ready and excited to work for change. After she has her cup of coffee.