By Serena Lopez
A Styrofoam mannequin head with bunny ears on top sits along the upstairs window, right next to a stuffed monkey with a crown above a bright glowing neon light panel reading 'Amsterdam Brewery' in a bar. Inside, Bridget Cann rummages through a treasure chest sitting against a brick wall and pulls out two red fabrics, a plastic green fist, and a cardboard cut-out of a sword. She appears calm and focused as she gathers them up in her arms and puts them on a scratched wooden bar stool to organize for later. Cann's show starts at 8 p.m. and guests arrive in one hour at The Social Capital.
Hidden on top of the three-tiered grey plastered building The Social Capital is one of the more unknown gems situated on the Danforth. The space is so eerily quiet until doors open at 7 p.m. to let the first-comers in where they gather among the mismatched old-timey decor, engaging in small chatter sitting across from wooden tables positioned at different heights.
Having spent his high school years performing sketch comedy, Carmine Lucarelli abandoned the craft to pursue work as a computer programmer full-time for nearly a decade in which he eventually became "extremely bored." He says he knew deep down that his current career path wasn't for him and decided to start over.
"You know that life is short and your life has yet to be lived as you'd like to live it," says Lucarelli. "You're scared of change; not only for yourself but for those around you and the networks you've built that you need to leave behind."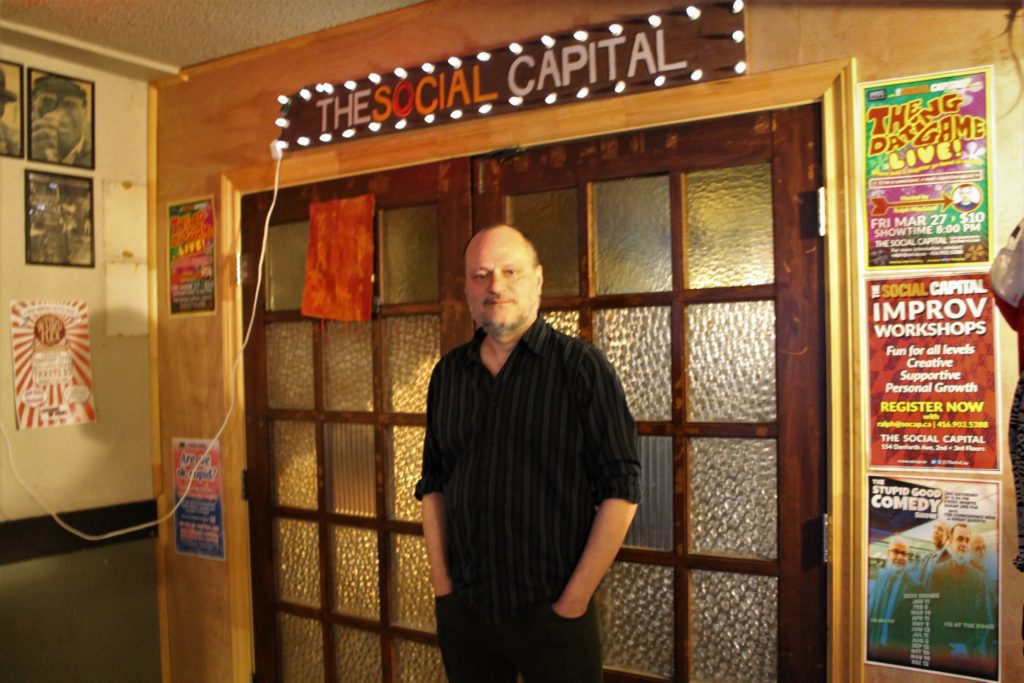 At the age of 30 he steered away from his career trajectory to revisit his passion for comedy, taking improv classes at the Bad Dog Theatre in Toronto. It was here that Lucarelli met Ralph McLeod.
The two became acquainted and decided to take their experience and creativity to craft something of their own in the east end of the city: The Social Capital.
"There's nothing like this in the East End," Lucarelli says. "While we're mostly comedy, I've never envisioned it as that. I always wanted a performing arts bar."
In addition to various comedy shows, The Social Capital hosts stand-up shows, dance shows, hip hop showcases, most times even all in one night. The theatre shares the space with the Black Swan Tavern, with two levels exclusive to "TheSoCap" events and improv classes for both beginners and those more seasoned in the profession. "When we got in and chatted with them it just seemed to be a fit, and one thing led to another and then this place," says Lucarelli.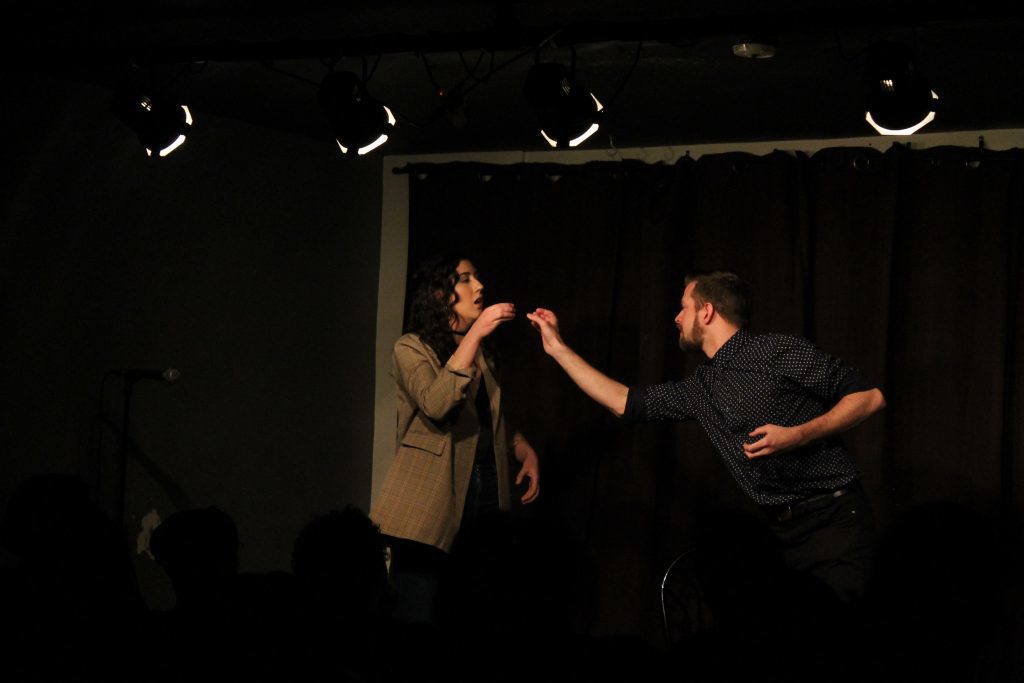 Though Lucarelli considers himself more of a shy and introverted person, he says he looked to improv as a way of getting out of his own head and fear of the unknown. He recalls his first show performing improv making people laugh, being where he felt most like home.
"It's about dropping or fears, or fear of looking stupid on stage or fear of not saying the right thing or fear of like, making a wrong move," says Lucarelli.
Before A Winterfolk Festival event hosted at the Black Swan Tavern second floor stage on Feb. 9, 2016. After The Funniest Show on The Danforth stand-up comedy show hosted at The Social Capital second floor stage on Feb. 22, 2020.
It's one of the first practices he takes into his teaching with improv beginners in his classes.
"We tend to have this negative internal monologue in our heads that says no a lot," says Lucarelli. "Through improv, we can sort of help to change that to help you be present in the moment."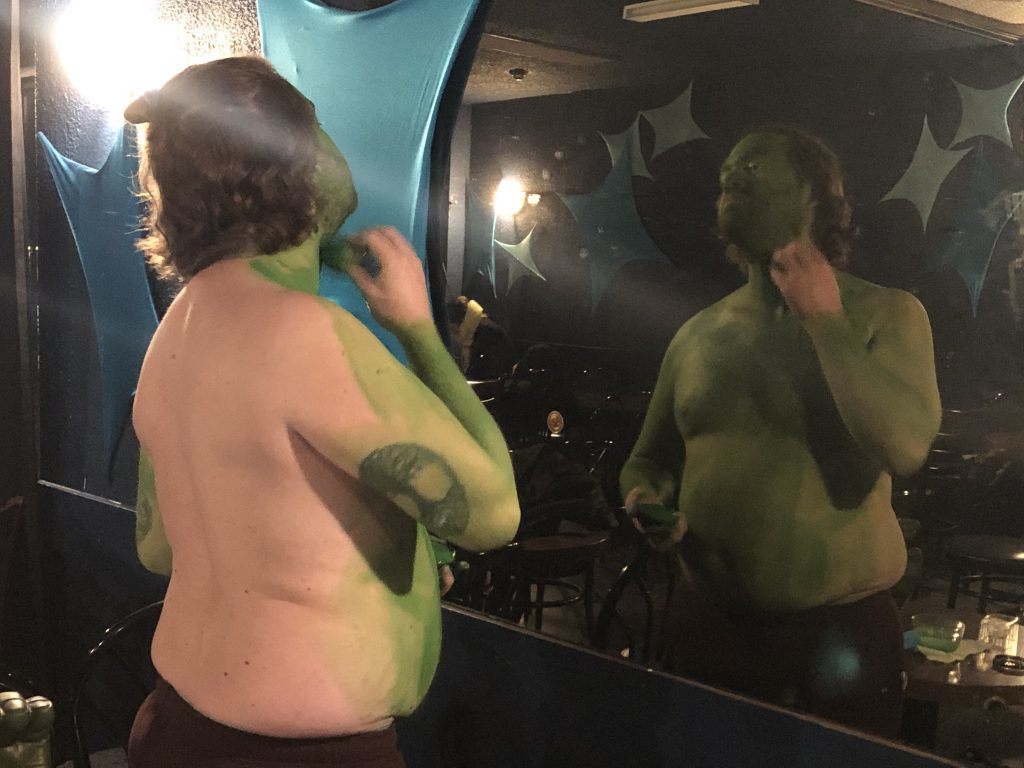 As showtime approaches, a low chatter fills the room as guests unwind and fill the empty seating area with tall glasses of Creemore beer in hand. Cann prepares the final touches for her comedy show, gathering her actors into the empty theatre space.
The MCU (Marvel Cinematic Universe): Avengers Improvised, an improv comedy version of the popular Marvel films featuring the beloved characters on stage. It's produced by Cann and her co-producer Paul Piekoszeski, and has been running at The Social Capital to the success of consecutive sold-out crowds for nearly six months.
"It's like I've got secret knives around my body with words"

-Bridget Cann
The idea for it blossomed out of a drunk conversation between the two friends and is now one of the hundreds of shows hosted at The Social Capital that takes everyday subject matters like romance, comics, and card games and gives it a comedic spin for the stage.
While studying at McGill University, Cann went in search of a Quidditch club which happened to have an official requirement of an improv rehearsal to be part of the club.
Two audience members, a broken stage, and an unexpected, slightly inappropriate kiss later, Cann was stuck on pursuing the improv craft after graduation and has been doing so for the last five years.
"It's like I've got secret knives around my body with words," says Cann. "I think it's allowed me to be more solo and more comfortable within my skin."
Cann has been doing improv comedy for five years and for her, a career in improvisation has more gains than just performing for laughs.
"Being able to listen to people better and to see people feel heard," says Cann.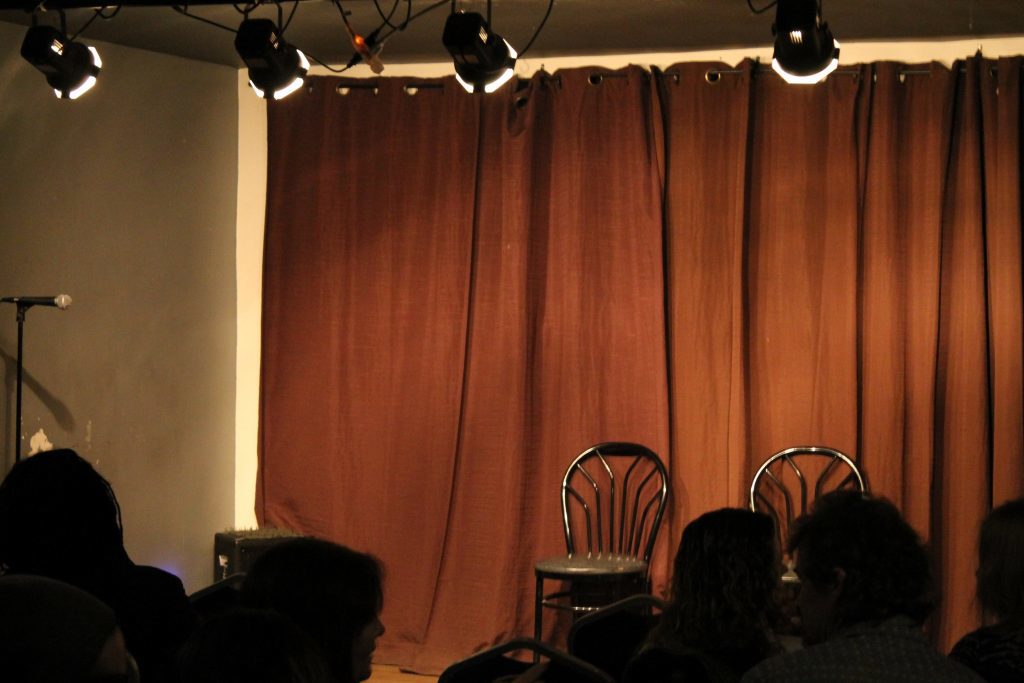 Upstairs on the second stage, guests are already far into Friday night's weekly game night Comedy Game night. Audience members volunteer to take part in performing the instructions off a prompt card. Two guests stand on the left side of the stage under the bright studio lights riffing off a scene of a neighbour complaining about her husband who left her when he is, in fact, dead. When the crowd shouts "right!" The actors shuffle and change the scene to a man forgetting to buy flowers for his partner on Valentine's Day.
As the scenes get shorter and the stress piles on, the laughter from the crowd gets heartier. None of the actors on stage are trained comedians but, it's the mutual experience of having to go along with their scene partner's improvisation, no matter how absurd or nonsensical, that makes for the poignant comedic moments. New players are taken from the eager group of guests from the audience in replacement of the ones on stage and host Ralph McLeod pulls a new card.
On the last Saturday night of each month, one of the many popular shows called High or Dry?, produced by comedian Mahdi Mozafari, gets six improv actors to take an edible before getting on stage. As the night progresses, the audience piled together in four by four dining chairs, tries to guess by the end of the night which actors are performing on stage high or dry. The guessing gets easier as an actor's name gets called up and they arrive on stage slightly foggier and their response time to each prompt for the scene slows down.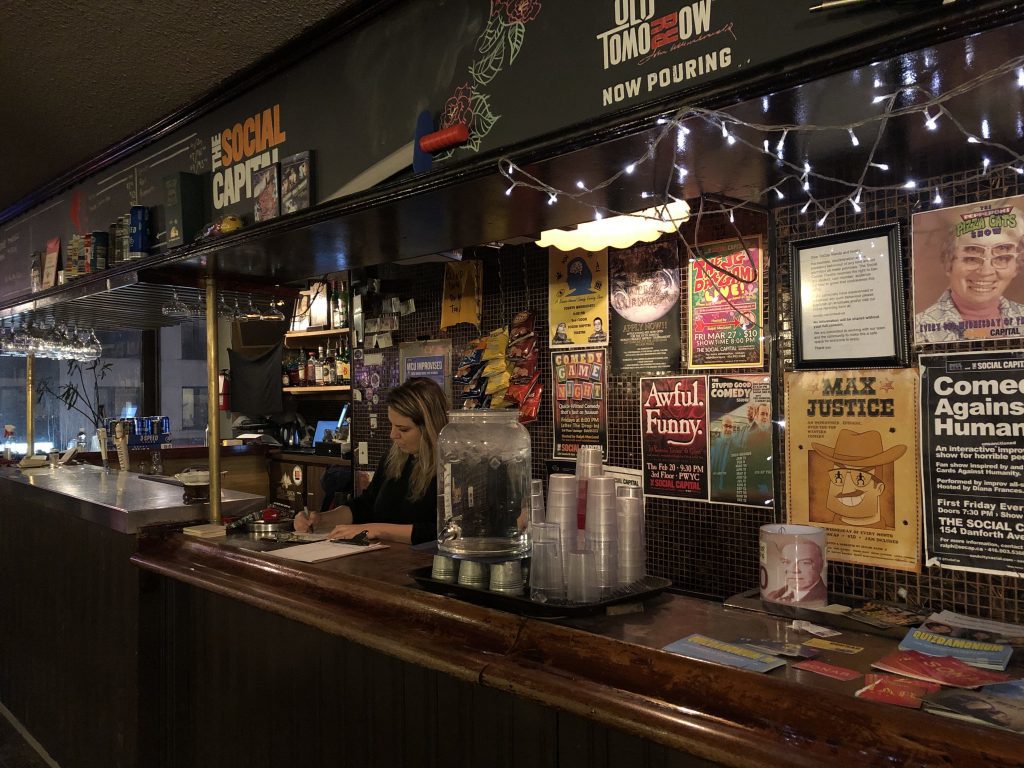 Anne McMaster, an improv instructor at Second City and The Social Capital and professional comedian for nearly 10 years, has seen improv impact her students in more ways than just performing on stage for the audience's joy and laughter. It's what she sees them take from the craft to apply to their own lives.
"Whether it's in conversation with a colleague or a partner, whether it's just in observing the world around them, whether it's how they gain confidence as a public speaker, whether in how they encourage other people's ideas," says McMaster.
According to studies by the University of Michigan, improv comedy has been proven to lower social anxiety levels in adolescents eight to 16 and encourages divergent thinking, uncertainty tolerance, and affective well-being in adults.
Not a seat is left empty as the audience sits, eyes glued to the actions of the improvised Marvel plot unfolding before them. Cann's voice can be heard in the overhead speakers, narrating the setting of the scene for the audience.
As the scene pans out, an actor covered in splotchy green body paint enters the stage, taking his scene partner playing Thor on a hard-earned break from saving the world from the wrath of Loki to head on a shopping spree for essentials.
The usually stocky and aggressive Hulk of the films is wittily disguised under the actor's black spray-painted abs on stage. His stage partner stands next to him, ready to riff off his next move. It's the nature of the art: knowing that nowhere is it written what he will do or say next.