New Circles Community Services aims to change the lives of new and impoverished Torontonians
By Zehra Raza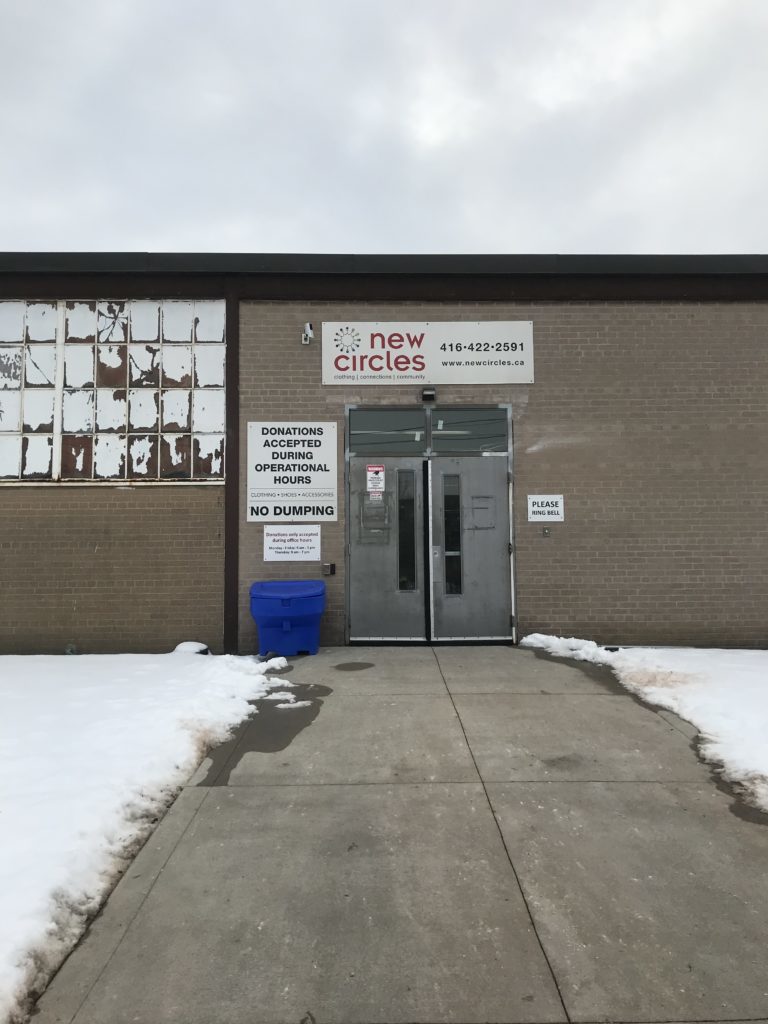 On a quiet Tuesday afternoon, Vidarshika Fernando sits at the New Circles round kitchen table, her hands gently interlocked and on her lap. She is soft-spoken, and converses kindly with those around her. Not even a year ago, she couldn't speak a word of English.
Fernando arrived in Canada in April 2019. She and her family were forced to flee from the political turmoil taking place in their homeland of Sri Lanka. As a newcomer, coming to Canada with her husband and kids has been a culture shock, and especially difficult with the language barrier.
"From April to September, it was such a hard time. For three months, I couldn't speak English. I had no friends; I didn't know what I could do," says Fernando.
Like many refugees and newcomers, Fernando had to leave behind a very different life in Sri Lanka. She held a successful position in the company she worked for, never had to walk anywhere or use public transportation, and did charity work with an organization called Lions Club. When she arrived in Canada, she learned of New Circles Community Services and resonated with the organization.
Founded as a non-profit in 2005, New Circles aim to help those who don't yet have the means to help themselves, specifically with basic necessities such as clothing and housing support, in addition to language education and employment skills training. According to the City of Toronto website, Toronto welcomes about 60,000 newcomers every year. The organization provides resources to help those newcomers get on their feet and be able to sustain themselves in a new, unfamiliar environment.
Fernando's journey with New Circles was not a smooth one. Although she was passionate about the organization and had faith that it could help her, there were times when she didn't know if she'd be able to finish her employment training program.
"The first two days in my class, I couldn't understand anything. I didn't think I could do it," says Fernando. "But the third day, I told myself I wanted to do it, and I began my education in Canada." It was Fernando's own perseverance that pulled her out of a dark time, and pushed her to create a successful life in Canada for herself and for her family.
Nikki Sandhu, the settlement support coordinator, is one of many who make the wheels turn at New Circles. She brings warmth into her space and is welcoming; the kind of person that newcomers need when they enter a land so unfamiliar. She types away at her mahogany desk, locked in but willing to open up and discuss why New Circles is such an essential organization.
"It helps them assimilate in the community. A lot of the time when they come here, they feel a little bit isolated, especially if they're here on their own or they're coming here alone before the rest of their family can get here," says Sandhu. "(New Circles) gives them an opportunity to be a part of something."
The organization hopes to be a prime example of the difference that a caring community can make, according to its website. Everyone has a chance at success, but adequate resources are necessary in order to make that happen. New Circles wants to provide that, guided by their core values of respect and integrity.
Anyone who walks into the on-site clothing bank, called GLOW (Gently Loved Outfits to Wear), for example, is greeted by store volunteers, has the option to try pieces on in a curtained fitting room, and has to walk through a check-out desk, in order to receive an authentic shopping experience.
In the clothing bank's back room, shop volunteers prepare the clothes to be placed on the floor. The stock room is filled with preparation tables, racks filled with hundreds of hangers from wall to wall, and clothing boxes stacked from the floor to the ceiling. Donated clothes are pulled from mountains of donation bags, and neatly laid out on tables. The volunteers take their time sorting and hanging each item of clothing, while conversing among themselves. Their care and effort is evident. They treat these clothes with respect, further demonstrating one of the core values of the organization.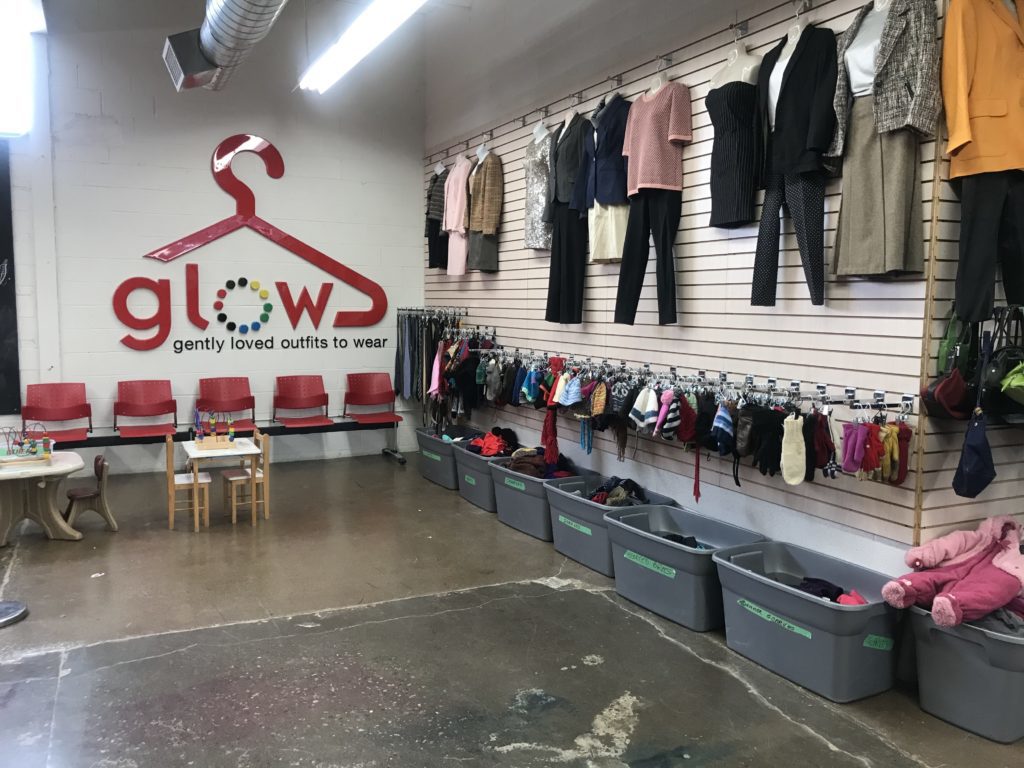 The clothing bank's racks are filled edge-to-edge with clothing for all seasons, shoes, and other accessories, all grouped by age and gender. There are mannequin displays hung up on the wall, and a bright red art piece that says "GLOW". The main goal, according to communications and fundraising coordinator Susan Chaves, is to give whoever walks into New Circles a dignified and respectful experience.
Newcomers in Canada often have difficulty finding employment opportunities that are well-paying enough to sustain the hefty cost of living, says Sandhu. "A lot of (newcomers) are already educated, but their education is not always recognized at first."
New Circles has put into place a range of employment training programs to help immigrants and refugees overcome the obstacles they will inevitably face, one of which is called the Loving Homes Community Housekeeping Skills, which Sandhu helped facilitate. The program is an eight-week training course, designed for those who are looking for their first job in Canada, and provides skills such as resume building, job interview prep, and even a placement opportunity with a partner employer for qualifying graduates.
Sandhu says that being so personally involved with the coaching and development of these newcomers was an inspiring experience.
"Seeing them from that state where they're like 'I'm desperately looking for a job, I want to move out of the shelter, and I don't know how I'm going to do that when I'm not making any money' to now where they've graduated from the program and they're working… for me, that was rewarding."
The people at New Circles have gone above and beyond for the newcomers that seek their help. In some cases, they have offered employment to those who have trained under their skills programs, completely changing their financial situation and living conditions.
Evelina Lizeth Rodriguez de Grande, a newcomer to Canada, has been hired for administrative work at New Circles. She says that it is a blessing to work for an organization where she can connect with people like her, especially when it comes to acquiring clothing in a country like Canada.
"I was in that position at one time. Clothes are really expensive, and when you are a newcomer, you don't have that kind of money. (New Circles and its clothing bank) are really important, because the weather is very cold here," says Rodriguez de Grande.
Momena Afroz Ahmed, who hails from Bangladesh, started off at New Circles training under a business and administrative skills program. She feels so passionate about the organization that completely changed her life by offering her a job as an administrative assistant.
"I always thought it would be very good to work here," says Ahmed. "I really liked the environment. When I was doing my program here, I really liked the office and the people. They were really, really helpful. Even if you don't ask for anything, they will come and help you. This is the kind of place where everybody is eager to help."