By Kristyn Landry
Most people hope to go their lives never encountering bed bugs, much less one of their size in the streets of New York City. The realistic-looking pest wandered about like any typical city goer, though with six legs, two antennae, beady black eyes, and a shell.
In front of various passerbyers, the mascot was designed to demonstrate the bed bug's feeding time. Fake blood would spurt from the neck of the wearer and fill the back's shell with the blood of hypothetical victims. Finishing up and draining back into its original tank, the pest would move down the road once again to demonstrate in front of a new crowd of pedestrians. The not-so-pretty (but just as impressive) spectacle was achieved by the creative team behind Hogtown Mascots.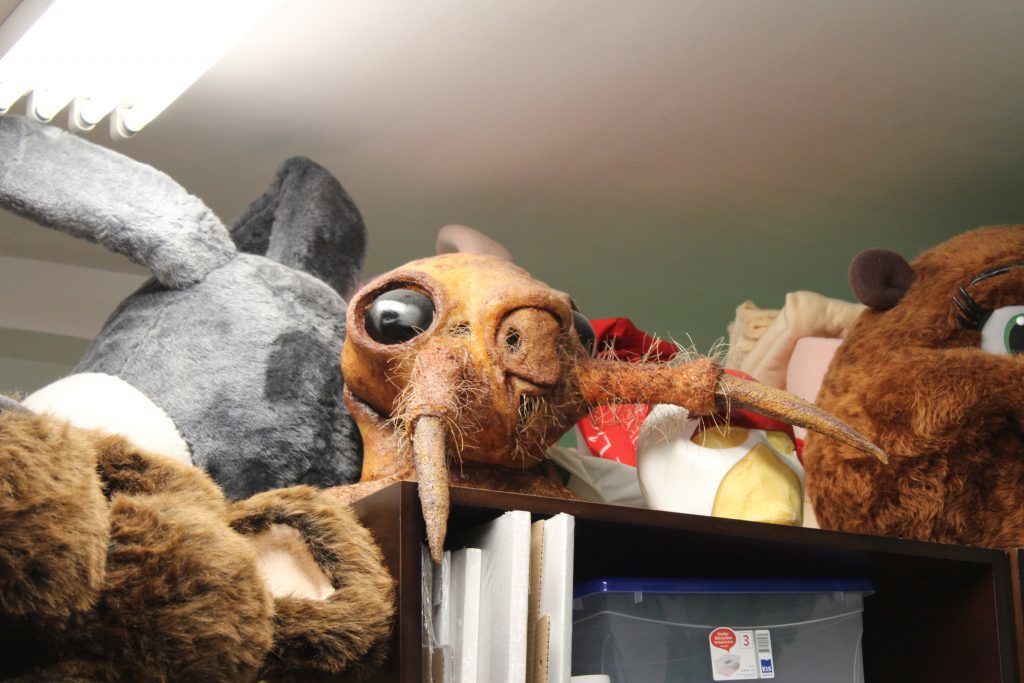 John Kernaghan and George Civello are co-founders of Hogtown Mascots, a business dedicated to designing and producing mascot costumes of all shapes, sizes, and creatures. As an industry leader, Hogtown Mascots is backed up by an experienced team that works together to bring any idea to life, and bypass any challenge that stands in their way. Here, it seems no request is beyond reach.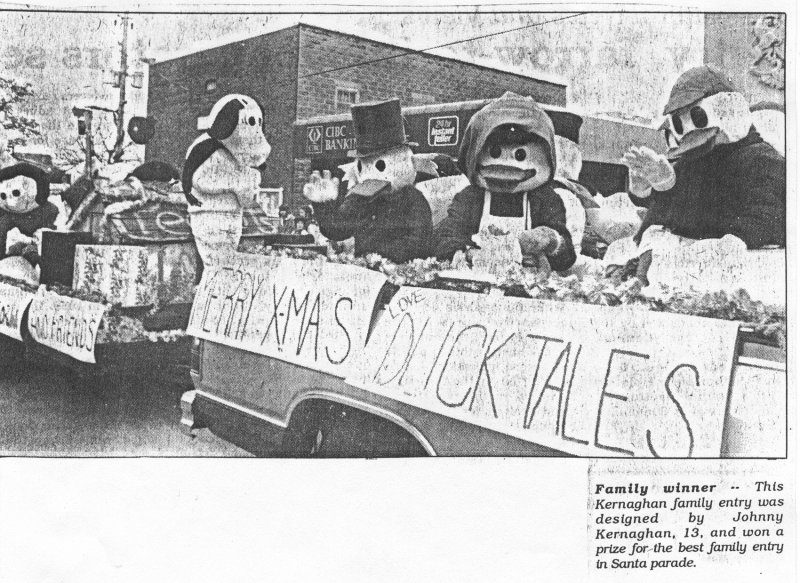 A self-proclaimed "Mascot Nerd," as signed at the bottom of his email, Kernaghan has been creating mascot costumes for local events since he was 13 years old, first making characters from Charlie Brown and Ducktales for his hometown's Santa Clause Parade in Colborne, Ontario. His passion continued into a career and brought him to where he designs and builds at Hogtown Mascots today (newspaper clipping provided by John Kernaghan).
Inside the shop
Staff member, Cheryl Rutherford's utility knife slices through cardboard while surrounded by colours, tools, sewing machines, scissors, fabrics, and mascot heads that line the walls, as if she's constructing in the Colosseum, and the ancient stands are filled with furry friends of past work. Though she's alone in the room, colleagues like the cheeky pig or the otter in a top hat keep the shop populated.
Behind another wall of drawers and supplies, Kernaghan and Civello work at their desks, facing each other in the small office. They get through the day's work under the presence of colourful wall decor, a floor-to-ceiling chalkboard calendar (with colourful chalk), and mascot heads crowding the top shelf.
Hidden around a corner lies a set of white stairs that lead to the basement. Though sunrays stream through the windows above, the basement's workspace draws a more eery light onto the unfinished and not-yet-colourful faces that watch Sara Ahmadieh, another employee, as she spray paints costume pieces from behind her purple inhalation mask.
A large, crowded table takes up most of the room, and desks off to the side are laden in scissors, glue guns, screw drivers, and styrofoam in sculpting progression. The glowing lights that hang overhead cast shadows across shelves of more heads, faces, and a mysterious cabinet labelled "HEAD STUFF" and "FEET STUFF."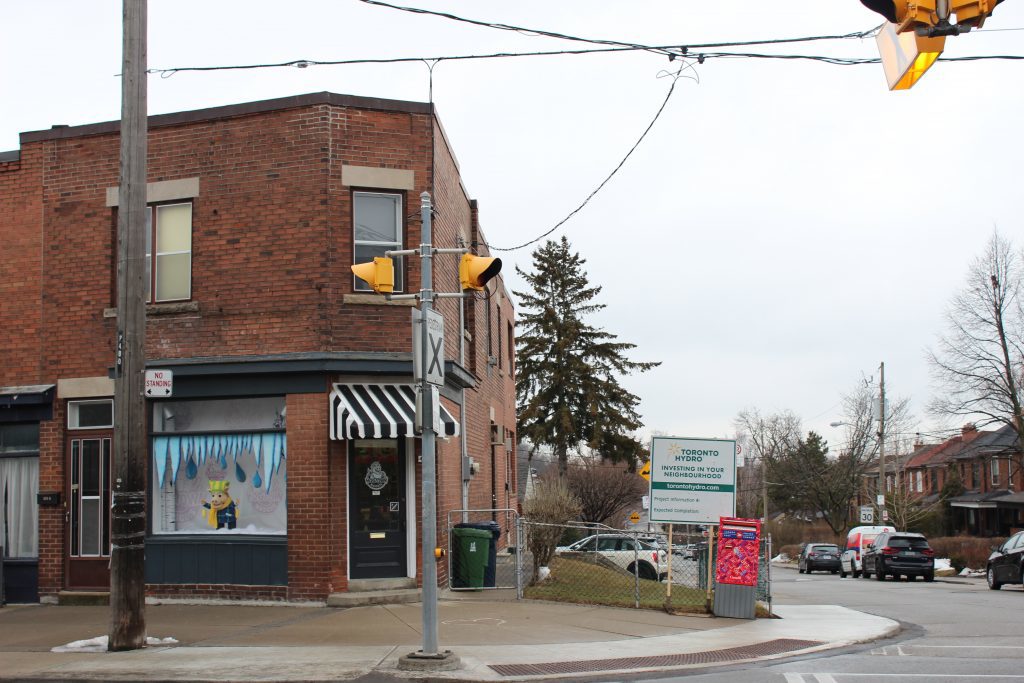 Designers who strive to achieve anything
About half of Hogtown Mascots' customers bring with them some sort of unique challenge. A costume to represent a sleep device not only had to resemble the product, but was requested to include a compartment in the head for dry ice to be stored that could vaporize out as the costume was worn. Another request called for an abnormal-sized Space Age transformer-like costume — though needing to be worn by an average-sized person. Nine feet tall, the mascot was constructed so the wearer could see out of the design on the chest, as well as wear a helmet attached to the mascot head by a pole in between so both heads could move the same.
No matter the difficulties of the request, the team is always ready to invest into a never-ending supply of methods to deliver what they're asked of. "I think the main thing that sets us apart from our competitors is that […] we're not locked into one way of always doing everything," Kernaghan explains.
The business offers everything mascot and aside from all else, even includes performer training and the option to make the finished product into a matching plush. "It's really just about being a one-stop shop," Kernaghan points out. "We found over the years these are things that people are asking us for […] and because my background originates from being a performer as well as being someone who builds it, I already have all that knowledge."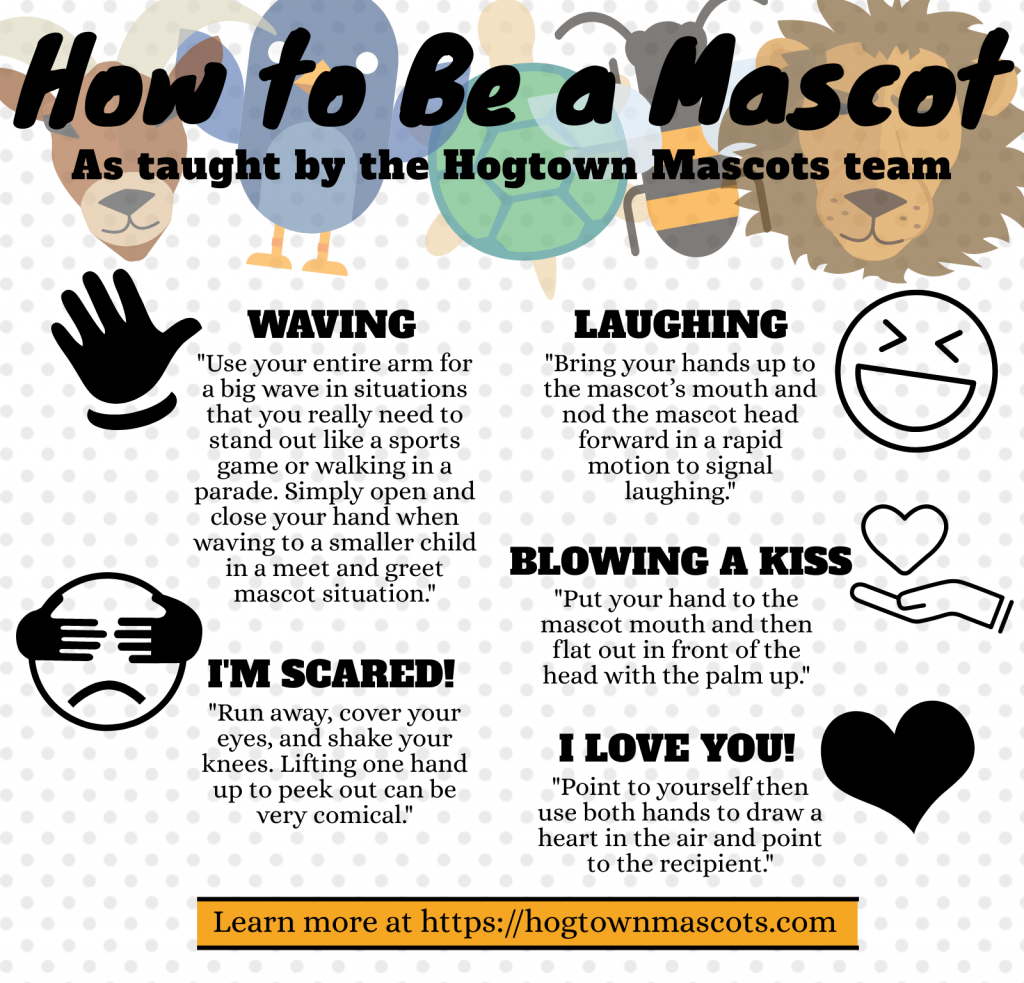 A small team that loves what they do
The shop is quiet as aside from Kernaghan and Civello, only three other designers are employed full-time. The team isn't large in quantity, but are chosen as a select group of people who are not only exceptionally good at what they do, but love their work.
"I guess we're all a little weird in our own unique way," says Lori McMahon, Hogtown Mascots' sewer. "We're all just individuals who love doing what we're doing."
She recalls a time in her first couple of months working there when they had made multiples of square cake/brownie pieces and had all adorned them to run down the quiet street, capturing videos of each other running in the cake. "That was pretty special," McMahon reminisces.
"How does someone wear this one?" I ask Rutherford, indicating a large, undecorated hedgehog-like head, looking impossibly enormous for the average human-sized head.
"Let me show you," she said, immediately putting down her scissors and moving towards the costume piece. "It's very important that we test out the mascot heads beforehand for visibility," though as she slipped it on, I couldn't imagine how one would be able to see, much less function as a giant hedgehog.
I laughed, seeing Rutherford look very disproportionate as a giant hedgehog/woman. Smiling, she removed the mascot piece and showed how levels like platforms in the middle of the head allow the piece to rest on her shoulders and not swallow her whole despite looking like anyone could drown in that much styrofoam.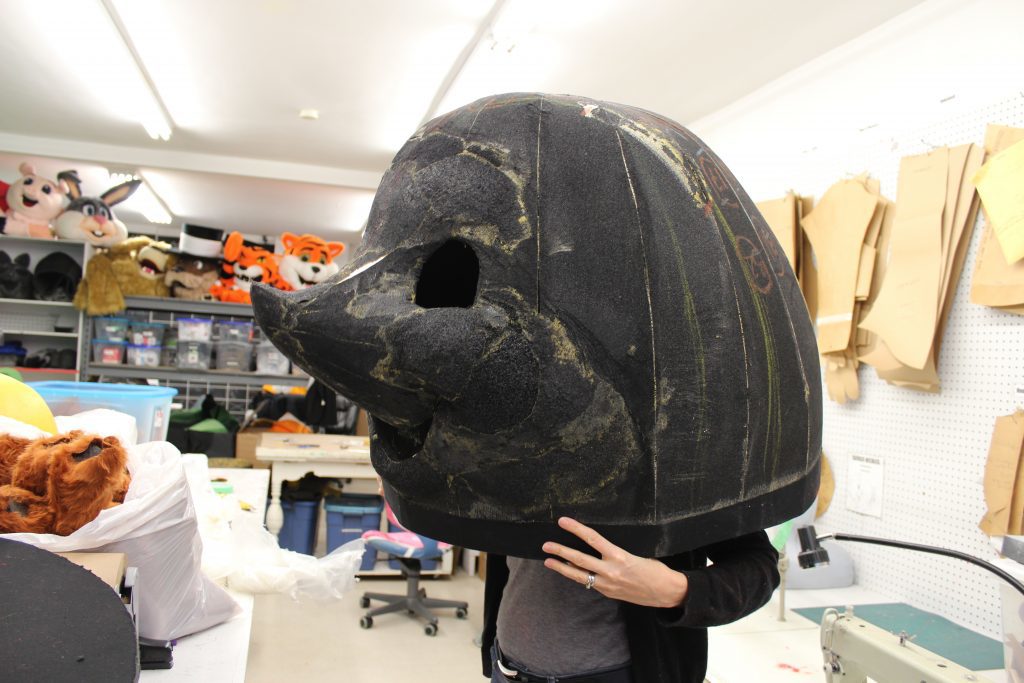 For Hogtown Mascots, there is no one way. Any challenge is met with the drive to innovate and work together to consider an endless bank of possibilities. Kernaghan and Civello lead the industry not just by providing any possible need, but by the willingness to achieve anything imaginable.
Upon leaving, a look back onto the colourful emporium is met with warm smiles, kind goodbyes, and the stitched-together grins of mascots atop shelves. It's quite unlike most goodbyes you'd ever expect to receive.