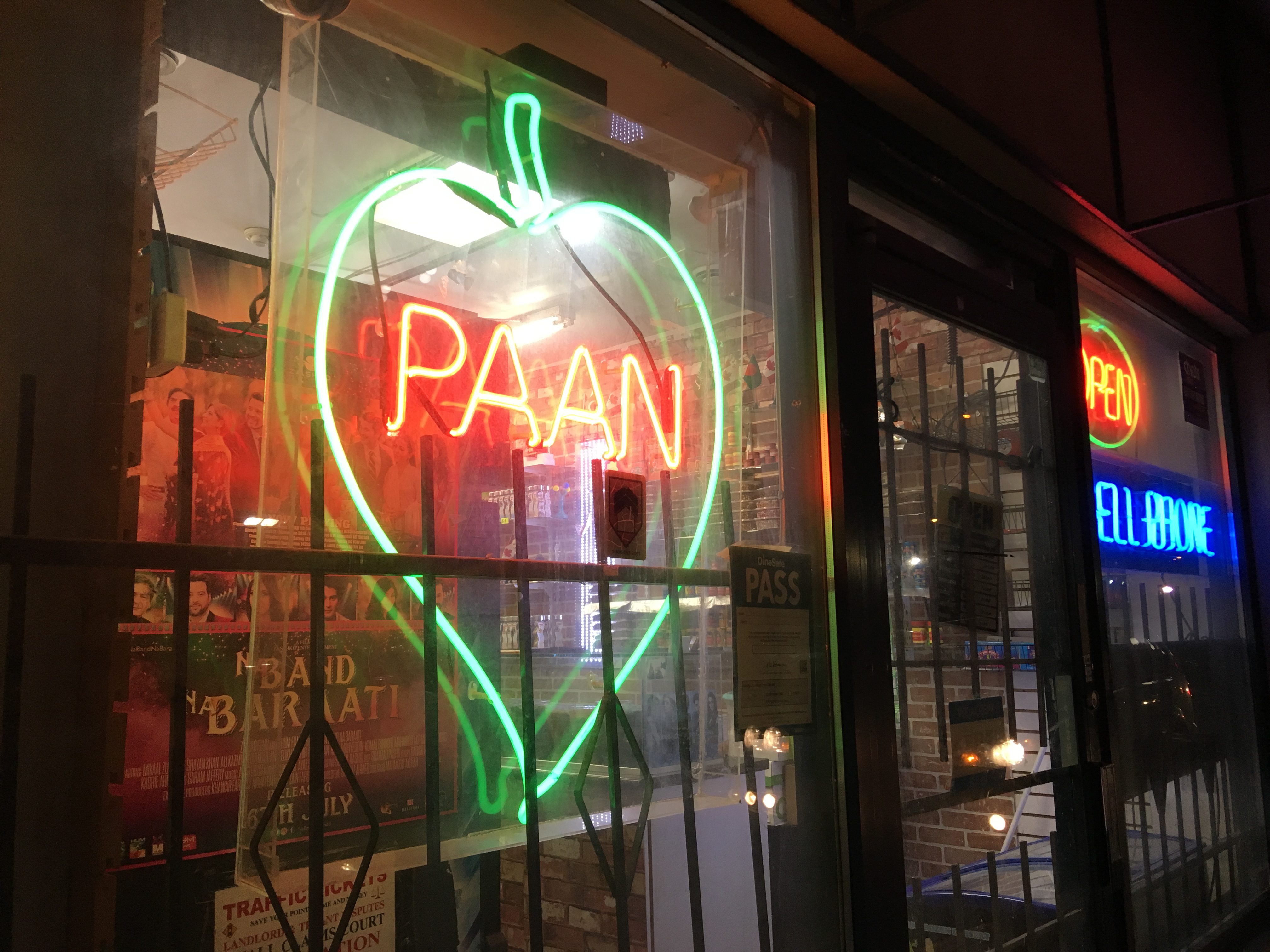 By Aaliyah Dasoo
How one business owner brings a taste of home to Thorncliffe Park
Like clockwork, Afzan Muhammad opens his shop everyday at 12 p.m., and closes it everyday at 12 a.m. It's a long shift for just one person, but he doesn't seem to mind.

Tucked between a Main Drug Mart and a small pizza joint, you might walk right past My Choice Paan during the day. But at night, the storefront is much more inviting. A neon sign reading "Paan" hangs in the window glowing, inviting you in and illuminating the dine safe certificate next to it (the cheery green one that says pass).
People walk right in and out all day, never a dull moment since they're visiting the only Paan shop in the area. Thorncliffe Park has seen a major business makeover recently, but his customers stay steady. Afzan knows his consumers.

The shop is small – pretty much just a corridor separating the left and right walls from the back of the store. The right side of the wall is lined with shelves of vibrant Bollywood dvd's, both old and new. On the right side of the store is the counter, and behind it are the paan ingredients in all their multicoloured glory.

Paan originally comes from South Asia, or more specifically Indian culture. It's after dinner treat we can compare to those after eight chocolates your mom probably buys, but much more exciting. Traditionally, paan would include chewing tobacco as a part of the recreational aspect of eating it, but Afzan tells me this is much more popular back home (Pakistan, that is) than it is here. It's much less common to spit on the ground here, and certainly less polite.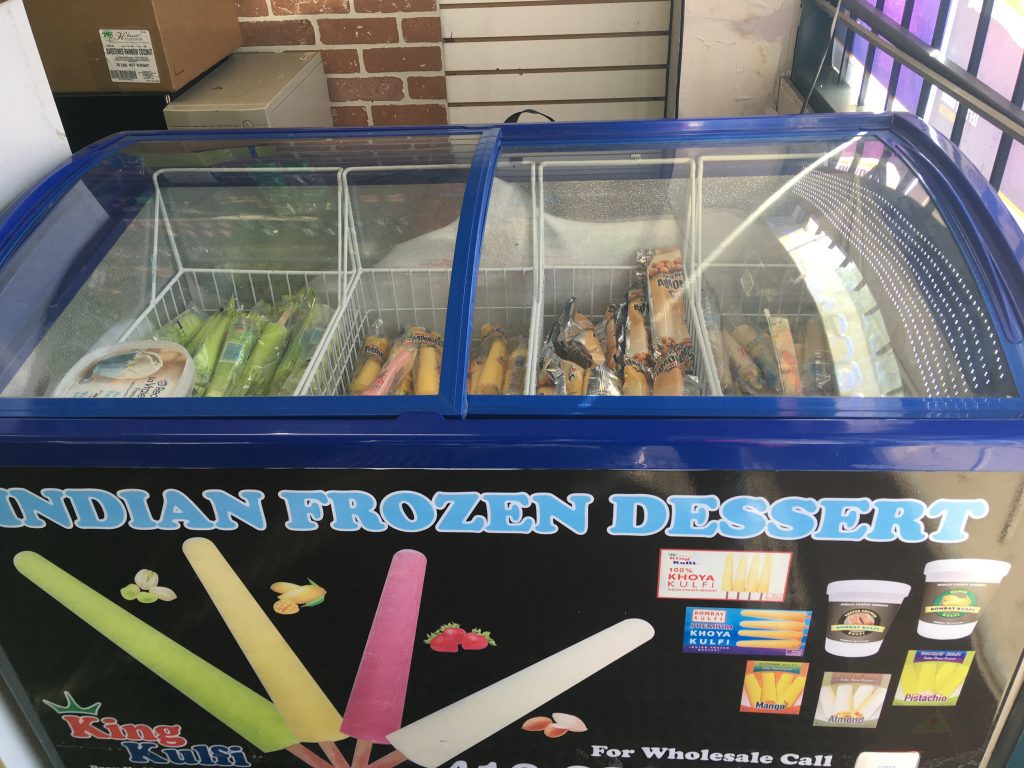 At 37 years old, Afzan doesn't pictures – he never has. He doesn't like talking about himself much either, but he loves talking about his shop. Afzan tells me proudly how the store also sells chai, as well as summertime necessities like kulfi and falooda. His response when I ask his favourite thing in the shop is? "My favourite? It's Paan," he beams.
It's a rather quiet day in the shop today. There are two or so customers getting their Paan to go, and I hang back until Afzan is free. An old friend of his, Rafique Muhammad joins us today; he has been translating urdu and english back and forth between Afzan and I in the interest of making things a little smoother for him. Eventually, he offers to answer a few questions on behalf of Afzan as his english is fairly stronger, as well as the fact that he knows his old friend pretty well.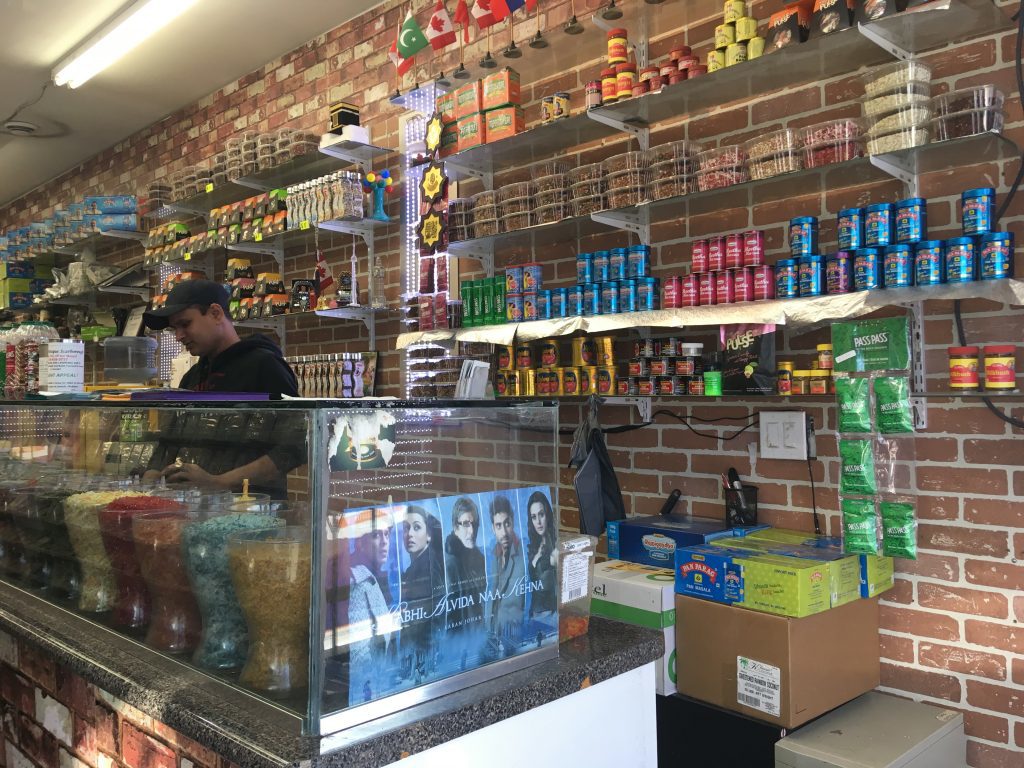 Afzan has been making Paan for almost two decades now, definitely more than 15 years Rafique tells me. He and his brother left Pakistan when he was young – only 19 years old – and immigrated to Toronto in 2000. The two settled in the eastern part of the city, Scarborough. He still lives there today, driving to Thorncliffe Park everyday for work. But this is not his first location.

He and his brother opened their first location in 2006, just off of Markham and Lawrence. "It's a very successful store," Rafique explains. "It's kind of a family business." After a while, rather than working "here and there" Afzan decided he should just open his own store. But what made him choose East York for the second location?

For starters, it would be the only store of its kind in Thorncliffe. "If you go to Gerrard Street, there's many Paan shops, many competitors," Rafique notes. And it's true. Gerrard Street, home to Toronto's Little India, has at least four Paan shops dotted within walking distance of each other.

The other reason is the target demographic. Paan comes from South Asia, much like the residents of Thorncliffe Park. One in four Thorncliffe residents speak Urdu, and another one of the most common languages there is Gujarati – both languages that come from Pakistan and India. This is something they knew, Rafique says. "We thought, we're gonna get a good advantage with sales."

He takes me through the process of making one. First, picks up a betel leaf from a stack to his right and lays it out in front of him as his hands begin to work. The leaf is about the size of his hand and a fresh forest green. First, he takes a yellow bottle and squeezes a clear, glossy, paste loosely over the leaf. "It's for flavour," he explains.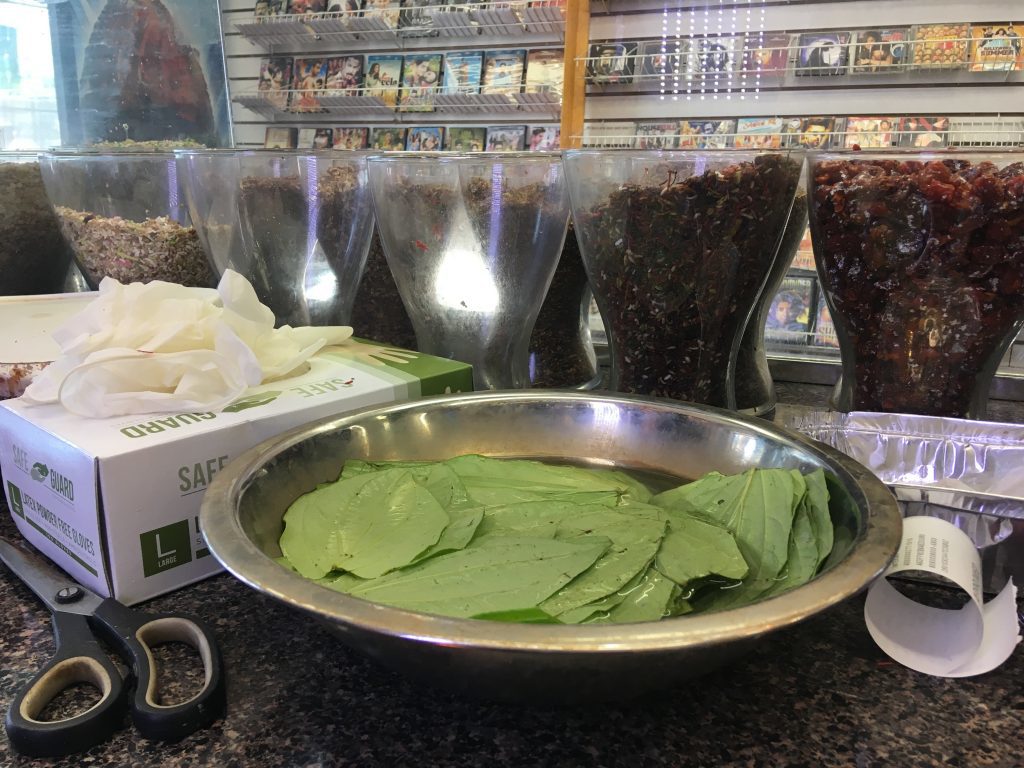 "Now we add a mouth freshener," he tells me as he sprinkles mukhwas on top of the leaf. Mukhwas is made up of candied seeds and nuts (fennel, sesame, anise etc). "This one," he says while reaching over the leaf, "is pink coconut". He picks up quite the generous pinch of candied coconut flakes and scatters them over the leaf as well. The coconut smells just as candied as the mukhwas, if not more – like a peppermint candy cane.

Next, he goes over to the gulkand: a sugary preserve of rose petals. "It's an important thing," sweet smelling, thick and jam-like. He scoops it out of a green-lidded container, and adds it to the preparation.

"Now dates" he says methodically. He opens up another green lid container and pulls out a few dates – cubed and slightly sticky to the touch of his gloves. They are distributed evenly over the leaf. Lastly he adds a few more syrups – one brown and one clear but both runny.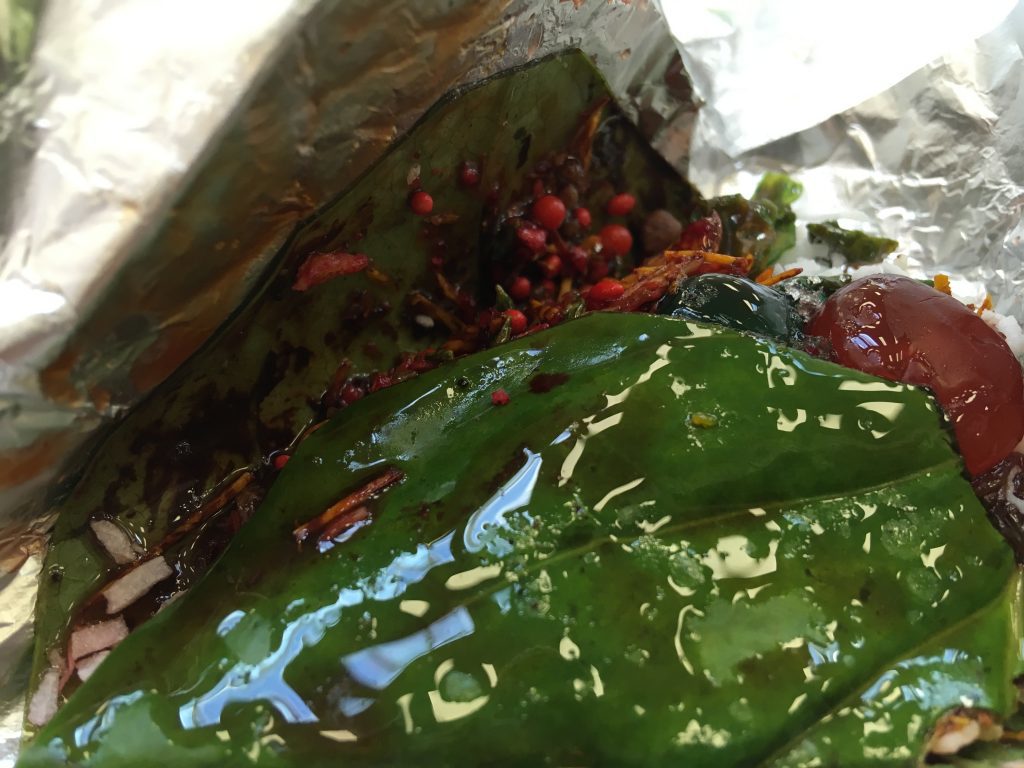 Finally, he places his creation on a small sheet of tinfoil and wraps it up into a neat, glossy little package of a leaf. Then he places it onto a flyer for a local fundraiser. It crinkles as he wraps it up once more for good measure. Can't risk any minty fresh goodness falling out.

Thorncliffe Park customers have been able to get their confectionary taste of home at My Choice Paan for a steady two years now. But just a few streets over, Royal Paan, a chain franchise has purchased a location set to open soon. Royal Paan has over 10 locations, some even out of the province, and even two in the United States. Most of their locations open even earlier than Afzan's shop, and a few of them are open past midnight.

Afzan acknowledges that the business landscape of Thorncliffe Park has changed rapidly over the last few years, with its newest additions including other chains like Starbucks and Costco. But he isn't worried about business competition. "As long as they want paan, I'll have customers."
Check out the video below which follows another Thorncliffe Park story!