By Pooja Rambaran
It was New Year's Eve 2015 when sound engineer Rajen Mistry was setting up the equipment for the live band performances at May, a Vietnamese dive-bar.

May sat on the bustling street of Dundas West, its basement left forlorn, collecting years of dust. Not long after the clock had ticked down to welcome the new year, Mistry was approached by his boss-the owner of May- who confided in him, asking what they should do with the run-down basement-cum-storage space.

Having spent years as a carpenter and then an audio engineer, Mistry had experience of being treated as expendable. From empty promises to untimely payments, his dissatisfaction with the poor work conditions he faced grew.

"That was a big reason why I wanted to do something myself so that the people working for me and studying under my lessons wouldn't be treated that way because it was too common a theme," Mistry says.

When his boss brought up the idea of repurposing the basement, the conversation led to what has now become 876 Studio.
876 Studio provides an array of keyboards for use on March 3, 2020. (Pooja Rambaran/ T·)

Rajen Mistry stands behind the mixing console, a space he's often in as one of the studio's sound engineers, on March 3, 2020. (Pooja Rambaran/ T·)

876 Studio is organized chaos. This bright red Mapex drum set sits among other percussion instruments available for use on March 3, 2020. (Pooja Rambaran/ T·)
Today, graffiti splayed walls enclose the narrow staircase that rumbles with each step, leading down to the organized chaos that is the studio. Its sliding doors welcome you to a dimly lit open space, the low ceilings making it feel much smaller than it actually is.

Wooden wall panels, some diagonally arranged, encase the room and the worn black floors are covered with rugs where equipment stands. In the back room, past the computer screens, mixing boards and speakers hung above, the eye is drawn to the fluorescent blue light bleeding into the small vocal booth.

"My goal was to be able to make a space where I could create music and work with clients and also where I can train others with actual physical hands-on work, get them actually setting things up, dealing with people in the space, in an environment where they can make mistakes and ideally have people around them that can help support them and teach them as well," Mistry says.

The studio houses internships, workshops and private lessons in addition to a space for artists to record.

Hardly ever empty, it's a constant hub for new music. There are artists who rent the space, get their equipment set up and work as they please. There are those who require a sound engineer to be actively involved behind the mixing console and there are "residencies" who come in at the same time slot each week.
Integrating tabla into electronic music, Gurpreet Chana has worked with Mistry at the studio, every Thursday since May 2018.

"I remember the first day I ever met Rajen, I was worried because the studio was in the basement but Rajen has built the studio from the ground up," Chana says. "The vibe of his is in each ounce of that studio and so Rajen and the studio's vibe, they work in tandem for me."

"Rajen is a person who when it comes to the project, he's not going to half-ass it so if they're things that we don't have there, we'll assess that together and make decisions accordingly," Chana says.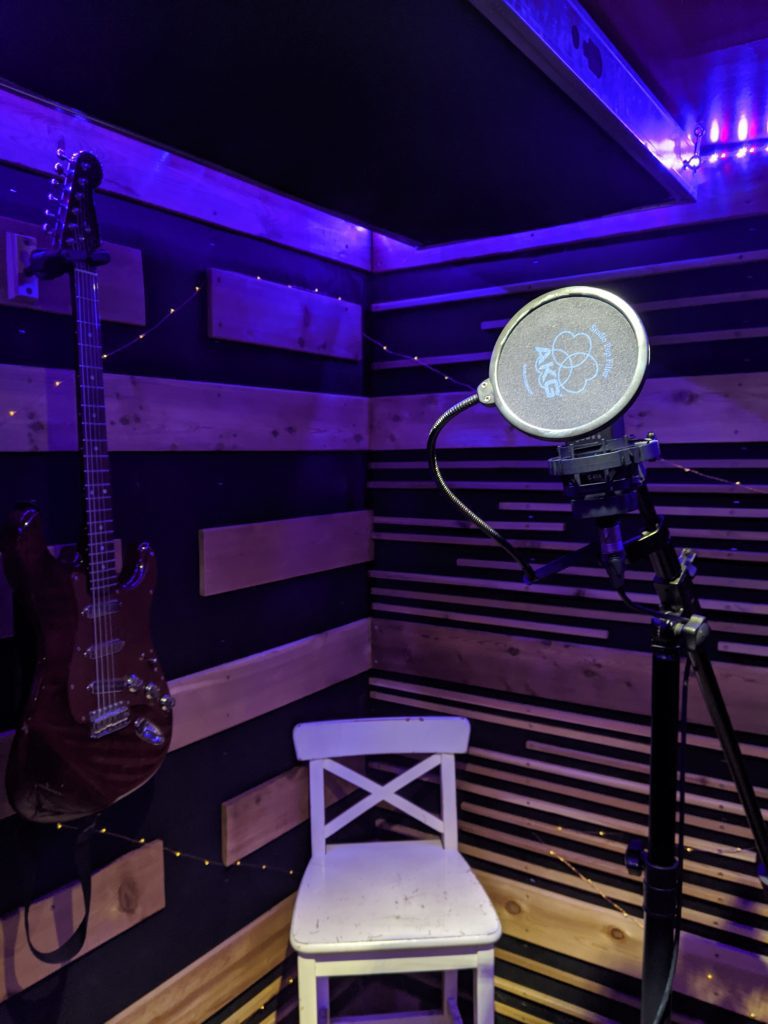 As he sits on a teal suede couch, his face hidden in the shadows, the light from above not quite hitting his face but the coffee table in front of him instead, Mistry recalls building the recording space from scratch.

Owing much to his father being an airplane mechanic, Mistry's passion for building led him to begin a career in carpentry after highschool. However, he faced a significant roadblock when he met with a car accident five years later.
Mistry sits back, one leg crossed over the other, and relays how he had slammed on his brakes in a reaction to the other car stopping abruptly. "I skidded for about five to six seconds and smacked the back of his car," he says with the smooth composure of a person who's probably relayed this story countless times.

No broken bones but with intense soreness and time to recover, he reflected on the long hours and manual labour he endured and his interest naturally dissipated, leading to an abandonment of his carpentry career.

With renewed gusto, he entered audio engineering school, an ode to his younger self whose interest in music was first sparked at the temple where he enjoyed listening and watching the musicians as they played off to one side.

That interest had later developed with him playing the trombone, guitar and piano throughout highschool, going even further to creating a guitar repair business in his parents' basement whilst balancing his carpentry career.
A year of networking and interning at different studios led Mistry to business school while he concurrently started Backpack Studio, a mobile recording studio. At a client's chosen location, he would set up, record, mix and master and in the end, deliver a final product.
It was the momentum and recognition Mistry gained from Backpack Studio that led him to the owner of May.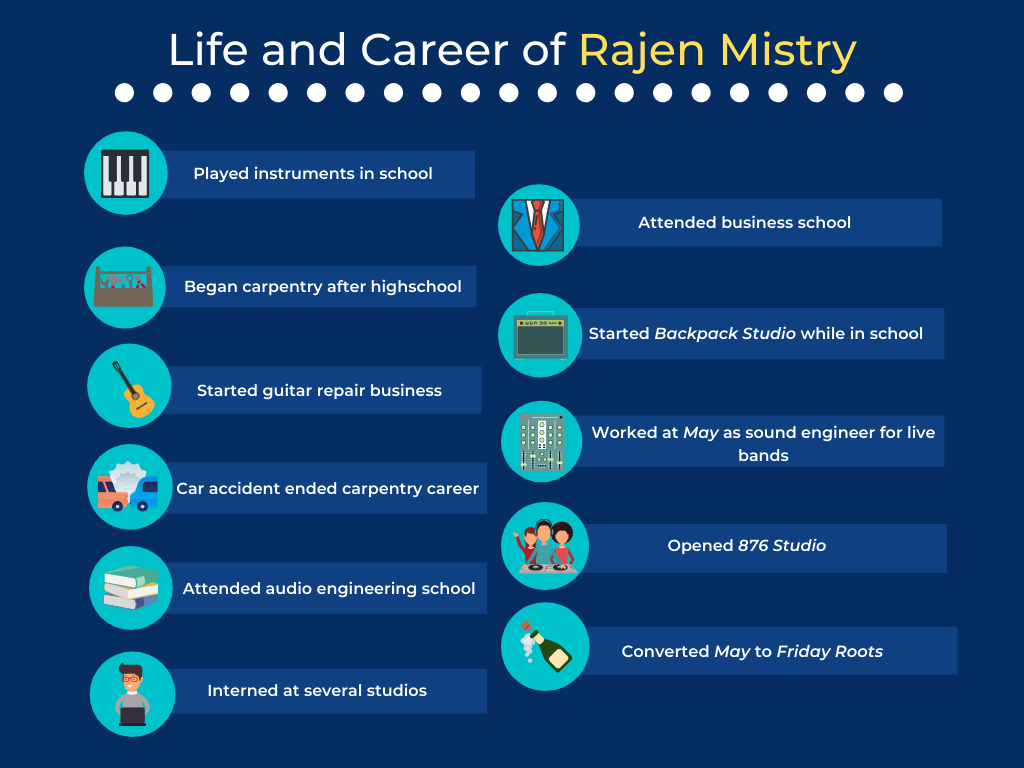 He initially pitched the concept of creating a mobile recording studio headquarters to his boss. "That conversation eventually led into 'why don't you build a studio and this could be where you could do the work.'"
The dust-filled basement officially became what it is today in July, 2016.

Over a year ago, May's previous ownership, a husband-wife duo, abruptly called it quits. Mistry was left with a decision to either take over the restaurant and save the studio or walk away from it all.

With help from his family and friends, he managed to renew the lease and officially take it over in late 2018.

While major renovations and menu curation happened throughout the day, live shows still went on as night fell, in a rush to officially open in time for New Year's Eve 2018.
Through the glass doors, Friday Roots now sits where May once used to. It's empty during the midday as the gentle hum of the heater resonates. The restaurant, home to Southern soul food, reopens in the evening to welcome the dinner crowd and live band performances, keeping some essence of May alive.
New York-based rock and soul musician, Jonathan Hoard performed twice at Friday Roots in early March. The first night, he performed as a solo act and managed to sell a few copies of his recently released album.

"The following night, I performed with a band. Just about every audience member from the solo show returned with a friend or four!" Hoard says. "I left the venue that night without any CDs, they were all sold.
That week was the first time Hoard performed in Toronto and at Friday Roots, and it's sure not to be the last. "I will always return to a venue that takes every measure to make me feel comfortable, professionally respected, and free to express [myself] the way I desire," he says.

Rajen, 876 Studio and Friday Roots have evolved with unique experiences and response to needs. While there is a sense of settlement, one feels that the fidgety soul of Mistry and the studio will continue to transform.