By Jenna Naccarato
Grains are divided equally, pale malts are combined with water in what looks like an enormous bowl of porridge, yeast feeds off of sugar, hops are added for aromas in Liberty Commons' onsite nano brewery and … can I get another round of the Big Rock Citradelic IPA please?
Liberty Commons at Big Rock Brewery combines Big Rock craft beers and creative food with a modern twist — like Yorkshire pudding nachos, a black bean burger and sticky toffee pudding. Opened in 2017, it is a collaboration between Alberta's Big Rock Brewery and the Oliver & Bonacini restaurant empire.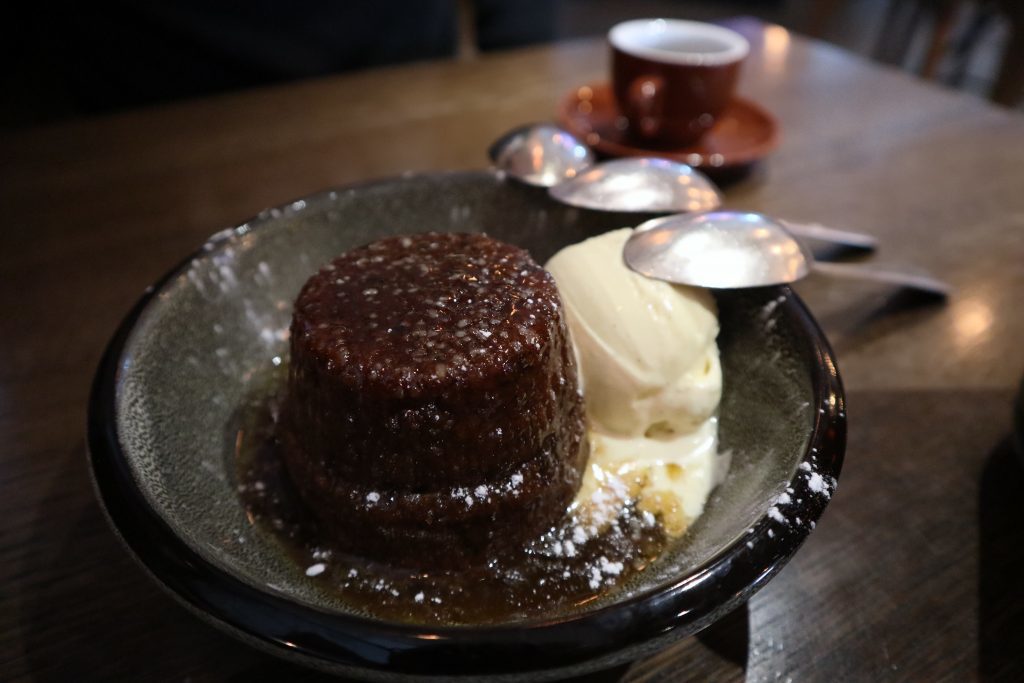 Big Rock was launched by Ed McNally in 1985 and the company has created a wide variety of beers ever since, including Grasshopper, Citradelic Single IPA and Traditional Ale, to name a few.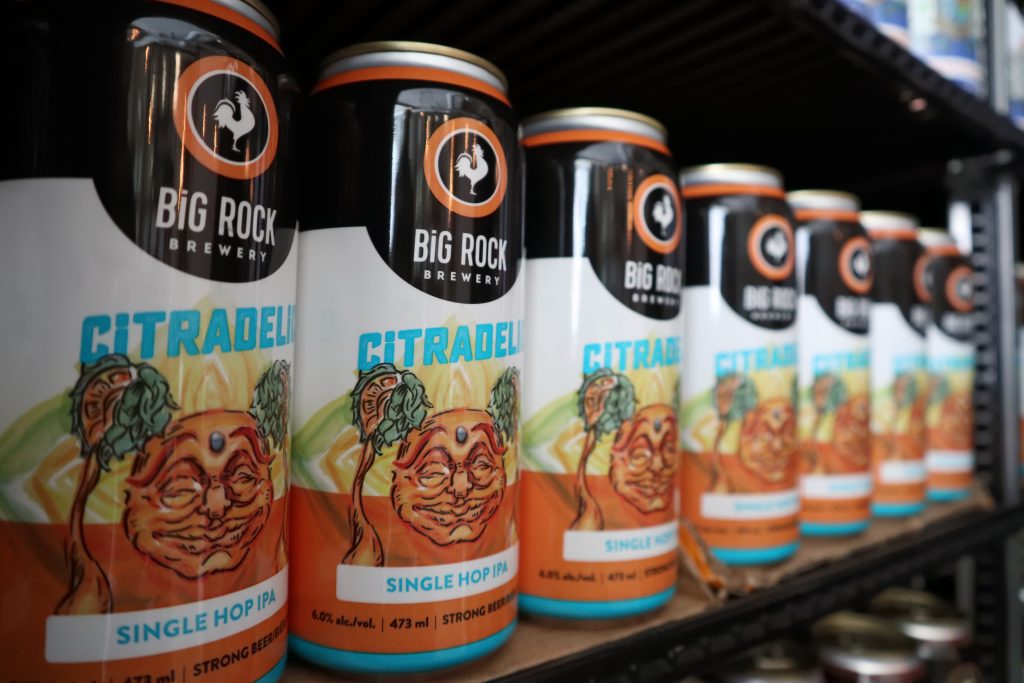 With locations in Calgary, Vancouver, Etobicoke and now Liberty Village, this is the first time Big Rock has collaborated with a privately owned restaurant company.
Liberty Commons is at Liberty Street and Atlantic Avenue in one of many heritage buildings in the neighbourhood. Historic wooden beams and cement tiles have been incorporated into the décor. Now, as you enter through tall glass doors an area selling Big Rock merch greets you en route to a casual upstairs room with a limited menu for snacks, tasting beers and shopping in the Big Rock gift shop.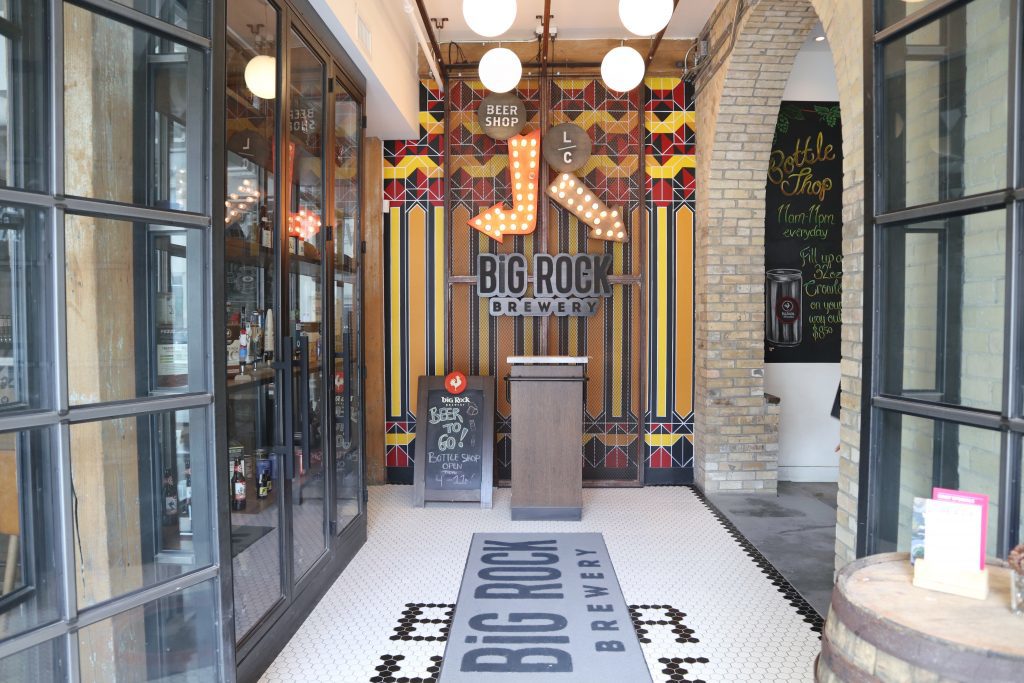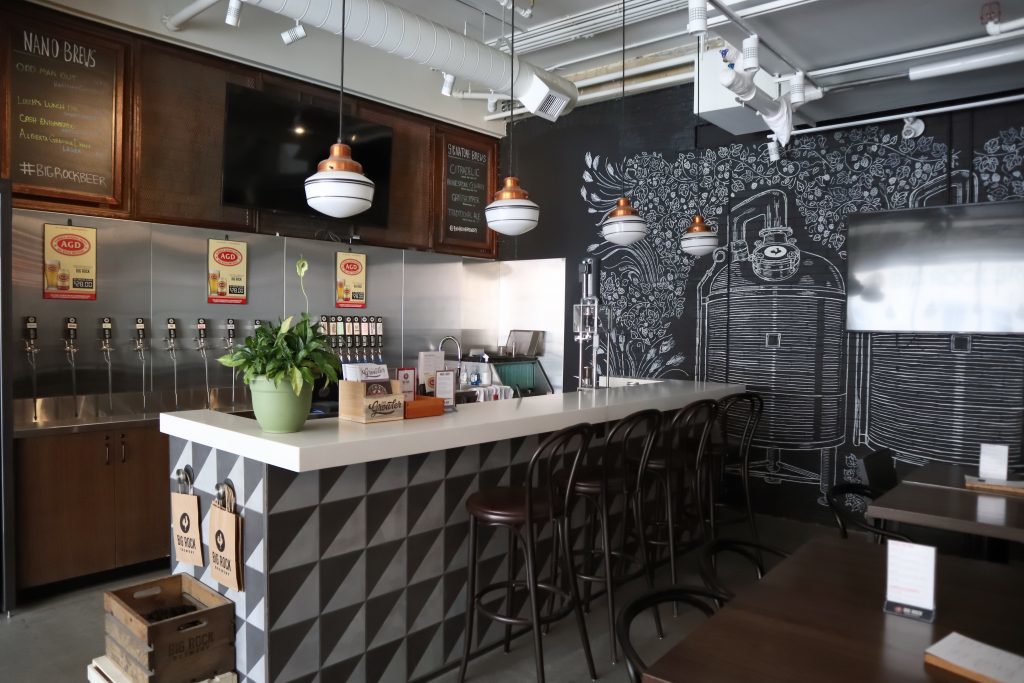 Sven Walden, who sells Big Rock beer on the first floor, says many of the brand's nano beers are created onsite. "If we want to get a small batch of a recipe out we will brew it in our nano brewery downstairs, keg them and put them straight on draft," Walden says.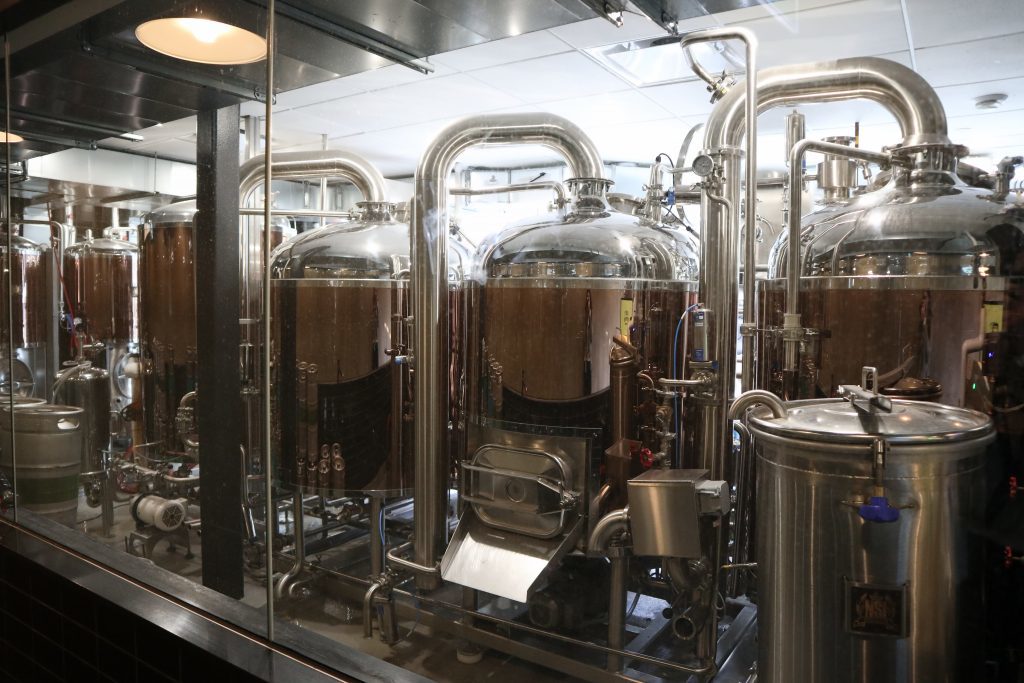 Downstairs, past the exposed historic brick and Toronto FC flags, is the main bar and dining area. On game day, fans pack the main dining and bar areas eagerly waiting for the match to begin on the large TV screens around the room – and to chomp down some food, of course.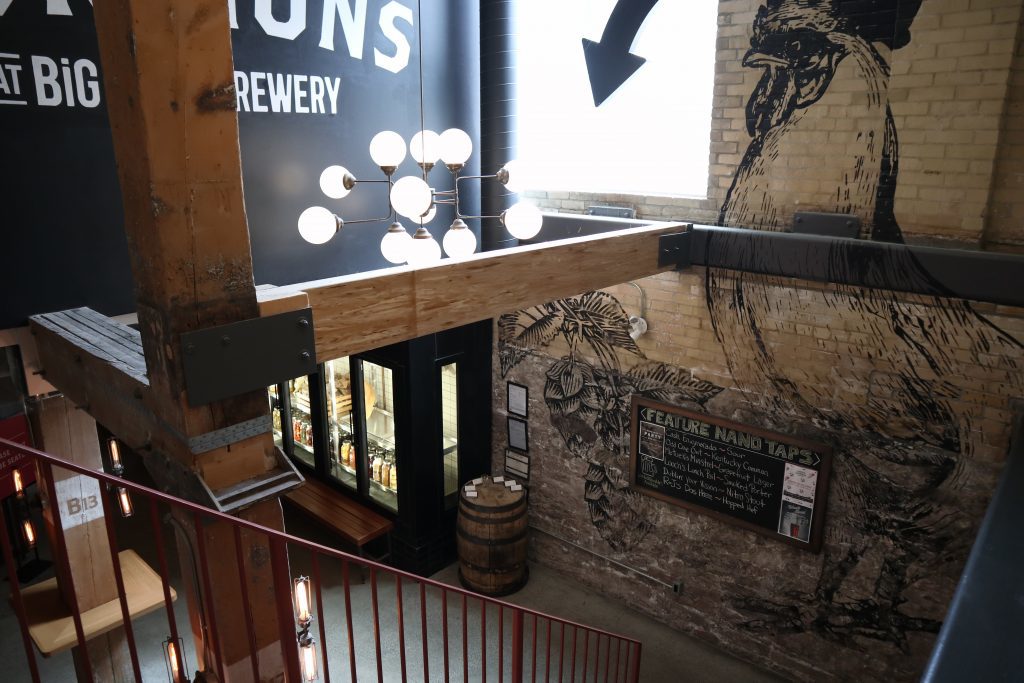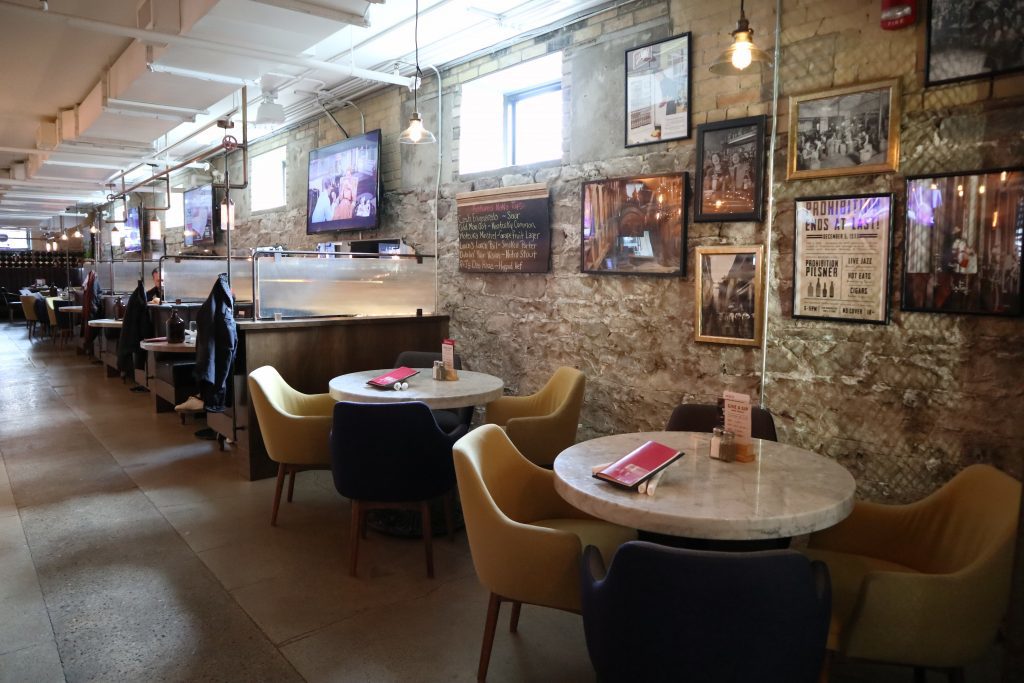 Chef de cuisine Ryan Lister, who's been at Liberty Commons since its debut, has a fine dining resume with O&B that dates back nearly six years. When he first moved to Canada from Weymouth, a seaside town with a picturesque harbour on the south coast of England, he began as a sous chef at O&B's Canoe. Three years later, Lister moved to Liberty Commons.
The contemporary Canadian menu, infused with a hint of English culture, changes seasonally to offer fresh ingredients from local suppliers.
Since the farming seasons are short in the frostbitten-cold country of Canada, most of the root vegetables during the winter months are ordered from 100km Foods Inc., a company that works with individual farms within, naturally, 100 kilometres of the GTA. "When I place my order it is literally still at the farm, and they go pick it up and I am sure to get it two days later," says Lister.

He also visits individual operations like Tamarack Farms in Roseneath, Ont., near Peterborough. Year-round Tamarack delivers animals for meat and during the summer freshly picked seasonal vegetables, including zucchinis, squashes, egg plants, peppers and cucumbers, make their way onto the menu.
"It's the best at Tamarack. You can walk around the garden, you can go pick vegetables, see all of the animals. I was even up there the other day to tap maple syrup," Lister says. "They will always take the free help for harvesting, but it's more of a leisurely activity to go up with some of the team and just learn where the food comes from."
In the summer, 100km Foods also organizes classic field trips via yellow school buses. Last summer, Lister, along with one of his apprentices and one of his sous chefs, rode the bus to Welsh Bros., a cornfield in Norfolk County – a rural municipality just west of Hamilton.
Walking through the cornfields, they learned the process of farming and harvesting corn. "Then from there we went to a cool spot where they grow sweet potatoes and peanuts, which was really cool," Lister says. "We even got to learn about the soil they were grown in."
That trek resulted in a new menu item, a warm vegetarian salad that uses sweet potato and peanuts. "It was really great because not only did I tell all of my cooks about that but so did my sous chef and my apprentice," says Lister. "It was great that we always had a dish going out with the servers that reminded us of something from the farm."

The restaurant embraces special touches like that.
One night during the first month open, server Allie Banks approached booth 35, closest to the window, where a couple in their early 30s was seated. Shoulders slumped and droopy eyes covered by their matching glasses, they made Banks wonder why they looked so exhausted. Then an energetic four-year-old girl popped up between them. Mystery solved.
Banks was the first person hired at Liberty Commons two years ago. When she's not serving Big Rock's lager, she does gigs as a stand-up comic. She also is known at Liberty Commons for the unconventional ability to remember names, orders and events long after a guest has left.
"They ordered the jerk chicken and a root salad to share," Banks says. "Mum had a glass of red, dad had a lager, and the little girl didn't have a meal herself because she was very picky. So, she just picked at what they had."
The little girl ran circles around the restaurant, brushing her blond hair from her face. As she followed Banks while her mom repeatedly apologized, the server offered to take the child on a tour.
Grabbing her petite hand, Banks walked her around the whole restaurant, including the kitchen.
"She thought the brewery was really cool and kept pointing at it and asking me what it was," Banks says. "So I picked her up so she could see through the glass and I explained the purpose of each vat as much as you can to a four-year-old."
Returning her to booth 35, Banks was showered with thanks by the grateful, and more relaxed, couple.

Banks says these genuine connections are what manager Sarah Minard refers to as "moments of truth."
"We cater to a wide range of clientele from young hipsters that want to try new beers, to soccer fans that are going to the TFC game, and even older people who come in for our Sunday roast dinners," Minard says.

This modern-day brewpub is the perfect combination of fancy comfort food and cold beer in good company.
Sitting on a high leather-cushioned stool at the bar, a charismatic bartender with big smiles places a glass filled with ice-cold beer on the white marble bar top. Next to it is a fried chicken sandwich accompanied by a remoulade slaw. With one sip of beer, warm citrusy bouquets and floral note aromas spark a prelude to the upcoming patio season at Liberty Commons.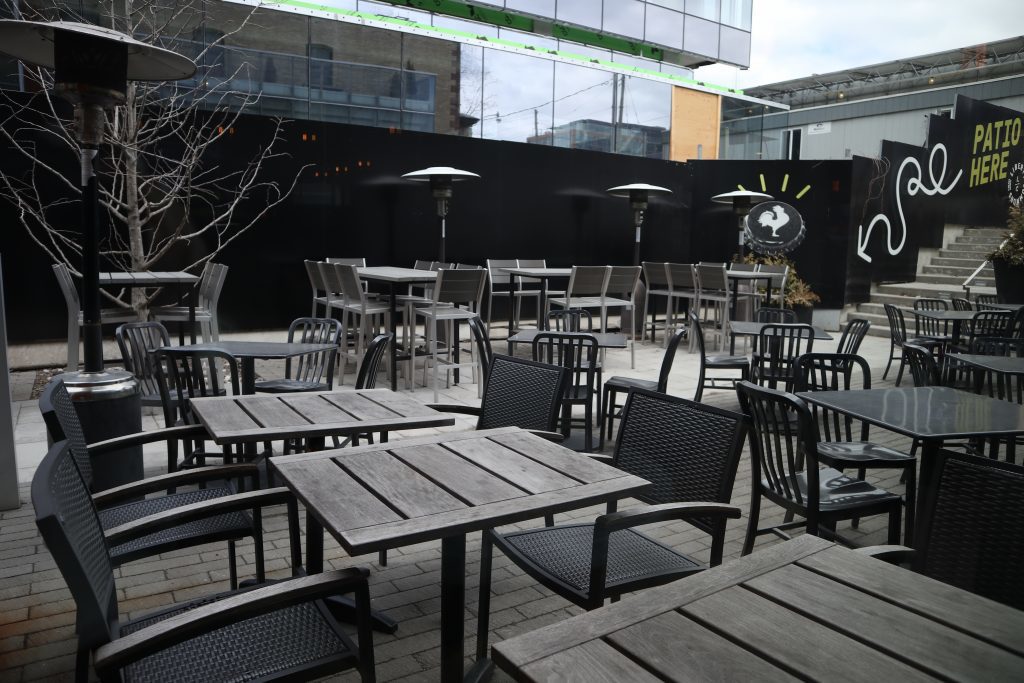 The Climbing Community