By Cassandra Dubiel
From the moment she laid eyes on Dorothy's iconic ruby-red slippers in the Wizard of Oz, shoes have had a special place in Jennifer Allison's heart. As a little girl, she dreamed of having a pair to call her own, sending everyone from her mom to her grandmother around her hometown of North Bay, Ontario, in search of the sparkly slippers. But after scanning shelf after shelf in store after store, it became abundantly clear that there wasn't a single pair of the magical shoes to be found — at least not in North Bay. And with that, the dream was put on hold. But as Dorothy said, "the dreams that you dare to dream really do come true," and just eight years ago Allison managed to do just that when she created one of her very first pairs of handmade shoes.

They weren't slippers, but pumps, sparkly red ruby pumps to be precise. Pumps that required nearly 30 hours of sewing, nailing, and sawing before they could truly become the shoes of the young Jennifer's dreams. But since then they've come to represent even more than that — something career defining.
Footwear wasn't even on Allison's mind when she began studying fashion design at Ryerson University in 2005. Over the next four years she'd specialize in evening wear, but, in a twist of fate, she began life in the industry as an illustrator at the popular footwear and accessories chain Aldo. Becoming one of the first members of the brand's newly implemented in-house design team in 2009, Allison found herself learning the ins and outs of footwear on the factory floor.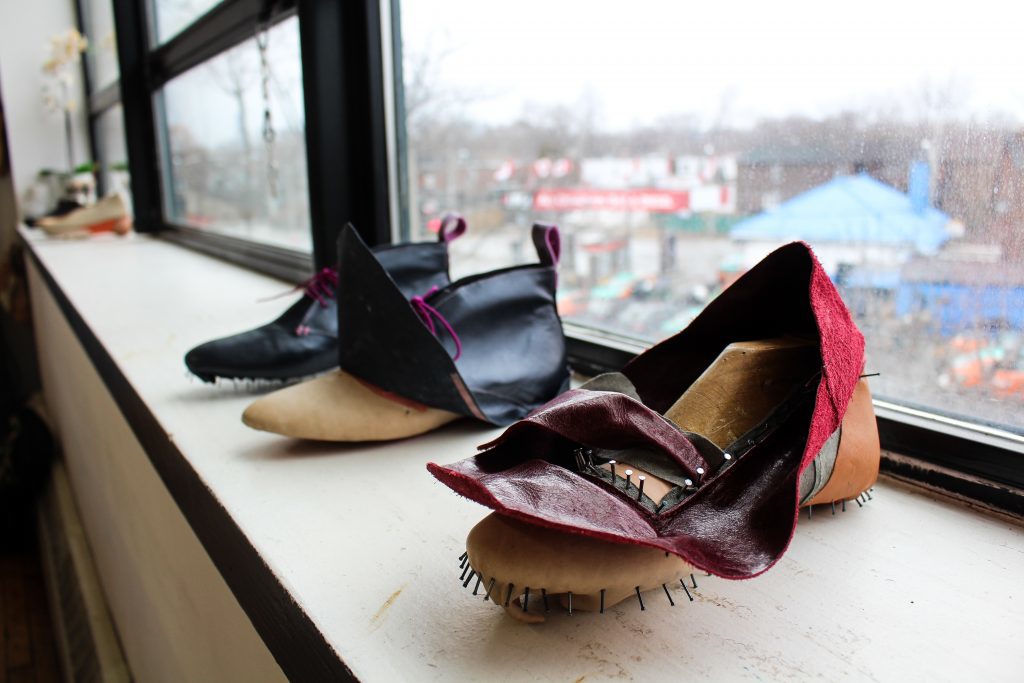 Thinking back to those days, when she spent hours studying every stitch and swatch of her colleagues' work, Allison has come to view the moment she created the red ruby pumps of her dreams as a step on the path to her destiny.
"Everything kind of came full circle," she says, a massive grin spreading across her face. "They were so sparkly, but to me they were a symbol that I was doing what I'm supposed to be doing."
And from there, the Art and Sole Academy was born. The Leslieville school is the first of its kind in Canada to offer classes and workshops for those interested in pursuing the lost art of making shoes by hand. Allison's classes stress the importance of craftsmanship and quality at a time when the footwear industry has become more about how quickly you can create the next "it" shoe.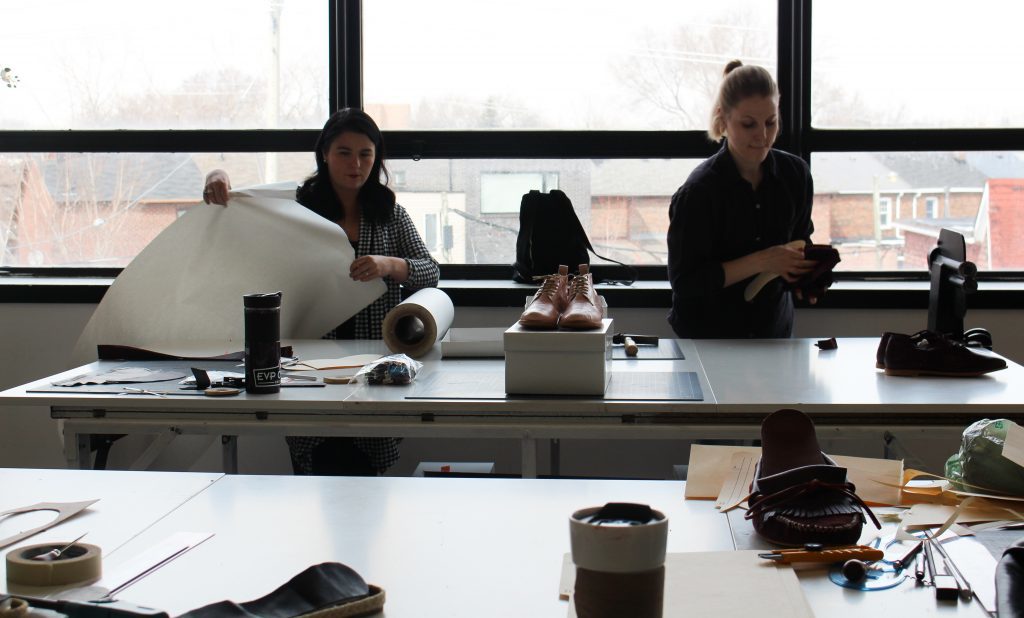 In Canada, the footwear market is growing three times faster than the apparel industry, according to research from The NPD Group. Every season, fast-fashion companies rush to create a carbon copy of the latest trend shoe seen on the Paris runways, and whether it's been mules, open-toed boots, or dad sneakers, consumers are always willing to buy.
"I find it a little sad that when we buy something we've been trained to think we can only wear it once or twice," Allison explains, "Maybe nowadays there's a faster and more profitable way of making things but we can't just forget about quality and overall craftsmanship. I think that's always a secret ingredient in what makes a product special in the end."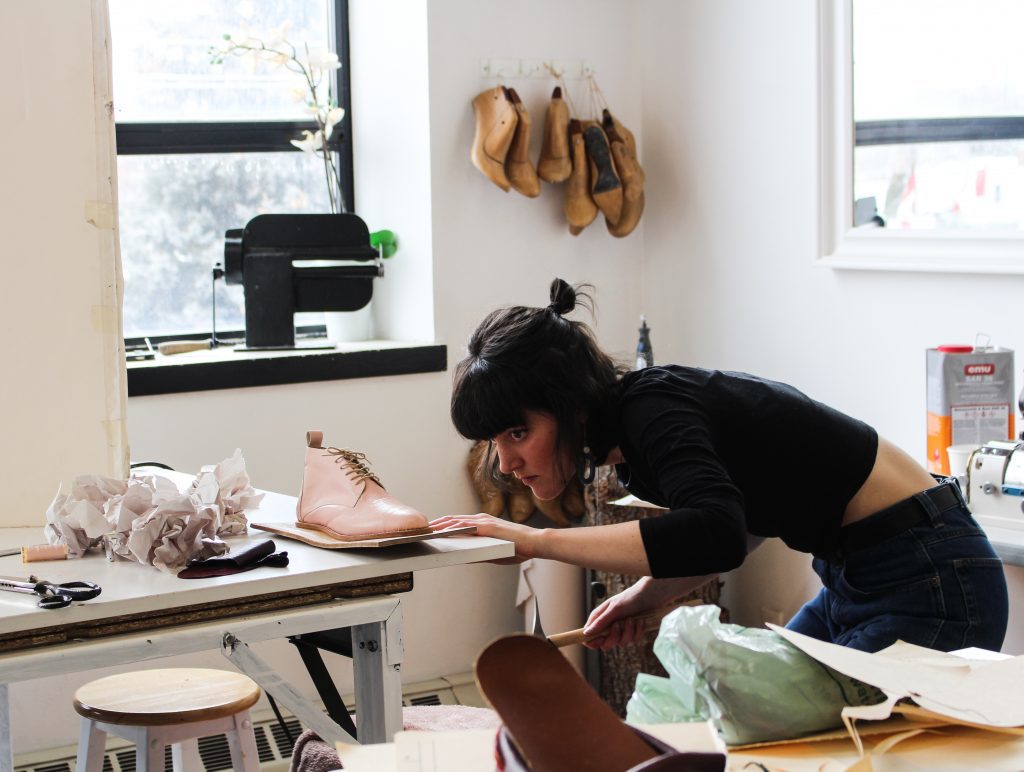 The Studio
Allison's studio is the embodiment of her philosophy. With a simple black and white colour scheme, she's designed it so her students can bring in the colour with their handmade shoes. The walls are lined with inspiration — moccasins, loafers, flats, and even miniature baby booties — all handmade by Allison and her former interns.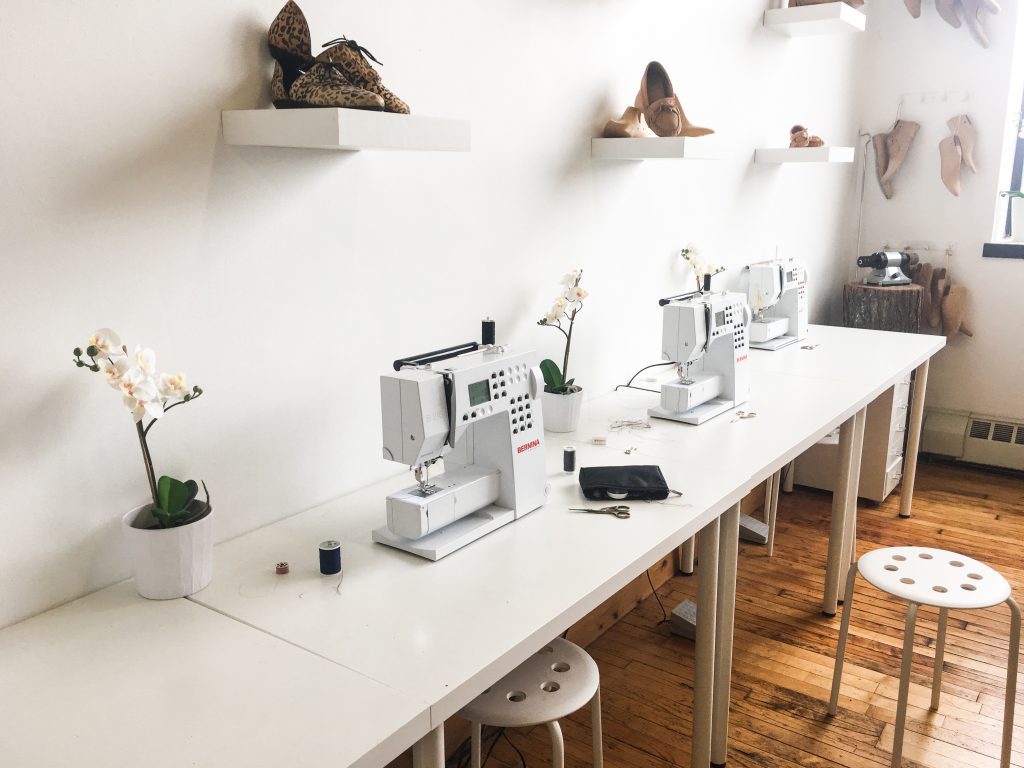 Every shoe on display is a warm honey-brown colour, but each has a unique identity. The most eccentric of the bunch is a pair of leopard-printed loafers with open sides and a cheeky ruffle detail just beneath the lacing. Next to those are an identical pair of baby booties — same leopard print, same ruffles, just miniaturized.
Allison has made it her mission to create a children's version of each display shoe on the wall, and while she's only one pair of sandals and another pair of loafers away, that project will have to be for another day, right now she's got the first of a two-day beginner shoemaking workshop to lead.
Leather moccasins and espadrilles are what's in store for today's students, Julie Halbert and Kane St. Louis, and they're eager to get started. As they work away, it's hard to miss that both have come dressed in colours identical to the leathers they've selected for their shoes.
Halbert is dressed rather simply, but while her black sweater with matching leggings may look plain, it's easy to picture how well the white espadrilles she's creating will look with her trademark black and white pom-pom hat. She's planning to take them on a trip to visit family in Mexico and she's expecting plenty of compliments.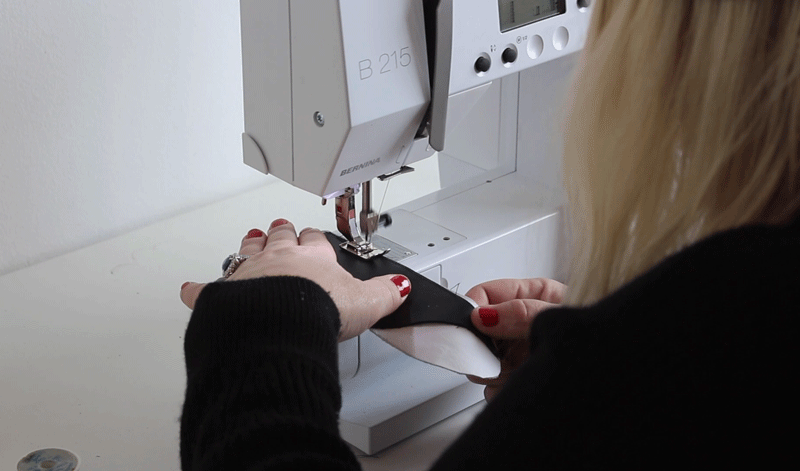 She's added signature black toe tips à la Karl Lagerfeld — minus the infamous Chanel logo of course — and is in the process of glueing strips of vibrant sapphire blue suede interior lining to the white exterior. Her lips curl in frustration each time the yellow-tinted glue finds its way onto the black toe tips. Allison slides over and carefully takes the finished tip from Halbert's glue-covered hands and begins delicately rubbing the worst of the spots away, joking that suede always has a tendency of "holding grudges" and explaining that next week will be spent hand-stitching the pesky pieces together.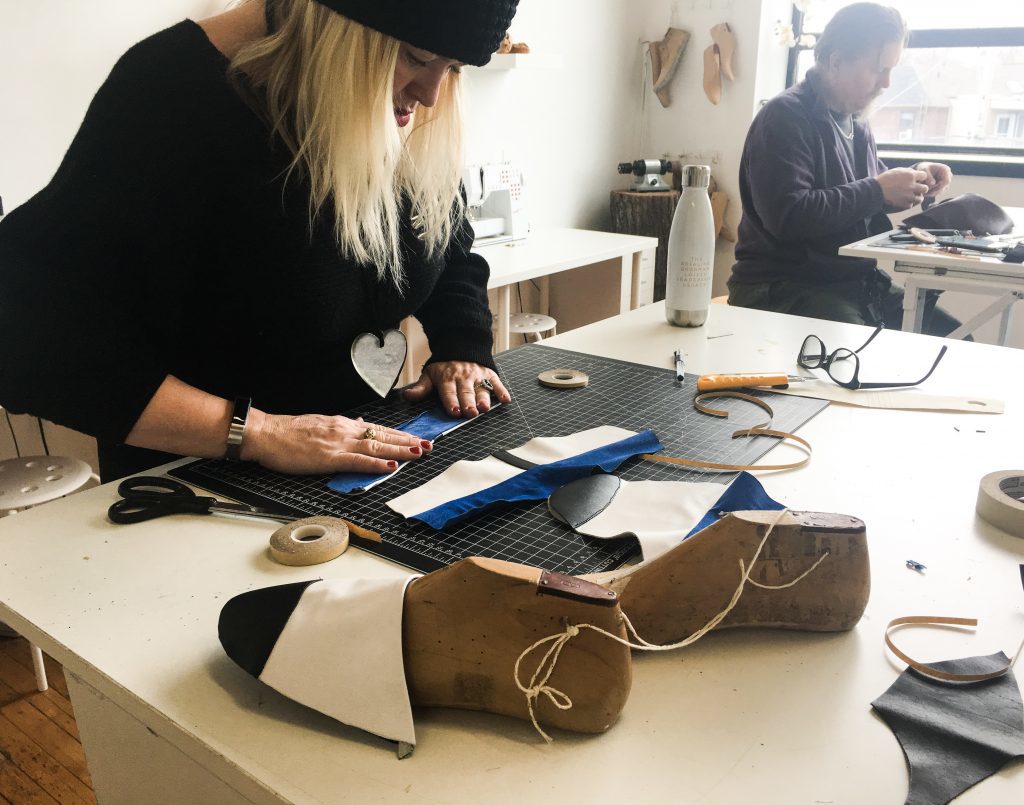 Meanwhile St. Louis is in his element. This is his second beginner shoemaking workshop and it's also his second time creating moccasins. The deep hunter green leather he's chosen goes a little too perfectly with his shirt, and the golden brown laces will definitely complement his khakis. On the table is his first attempt, a dusty dark-red pair with an orange lace. It's hard to find a fault in them, there's no bad stitches or tears, and even Allison seems a tad surprised to see him back so soon for a second attempt. As he separates his browns and greens into piles so he can clear up his workspace for another round of cutting, she jokingly asks if his wife wasn't a fan of the original pair. He laughs as he looks up from his work, explaining that even though she was fairly impressed with them, he wants to create a new flawless pair, free of any kinks.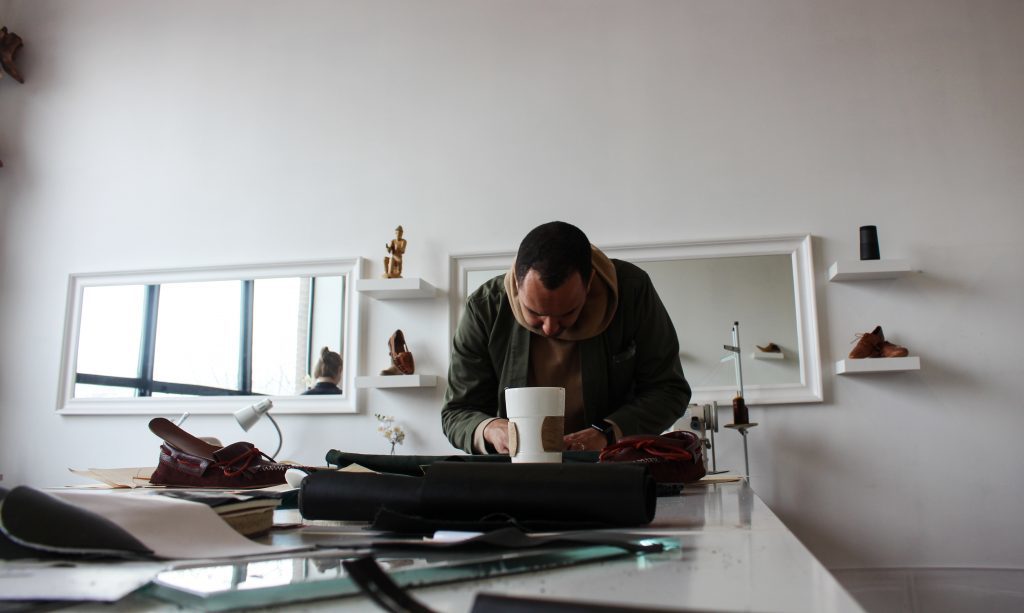 While perfection may be difficult to achieve, it's easy to see a love for the craft blossoming within the studio walls. Allison strives for each student to leave her workshop with the same sense of fulfillment she had when she created those ruby red pumps of her dreams.
Her studio is far removed from the dark, cramped quarters and the chaos of fabrics and leathers typical of many professional design studios. Despite the constant sounds of snipping and sawing along with the pungent smell of glue, the atmosphere is light and creative as people get comfortable exploring the lost art and joining a shoe-loving community.
"I don't think many people understand the amount of labour that goes into a pair of shoes," Allison explains, "That's why these workshops are great because it really is an eye-opener. People can walk in with an idea and walk out with a pair of shoes, maybe their shoes aren't perfect, the first pair, but what they do leave with is an appreciation of the craft."