It didn't take long for people to hear about Chris Jerk Bistro's unheard-of fusion.
By Shauna Mazenes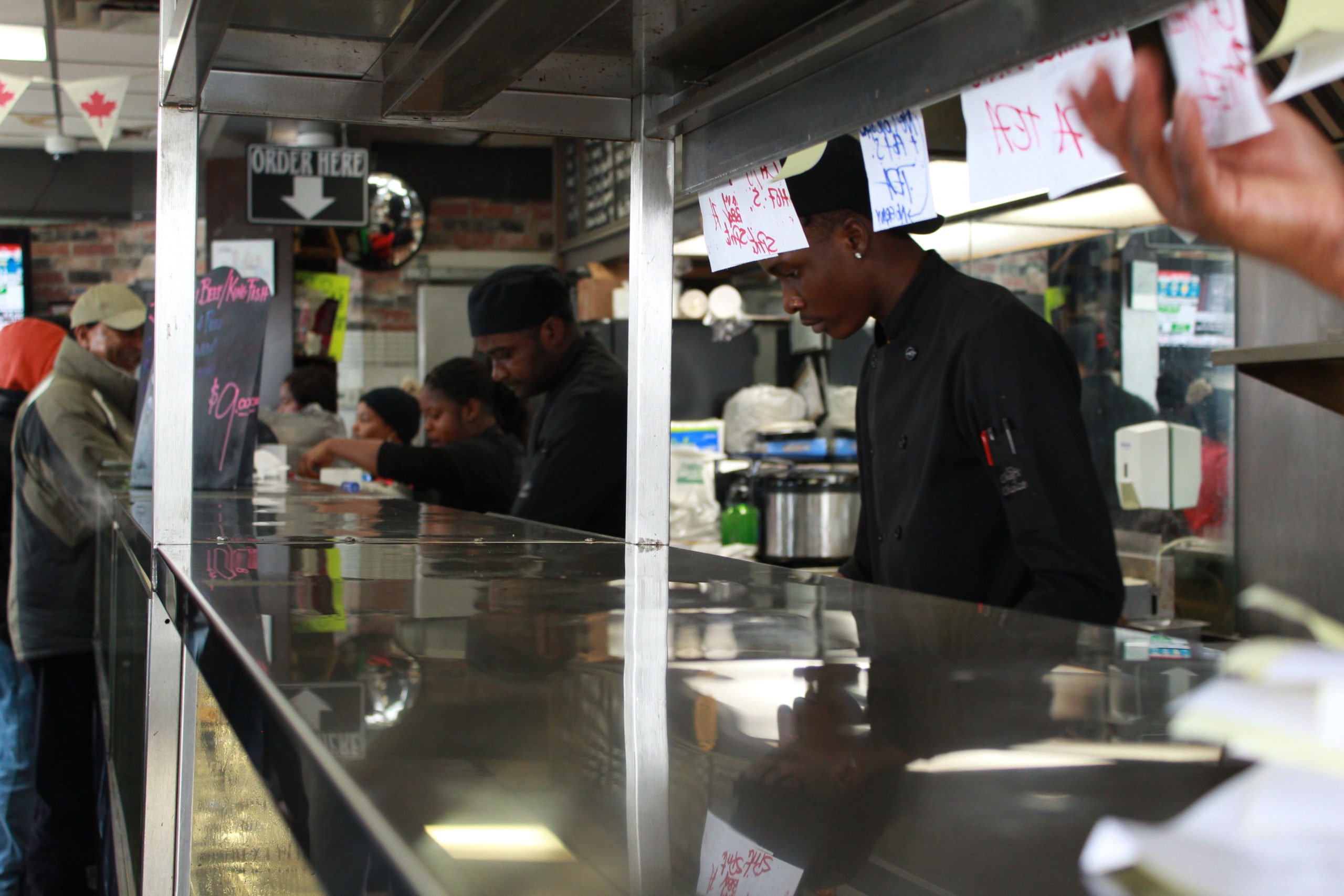 Aretha Taylor arrives at the doors of her family restaurant every Friday at 11 a.m. precisely. She takes her position at the cash register, shouting orders to cooks. Some people are at the few tables on the left, others line up for takeout to the right, more are waiting in their cars for catering. By 11:06, there are 12 customers waiting for food and the receipt spike is nearly half an inch thick with orders— not bad for the first six minutes.
And it all started with an unusual recipe.
"Dem daya!" Chris Taylor himself shouts to the back over all the chaos, which is essentially Patois code for 'more plantains.'
The bold, smoky aroma mixed with the sweet and spicy accents of jerk spice is a reminder of what's drawn in these patient customers. Caribbean music bops in the background, hard to hear over the bustle.
"Flashas!" another employee shouts, as Chris blinks a waft of fragrant smoke out of his eye: "more chicken."
As lunch hour approaches there are 28 customers in the place, and you can barely see in front of you— some people are pushed up against the windows of the food counter, others crowding in the corner near the washroom, trying not to get hit by the door.
This is a typical Friday morning for husband and wife Chris and Aretha, it all began with an idea to combine two cultural dishes: shawarma made with traditional jerk chicken.
Modern Continental Breakfast Menu
by Shauna
10 years before opening here in 2013, Chris worked as a head chef at Me Va Me at Bathurst and Rutherford making middle-eastern food, such as shawarma, hummus, and baba ghanoush. He also helped the franchise open another location at Bathurst and Steeles.
"Based on our Jamaican culture, Chris just took a spin on it and said one day 'you know, it'd be really cool to marinate the meat jerk chicken style and build a shawarma,'" she explains. Aretha encouraged her husband to start his own business and offered to handle the money.
"I was like, 'Don't tell anybody, you're gunna open your own restaurant and make jerk chicken shawarma,'… and it sort of just took off from there," she said.
Claustrophobic is an understatement for the current state of chaos in the store, although Aretha says this is actually slow for this time of the week. Chris Jerk typically sees anywhere between 500 and 600 people on a normal day, and double that on a Friday or Saturday reaching well over 1,000. It's not uncommon for the joint to have line-ups going out the door, even when cold weather advisories warn the masses to stay inside.
"Just about every culture comes in here. Like everybody, eeeverybody I'm saying," Aretha says. "I've even had people that have heard about us and come here straight from the airport. They've come from New York. They've come from Australia."
Chris Jerk Bistro doesn't even have a website or online menu, so Aretha says the popularity is owed to word of mouth alone: "I think social media and the internet has really made us world-wide."
Buying the unit and opening a business based on an experimental fusion was certainly a risk. Aretha admits she often drove around the area attempting to scout out people she felt would enjoy Carribean food.
"I was driving around like, 'Look! There's a black person! I see some black people!'" she laughs.
Chris remembers customers' hesitation on opening day, as he hacked jerk chicken off the spit and handed it out for people to try for free. People were on the fence: no one had ever heard of jerk shawarma before, and especially not jerk shawarma poutine— a middle-eastern and Caribbean twist on a traditionally Canadian dish.
To their surprise, the idea took off almost immediately. Fast-forward to the present, and their jerk shawarma recipe has sold out every day before four p.m. since they opened; they are in the process of patenting it.
Word of mouth has come to be one of fastest-growing, most successful business models in the world according to Robert Kiyosaki, financial author and businessman. Kiyoski states in his book, the Business of the 21st Century, that some people spend their whole lives unsuccessfully trying to create a network marketing platform for themselves; Chris and Aretha have not just done it successfully, but organically.
Even people who eat shawarma as per their ethnic culture vote in favour of the dish.
"They're like, 'I have your shawarma and I don't even want my traditional shawarma anymore','" Aretha laughs.
Chris often works strenuous shifts— sometimes more than 12 hours without stopping. For inspiration, he looks to Muhammad Ali.
"He's a boxer. He's a fighter. I'm not a fighter in that way, but I think every day going through, it's like a fight in the wrestling business," Chris explains. "You're not fighting like punching people out, but, last week, I did a 19-hour shift. And I just thank God that I have the ability and the strength and the faith."
Aretha gazes at her husband with wide watery eyes as he tosses fiery veggies.
Chris and Aretha are not the only ones in the family who have a knack for thinking outside the box, and an unyielding dedication to hard work; their son, La Mar Taylor, has made a significant difference in the Toronto music scene as the Weeknd's creative director and the founder of an incubator, HXOUSE, that connects Toronto artists with powerful resources in the industry— such people who have worked with Drake, the Weeknd, Rihanna, U2, and Kanye West.
"He was supposed to go to school for nursing and told me he was dropping out, and that him and [his friend] Abel were gunna go do this thing downtown…" Aretha explains as she shakes her head laughing. "We were like, 'No, you have to do something with your life!'"
But that friend 'Abel' went on to become the Weeknd, and today it seems no coincidence that La Mar, like his parents, made an uncertain life choice years ago that landed him with a successful and fulfilling career.
"Now," Aretha says, "We're like, 'We're so proud of you!'"