By Sara Romano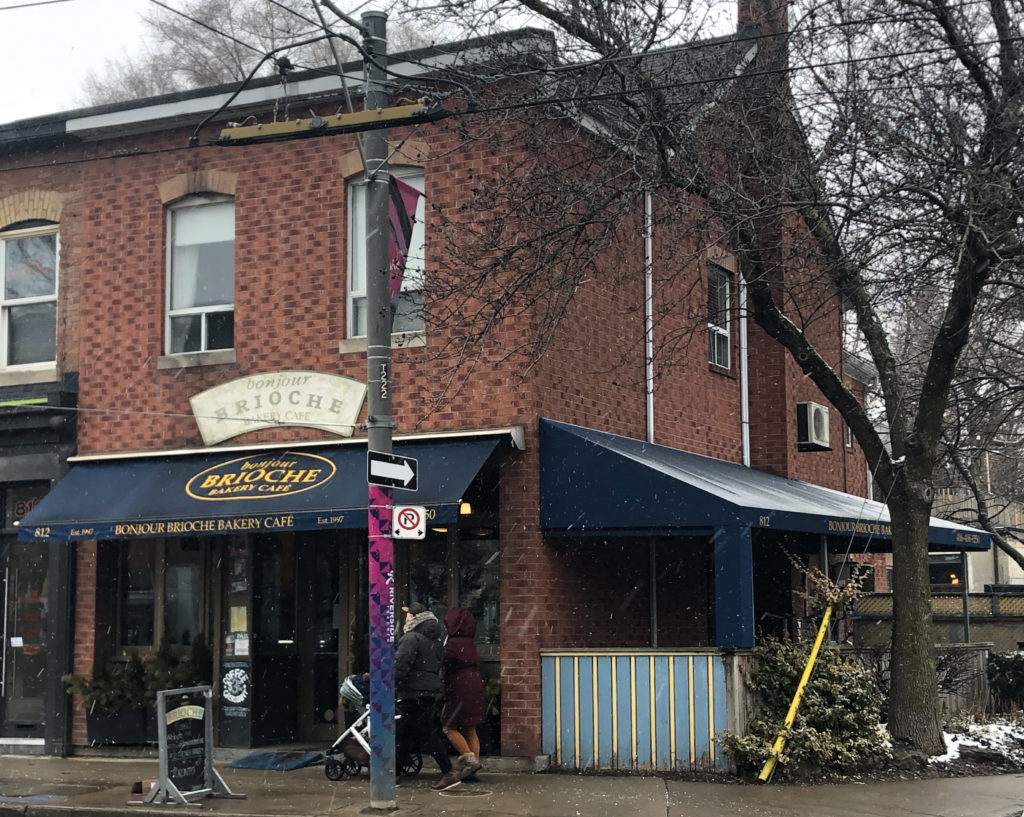 The knocking began well into the night.
Henri Feasson was in the basement of the cafe, preparing pastries for the next day. He paused for a moment. Assuming that it was a drunk wandering the streets, he resumed kneading the dough.
Knock, knock, knock.
After a few minutes, Feasson had enough. He clambered up the stairs and approached the door warily. Carefully, he opened it.
A man stood in the doorway, looking frantic and dishevelled.
"Please, I need help," he pleaded.
Feasson opened the door a little wider.
"It's my wife," he managed to gasp. "She's in labour, and she needs your croissants."
The man seemed desperate enough for Feasson to push aside doubts about the man's honesty and pack a box of croissants.
Feasson all but forgot about the strange incident until, a few months later, a couple arrived at the cafe with their baby.
The man smiled. "We're back for more croissants."
………………..
Though a steady stream of weekend customers is now typical, the quaint blue-canopied cafe stuck out like a sore thumb in industrial Riverside in July, 1997, when Lori and Henri Feasson opened its doors.
Before Bonjour Brioche, they shared lemon tarts and croissants only with each other. Bringing them to the public was daunting.
Lori and Henri had met a few years earlier at the Toronto hotel where they both worked. Henri, a pastry chef who'd recently immigrated from France, would watch Lori skate on a small nearby rink. In broken English, Henri asked her on a date.
"We didn't talk very much on our first date," he now laughs. "We had a lot of other fun though."
One day, Lori stumbled upon a small brick building for sale in Riverside (not to be confused with swankier Riverdale to its north-east), whose little foot traffic back then regularly included prostitutes In the early hours of the morning, while Henri bustled around the kitchen, hoards of drunken people would loudly stagger down Queen Street East.
"A lot of business owners or restaurateurs told me that after we had opened that they decided, 'oh, if she can do it there, then we can do it as well,'" Lori says. "So they opened up, and other businesses followed. "
She and Henri both note the boom in businesses that has erupted in the years since they opened.
But in terms of their own bakery, Henri thinks its success is because of their concept.
"In France, there are places like this on every street," he explains. "It's different here."
Henri takes a sip of espresso, soaking in the tranquility of the mid-morning on the patio. The wooden bench that stretches along the outside of the red-brick cafe faces away from the traffic, towards the sun.
………………..
The next day, as the late afternoon sunlight streams in through the windows, only two baskets of pastries – a handful of blueberry brioche included – remain in the case.
A young man sips coffee in a patch of sun near the door, awaiting a breakfast sandwich being prepared by Nino Dizon at a burner behind the wooden counter. He fries the egg and assembles the sandwich while chatting with servers about a quiche that another customer ordered at the last minute.
Nino began working as a chef at Bonjour Brioche 14 years ago. He walked in on a busy Sunday to apply, and waited almost the whole day to speak to a manager.
"I was like, 'should I be here?'" he says, recalling the flood of people filling up the tiny cafe.
But something pulled at him to stay.
Nowadays, he can be found floating back and forth between the back kitchen and the counter, occasionally incorporating customer's suggestions for dishes. He wants the customers to be a part of the process.
It creates a welcoming atmosphere that Nino believes keeps them coming back as much as the small taste of France.
"I feel like they're friends," he smiles, adjusting his backwards cap. "You just connect and I think that's what makes me move. That's what pumps me up coming here."