By Heidi Lee
In the summer, Amanda Munday would hop on her bike and ride to work at The Workaround, near the corner of Woodbine and Danforth Avenue. Although she lives at Pape and Danforth, she would avoid the heavy traffic on Danforth Avenue and cycle across Mortimer Avenue with leafy green trees on both sides.
"It is always difficult to turn left onto Woodbine Avenue," she explained. "It is quite busy and we see cars pull over on the bike lanes all the time."
When asked about what kind of changes she would like to see in the neighbourhood, Munday answers "more bike lanes" without hesitation. Although there are some bike lanes in the neighbourhood, there are none on Danforth.
Steps away from the Woodbine subway station, The Workaround is a workspace that provides childcare services on site. Parents can get their jobs done while their children are taken care of by registered early childhood educators right next door.
Munday, the chief executive and founder, isn't the only person there who rides to work there. In fact, more bicycles pile up each day than the business can accommodate with indoor storage space for just four. On workdays, young children and strollers fill the nearby sidewalks and, as CEO, Munday says their safety is one of her biggest concerns.
"It is so important for us to have different transportation [routes] along the Danforth and create a pedestrian-friendly street for families," she says. "It would be nice to see more support for cycling infrastructure."
Constructed in 1851, Danforth Avenue is in the midst of an urban planning study by the City of Toronto. In 2014, city council approved the motion to begin the Danforth Avenue Complete Street and Planning Study, or The Danforth Study for short. Its aim is to examine the six-kilometre stretch of Danforth that runs between Broadview Avenue and Victoria Park for retail and economic issues, land use, and road safety.
A presentation for a community meeting on the study, posted on the City of Toronto's website, said there were 122 collisions involving cyclists and 107 collisions involving pedestrians on Danforth between 2014 and 2018, according to the local government's Vision Zero Road Safety Plan.
Munday says she has heard about frightening incidents involving cars driving up onto the sidewalk in front of businesses nearby. She frowns as she talks about a recent instance she heard about near Origin Wellness, a massage clinic on Danforth.
Issues of safety concern her as both a resident of the neighbourhood and a local business owner.
"We want to encourage people to walk to work [and] use strollers; I want to encourage more people to feel great about walking in their home neighbourhood," she says.
"We want to see a vibrant community of people walking around the businesses, that's how they find out about us."
The debate about whether bike lanes would boost safety and businesses has been around for a long time, according to Colin Johnson, manager of the Danforth Mosaic BIA (BIA) .
His daily life as the manager consists of a lot of small tasks such as accounting, answering emails and filling out forms. However, his major task is to accurately represent businesses on Danforth and reflect their needs to the government.
When it comes to bike lanes, Johnson finds himself trying straddle two very different perspectives, with supporters and opponents equally passionate.
"We have to be as impartial as possible as a BIA when we have to represent businesses that disagree with each other," he says.
Some of the business owners that oppose the bike lanes worry the designated cycling space would squeeze out parking spots at front of their stores. Other businesses rely on maintaining available space to pull in and unload products at the front of their stores because they don't have a laneway or alley at the back.
"Danforth is a thoroughfare in the city; it is a major arterial road," Johnson says. "Businesses feel that the majority of their customers come by car [and] anything that disrupts the thoroughfare in the city affects them."
On the other side the argument, some businesses would prefer to slow their potential customers down. Many years before the BIA was formed in 2008, there was a streetcar that ran along Danforth, and Johnson has heard stories about how the main transportation line helped businesses on the stretch. People looking out the windows of the slow-moving trolleys would notice stores and restaurants as they made their way back and forth. Sometimes, they would get off the public transit and visit the shops, and other times they would return later to browse or shop.
"Obviously streetcars are not coming back to the Danforth," Johnson says. "However, bike lanes are a good piece of infrastructure that actually helps [attract] people that are riding by."
Noel Yim, owner of bakery supply store Madame Gateaux near Woodbine and Danforth, estimates that about 10 per cent of her customers are cyclists, and says bike lanes would be a benefit for them. But, on the other hand, she drives to work and says the lanes designated for bicycles could make her commute inconvenient.
Michelle Belisle, whose businesses Sauce on the Danforth has been in the neighbourhood for eight years, says she thinks other types of street improvement are more important than bike lanes.
Sprucing up the street to make it more inviting to spend the evening, for example, would help her self-described "Victorian-Goth Bordello-Chic" lounge that serves up craft beer and live music. She's hoping the area will get more benches, plants, trash cans, and artwork such as murals.
"More foot traffic equals more business," says Belisle. "If it gets more people walking on the sidewalk, then there are more customers to walk in and make a purchase."
Johnson agrees that some street improvements could "make the community more inviting." One of the complaints he hears a lot at the BIA is that there is a lack of adequate street lighting on Danforth, with some business owners opting to leave their lights on all night.
"When there is more lighting, people will feel safer at night," he says. "It is also easier to report on incidents and to look at security camera footage if a business is broken into or when there is a crime."
Photo Essay: Danny needs reform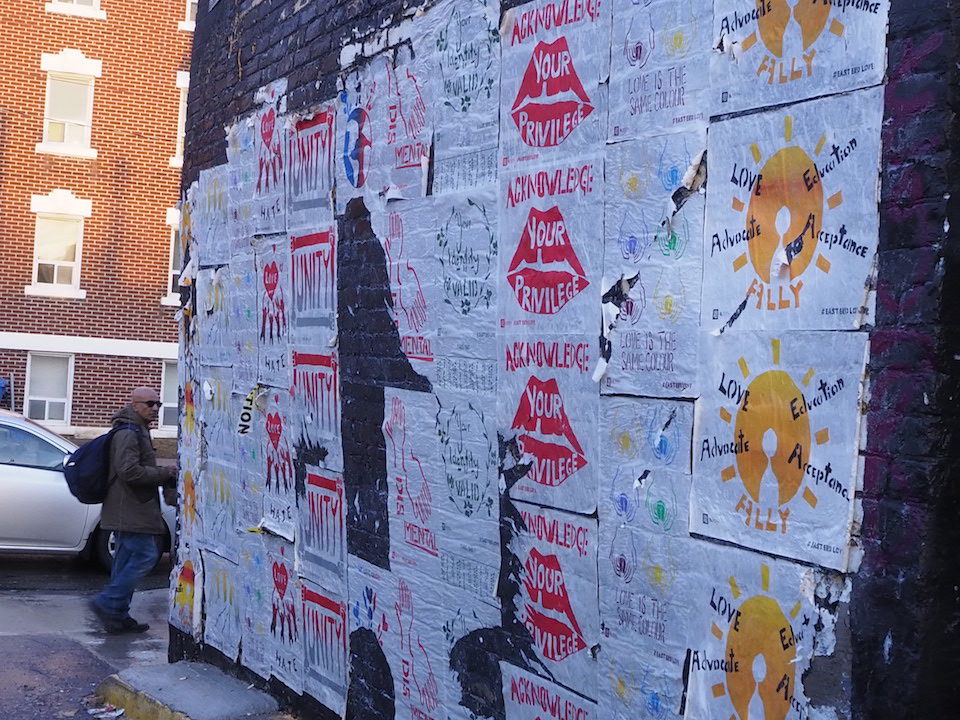 Juxtapose: Past, Present and Future
The past and present of Danforth and Greenwood Avenue.
The past and present of Transportation.
Can the Danny reform? Can new changes be introduced to the neighbourhood?