He grew up at SquareBoy Restaurant – now, Jim Syrbos is taking over the family business one cheeseburger at a time
By Mercedes Gaztambide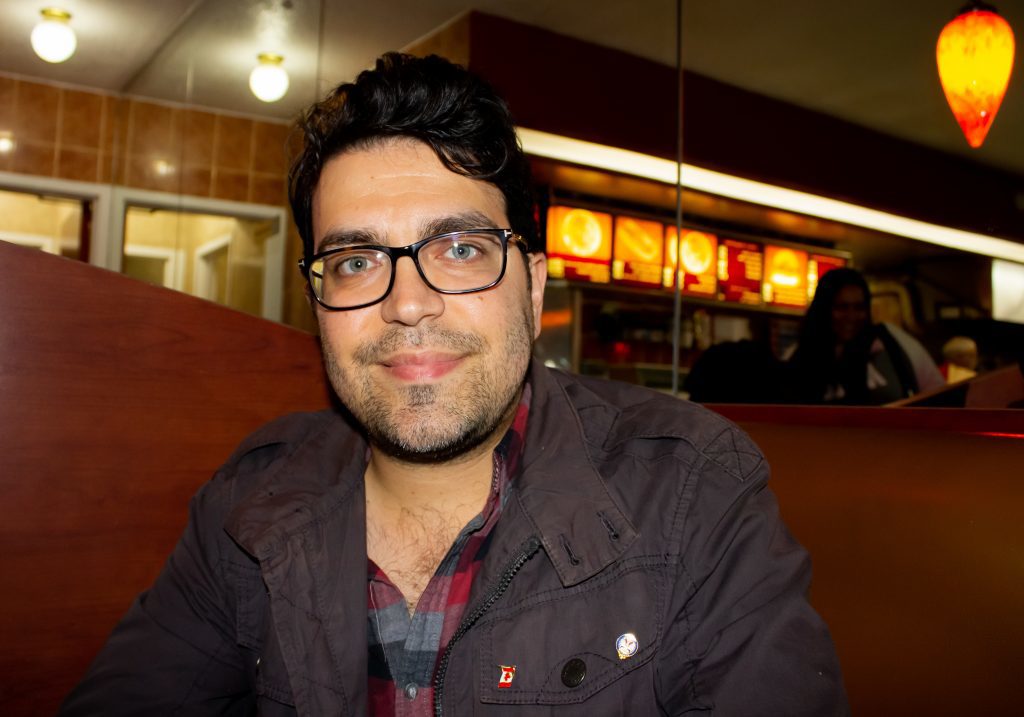 Behind the floor to ceiling windows, Jim 'Jimmy' Syrbos is framed inside SquareBoy restaurant. His fingers are clasped, his eyes resting on a few customers sitting on the wooden patio. Under the neon glow of the restaurant's large banner, a brown overhang protects piping hot souvlaki from a soft snowfall.
The restaurant is packed. Customers are seated in booths, leaning against tiles and hunched over the PacMan machine. A dozen bodies form the line up to the till that extends through the restaurant's entrance, as each patron takes a turn to prop up the heavy glass doors. It's all worth the wait for the beloved food that the people in this community have grown up with.
Jimmy is settled in one of SquareBoy's vinyl, burgundy booths–the original seating from the restaurants' debut in 1964. He's sporting a plaid button-down and jeans; blending in, for once, with his patrons. Most customers have only ever seen him adorned in his customary red cap and clean white apron, taking orders. It's movie night at home with his wife and nine-month-old son, and he tells me he's anxious to return to his couch on a rare night off from work.
"Homemade banquet burger and fries, who got the homemade banquet burger and fries?"
"That's me!"
A tall man hobbles to the ingredient counter to claim his meal. All of the food at SquareBoy is made fresh daily, and many of the menu items are homemade. Jimmy assures me that quality isn't something that the owners here at SquareBoy take lightly. And neither is the price point–one of the restaurant's biggest pulls. You can get a full meal here for under $6.
Between orders being taken at the counter, the conversation among diner staff and friendly banter at the tables, the restaurant is alive with sound. Every customer here feels at home, and Jimmy is no exception.
His parents bought SquareBoy in 1985 when Jimmy was only a year old. He became a co-owner of the restaurant less than a year ago, but he recognizes nearly every face that comes through the door.
"A lot of the customers we have in here are second and third-generation customers," Jimmy says, grinning. "Everyone seems to have a story regarding how their grandfather or their grandmother or their parents came here."
For Jimmy, SquareBoy is more than a family-owned restaurant–it represents his childhood dreams. He vowed to his parents that he would one day take over the restaurant. His father's price? Attending college, and working for five years at an insurance company. The years flew by, and now Jimmy operates the restaurant alongside his father, his cousin, and his father's original business partner.
"This place is like a twin brother for me," he laughs, leaning back into the booth. "We grew up together. I could tell you a story about every single seat that's here, I know every nook and cranny in this restaurant."
Jimmy glances around the restaurant and smiles. "It's a family member. Its a part of me."
SquareBoy is located at 875 Danforth Avenue in Toronto, Ontario.