By Prapti Bamaniya
Tuesdays are a race against time at Bombay Palace.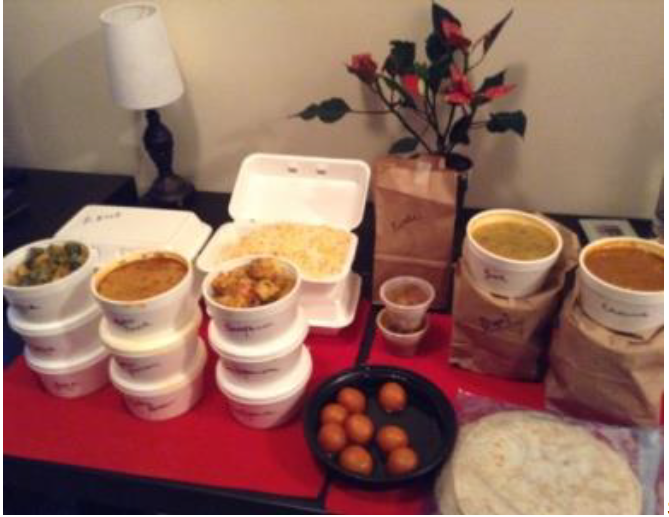 Rajiv Chenny is using a marker to carefully label styrofoam boxes full of spicy, warm curries, rotis, rice, and lentil soups. The 120-seat restaurant is empty save for a handful of employees, working almost mechanically. Chenny's staff quickly scoops foods into boxes, fastening them and adding them to bags ready to be delivered before dinnertime. Steam escapes the kitchen in the back of the restaurant, and the sound of vegetables and spices jumping in oil fills the room as chefs cook the orders for today.
Tuesday's offerings are different from the Bombay Palace à la carte or takeout menu. They are from the tiffin menu, cooked with less expensive, healthier ingredients—with homestyle cooking.
"Simple, homestyle, and homemade food is something that you'll never get tired of or feel heavy about," says Chenny, the co-owner of Bombay Palace.
The tiffin, or lunchbox, originates in India. Usually it is a four-tiered container, with each layer containing a home-cooked element of a meal. Old and young alike take their tiffins to work and school to enjoy a slice of home, outside of home.
Although they don't use the iconic containers, Toronto's Bombay Palace provides preset combinations of meals that reflect the same structure. Customers pay for a month's worth of Indian tiffin food, delivered weekly to their doorstep. Each week differs in specific curries; Chenny and his staff never repeat the same dish twice in a week.
"Do you know every eight kilometres in India the tastes of the food change?" asks Chenny, puffing out his chest. "There's nothing like Indian food, the culture is so rich, diverse and it's so warm."
Chenny and the other co-owner of Bombay Palace, Sanjiv Malhotra, met in 2009 while working at another Indian restaurant. "As soon as we just connected, we clicked," Chenny recalls.
Malhotra was the chef and Chenny worked part-time as a waiter. The two men gradually learned about each other's dreams through cups of coffee after shifts, and eventually decided to set up a restaurant of their own.
"I just had this one dream of starting something of my own," Chenny says. "And when an opportunity came by, I moved out of the corporate world of hotels [where he'd worked as a manager for 12 years before meeting Malhotra] into operating the Bombay Palace restaurant. I'm glad I got to give it a touch of home and homestyle cooking"
Though the COVID-19 pandemic has hit other aspects of Bombay Palace hard, many people put extra value on a taste and feeling of home. Tiffins remains as busy as ever, occupying Chenny's Tuesdays with a weekly race against time, which he almost always ends up winning.