By Samira Balsara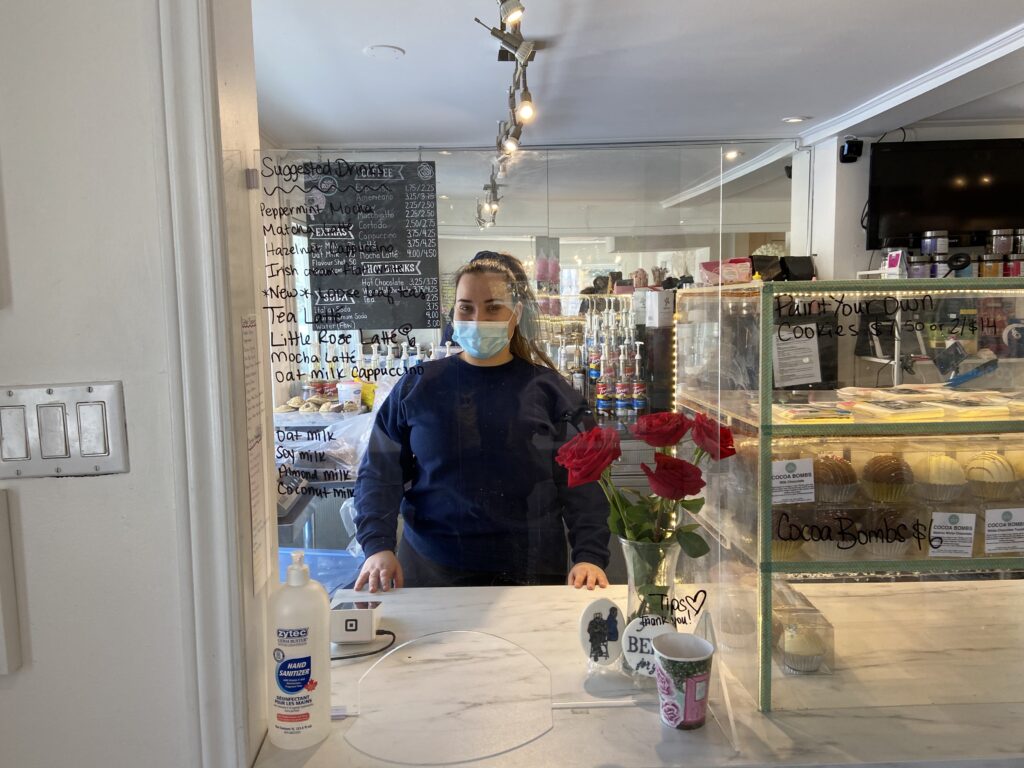 It's 6:30 in the morning, the village of Streetsville is still sleeping and a little shop with a rosy pink door is already wide awake. Inside, Stephanie Urlando, owner of Little Rose Cookie Co., is prepping her bakery for her morning customers.
The smell of warm cookies and freshly brewed coffee greets visitors. The pink and white roses hanging on the wall and the warm yellow lights twinkling from the counter create a whimsical atmosphere.
Sunflower-shaped sugar cookies, cupcakes, pop tarts and more delicacies line the counter-top display case and music plays in the background — often a musical theatre soundtrack, or Harry Styles or Taylor Swift, cued to the eclectic tastes of her employees.
This cozy cookie spot is fairly new to Streetsville—the first brick and mortar location opening in early March 2020, a week before the COVID-19 pandemic struck the province.
Behind the counter, Urlando's broad smile seems to shine through her mask. Her presence is as welcoming as the scent of the fresh baked goods as she chats with customers while preparing orders.
Since childhood, baking has been a part of Urlando's life and growing up in an Italian household played a huge role in her love for baking.
"Baking is part of the love language of Italians," the 30-year-old says with a sparkle in her eyes. She watched her grandmother and aunts bake cookies, and learned the basic skills while helping them out in the kitchen.
"Cookies give me the warm fuzzies because of the way I grew up."
When she was pregnant with the namesake of her bakery, her first daughter Juliana Rose, she decided she wanted to serve custom cookies at her baby shower.
She went to the grocery store, bought the basic ingredients and started to bake. Months went by and several batches later, Urlando mastered the art of sugar cookies. She began to get requests for orders from her friends and other Mississauga locals.
Starting a business for Urlando was a slow process at first.
"I had no resources, I was not in a good place financially, I just had a new baby."
Despite the challenges of starting a risky business venture as a single mother, Urlando prevailed and her family supported her.
Life came full circle for Urlando as she launched the business by baking cookies for her customers in her grandmother's kitchen.
"The encouragement of my family was everything at the beginning. When I was in the thick of it, they just hopped up and grabbed piping bags and helped me when I needed it."
Her 25-year-old brother, Domenic, is Urlando's full-time baker. "It's the biggest blessing I could have ever imagined. Who could I trust more than my own brother?" she says with a smile.
Her father, Cesare, and her aunt, Cathy Figliomeni, helped design the eye-catching pink door. Her mother, Shelley, babysits her two daughters when Urlando is in the store all day.
"You can imagine a four-year-old and an almost-three-year-old every day is a lot but it's the only way I can do this."
Urlando says she puts her heart into her bakery and every cookie she makes. The shop has been open for over a year and is powering through the pandemic, thanks to local delivery and curbside pickup.
For Urlando, Little Rose Cookie Co. was always meant to be. As she likes to put it, "divine orchestration" led her to where she is today.