By Vanessa Skiffington
In countries like Kenya, piles upon piles of clothing are being sold in markets. Racks are cluttered with an overflow of garments, which hang from the floor to the ceiling. Yet there's still so much clothing that doesn't get hung due to a surplus or conditions that render them unsellable and unusable. These items end up being burnt on
bonfire
.
Kelly Drennan, founding Executive Director of the organization Fashion Takes Action, says that "there are roughly 500,000 tonnes of our used clothing going to landfills every year – in Canada alone."
Fast fashion is one of leading contributors in causing the climate crisis. Textile waste production and overconsumption are major contributors to the crisis — clothes designed to be worn only once, then replaced with a new fast fashion haul.
The fashion industry is estimated to be accountable for 10 per cent of the global carbon footprint — more than both international flights and shipping combined, making them one of the leading industries polluting the planet according to advocacy group Fashion Revolution.
In recent years, the industry has faced increasing pressure to become more eco-friendly and reduce its role in causing the climate crisis. Sustainability has become a greater concern and taken more seriously by the public with more consumers demanding that brands change.
Some stores have started displaying donation boxes in their shops but the companies providing them are not being fully transparent about where those donated clothes end up.
Greenwashing
Popular fast fashion brands, such as Zara and H&M, create misleading marketing content about their brands being "sustainable, eco-friendly and recyclable," and use sophisticated algorithms to ensure that marketing content gets into the news feed of consumers.
Both Zara and H&M declined to comment.
According to the company website, Zara's Used Clothing program claims to "make sure the donated clothing arrives at the organizations with which [they] collaborate that are in charge of giving them a new life and support the development of projects in your community." H&M's Garment Collecting program allows consumers to donate their unwanted clothing in their provided recycling boxes. "Fashion is a resource, not waste. Turn old into new by reusing, repairing and recycling."
But Dr. Anika Kozlowski, assistant professor of Fashion Design, Ethics & Sustainability at Ryerson University, says that it's not plausible to recycle clothing at the necessary scale required for the current manufacturing rates, and that fast fashion brands don't push their consumers towards more responsible consumption because it would diminish their
sales and profits
.
Lydia Acharya, an environmentally cautious third year University of Ottawa student, says "I honestly feel a sense of guilt whenever I shop at the mall because I feel like most of the big [retail brands] like Zara are [untruthful with their marketing]."
Acharya says that in recent years, she has become more mindful of greenwashing in fast fashion thanks to her friends. She acknowledges that she is lucky to be better informed and recognizes that not everyone can say the same.
Where it goes
Since H&M launched their Garment Collection program in 2013, they have accumulated over 57,000 tons of used textiles, according to the CBC.
Marketing efforts by these major brands have directly led to consumers having the belief that their donations are being used to develop new clothing garments.
According to the BBC, only one per cent of donated clothing is recycled and made into new clothing as advertised. A portion of the rest gets broken down as best as possible and used to make other products such as carpets, while the majority gets shipped off and sold to other countries.
In 2016, Canada sold over $160 million worth of donated textiles internationally, with Kenya receiving $22 million worth, according to CBC. Canada and the US have been sending textile waste all over the Global South for years.
"For every campaign about donating or giving back clothes, there should be five more illustrating how much work goes into actually giving these clothes a new life and how much of it actually just gets dumped," Maxine Bédat, author of Unraveled: The Life and Death of a Garment, writes in Fast Company.
"It makes absolutely zero sense to put so many resources into producing a garment, sending it halfway around the world to be sold, wearing it only a few times, and then sending it halfway around the world again for it to just end up spewing all of those resources up in the atmosphere and into people's lungs, soil, and waterways," she adds.
Félicitée Côté, a University of Ottawa student, who is invested in reducing waste and encouraging eco-friendly fashion says shopping at retail stores like Zara and H&M made her feel like she was supporting brands that are working towards sustainability.
Côté says, "I was led to believe that [companies such as Zara and H&M were providing solutions] because of their marketing. The advertisements and tags attached to their clothes that say eco-friendly or made from sustainable materials now seem like a distraction from their lack of eco-friendliness". With visible disappointment, Côté says it feels like she was cheated into believing a lie.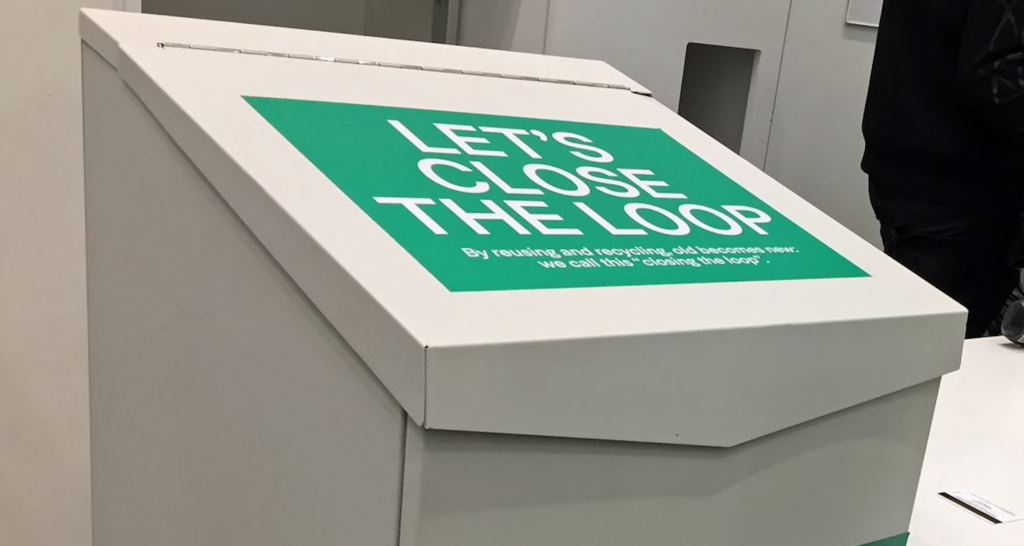 Solutions
"Mass production of clothing needs to come to a
halt
," says Jasmine Leslie, a third year health and science student at the University of Ottawa with interests both in the environment and in fashion.
Siena Shepard, Climate Strategy Manager for Textile Exchange, says industry is not doing enough. "Because we haven't seen the aggressiveness of commitments coming from governments and other organizations, it really [becomes] the responsibility of businesses [to reduce its negative environmental impact]."
Maria Rocha-Sersanti, criminology student at the University of Ottawa, says "creating laws that restrict the amount of lying companies can do when it comes to marketing how environmentally friendly their production is [would] allow consumers to make more informed decisions when deciding where to shop [and] would help with waste reduction."
Kozlowski wants more investment into the quality of clothes. She says it would be a big help if companies start offering repairs and tailoring services since she believes that when something fits well it will be kept longer. "I would have more faith in the sustainability initiatives by large fashion companies if they started to introduce alternative sustainable business model practices."
Leslie adds that "the new popularity behind second hand [shopping] has been a fantastic switch allowing people to have affordable, economically friendly, and more diverse fashion,"
Drennan feels strongly that "if [brands] did a better job of just being honest of the small steps, it would go a long way in helping consumers trust them."