By Sakina Chaudary
A fresh scent fills the air as you enter the shop and are greeted with a warm smile from the founders of Replenish General Store, Thai Pham and Bianca Martins. Natural lighting filters through the big front windows, and soft pop music plays in the background. Lines and lines of products fill the shelves, organized by category. Self-care items, candles, cleaning products, pet paraphernalia, glasses, journals, and a wall of spices are all things that can be found here. Large jars and pump bottles are packed with products in the middle of the store, ready to fill smaller reusable containers with items like soap, lotion and deodorant.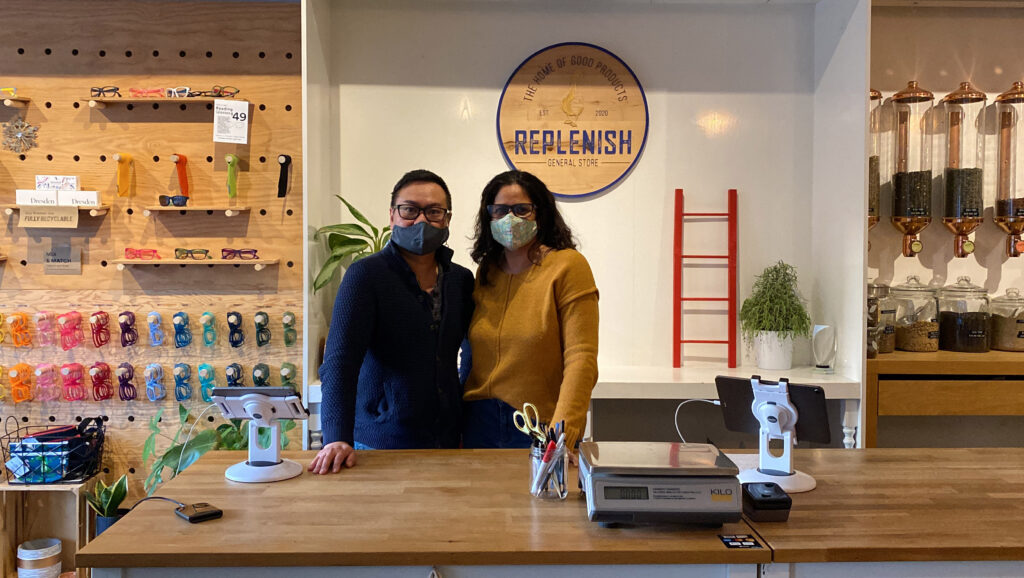 At first look, this lovely place is just another shop, but with its focus on sustainable living, refilling and selling locally sourced products, Replenish General Store is itself a product of the growing environmentally conscious movement across the GTA. Sustainable living involves reducing the amount of waste created and reusing what already exists instead of further depleting resources. Amid increased awareness surrounding the climate crisis, people are making rising efforts to follow this lifestyle.
Martins and Pham decided to make a change in their ordinary suburban lifestyle. They had full-time jobs and a young son, shopping at big-box stores like Costco on the weekends. As nature and travel connoisseurs, they developed a passion for recycling. The couple soon discovered the lack of accessible, sustainable stores in York Region. They would drive all the way downtown to purchase these products, which did not make sense for their overall environmental footprint. They say this particular struggle manifested the idea of opening a sustainable living and refill shop in Aurora. Once they arrived at this conclusion, they have not looked back.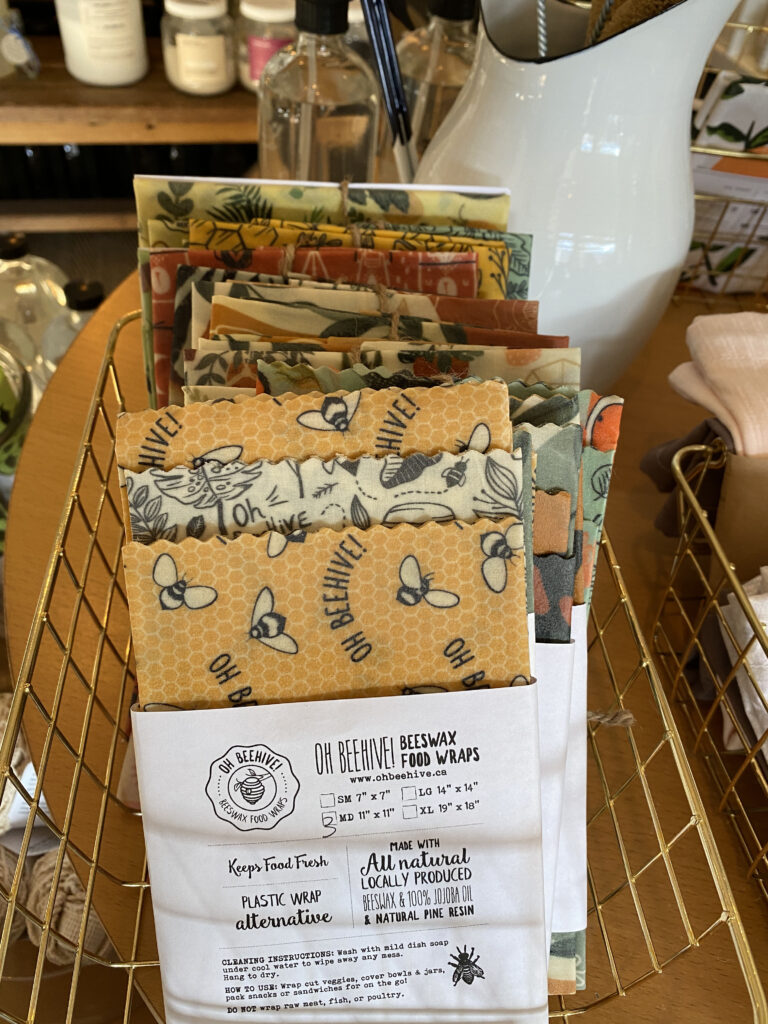 Many others are starting eco-conscious brands in the GTA. As new brands emerge, more customers flock to those who sell environmentally conscious products. Take Oh Beehive for example, a Barrie-based brand that sells beeswax food wraps and bags, working as a biodegradable alternative to single-use plastic. Founder Alison Oakes started her business in the summer of 2017 as a solution to a recurring problem she would face while working an office job. She would bring snacks in Ziplock bags and feel a pang of guilt every time she threw them into the garbage. Oakes simply did not know what to do differently—that was until she discovered beeswax food wraps. These wraps can be used to store leftovers, cover dishes and be folded around snacks, making them a great non-polluting alternative to cling wrap and Ziplock bags.
Oh Beehive: Beeswax Food Wraps come in multiple sizes for convenience. They are sold at Replenish General Store and are an alternative to single-use plastic packaging, photographed on Thursday, Feb. 24, 2022. (Sakina Chaudary/T•)
People like Oakes, Martins and Pham notice their customer base is equally split between those who are new to the movement and those who consider themselves sustainability enthusiasts. Supporting businesses like theirs benefits both the community and the planet, with growing interest among those who like to be educated on the environmental impacts of their purchasing decisions.
Just ask Sarah Robertson-Barnes, who runs the popular blog, Sustainable in the Suburbs, "I used to think I was the only person until I started putting a location tag on my posts. And then I would have other local people reach out to me," says Robertson-Barnes, who has been living eco-consciously for many years now.
Robertson-Barnes offers advice to people who have just joined the movement and are looking to make more eco-conscious choices, "Just pick something that's bugging you and start with that." She recommends doing one thing at a time and focusing on what you are passionate about, whether that be something like food or fashion. Purchasing preloved clothing is more ecologically sound because it prolongs the items life and prevents the clothing from going to a landfill or getting incinerated prematurely. These small choices will have a positive impact, and it can be overwhelming if consumers try to make too many changes at once.
Like Robertson-Barnes, many other Canadians are seeking a future without harmful, single-use plastics. Every year, Canadians dispose of three million tonnes of plastic waste, most of which is sent to landfills—roughly 29,000 tonnes of this waste settles in natural environments. The growing awareness surrounding the effects of pollution has influenced the creation of the Government of Canada's plan to produce zero plastic waste by 2030. Banning unfavourable single-use plastics, like straws, cutlery, and checkout bags is a crucial part of this plan. These harmful plastics do not recycle and pollute the environment while other reusable, accessible alternatives exist on the market. In 2021, Replenish General Store saved almost 12,000 single-use packages from going to landfills by replacing them with alternatives like refilling, reusing and even going package-free.
Naysayers don't believe these choices will make a difference but Christina Casciaro begs to differ. She is an Environmental Management student and founder of Power Over Plastic, a campaign and Shopify store that sells low-waste alternatives. Casciaro says, "collective action from individual people can make significant change throughout the world."
Another supporter of lasting change, teacher and founder of The Loop Bag, Alice, thinks it is amazing that more sustainable living and refill shops are popping up across the GTA because previously many alternatives were only available online. She is a big fan of the in-person shopping experience and accessibility these stores offer. She sells handmade cloth bags made from preloved fabrics that can be used for anything, from packing lunches to wrapping gifts to storing vegetables.
On the sustainable living movement, Alice said, "The most environmentally friendly product is the one that you already own. It doesn't always have to be about going out and buying that really cool, expensive container to bring your lunch in, you can reuse a takeout container. It doesn't have to be this big glamorous experience where you need a ton of money and resources to do it. Anyone can do it. It's just about consuming less."
She has found that the young children she teaches inspire her to conduct an eco-conscious lifestyle. Since starting her job as a teacher, she has been more aware of her impact on the planet, "I want them to have a healthy and thriving planet for when they're older, and they have kids."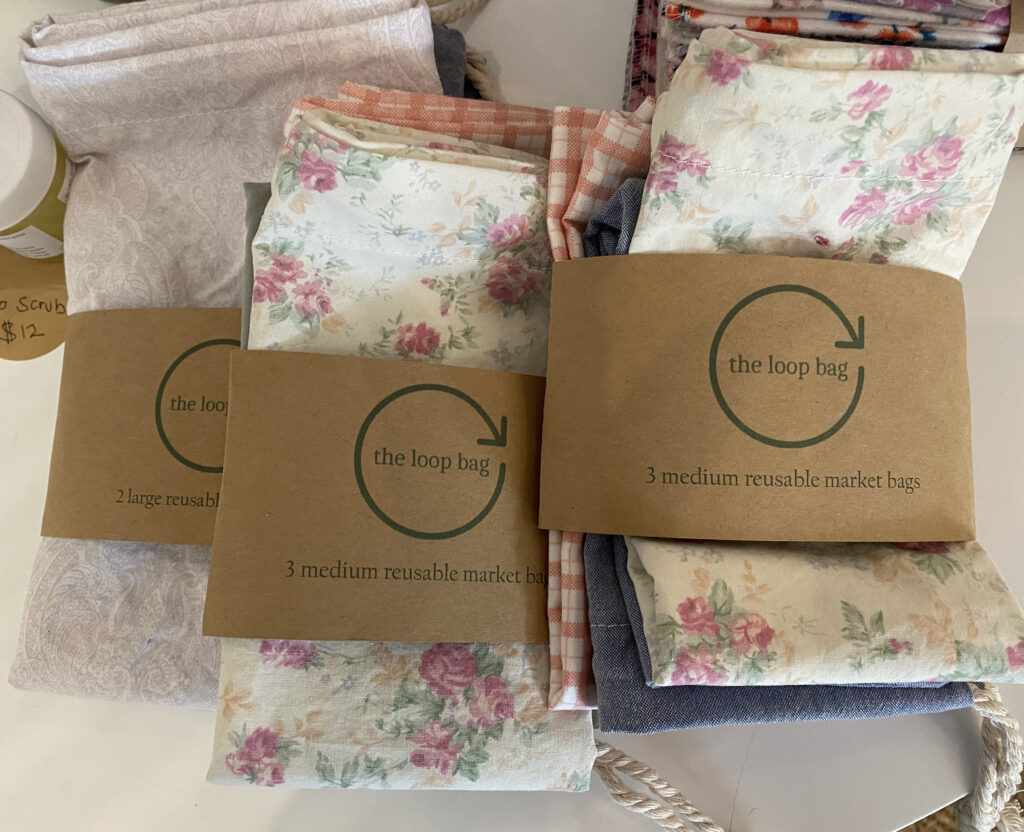 The next generation brings hope for a more environmentally friendly future. Back at Replenish General Store, Martins assisted a young mother who was shopping for her daughter. The mother shared that her daughter would only accept items from sustainable, small businesses. Curious, Martins inquired about the daughter's age. She was surprised to hear that the child was only eight years old.
People of all ages are becoming more conscious and want to waste less, gravitating towards supporting locally-owned sustainable businesses like Replenish General Store. Everyone doing their small part will collectively manifest into significant, positive differences in the environment. Echoing Robertson-Barnes and others, Pham says to start with something simple, like a bamboo toothbrush or cutting up an old t-shirt for rags. These simple changes can easily become habits that go a long way. The initiatives and stores popping up in recent years are not just a trend, they are an important result of the push for a better future. With young climate activists like Greta Thunberg to look up to, coupled with huge sustainable living communities on social media and increasingly accessible options, the push for change will only strengthen.
Featured image courtesy of Nikki Jones