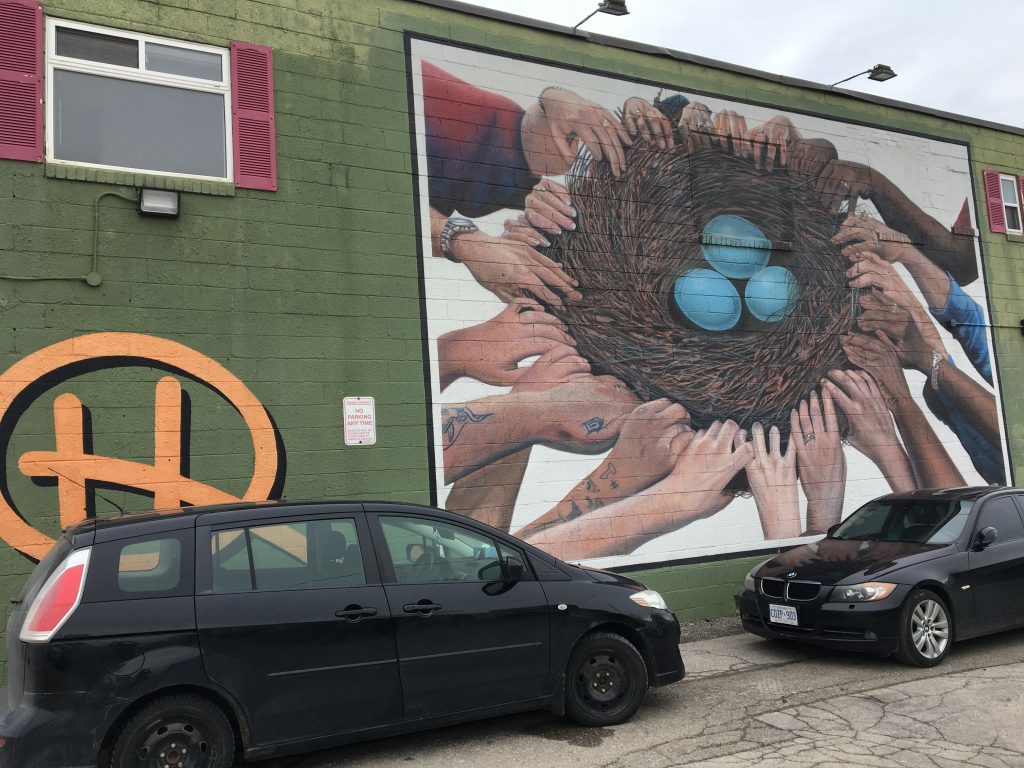 By Jaeden McLeod
From a strip club to an outlet for rehabilitation, 1533 The Queensway has undergone a major transformation after being bought by its neighbouring church over 10 years ago.
A snowstorm in the middle of February clouds the view of a partially suburban neighbourhood and creates a blanket of silence. A green building stands amongst the flurries of white snow; it's painted with a mural of many hands holding a nest with three small robin eggs inside of it.
This is Haven on the Queensway.
Once you walk through the front door a gust of heat sends tingles over your skin and warms cold hands and faces while you are greeted by the friendly smiles of workers saying hello. A smooth hum of electricity and low chatter echo around the room with an occasional bang of boxes disrupting the peace.
A young mother and her two sons sit at a table near the children's books section. One of the kids is propped up on the mother's knee as she bounces it up and down instigating a rhythmically broken gurgling sound from the young boy. The other child carefully sifts through colourful books and every so often holds up his new-found treasure and shows it off to the visitors around him.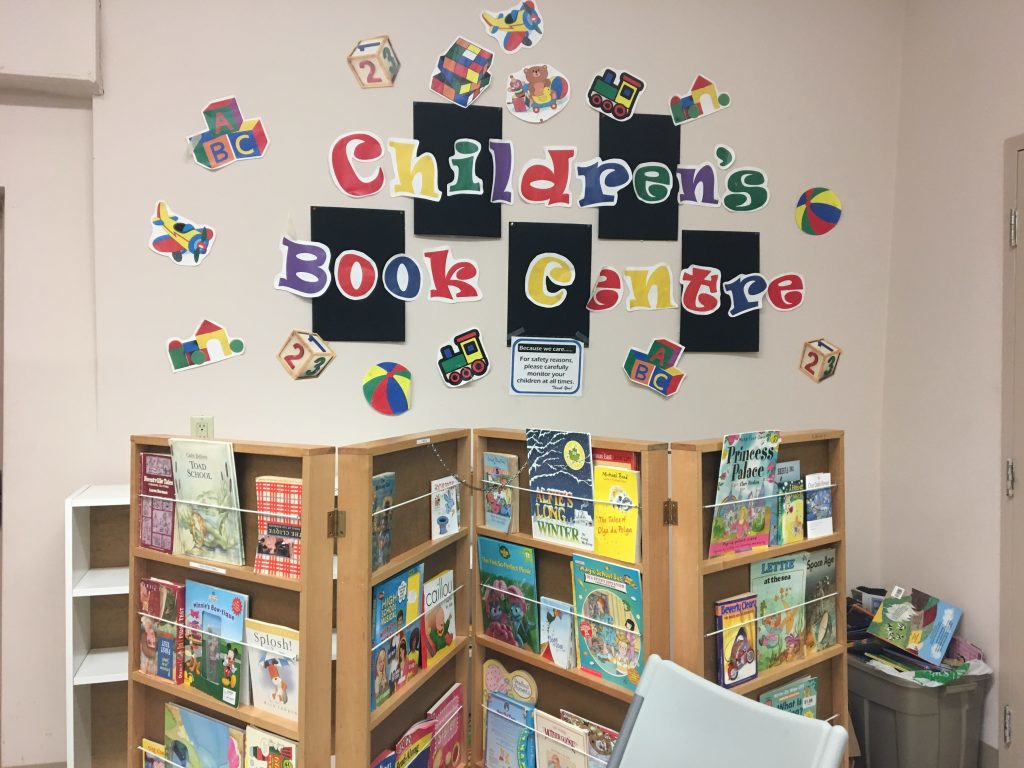 Heather Fullerton was one of the first babies dedicated to the church located across the street from the Haven on the Queensway. She has been working with the charitable organization for many years now as the director of development and has had the opportunity to see it grow.
In 2007 the Church on the Queensway closed a deal to purchase the land across from them for 1.2 million dollars. After the news of this broke to the community the hard work of much-needed renovations began and evidentially resulted in some creative ways to reuse old things left behind.
Featured behind the front desk of Tamisha Dennis, the receptionist for Haven on the Queensway, are large silver letters spelling out the word "Care". They contrast in a way that makes them appear highlighted compared to the cream painted walls around the room. These letters were reworked and painted after being saved from the sign that used to be mounted outside the building years ago saying "Casino".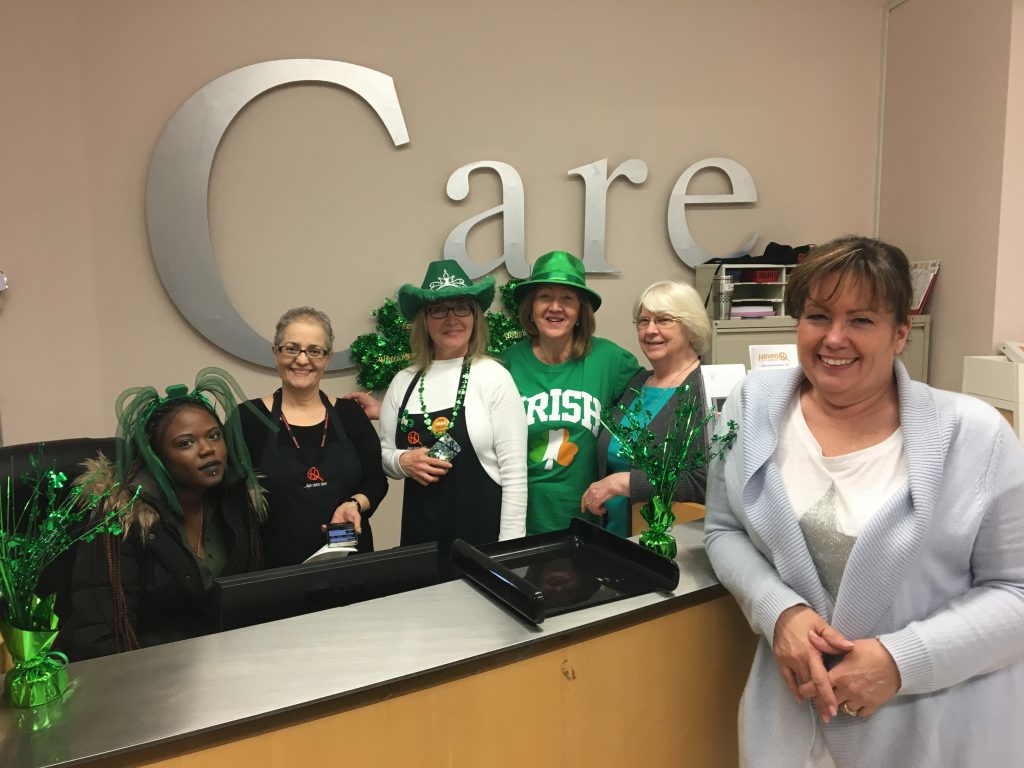 Newly added to its list of renovations has been a much-needed walk-in fridge installed this year and a dumbwaiter that replaced an old duo of a hydraulic lift and a hole in the ceiling from the downstairs pantry used to transport food. The old hole used to be used by the dancers in order to appear up on stage when the establishment was still the Casino over 10 years ago.
"The volunteers have to be a little off the wall to survive over here because you have to be able to change what you are doing on a dime but in the end we get to feed hungry people and clothe those that need it and it really makes it all worth it," Fullerton said with a smile as she adjusted her grey sweater.
The Haven on the Queensway offers a number of services that require a mixture of volunteers and staff. It ranges from providing family services like a food bank, clothing boutique and newborn services to recovery and rehabilitation services such as alcoholics anonymous, sexual exploitation victim support and much more.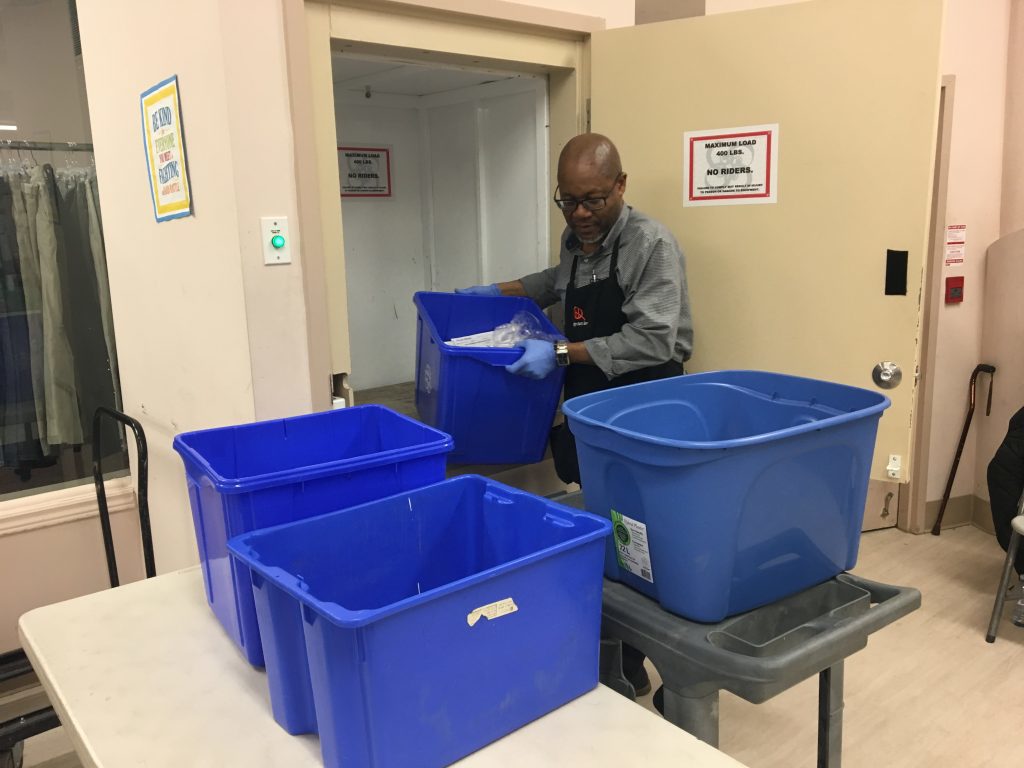 "On a weekly basis I would say that it takes about 50 volunteers, the food bank takes about 30 and all of our other services take about 20 but keeping in mind all of our other seasonal services I would say that we have about 120 volunteers on roster and we feed about 400 people a week," Fullerton added.
Most of the food given out at the Haven is donated except for when they find themselves in desperate need of certain things such as diapers, baby formula or milk. Each person that comes into the food bank is provided with what the Haven believes to be enough for three days' worth of supplies, and every child gets a liter of milk a week.
"The clothing bank is unusual because unlike other places it's all free, but the only thing is that it is usually by appointment only, we would never turn anyone away, if someone came in needing something, we would do everything we could to help them," Fullerton said.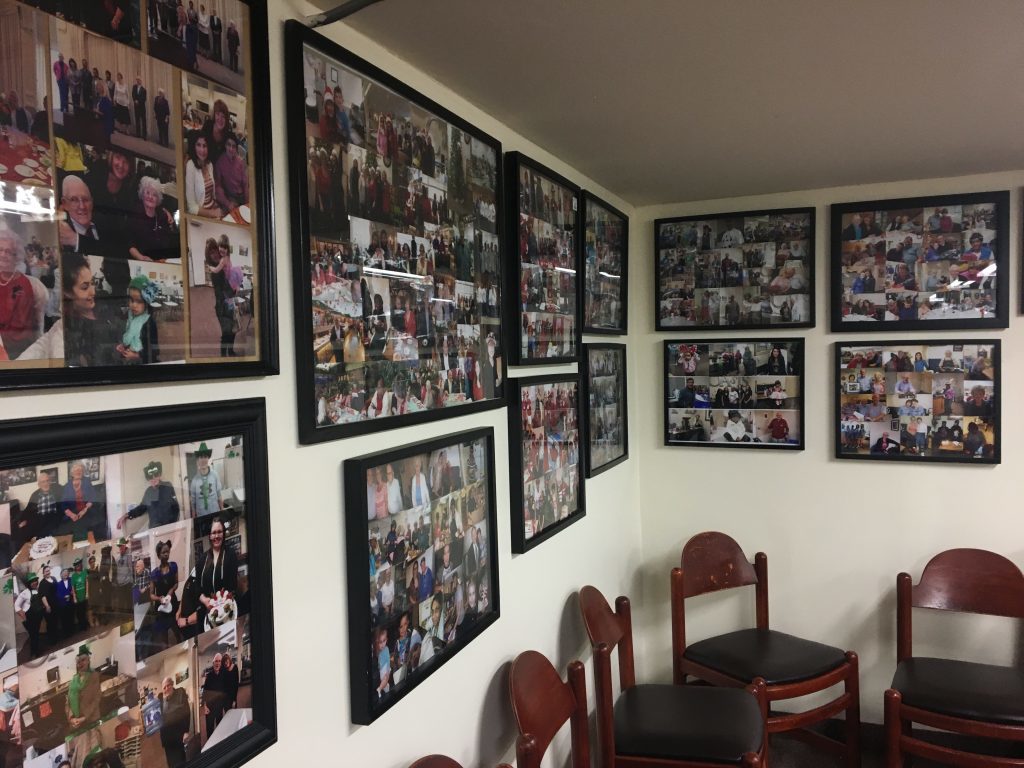 With the Haven on the Queensway's 10th anniversary approaching this spring, there are still future plans for improvement to the building including the installment of a kitchenette, so they are able to prepare food from within their own building. On the outside of the building, there is a deliberate lack of the word foodbank to provide more discretion for the people who come in.
If you are located downtown Toronto, here is a Google Earth tour of how to get to the Haven on the Queensway's building.

The environment is intended to be viewed as more than just a place to come get food and clothing; it is designed with ample seating and tables spread out through the room, there is also hot coffee and baked goods offered for people to enjoy while they sit and chat with volunteers or other visitors. Fullerton says that the Haven on the Queensway is a place for everyone, no matter their religion, race or past.

It is meant to be a safe space, a haven, to anyone who needs it. "It's absolutely my passion and I think anyone else who works here would say the same thing."


A tour and guide through the 401 Mini-Indy Go-Karts located at 37 Stroffel Dr, Etobicoke.
---
[1] Event witnessed March 13, 2019 by Jaeden McLeod
[2] Information from an interview with Heather Fullerton on March 13, 2019
[3] Information from article https://www.toronto.com/news-story/8517-church-buys-strip-club/
[4] Observed by Jaeden McLeod March 13, 2019
[5] Information from an interview with Heather Fullerton on March 13, 2019
[6] Information from an interview with Heather Fullerton on March 13, 2019 (Also where the information about the dancers came from)
[7] Information from an interview with Heather Fullerton on March 13, 2019
[8] Information from the Haven on the Queensway website https://www.havenontheq.com/services
[9] Information from an interview with Heather Fullerton on March 13, 2019
[10] Information from an interview with Heather Fullerton on March 13, 2019
[11] Information from an interview with Heather Fullerton on March 13, 2019
[12] Information from an interview with Heather Fullerton on March 13, 2019
[13] Observed by Jaeden McLeod on March 13, 2019/ additional onformation from an interview with Heather Fullerton on March 13, 2019