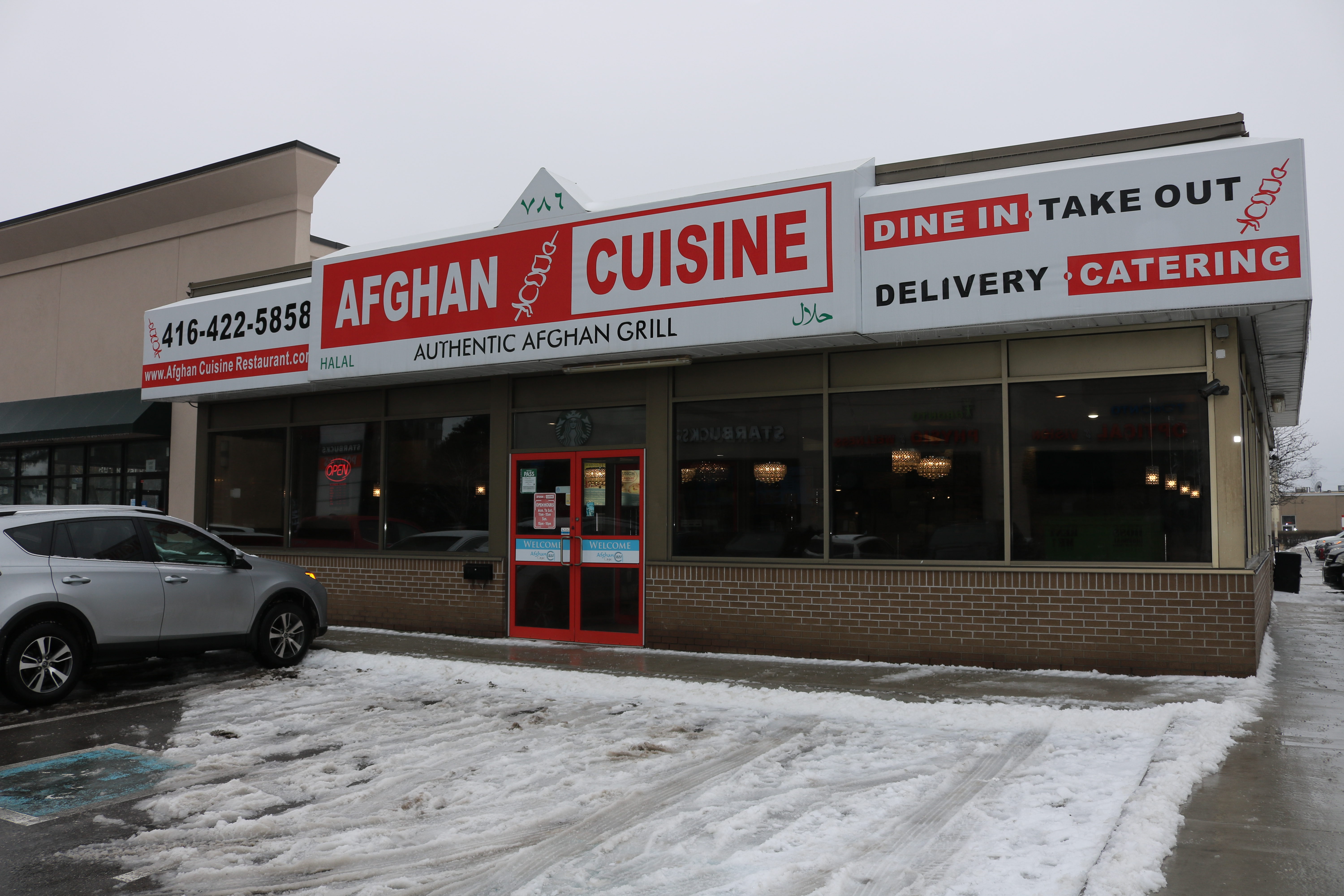 The store front of Afghan Cuisine in Toronto, Ont., on Feb. 7, 2019. (RSJ /Brooke Houghton)
By Brooke Houghton
"I would always watch my mother and my sister cooking in the kitchen," Mohamed Qasmi says with relaxed cheeks and a reminiscent gaze in his eyes – as if he is no longer seated within the comfortable booth of Afghan Cuisine the restaurant he co-owns on 66 Overlea Boulevard in Thorncliffe Park, but rather lost in the warm memory of bustling bodies, chopping knives, and busy hands in his childhood home. He blinks, slightly shaking his head and returns with a soft smile. "Food is my passion. I couldn't be in the restaurant business if I didn't love it."
These days Mohamed does most of the cooking as co-owner of Afghan Cuisine.
He has personally curated the menu through constant trial and error, perfecting each dish before its menu release. The menu is a reflection of the community it serves, offering a diverse range of halal, and vegetarian options. Despite its name, Afghan Cuisine does not exclusively serve traditional Afghan food with surprising options like Grilled Chicken Wings, Beef Tikka, Spicy chicken Tandoori, and Beef Seekh that tether between cultural palates.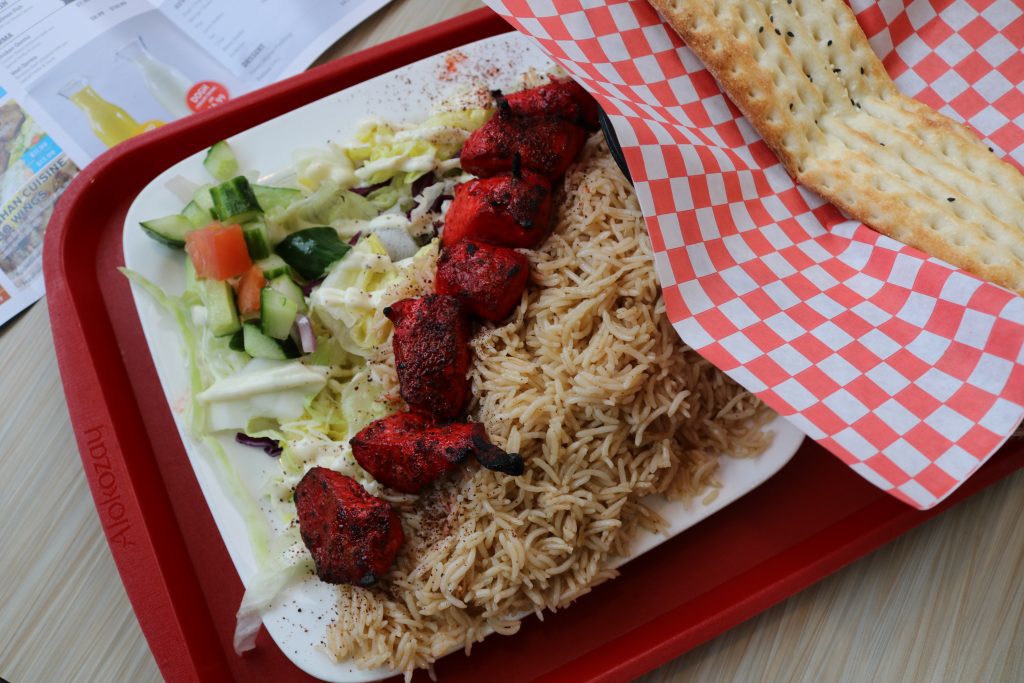 "I'm always cooking, when I get home from work all I want to do is cook again." His business partner and co-owner Omar Zazai have been working together for the past seven years, building Afghan Cuisine into what will soon be reborn as Bread & Salt. They opened their first location in Thorncliffe Park in 2013, and currently, have a total of two open locations with one on the way. They currently are molding and renovating their concept to fit the GTA's diverse scene with a new location soon to be opening in Mississauga.
In House…
Behind the counter, Sanaa Osman never seems to stop moving. She is one of the cashiers at Afghan Cuisine, a blur of pastel pink, her hijab, lipstick, and eyeshadow all in varying shades. Her hijab whips behind her as she meticulously arranges a dozen red trays beside the register. She carefully plates each individually with a silver fork and spoon, one white napkin and a small serving of chutney. Her work is interrupted by the twinkling chime of the door and suddenly she is startling still. A young man in a tailored black suit cautiously walks in, pauses at the welcome mat and scrapes the snow off of his dripping boots. His eyes linger over the open booths and tables situated on the left side of the dining room, most of which are occupied by regulars who have settled in for hours, their plates scraped clean with the exception of the odd grain of rice. They talk loudly in their native tongues, laughing and eating their afternoon away.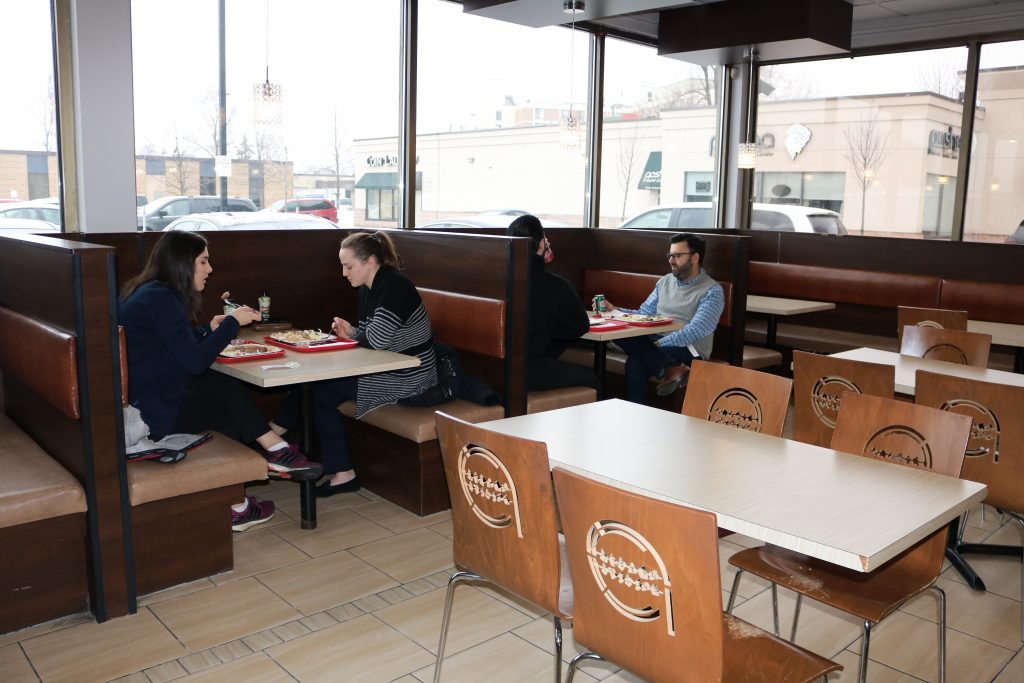 "Helloooo!" Sanaa yells from behind the register as a customer approaches.
Her voice bounces through the restaurant like a loose slinky on a set of stairs. Its childlike vibrancy is almost musical as she leans over the granite countertop and eagerly gestures for the young man to come closer.
"How can I help you?" she shouts, her frantic tone almost manic with enthusiasm as she drills out her words.
"I'm just on my break can I grab something to go?" He asks tentatively, his tone spiraling upwards.
Sanaa nods eagerly her head bobbing back and forth as she grabs a menu. "Do you have any idea what you want to get? I would recommend the lamb shank.
"It Is incredible! It is my absolute favorite, you must get it!" She pleads as she stresses each point with wild hand gestures and raised eyebrows her voice overpowering even the slightest disturbance.
"What's in it?"
She pauses and a sly smile spreads across her face, the tension in the room crackles with anticipation as co-workers and guests exchange knowing glances.
"Oh my god, don't even get me started. The lamb falls off the bone! It's so juicy and tender and It is so, so, so, good, it has rice, naan, salad. Everything!"

The House Favourite…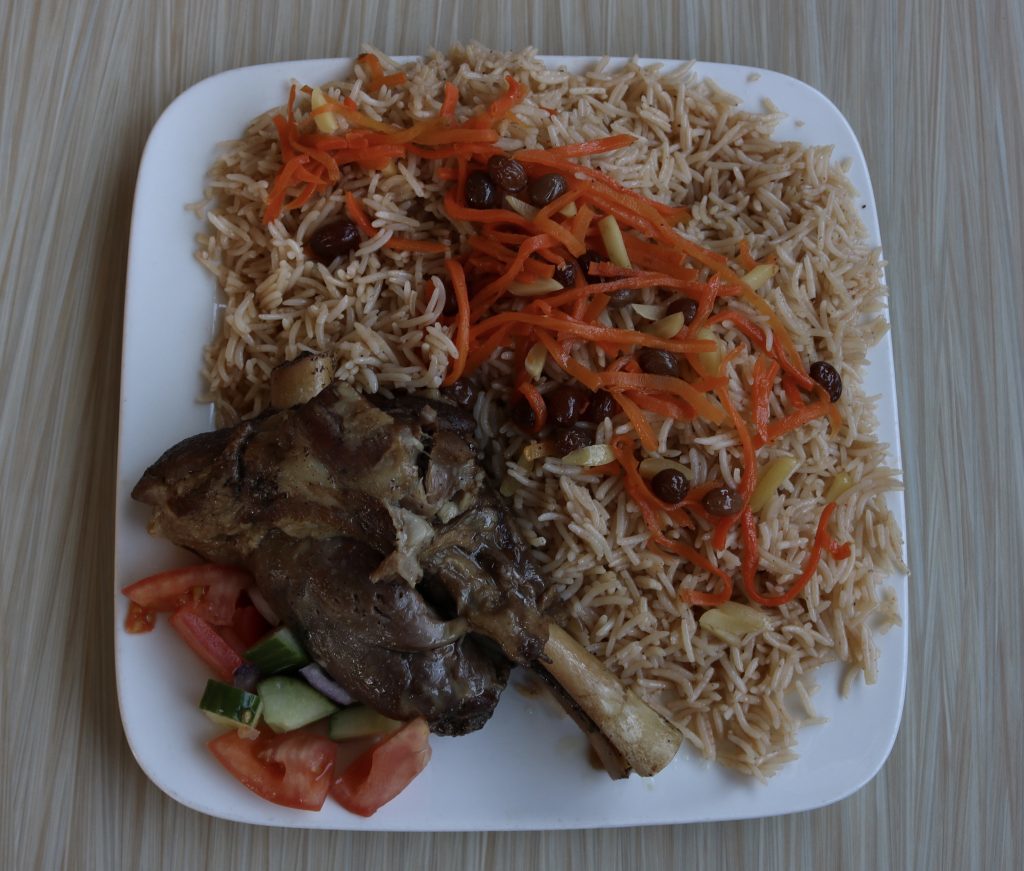 The lamb shank does not disappoint. It is Afghan Cuisine's signature dish and Its praise rings true through every tier of the restaurant from its staff to co-owners Mohamed and Omar. Its recipe is a best-kept secret. I asked Mohamed what makes his lamb so special.
His head swivels side to side scanning the restaurant as if an anonymous stranger could be lurking around any corner vying for his recipe. His eyes are full of a childlike pride, his voice delicately swelling as he says,
"People who didn't grow up eating lamb don't like the smell, but my lamb is perfect, it's what people come here for."
He pauses, and his forehead furrows in hesitation as he dips his chin down leaning over his elbows on the brown face of the restaurant booth and whispers,
"No one cooks lamb the way we do."
The Lamb shank is a wealth of flavor, its distinctive taste elevated by its tender yet buttery bite. It releases the faintest smell of salted spice with a hint of its classic aroma bubbling up in wavy strips of steam. Underneath it is a generous bed of rice that within itself is a satisfying meal. The rice is marinated for hours, stepped in herbs, spices, and mixed meat broths, leaving each grain bursting with flavor and pillow soft. Each bite dissolves on your tongue tantalizing your palate with hints of savory salted meat and an unidentifiable mix of flavor, Its rich intensity yet another in house secret. To contrast, the richness the lamb and rice are served with a side off fresh salad that pops with light and crisp ingredients of cherry tomatoes, cucumbers and a drizzle of creamy dressing. The moment this dish hits your palate you are overwhelmed with the sudden urge for more, each tastes a provocateur of flavor begging you to experience another bite.
A Fitting Name…
"We have a new name that's easy for people to know the meaning and it is something concrete nobody else can copy," Omar says.
Bread & Salt, Afghan Cuisine. Though this name was not only inspired by their desire to attain individuality but rather their desire for inclusivity. It pays homage to the wide range of availability their food offers to those with dietary restrictions such as halal, or vegetarian while offering a sense of warmth that transcends cultures. An invitation to sit, eat and enjoy.
"Do you know the meaning of bread and salt?" Omar Zazai asks.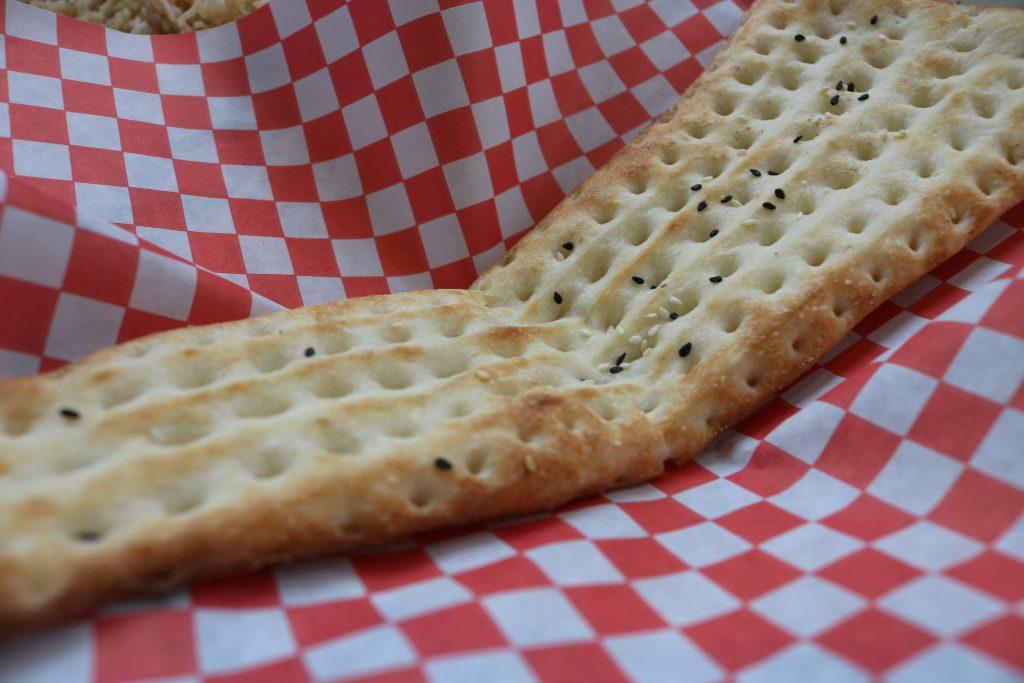 "It is the same over all cultures when you come into someone's house and they give you bread and salt you will always be faithful to them. When you come to eat bread and salt here you will always be faithful to us."