By Cheyenne Bholla

Korea had been somewhat of a lonely trip. Zoe Sylvester and his girlfriend, Gabby Ondrade found it hard to blend into the culture on their teaching voyage in 2018. Coming from Winnipeg, Man., the couple didn't know the national language, so the language barrier made it hard to interact with the locals and gracefully submerge into the culture.

During their year-long stay, Sylvester and Ondrade would go to the same coffee shop everyday where they were met with welcoming greetings, such as nods and bows.
"I really liked that I could go to this coffee shop and even though we couldn't speak this language, it was a comfort to me knowing someone when we didn't know anyone there," said Sylvester. "Even if it was just a smile from this lady, it meant a lot to me."
Going to this shop gave them a sense of community in a place where they felt like outsiders. They wanted to create a space where they could incorporate this sense of community back home, in Canada.

After Korea, the two flew to Indonesia, where its rich coffee culture led Sylvester to take up the new hobby of coffee roasting. The country has many coffee shops that roast their coffee out front. This is where he met the man who taught him the craft he took back to their home in Winnipeg.

Leaving Canada to travel abroad deeply impacted the two, with the fruits of the experience ultimately leading them to their new home in Toronto. The couple had wanted to set up a coffee truck, but Winnipeg's cold climate pushed them to move to a city where the winters weren't as harsh. Ondrade's sister and her husband, Jenn and Matt Schachtebeck, had lived in the vibrant area of Leslieville since around 2015. Matt proposed to Sylvester to open a shop that would combine Sylvester's newfound roasting passion with their thrifting ambitions, a suggestion that led to the creation of Coffee and Clothing.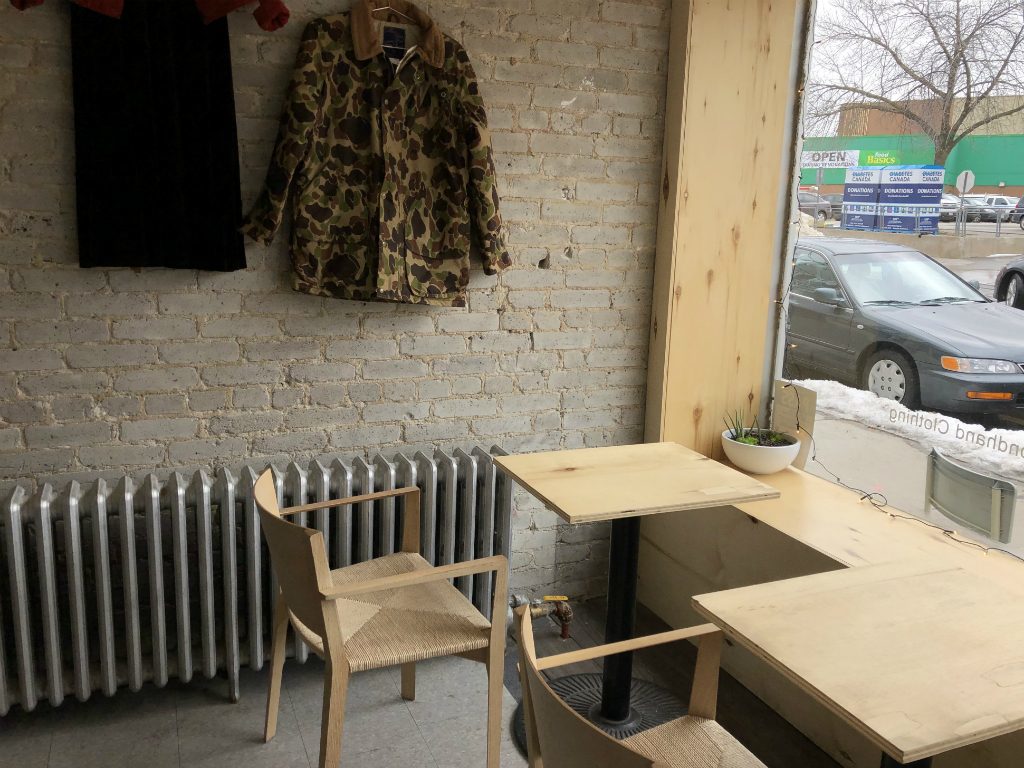 Few cars roll by the cafe and thrift-store mix on the semi-concealed strip of Pape Avenue. But the shop stands out with a white sign displaying black symbols of a coffee cup and a clothing hanger. Inside, with the potent smell of freshly ground coffee in the air, co-owner Sylvester stands behind the counter with a rag in his hand. He slowly and infrequently wipes a portion of the counter while engaging in conversation with Rachel Wing, a regular that has been stopping by the shop every day since it opened in September 2018.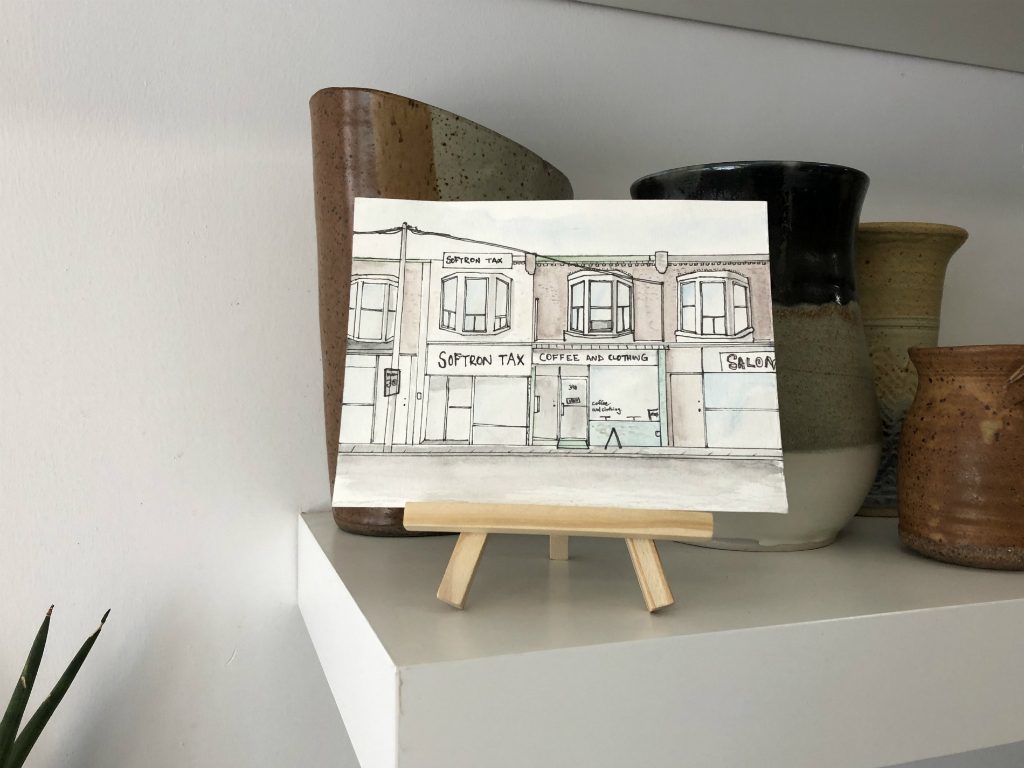 The young woman brings up the topic of another local shop, a bit west on Gerrard Street East. They talk about how the furniture shop will soon get planting pots and how they'd love to buy some to support her.

The frequently shared laughter and steady eye contact they maintain during their conversation may lead one to believe that they had known each other their whole lives.

This is a regular day at Coffee and Clothing.

This shop on the edge of Leslieville isn't your average café; it isn't your run-of-the-mill thrift store either. The walls towards the back are lined with specially-curated pieces from shops and thrifts stores across the city, and the quaint shop unifies leisure and shopping with in-house coffee roasting and grinding.

It may seem like a risky venture with an abundance of coffee chains and no shortage of thrift stores across Toronto. But the Leslieville community has shown a willingness to support local businesses. Locals and regulars are quick to point out that a Starbucks in the area was replaced by a locally-owned bakery in 2015.

Sylvester and Ondrade never thought Leslieville would become the home they know so well, but they have now falling into a rhythm with their retail partners.

Every week, Sylvester goes down to Green Beanery at Bathurst and Bloor Street West and buys 50 pounds of green beans, and returns to the lengthy process of roasting them in the back of the shop. He'll end up using about two pounds each day.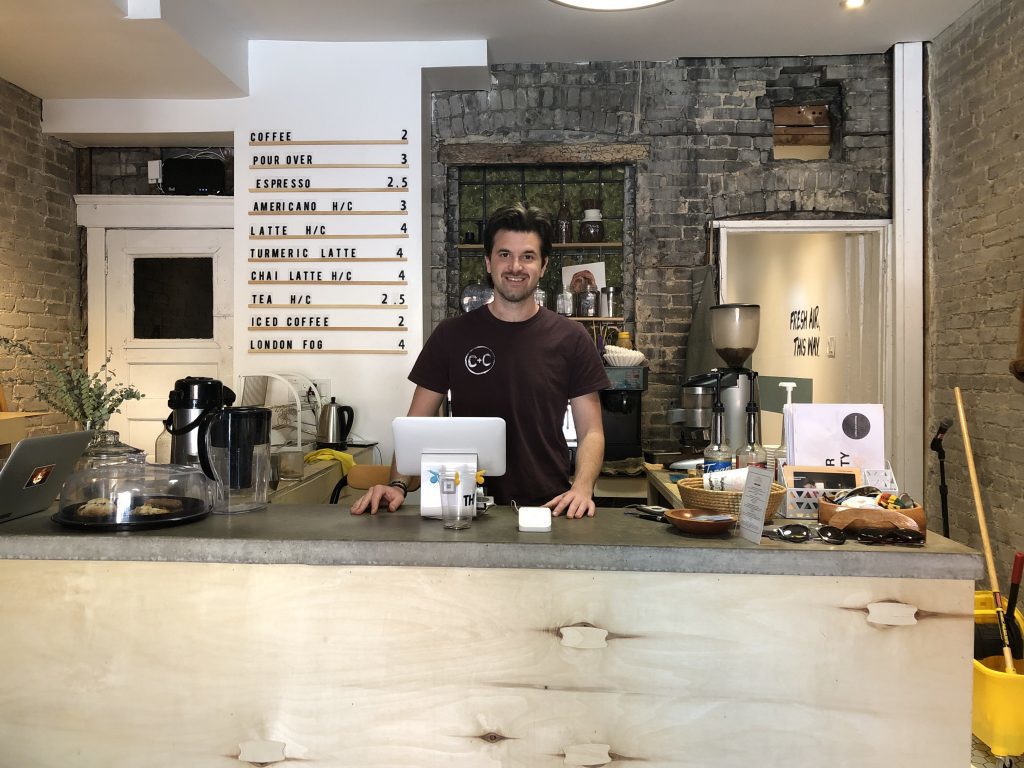 Although Indonesia sparked his interest in roasting, Sylvester didn't have the technique down yet.
"When we opened this place, I never made anything," he said. "I bought all this equipment… I had to learn it through Youtube and trial and error really."
Some of the shop's regulars have gone beyond their role as members of the coffee and clothing community – they have also served as unofficial teachers for Zoe.
"People would come in and tell me if I was doing something incorrectly and now I have so many coffee friends from Toronto that will help me with making all the drinks," he said. "They've helped with working [and] they volunteer to work all the time."

To Ondrade, her alternating job as barista means more than making quality drinks for their coffee-loving customers.
"We're not fast where it's like grab your coffee and go. We like to take the time to make people feel welcomed," she said. "You know, make it a place where people want to come back and where they feel that they can sit right here and talk to us."
Ondrade also hosts a monthly book club, where a group of around 15 people comes into the space to discuss the books while getting to know each other better.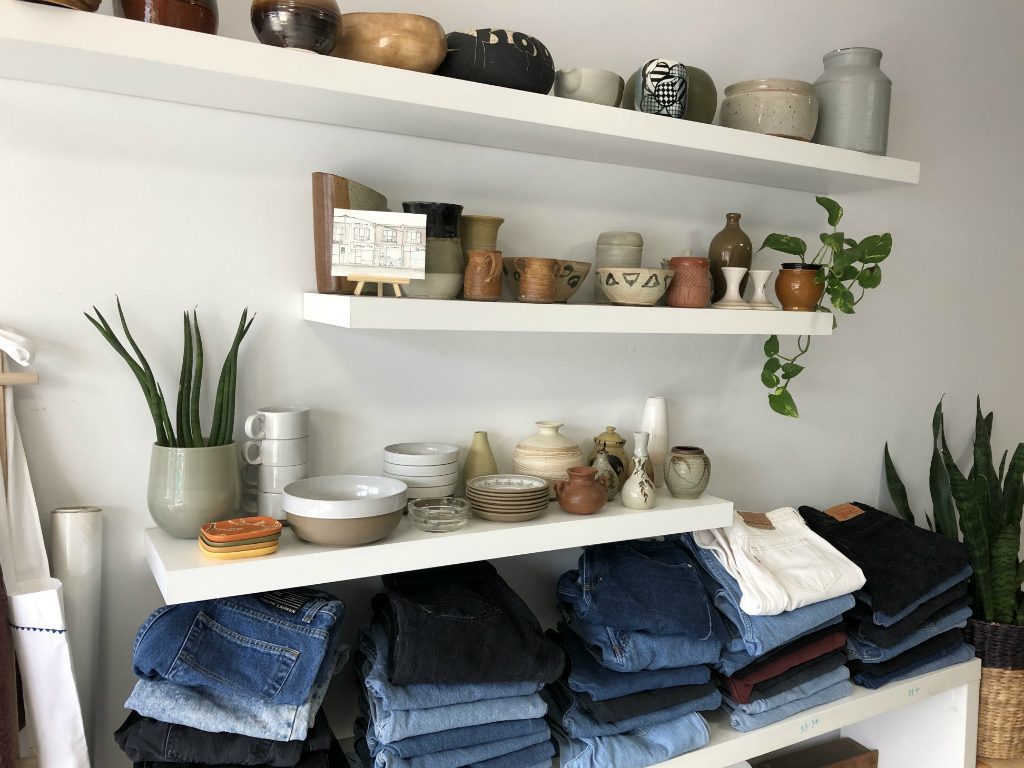 Alongside the coffee and community, the Schachtebecks restock the store with pieces every week. They had been reselling handpicked clothes from different places for years, even before moving to Canada from their home in California.

Matt Schachtebeck said their main goal was to explore the sustainable side of fashion, while helping people express themselves through their clothing.
"The main reason I got into it was the uniqueness of the clothing and the items you would find. I always hated when you would go to school and someone would be wearing the same thing as you," he said with childhood memories bringing him to a small chuckle.

Rachel Wing is among the many regulars who visit for more than just the coffee and clothing.

She says she and her boyfriend first noticed the store's distinctive coffee cup and clothes hanger sign and checked it out when it opened. She's been coming back every day ever since.

Her daily visits back up her claim that it's her favourite part of the neighbourhood right now.

"I'm a coffee addict and I have completely replaced all other coffee shops with this shop, I'm here every day," she said with a big, genuine smile. "I'm not going to claim that I don't ever drink coffee from Starbucks because I do, but I prefer to support a local business whenever I can."
The Starbucks chain has done well in Canada, which ranked fourth on a list of countries with the most Starbucks locations in 2018. Toronto ranked sixth worldwide in 2014.

The area where Coffee and Clothing is located, so close to the downtown core, would be expected to be speckled with Starbucks shops. One had opened at the corner of Jones Avenue and Gerrard Street East but ended up closing in 2015 and was replaced by a local bakery shop.
Wing hadn't been in the neighbourhood long when the Starbucks was boarded up.

"This neighbourhood is super into local businesses," she said, nodding her head. "It opened right when I moved to the neighbourhood, and closed almost immediately and was replaced with a local coffee shop and brunch spot."

Sylvester and Ondrade both said this was one reason they decided to open up in this area.
"I guess that just shows how much people are willing to not go so corporate and support the small dudes," Ondrade said, her face scrunching from an enthusiastic smile. "I think that's what made us a little hopeful, that Starbucks of all places closed down."
Other Related Videos