By Sofia Vavaroutsos
Alex Zimilis' short dark hair stands out among the 14 ponytails that surround him in a huddle on the gym floor as he addresses his provincial gymnastics competitive team.
It's a Saturday morning and the girls stare back at him, looking spaced out. It's their fourth day of four-hour practices and their bodies are feeling the strain.
When they take to the gym to work on routines, the sleepiness disappears. Precise, focused, crisp movements replace the lazy walks, blank looks and hazy smiles. Silence hangs in the air, broken only by the occasional cheer when someone lands a new skill, or a loud thud when someone doesn't land a new skill.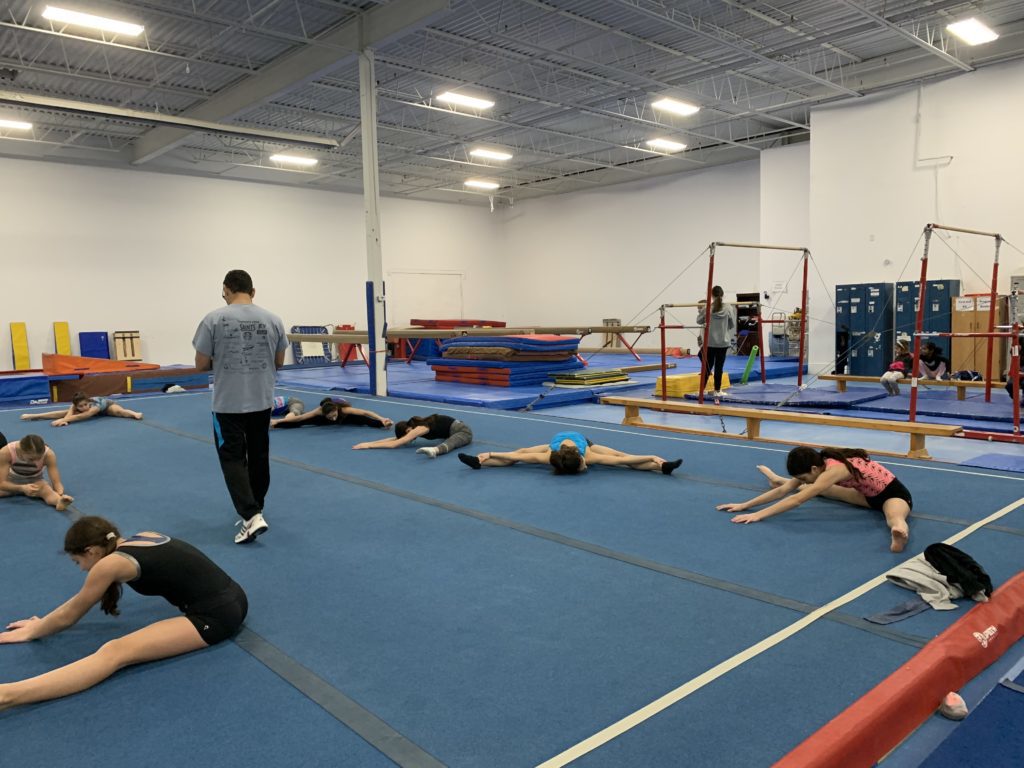 Some of Ontario's best gymnasts — girls between the ages of seven and 17 — train at the Woodbridge Academy of Gymnastics, in Woodbridge, Ont., under the guidance of Zimilis, a former U.S.S.R. champion.
Zimilis, 53, is the owner of and head coach at the gym and has been part of the furniture for the past 20 years, taking over in 2000 from a previous owner. Since then, the expanding gym, sandwiched between Hwy. 407 and Hwy. 7 near Weston Road, has relocated three times, but is still only two streets away from its original location.
The moves are the result of Zimilis' efforts to grow the business. It had 200 members in 2000 and is now the home-away-from-home for 500 young athletes, and the host of some of Woodbridge's coolest birthday parties.
The shining jewel of the whole operation is the gym's competitive program whose prestige grew alongside its membership. Now, it's the home of 16-year-old junior Olympic level gymnast Martina Rubino. She is the first of Zimilis' athletes eligible to compete at that level. Zimilis fondly remembers the program's early days which kickstarted the gym's success.
In Kingston, Ont., two years after taking over the business, Zimilis experienced his first competition with his new team from Woodbridge. The team took second place. "Kids were just so excited, jumping up and down. That was the first success."
Rocking back and forth in a padded folding chair in the gym's rainbow-filled birthday party room — the only room that isn't painted pale blue with white trim — Zimilis opens up about what it means to foster a winning team.
For him, the strategy is simple: create a home, a place where athletes can feel comfortable learning, making mistakes and spending lots of time. If his girls are going to be working out for 16 hours per week, he wants them to be as happy as possible.
The coaches' office is more like a living room. Brown leather couches and a glass coffee table take up most of the space, tucked away down a long hallway. Of course, the room isn't just for the coaches… the whole gym belongs to the athletes. Zimilis says sometimes the athletes go in there to take a breather, do homework or have a snack. A shelf full of trophies and photos next to the coat rack displays some of the gym's claims to fame. Other trophies hold a permanent space in the reception area, next to a sign that asks all visitors to have a good day.
Take a virtual tour of the Woodbridge Academy of Gymnastics:
At 4:30 p.m. every weekday, practice starts for the provincial-level athletes, but the gym is buzzing well before then. It's not unusual to find directors Michelle Hernandez, 25, and Emily "Cozi" Cosentino, 21, putzing around on the blue floor mats, practising skills they once mastered, well before the athletes arrive.
For Cosentino, Zimilis' gym has always been like home to her. "Alex is a gym dad," she says with a nostalgic smile. "High school wasn't ideal for me, but coming to the gym was always a safe space, and Alex created that safe space for me and for any athlete here as well."
Hernandez's career as a rhythmic gymnast was in another gym, but when her brother started the recreational gymnastics program almost 10 years ago, she met Zimilis. "Even though he wasn't my coach I still see Alex as my second dad. I still talk to him and see him more than my dad… Even if I get a ticket, I go and ask him for advice and see what to do."
As the athletes file in, Cosentino and Hernandez are greeted with hugs and inside jokes. "I can't believe you just pulled that off," one athlete yells to another, as hair is tied back and sweatpants are switched for leotards — except for one athlete.
Lounging around on a blue and orange spongy triangle as her extended family does flips and runs laps all round her, is bright-eyed, provincial-level gymnast Jaydin Segal.
Her right foot is extended in front of her, and even her blue and grey air cast can't take away from the poise Zimilis instills in his athletes — you can tell her toe is pointed to perfection underneath. Segal, 11, tripped over one of the gym's Olympic-size balance beams, but still attends practice.
Zimilis walks by and nods at her, signalling it's time to start whatever conditioning exercises she's able to. "I think he's a great coach. He's so nice," she says. "He's serious but then he's always funny."
Even when she has a rough day, her coaches help her through it. "I think we're very lucky to have coaches that understand us so well."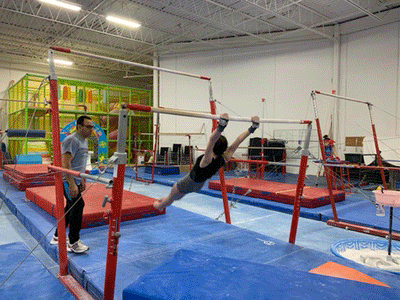 Alex Zimilis helps Martina
on the uneven bars.
For those in the competitive sports world, an environment like the one at the Woodbridge Academy of Gymnastics isn't always easy to come by. No one knows this better than Andrika Rook, who works with former athletes on the transition to everyday life after sports.
Rook, a psychotherapist at Toronto clinic Shift Collab, notes that while competitive sports are often a positive experience for children, the layers of pressure they can experience could carry into everyday life easily. "The coach has a special role in itself, but a lot of times that goes hand-in-hand with support … For them to be at their best, you have to model that behaviour," Rook explains. "You have to be what the children are going to learn how to be."
Rook's not surprised that Zimilis has amassed success with his gym, both in winning competitions and in the love his athletes profess for the sport. For Rook, Zimilis' strategy of focusing on the gym's environment just as much as the training itself is key.
Anita Verma, a mother of two of Zimilis' athletes, sits on a bench, watching her youngest daughter, Sophia, adapt to the rhythm of a warm-up. Verma appreciates the accommodations Zimilis' team made for her, allowing her to sit in the gym. Since Sophia has trouble adjusting to the separation at the beginning of classes, it makes it easier to be in the room for the first few minutes. It's in stark contrast, she says, to other environments, which are strictly no-parent zones.
Zimilis knows his role. Once his athletes are in a championship mindset, there's nothing they can't achieve.
"You have to be a father, a motivator, you have to be a friend, everything."

Alex Zimilis hugs Malaiah during a warm-up huddle on Saturday, Feb. 29, 2020.
(Sofia Vavaroutsos /T•)
He aims to motivate them to succeed as athletes and individuals.
For Zimilis, success is like bending a stick. "With the kids, you must push them, but again with the balance. If you over-push them, you over-bend the stick, they might quit, they might lose interest."
That is the last thing he wants to happen, "I want (a) happy child in the gym."