By Claire Bradbury
As soon as you step inside, you are greeted by a wall of thick beige curtains. The mystery begins and you're invited to
pull
them back to enter a space dedicated to magic. Walking inside, your eyes dart back and forth. You don't know whether to read the deck of cards plastered on the ceiling, or wonder how all those mason jars stick to the bottom of the shelves so effortlessly. You're about to dine in the presence of a neon sign hanging on the wall saying "all was well" that brings you a sense of peacefulness.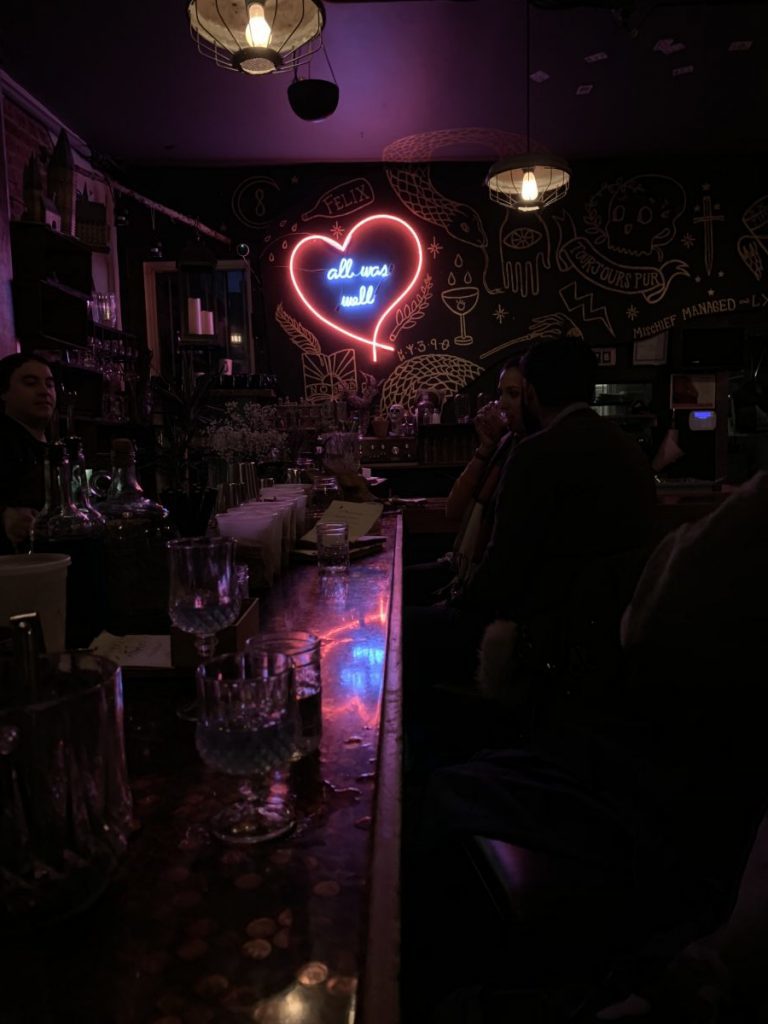 Everyone has something in their life that never fails to give them comfort, to ease their minds and fill them with happiness. For me, it's the world of Harry Potter that J.K Rowling concocted before I was even born. It's a world of creativity and love that has inspired many and continues to be a part of our world today. When I moved to Toronto for school a year and a half ago, I learned that someone took that inspiration and went with it. Back in 2015, what used to be the space for the Lucy Brock bar was purchased to be the future home of The Lockhart near the corner of Dundas and Dufferin Street Co-owner Matt Rocks created a space that is inspired by the J.K. Rowling series and exudes welcoming values for people who patron the place. As for me, it's a place that flooded my brain with some of my happiest memories of enjoying a thoughtfully crafted series.
If you said I was that cliche book worm as a kid, you wouldn't be wrong. I love reading. Summers at my cottage were spent lounging on a swing in the shade as I aced my library's summer reading program. I developed a singular taste for books that was never always quenched after I read the first Harry Potter book.
Moving to Toronto for university was scary to say the least. In a big city with a lot of hustling and bustling, it's easy to get lost in translation. I needed to bring something from home that would give me comfort, so I whisked a copy of the first book in the series, The Philosopher's Stone off my shelf and into my suitcase. In my second year I ventured a little farther from my neighbourhood and found a real gem. I had heard of The Lockhart months prior to my visit from friends as well as social media. For my birthday, I dragged three of my friends to The Lockhart for brunch. It was sensory overload to say the least.
We sipped
mimosas
and gobbled down bread pudding french toast. The snake painted on the back wall sent a chill down my spine and reminded me of an infamous reptile from the series. Even the font style on the menu was just the right kind of calligraphy. A feeling of overall warmth filled me up. The atmosphere was welcoming and it reminded me of the last time I read my favourite series. I felt excited as I realized that I could come to a place, as a legal adult, to enjoy what I had deeply admired as a kid.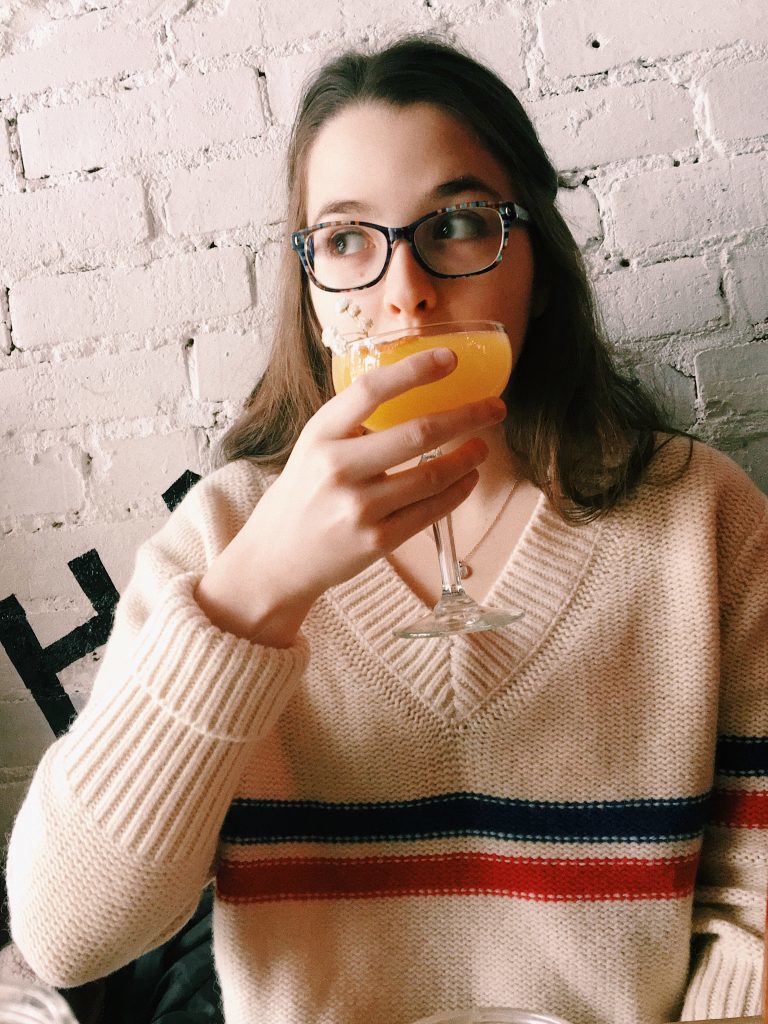 Before you try to decide what you'll order, on the drink menu, you'll read a message that The Lockhart has. It goes on to say that this is a space where they want people to let their hair down and feel comfortable. Rocks told me, "for a busy bar, we've never really had a lot of trouble. I can count on like three plus years how many people I've had to eject." Quite frankly, who wants to be the one to cause enough of a ruckus to interrupt the magic?
I make my return to The Lockhart on Magic Night. It's quite the night. Instead of a single stage, magician Dan Trommater comes around to each table for a chat. Picture this: You've just been wowed by a thrilling card trick. You and your friends thought you had it all figured out but at the last minute Dan fooled you and another coin somehow appeared in your hand. Your eyes widen and you break out into a surprised smile. Everyone claps. After the trick is over, one question then pops into your head: where's the bathroom?

Right after you take your first couple of steps down the stairs, you hear the classic oldies music that's being played getting
softer
and softer. It seems a bit darker down here. Is this the right way?
Continuing further, a different aesthetic covers the walls compared to the upstairs décor. The painting of a certain enchanted car makes you do a double take. Was that large tree what you think it is? That owl looks familiar. It feels like you've been wandering down here for some time, but really you've just made it to the landing now. The paintings make you smile because they bring back memories of your favourite chapters, which coincidentally are plastered on one side of the wall. More sections of chalkboard cover the walls inside the bathroom stalls where other adventurers have written famous phrases or just a simple, "The Lockhart Rocks". Slowly walking back up the stairs you think that was one of the coolest bathroom visits you've ever had.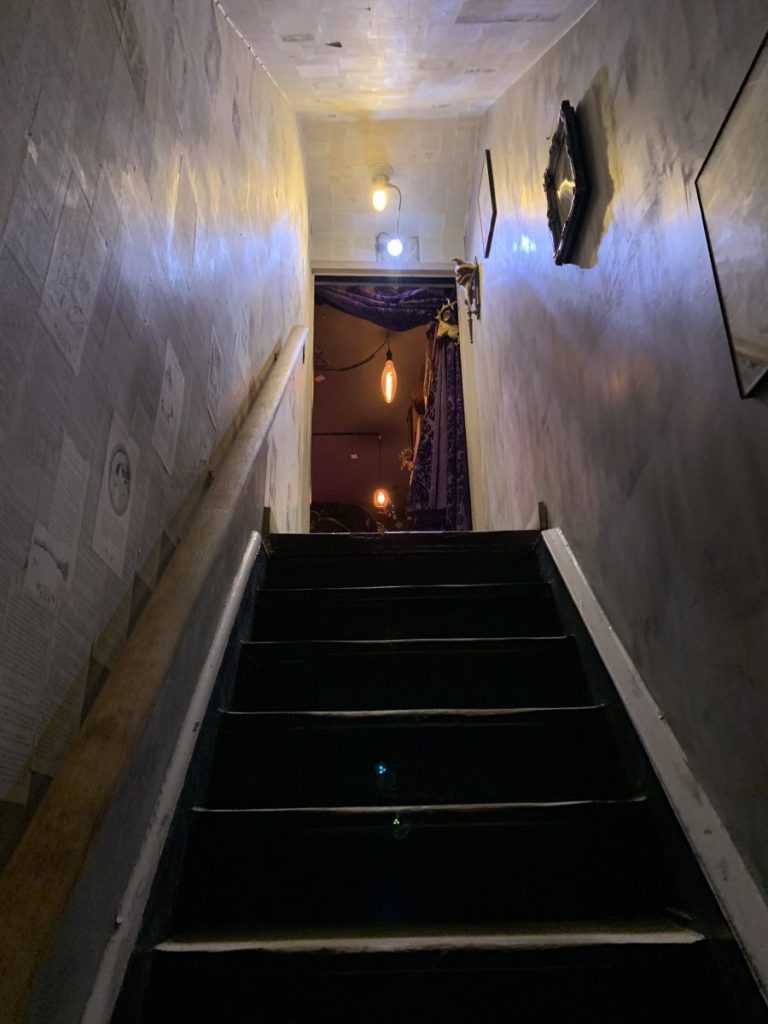 You'd be hard pressed to find someone who just said "meh" after venturing down there. Matt explained how graffiti artist, Bruno Smoky, gave the hallway some texture about a year-and-a-half ago, "It's not super in your face, but still evokes that world," Rocks explained. That's what I like. There's nothing forceful or demanding about the space, it allows you to experience it how you please.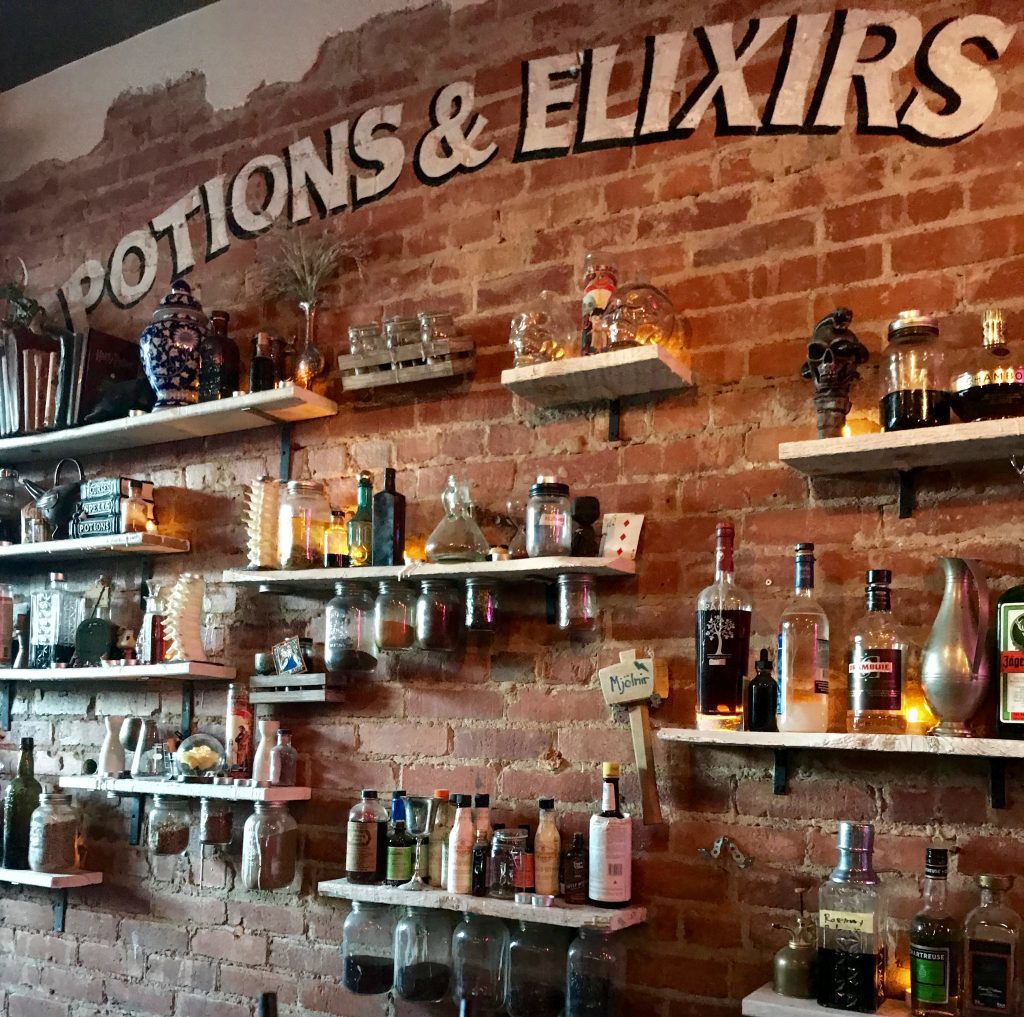 I couldn't be the only one that felt this way and got this excited. Plenty of other adults must have ogled over the captivating aesthetic and easy vibe. This past summer, Lockhart customer Lesley DeBoer, was having a conversation with a fellow employee at work. They began talking about popular culture-inspired places to visit in Toronto that they both enjoyed. What really got Lesley's attention from her co-worker was The Lockhart. It was out there and ready for Lesley to visit.
A few weeks later an out-of-town friend came to visit Lesley, and the girls decided The Lockhart would be their destination for the evening. Hopping onto the 505 streetcar that would carry them down Dundas Street, a magical night on the town was in their sights.
Upon arrival, Lesley and her friend took their seats. As they quickly glanced over the drink menu, the magic slowly began to reveal itself. The creative names of the drinks caught Lesley's attention, but she also couldn't stop looking at the decorations that filled every nook and cranny on the walls. Lesley had to remind herself that she wasn't in the Leaky Cauldron in Diagon Alley, but in downtown Toronto.
Leaving The Lockhart, Lesley was still left wondering what details she missed. She thought to herself, "I felt like I left and didn't see everything. The more you look, the more you see."
The purposeful details keep you wondering. As Rocks described it, "not too kitschy, but kitschy enough." It's not meant to cause a distraction, but it's there for you to take in at your own pace.

Toronto is huge. All of the diverse neighbourhoods that make up the city can seem unconquerable, but that's part of the lure. Discovering a place that acts as a refuge can put a smile on your face. But finding a special space that makes you relive the highlights of your childhood? Now that's enchanting.

.
Looking to learn more about what's in Dufferin Grove?
Ink & Water Tattoo artist Pam Leszczynski takes viewers through what the process is like for clients interested in getting a tattoo. Jordan Vincer, who was drawn to Ink & Water for the rave reviews and talented artists also shares the meaning behind his new ink. Watch the video below to learn more about Ink & Water Tattoo.