By Lior Kozai
Suzanne Gardner works on a flower painting, one of her typical subjects. She creates a large iris the colour of a blue jay's back. Gardner sets up her colour palette in a certain order to ensure that she doesn't mix up her paints, a problem that most artists don't have to worry about.
After making a basic dark background, she begins to fashion the flower with no specific plan in mind. Gardner says that's "probably not the best idea," but she likes it that way "because it isn't so structured." Eventually, Gardner's creation begins to take shape. She layers her paints on the canvas, combining light blues with hints of lavender and some indigo where shadows form. A touch of white sneaks along the edges. Finally, there's the dark green stem, jutting out at whichever angle Gardner chooses.
Those are some of the things you'd notice if you saw Gardner working from her home art studio near the southeast corner of Don Valley Village.
What you might not notice: Gardner is legally blind.
Nearly 20 years ago, at the age of 34, Gardner received the news that would change her life forever. After living with Type 1 diabetes since she was seven years old, Gardner would finally begin to experience its effects on her vision. Neither Gardner nor her doctors knew at the time just how much her sight would weaken.
"I don't think I went into depression, but I was a little scared because you don't know how vulnerable you'll be," Gardner says.
Gardner had been working as a receptionist at a dental office when her vision problems began. Though she enjoyed her job, Gardner understood that her declining sight would prevent her from doing it any longer.
"When my vision really started to deteriorate, I realized that I was going to start messing up at work," she says. "Things were spiraling really, really quickly."
Eventually, Gardner's right eye lost all functional vision. She now has 20/200 vision in her left eye, meaning that she struggles to see from afar.
Though her bosses said they could accommodate her, Gardner knew it would be a hopeless cause. She quit her job with no plan for what to do next.
Gardner always loved art, but she never thought about pursuing it as a career. It seemed "ridiculous" to her to think that she could start painting now. She had trouble believing she'd be able to produce high-quality work.
A friend's encouragement pushed Gardner to pursue her passion. "You like it," her friend had told her. "So, what difference does it make whether it's crappy?"
Gardner enrolled in a painting class at a local high school. Her work was not very good when she first started, which frustrated her.
"My painting was awful, awful, awful," she says. "I couldn't figure out why."
In retrospect, Gardner sees some of the problems. She had been painting on small canvases and trying to capture little details. Doing so was simply impossible for Gardner, since she couldn't see those details well.
Gardner soon realized that she needed to emphasize her strengths to limit the effects of her impaired vision. She bought better supplies and started to use larger canvases, which went a long way to improving her work.
"I realized I have to work with my disability instead of fighting it," Gardner says.
As she began to improve, one encouraging sign came in an unexpected form: theft. Gardner's painting of a little girl was stolen from the classroom where she'd left it. Though it might have irritated most art students to lose a piece, it only gave Gardner more confidence.
"I had to take it as a good sign – someone's willing to steal it," Gardner says.
If, as the old proverb suggests, imitation is the sincerest form of flattery, then outright theft must be a level above that.
Along with the other adjustments she made, another key to Gardner's improvement was simple: practice. Even now, she continues to hone her craft.
"The more you paint, obviously, the better you get," Gardner says.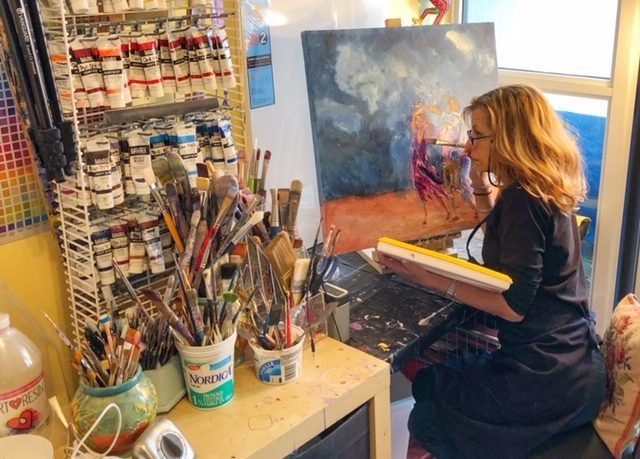 As she progressed, Gardner felt confident enough to post her work online for others to see. She quickly received validation from people on Facebook. Even strangers reached out and asked if her work was for sale. That inspired Gardner to keep painting and soon turn it into a new career.
"I was actually surprised," she says, recalling the positive feedback she encountered. "Yet I thought it had to be their honest opinion. Otherwise, they wouldn't bother."
Gardner's trouble seeing from afar isn't her only challenge when painting. She has difficulty differentiating between similar colours, especially dark ones. That's one reason she chooses to use bright, contrasting colours when she paints.
"Her use of colour is wonderful," says Marianne Broome, an artist who taught several of Gardner's painting classes. "Her paintings are always cheerful and full of light."
Besides her impaired vision, Gardner also uses bright colours because she wants her art to evoke positive emotions.
"What I really want to do is just have someone look at it and feel happy, feel joy," Gardner says.
Most of Gardner's paintings feature vibrant flowers and twirling dancers. She also focuses on one other main category: dog portraits.
"I like to do that because it's really personal," Gardner says of her dog paintings. "Everyone loves their dogs."
Gardner usually only paints dogs for her friends. Though she enjoys the reactions she gets from her canine portraits, Gardner says it is painstakingly difficult to precisely capture the details. That's why she prefers to paint with an impressionistic style which is "very loose" and "a bit abstract." Her work draws inspiration from the famous French painter Claude Monet. Fittingly enough, Monet also coped with impaired vision. Monet's cataracts may have led him to use brighter and bolder colours in his work, according to The Daily Telegraph.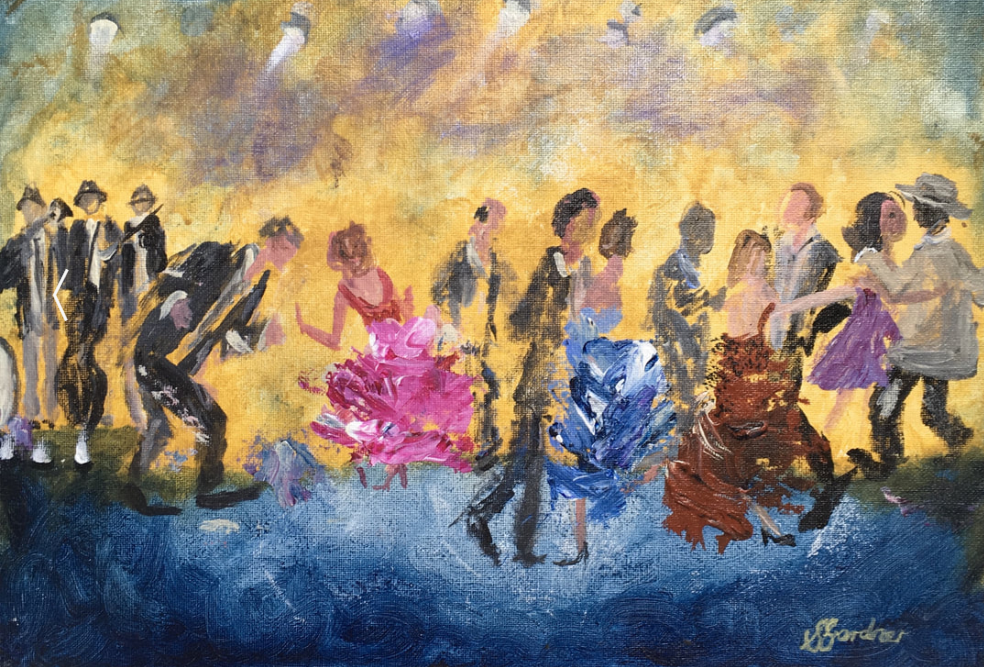 Gardner's willpower, despite all that she's been through, has impacted people in ways that stretch beyond her canvas. Broome says Gardner is "inspirational" and she saw Gardner's fervent spirit in her work.
"She must have incredible determination and perseverance," Broome says.
Many others have reached out to Gardner via email for art advice. Some even had similar vision problems to Gardner, and her story motivated them to pick up a paintbrush.
"I'm happy for anybody to contact me and talk to me about what they're going through and how they feel," Gardner says. "I've been there, I went through it."
These days, Gardner regularly sells her paintings for $200 or more. Her work been featured at numerous art galleries, including the Hashtag Gallery in downtown Toronto in 2017. Numerous publications in Canada, the United States, and the United Kingdom have interviewed Gardner to tell her story.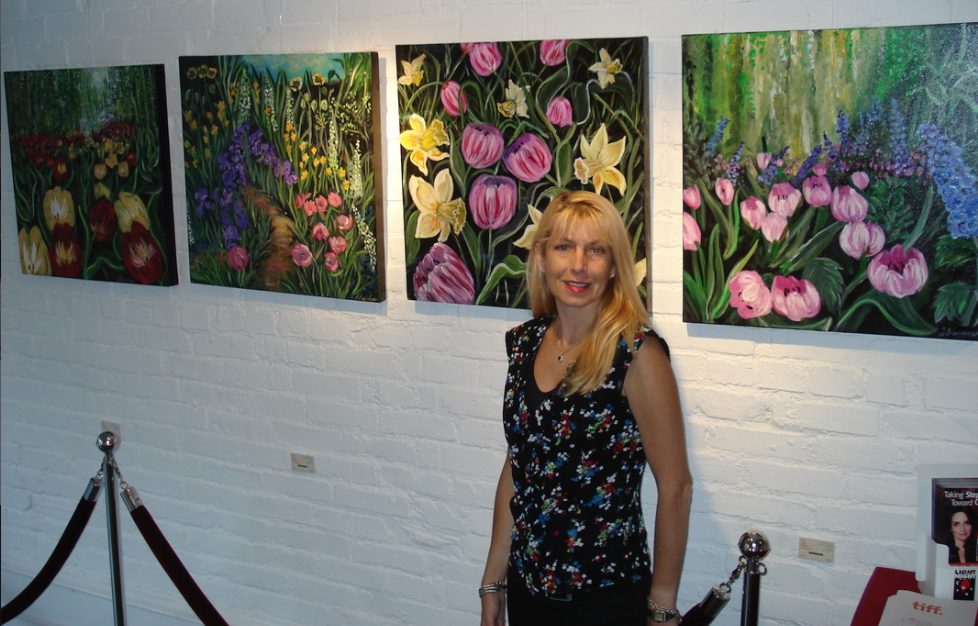 Gardner brings light to an area that may lack in colour at times; her home studio shows that art can be created anywhere. She is living proof that art can also be created by anyone. To artists who struggle to get started, Gardner's message is simple: Just jump right in and try.
"You can't do anything wrong with art," she says. In art, as in life, "It's all what you decide it can be."
---
For more on what's happening in Don Valley Village, here's a look at Seneca College's IT co-op program.