By Dylan Kulcher
Entering the 2023 Cannexpo, a wash of black and green canopied the booths with exotic brands like Majoun's Persian hash edibles and Frankie Smoke's gold-plated joint tips dizzying attendees. A mix of dance tunes and reggae played backdrop to the talks taking place on stage while the smell of weed from product sample jars and plants seeped from under booth tables.
You wouldn't know it from a cursory jaunt through the cannabis exhibition in Toronto – a high point event in the short history of legalisation – but Canada's retail cannabis industry is in flux. Now that the smoke of COVID-19 has cleared and dispensaries have reopened post lockdown, the Cannabis Council of Canada (C3) is seeking overhauls in clamp-down regulations that the group says overreach the ones in place for the alcohol industry.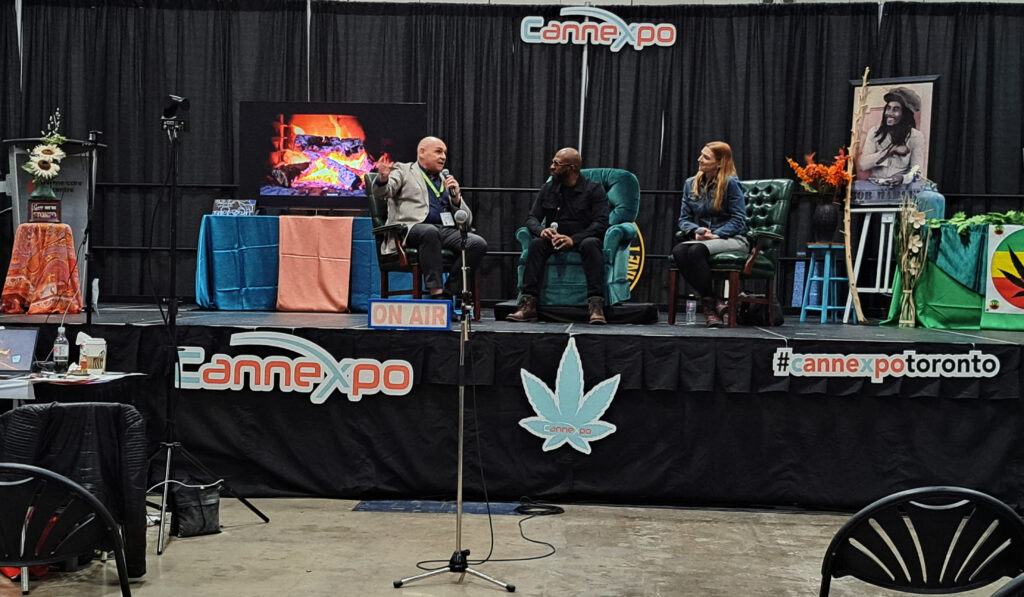 At the center of the exhibition a framed photo of Rastafari icon Bob Marley stood watch over the second country on Earth to legalise the plant. Only the large no-smoking signs periodically lining the walls of the auditorium slightly divert from the grandeur and remind attendees of the regulatory challenges facing the industry.
The talks highlighted the discrepancies between different provincial approaches as an impediment to competition with the United States for tourism dollars. Under current law, Alberta has the advantage of not having a centralized online marketplace for dispensaries to compete with as Ontario does with the Ontario Cannabis Store (OCS), a provincially-run distribution centre that has its own ecommerce site. In Ontario, only a handful of cannabis producers have been granted retail licenses to sell products out of what's known as farmgate shops – stores that sell directly to consumers at cannabis farms. Meanwhile, in Alberta, companies can deliver cannabis directly to events, even if legally guests have to head outside to smoke. These selling tactics are akin to the cannabis tourism industry starting to show its tooth buds. The United States, conversely, has booming agritourism in California and smoke lounges in New York.
What the discussion on stage at the expo didn't mention is that Toronto dispensaries are well ahead of the curve with event spaces to satiate enthusiasts' appetites until consumption lounges are permitted. George Smitherman with C3 suggests the precedent set by the enthusiasm for cannabis-infused edibles should dispel skepticism by the provincial government on consumption lounges. "Once we get people to realize, 'Hey, there's edibles and there's these beverages and the opportunities around infused meals, then we start to see this [phase-in] of hospitality, tourism, job creation, promotion," said Smitherman.
"I think that we are closer to commercial spaces of cannabis consumption that revolve around edibles and infused foods and beverages," said Susan Dupej, president of the CCTA, pointing to Can Carnival at the Grand Bizarre, an temporary outdoor consumption space that opened last summer at Exhibition Place. "This was a situation where consumption could take place in a private space. What would have made it even better is if that space was a demonstration of how we could license spaces of consumption." Dupej noted that the Can Carnival was only made possible through loopholes with sponsorship by the OCS.
This prolonged wait for looser regulations hasn't dissuaded Sherri MacDonald, co-owner of the independent dispensary ERBN Green, from building room for an eventual cannabis smoke space in her business. The ERBN Green Modern Market on Dundas Street West is a private space next door to the company's flagship dispensary that's hosted dance parties and educational classes. "I was running through my events rental requests and almost everyone is asking for smoking or vaping privileges," said Macdonald. Though it is not yet legal to do so, Macdonald notes "The outside balcony is perfect for smoking."
The company's location out in Ontario vacation hotspot Prince Edward County, meanwhile, has tourism appeal and recently served a return customer from Montenegro. "It's a real tourism shop. It's a draw to the community," Macdonald said.
At Canvas Cannabis on Harbord, a refinished Victorian home hosts events ranging from a pop-up craft market to a weekly yoga class designed to be paired with cannabis products. The dispensary's interior is spectacularly decorated with a column sprouting a gold steel flower and an ornate wood banister wrapping the staircase, which leads to the shop's second floor, outfitted with cozy furnishings and an original fireplace. Helene Vassos, the owner of Canvas, echoed calls for cannabis consumption within dispensary-run events.
"I'm not necessarily thinking about private events and private parties where you can do as you wish. We're talking about official venues where they're licensed that would permit it," said Vassos when asked of the possibility of smoking lounges. While hesitant to say that tourism would be the one toke over the line needed to fix distribution challenges between independent distributors and the OCS, she said the raised limit of cannabis beverage purchase limit from five to 48 has created some headway in terms of the restrictions industry advocates want to change. Constrictions on purchasing cannabis beverages are still strict compared to liquor laws, but upping the limit is one positive sign of regulatory change for Vassos.
"We have customers who are going to the cottage for the weekend and they stock up because they don't want to consume wine. They don't want to consume alcoholic beverages. Their choice of recreational beverages is cannabis," said Vassos.
Minerva Cannabis on Bathurst is another dispensary that hosts cannabis events. The company has hosted drag and comedy shows in its main space, which is built around a neon shrine of the company's namesake Greek goddess, Minerva. According to a Minerva rep, the company plans to collaborate with a new set of partners for events in 2023.
At the time of legalisation in Canada, a handful of initial investors, like cannabis producer Canopy Growth, made big bets on the potential for the weed market in Canada. Some, including Canopy, are now shrinking – earlier this year, the closure of Canopy Growth's headquarters in Smith Falls dealt a huge blow to confidence in the industry. Smaller companies in the space are now feeling the trickle down effects and are hoping events and tourism can help carry the industry forward.
Looking toward the future of cannabis tourism, many in the industry are optimistic that Health Canada's federal review of the Cannabis Act, which is currently underway, will benefit craft cannabis farms and perhaps even cannabis-infused food consumption lounges. Advocates are less optimistic about the government paving the way for vape or smoke lounges any time soon.
At Cannexpo, Saturday's festivities culminated with an afterparty featuring an Aggressive Organics' (Agrow) display inspired by the initial heyday of marijuana culture, the 1960s. The party featured a performance by a tie-dye-clad band playing Bob Dylan and non-alcoholic cannabis cocktails. Guests at the event were treated to Agrow's cannabis-infused canapes and an all-you-can-eat taco bar. They were not, however, allowed to light up inside – or even on a patio. The soiree was a sign of the times: the cannabis industry is ready to party, even if Ontario's not quite ready to go up in smoke.