By Sidra Khan
Tucked in one corner of her bedroom in Mississauga Ont., Aileen Ahmed's desk isn't covered with school books and paper, although she's a busy third-year nursing student at the University of Toronto, Mississauga campus. Instead, colourful threads and an expensive embroidery machine sit on the Ikea table she had since sixth grade. When Ahmed isn't using those supplies to create custom clothing such as hoodies, crewnecks, and hats for herself, she is taking orders from as near as Toronto, and as far away as the Middle East.
Being a full-time student is not the only thing that makes her side business, A.A. Customs, unique. Every penny of the profit she makes goes to charities, primarily to help Muslim families.
"It was during COVID when I realized I wanted to help my people by doing something I love," Ahmed said recently while working on a custom hoodie.
At the beginning of pandemic-imposed lockdowns, Ahmed was spending her days at home. At first, she got into embroidering clothing with the idea of making a little extra money for herself. Then, in May of 2021, she grew worried for the safety of Palestinians as news reports and social media messages flowed in about growing aggression by Israeli soldiers. "I was reading about everything that was happening in Palestine," she says, adding that she decided others could use the money more than her.
Her decision came at a time when many Canadians were pulling back on charitable giving, a situation that has only increased with rising inflation and interest rates. A report called Grow Together, released on April 18 by Sage and market research firm Leger, said nearly two-thirds of Canadian donors and volunteers were concerned about their personal or family financial health, and 39 per cent planned to stop or reduce their charitable donations in the next 12 months. The same report said that nearly 70 per cent of those who responded to the survey were nevertheless likely to support charitable causes through shopping at a business or brand that donates a portion of the sales to charities.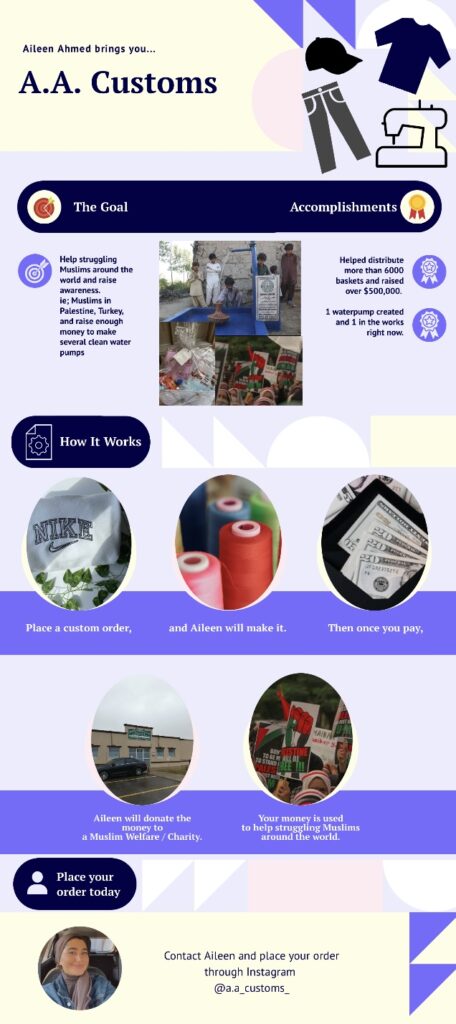 Ahmed's attention, along with the rest of the world's, was captured in May of 2021 when Israeli police raided one of the holiest sites for Muslims, the Al-Aqsa Mosque in the Old City of Jerusalem, during Ramadan. One of the prophets, known to Muslims as Ibrahim, is thought to have built the ancient mosque. During the raids, Palestinians praying in Al-Aqsa were struck with batons, rubber bullets and stun grenades, according to news reports. What followed was the worst violence in the region since 2014, according to a report in the New York Times. Hundreds of Palestinians were killed or injured, prompting celebrities such as Bella Hadid to speak out and try to draw attention to the struggles of Palestinians, including imminent threats of eviction from their homes, that are often ignored by mainstream media.
Ahmed watched as other celebrities took a stand for Palestinians, opposing Israel's actions, with some facing a backlash from fans and sponsors.
"Celebrities like Selena Gomez, Bella Hadid, and Natalie Portman were posting about this on Instagram and they obviously must have an idea…you know the hate and backlash that might come their way," says Ahmed.
"Even Kendall Jenner posted for like 10 seconds but then quickly deleted the post," she said.
That's when Ahmed decided she wanted to do something more concrete and lasting to help affected families.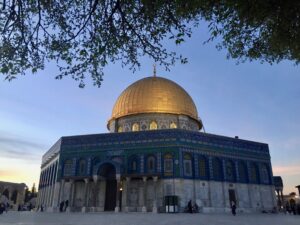 She started taking orders through Instagram after posting about her business and her fundraising efforts. Her older brother helped her develop additional marketing tactics including in-person events. With help from friends and the share button on Instagram, she was able to gain more followers, increasing her reach from just 50 to nearly 400.
The majority of her embroidery work is done on cotton crewnecks and hoodies. Customers send Ahmed a picture of the design or text they want. For instance, if someone wants to buy a hoodie with a design that looks like the iconic Nike swoosh, they send Ahmed a picture, along with the size and colour. She then uploads that picture onto her embroidery machine, attaches the threaded spindle and creates the item for much cheaper than it could be bought in a store. The starting price for Nike hoodies is a hundred dollars but Ahmed's customized design is thirty-five dollars. Ahmed's favourite design is a classic Dior crewneck. Anything from the designer is expensive, with some items selling for a thousand dollars or more. Ahmed says she enjoys making custom Dior crewnecks because, unlike Dior, she can customize them. One customer requested a gray Dior crewneck with purple butterflies around it and Ahmed had a fun time making it.
Shaikh Zakwan, the Imam at Ahmed's local mosque in Mississauga, Ont., found out about her efforts and the story behind her business, and offered help. Now, every Friday, Ahmed sets up a stand inside Riyadhul Jannah, and mosque-goers can purchase pre-made clothing pieces or place an order for a customized piece and pick it up the following week.
Zakwan has met many Muslim students at the mosque and appreciates everyone and their efforts, but when he spoke of Ahmed on a recent afternoon after Friday prayer, he described her as a selfless young adult and said it's rare to find someone of her age so passionate about charities.
"MashAllah, she is such a generous girl," he said with a smile. "She tells me she only worries about the families suffering in Palestine and she not once has complained or taken the money for herself."
This year, Ahmed is working with her local mosque Riyadhul Jannah once again, and with Ramadan around the corner, she intends to donate her profits to help people in Turkey, where around 99 percent of the population is Muslim. The past few months have been devastating for people in Turkey as heavy earthquakes hit the region, forcing many families out of their homes and separating them.
Every month, she gets at least 10 orders, tallies the profits after her costs, and makes a donation to Muslim Welfare on their website through her Canadian bank account.
Many Muslims are aware of Muslim Welfare. It focuses on international disaster relief, providing food and clean water exploration, and also fights poverty and homelessness in Canada and around the world. Every year during Ramadan, Muslim Welfare distributes baskets containing food and other basic essentials that help families. In 2022, Muslim Welfare distributed more than 6,000 baskets and raised more than $500,000. This year, Ahmed has added a custom hoodie to these baskets.
Ahmed says donating a crewneck or a hoodie to the baskets makes her feel like she is showing the families that receive them that they are not alone and that the Muslim community stands united and recognizes the struggles they have to go through.
"There are over a billion Muslims in the world but we are still a minority. We have to stand up for our brothers and sisters, not only because it's what Islam teaches, but it's humanity," she says.
Omar Qadri, head of the Mississauga Office of Muslim Welfare, says the organization works with sponsors and businesses to raise money for vulnerable families and sees the baskets as an important part of those efforts.
"Without the generous donations from Ahmed and other businesses, this would not be possible," Qadri said.