By Adriana Fallico
Wayne McNeil's vision for training programs to prevent bullying and abuse in youth sports turned on a technology that almost no one was familiar with nearly two decades ago: Online learning.
McNeil felt that it would have been tough to have people consistently gather in a clinic or workshop, so virtual learning was the most convenient way to make training programs available.
"The issues we were wanting to educate on and the whole notion of e-learning were completely out of the realm for people to digest," McNeil said.
Twenty years later, the Hockey Canada scandals have put a spotlight on toxic sports culture and sparked a realization of the importance of training coaches and players to build a culture of respect. Hockey Canada recently expanded its partnership with McNeil's group to develop new player education programs.
Hockey Canada has been under scrutiny for settling a lawsuit last year from a woman who alleged she was sexually assaulted by several members of the national junior team after a Hockey Canada gala event in London, Ont. in 2018. The organization was also exposed for paying out $7.6-million from a reserve fund to settle nine sexual assault claims since 1989.
McNeil said part of the problem with hockey culture is that alleged abuse is sometimes witnessed by others who don't intervene.
"If you take a look at some of these situations, like the ugly one that Hockey Canada is dealing with, nobody stepped in. We're not going to prevent it all the time, but if people report it and report it quickly, then at least you can nip it in the butt," said McNeil.
Craig McLuckie, a hockey coach with the Streetsville Hockey League and Applewood Hockey for the past 15 years, said he would like to see more accountability from sports organizations when scandals arise.
"I would ask what the organization is doing to ensure the accountability is on the team to act in a way that is positive for the sport and will encourage kids to continue to want to play and have fun in the sport."
Experts say it is up to hockey coaches, leagues and Canadian society as a whole to create a safe environment for athletes rather than neglecting their wellbeing and safety.
"The whole sports system, at least at the elite level, is so performance focused that everything else becomes secondary," said Gretchen Kerr, dean of the University of Toronto's faculty of kinesiology and physical education and an expert in athlete maltreatment.
Abusive behavior in youth sports is often written off as normal, said Daphne Young, chief communications officer at Childhelp, a non-profit organization in Scottsdale, Arizona.
"There's a lot of abuse that crosses the line where people say it's just part of the culture, it's just part of hazing, if you're too weak to take this you'll never make it in hockey," she said .
Young said some coaches prey on players by building abusive and manipulative relationships "so they can catch a player in a fragile state with the end goal of getting what they want," often by spending one-on-one time together.
McNeil co-founded Respect Group Inc. in 2004 with Sheldon Kennedy, a former National Hockey League player who was sexually abused for years by his minor hockey coach. Kennedy went on to become an advocate for survivors of child sexual abuse, using his experiences to help end the stigma and hold predators accountable.
McNeil and Kennedy's vision was to educate coaches on their duty of care by recognizing and stopping bullying, abuse, harassment and discrimination through online training programs.
More than 700,000 coaches and two million individuals have become certified in Respect Group's courses in the past 20 years, numbers that have taken time to achieve given how new virtual learning was when the company started.
McNeil and Kennedy have also created virtual resources for youth athletes that are designed to not only encourage them to become more aware of predators but also to help create positive environments .
According to Respect Group, the biggest issues facing community sports are harassment, intolerance/racism and lack of fair play, resulting in 70 per cent of kids dropping out of organized sports by the age of 13.
"Your goal is for the kids to have fun. If they have fun, they keep coming back. If you're not a great coach and you're not building self-esteem in your players and they don't want to come back, you're doing exactly what you don't want to happen," said McNeil.
In February, Respect Group announced a partnership with Canadian Tire to provide hockey officials, players and parents with free access to online training courses until the end of April.
A colourful, interactive course aimed at players aged 10 to 12 follows two characters as they learn to find their voices, keep themselves safe and remember to have fun with their friends.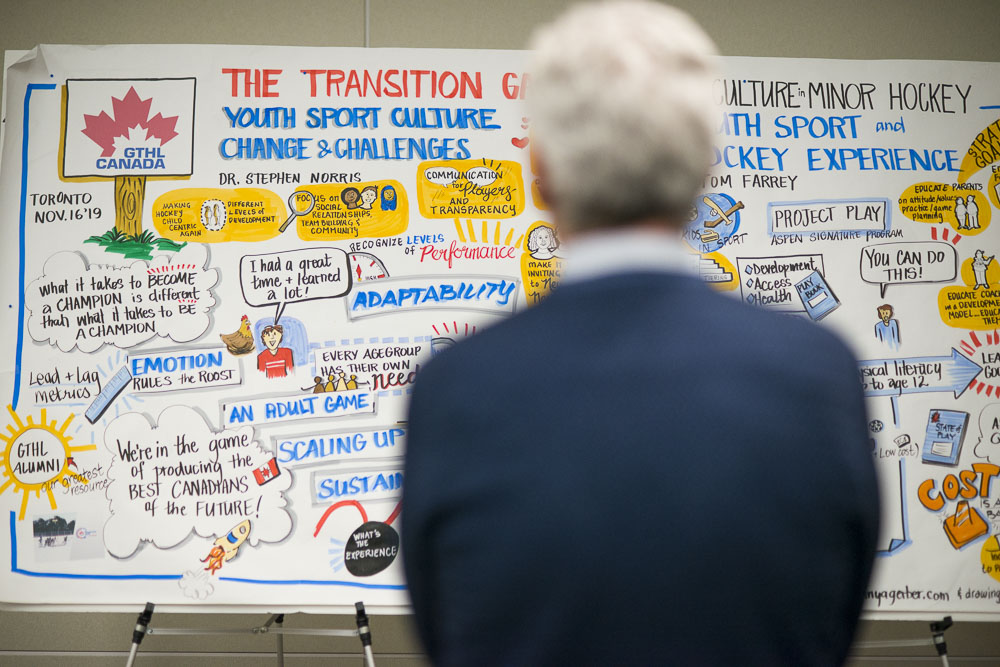 Hockey Canada announced a multi-year renewal of its partnership with Respect Group in February, stating they would work together to "develop new, age-appropriate player programs" and that there is "still work to be done" to improve hockey culture.
The aftermath of the increased attention to the Hockey Canada scandals provides an opportunity for a clean slate for the next generation of coaches and players to do better by creating safer and more inclusive environments, advocates say.
If hockey is Canada's sport, then it needs to be a sport that Canadians can be proud of, and slowly but surely the hockey world is working to reclaim that title.
Hockey Canada scandal puts problems surrounding sports culture under the spotlight