By Fredrick Thomas Reyes
As eight-year-old Fredrick made his way through the dark blue seats of the MTS Centre (now called the Canada Life Centre), his face lit up with a broad smile reaching from ear to ear. His eyes were wide with wonder from the moment he stepped foot inside as he took in the sights and sounds of the bustling crowd and ice rink below. He was struck by the sheer magnitude and intensity of the atmosphere as he glanced across the arena and knew he was in for an incredible Winnipeg Jets home game against the Boston Bruins. The noise from the crowd and the echoes of skates on the ice filled his ears, as he felt the energy of the arena coursing through his body. As he took his seat, Fredrick's smile remained fixed on his face. He couldn't help but notice how frigid his chair was, but as he sank in, his own body heat flowed through the seat giving him a sense of comfort.
The puck dropped and the game began and Fredrick looked around the arena, observing the sea of faces in the audience. He realized he was surrounded by strangers and a stab of isolation and loneliness dawned on him. The arena's once-enthralling energy now overwhelmed the young boy. The giant crowds screaming and shouting no longer felt joyful, but rather made him feel oddly alone and anxious despite knowing his friends were beside him. As cheers echoed around the MTS Centre, there was a peculiar silence that persisted throughout the arena, so profound that little Fredrick could hear his own heartbeat. Taking another surreptitious glance around, he noticed that his section was crowded with enthusiastic hockey fans, but none of them resembled him, not because of his age or how he dressed as an eight-year-old child, but because he was the only visible minority.
Moving to Canada from the Philippines in 2010 at the age of five was a huge transition for me and my family. I was excited about the cold weather and snow, Canada's beautiful landscapes, friendly people and I couldn't wait to explore and experience all of it. On the other hand, I had never given a moment's thought to the national pastime that seemed to be an important part of Canadian culture: hockey. It was a sport all my new peers seemed to have enjoyed since they were children and I remember feeling alone and excluded when my new friends talked about it, which was a popular subject of conversation in school. They'd go on about their favourite teams, players and games and I would struggle to join in. It was frustrating since I wanted to be a part of the conversation and bond with them, but like many new immigrants, I just did not have the knowledge or experience to contribute.
Hockey is for Everyone began in 1998 as a youth hockey program and 120 000 boys and girls have participated since its inception, according to NHL Public Relations. Now, it is the National Hockey League's (NHL) slogan that reflects not just on the growing diversity among fans and athletes, but a goal that also extends to minor hockey. In 2013, the NHL and National Hockey League Players' Association (NHLPA) partnered with You Can Play, to ensure acceptance for all who participate in the game, initiating the adoption of its current motto Hockey is for Everyone, to market the sport as inclusive and welcoming to all.
Heritage nights are becoming an increasingly popular way for hockey communities to celebrate diverse cultures and traditions. The Winnipeg Jets hosted their first-ever Filipino heritage night on Nov.9, 2022 in honour of the growing Filipino community in Winnipeg, which as of the 2021 census made up about 11 per cent of the city's population according to Statistics Canada (making Filipinos one of Manitoba's largest minority groups). Kory Harnum, manager of community relations at the Winnipeg Jets and True North Sports + Entertainment, says initiatives like heritage nights arose organically during the 2018-19 season with their partnership with the Winnipeg Aboriginal Sport Achievement Centre (WASAC) dating back to 2007.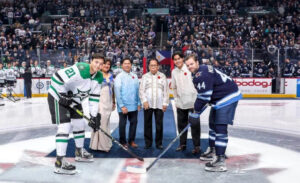 "Meetings about heritage nights start almost a year out," said Harnum. "Because we want to do it right and not plan weeks or a month ahead because so much can get missed or misrepresented."
According to Harnum, the Winnipeg Jets have a goal that extends beyond simply winning games on the ice. They aim to foster an environment in which everyone, regardless of background, feels welcomed. When asked about the importance of fans feeling represented, Harnum says the Winnipeg Jets' objective is to foster inclusivity and engagement with communities to create an environment in which both long-time fans and newcomers to the sport of hockey feel they are a part of it. By doing this, they hope to break down barriers and encourage cross-cultural understanding using the platform of an NHL Hockey Club for communities to share their cultures and celebrate on a larger scale.
"It's all about sharing ideas. Being able to partner with communities is something we don't take lightly and we appreciate the opportunity to work with them and share their culture and heritage, something we certainly take pride in and enjoy being a part of," said Harnum.
Building strong relationships with different communities means planning their heritage nights and Harnum says the Winnipeg Jets go to great lengths to ensure that logos and designs whether for WASAC, Filipino, or South Asian heritage nights, are created with the involvement of individuals from those communities, because they recognize the importance of respecting the cultural value of each aspect.
"I do think things are getting better, but they're definitely slow," says Courtney Szto, an assistant professor at Queens University's School of Kinesiology and Health Studies.
Szto works closely with Black Girl Hockey Club's (BGHC), a non-profit organization, Get Uncomfortable Campaign and event planning committee, so she is all too familiar with the challenges that Black and racialized women still face in the sport to this day. According to Szto, while there has been growth in terms of ethnic and gender diversity at the grassroots level of hockey, it has not been consistent across the sport. Women's hockey, in particular, has experienced an increase in diversity over the last decade with more women of colour from diverse backgrounds playing.
Szto says that in order to create a truly inclusive atmosphere for people of colour and women in hockey, structural frameworks of representation and power must be addressed.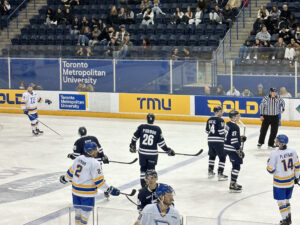 "We haven't really seen as big of changes in the seats of power," says Szto. "Participation is fine but we are not necessarily seeing that filter up to coaching, management, or team doctors so we often have a very narrow understanding of what we're trying to also diversify."
She goes on to say that focusing just on expanding the player pool is often misguided, particularly when it comes to promoting women's hockey, because it can take 18 years to create a player while it takes only four years to produce an athlete trainer. When asked why hockey seemed to still lack diversity in comparison to basketball, Szto said, "The simple answer to that is one, we have been raised to believe that hockey is a white man's game and taught that basketball is for Black people. Two is cost. You can draw in different fans through basketball because it is a relatively cheap game to play."
"But I think that hockey … tries to walk that middle line of being conservative and you can't have people who rail against kneeling for the anthem for Black Lives Matter while also inviting in Black Girl Hockey Club, that's a contradiction."
Szto says that the phrase Hockey is for Everyone is more aspirational than accurate and suggests the NHL add the tagline "We're working on it!" to emphasize the challenges the league continues to confront in making hockey truly accessible to all. Nobody would agree more than Humaira Sedu, a third-year business management student at Toronto Metropolitan University (TMU) and the founder and executive director of Muslimah Athletic Club, a non-profit community organization that supports Muslim women and BIWOC in sports.
Sedu has enjoyed playing hockey since she was a child and continued her passion for hockey even up to college, where she played for the Seneca College Extramural women's hockey team. However, she soon discovered that she was the only person of colour on the team and unlike the other players, did not live in dorms so she was unable to partake in many of the team's social activities. As a result, she could not connect as well to any of her teammates and felt like she was missing out on the sense of sisterhood and connection that comes with being part of a team.
Despite the fact that she was the only person of colour on the team, a freshman and a Muslim woman, her teammates would give her pats on the back on the bench and were always courteous and friendly in the locker room. But Sedu says "There are places where I would find myself feeling a little alone like on the bus, when we're driving five to six hours to a game and it's like, well, I have nobody to sit with me."
Through this experience and by observing flaws in the system that were not being addressed, Sedu was motivated to start the Muslimah Athletic Club, a community-based organization that promotes sports for Muslim women and BIWOC. Sedu says she wanted to establish a safe and welcoming environment for women like herself to get together and share their passion for sports and hockey. By starting it, Sedu was able to create the sisterhood and community that she had been missing.
Looking up from his seat as the game progressed, eight-year-old Fredrick was reminded of all the times he had felt alone since moving to Canada. Feeling a chill that had nothing to do with the ice, he looked up to see a Canadian flag hanging from the very top of the MTS Centre, just across from him, a bright red and white flag, perfectly still. Suddenly, a sense of peace washed over him. The flag represented not only a beautiful and free nation but also a new and everlasting home. Fredrick felt the chill replaced by a warm sensation growing inside of his chest as the silence was overtaken by the crowd bursting into cheers and applause as the Winnipeg Jets scored. Yells erupted as the puck hit the back of the net and the horn blared as loudly as ever. Fredrick jumped to his feet and his voice joined in the cacophony and he felt part of something new.