By Hssena Arjmand
Walking down the streets of Kabul, two eyes stared back at Yama Farhad. Intrigued by their gaze, he walked closer to get a better look. The words " میبینم ترا من  – I see you" were painted below.  
Farhad was determined to know who was responsible for the mural. After scouring Facebook, he found Omaid Sharifi's page. He claimed to be the artist of this eye painting Farhad saw on the street. Sharifi was the head of ArtLords, a group of Afghan artists committed to using their skills to advance social change in Afghanistan.
After Farhad discovered Omaid Sharifi's Facebook profile, he sent him a message, along with samples of his own artwork, expressing his admiration and wish to work together. Farhad hit send and waited for a response.
But two years went by with no answer. In the meantime, Farhad continued his artistic pursuits. He made paintings for different businesses and companies while studying art at school.
---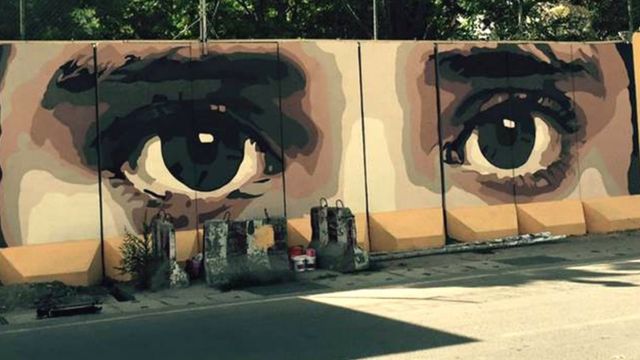 Omaid Sharifi formed ArtLords in 2014. His crew was dedicated to their work despite the continued conflicts and difficulties that Afghanistan faced, including the Taliban threat as well as poverty and political instability. They thought that by using their art to inspire others, they could motivate people to take action and work towards a better future.
All the murals that ArtLords created featured a narrative about an Afghan person, captivating the interest and imagination of onlookers. Each piece's brilliant colors and strong messages were a monument to the artists' talent and dedication.
Sharifi wanted to utilize art to educate people about social and political concerns, particularly those involving women's rights, violence, corruption, and violations of human rights. In order to motivate individuals to act and improve their communities, he wanted to provide a platform where artists could apply their skills.
He needed a group of talented individuals who shared his passion and drive since he knew he couldn't accomplish it alone. He set out to provide an outlet where these artists could connect and use their talents for a shared goal.
In Kabul 2016, Farhad was finishing his last day at the University of Kabul in the graphic design program when Enayat, an alumnus from his college and a member of ArtLords, called him. He asked Farhad if he was interested in working with the ArtLords team in Kabul.
Farhad accepted Enayat's invitation right away and went to the ArtLords headquarters in Kabul. ArtLords member Nahil greeted him and gave him a hard handshake. Nahil questioned Farhad about his readiness to collaborate with ArtLords. But Farhad wanted to work for ArtLords since 2014. Nahil asked Farhad if he was ready to travel the following day — Farhad replied that he was. "ArtLords is built on trust and kindness, and all we ask from you is honesty and kindness," Nahil told him.
The next day, the team arrived in Laghman to paint a mural to raise awareness about the need for the polio vaccine for children in Afghanistan. As Farhad and his team were working on the painting, he suddenly noticed a red laser sight. He signaled to his crew to drop down and scurry to the car. The Taliban had aimed their sniper rifles toward them. They managed to escape and return to Kabul. "That was the first time I experienced fear in my life," said Farhad.
But that wasn't his last time working with ArtLords. He traveled to many cities and painted many murals with the team. "Art is our weapon," said Farhad. He used his favorite number to name his own office that was partnered with ArtLords — 11 Studio in Kabul, a place where he and his colleagues would work, socialize, and brainstorm. A place he built with his future in mind.
"Every picture we painted told the story of an Afghan person, which is why citizens were so interested to see these and they would come to help us paint," said Farhad. "In Afghanistan, people are so busy with work and putting food on the table, so we made these for them to come to see along the streets."
ArtLords' recognition spread, and their paintings started to cover Kabul's walls, providing a moving reminder of the plight and ambitions of the Afghan people.
"ArtLords work delivers a message of hope and resilience, and the kindness and generosity and the creativity of the people who live in Afghanistan," said Marianne Fenton, the art curator at the Aga Khan Museum.
On August 15, 2021, Farhad had been in his studio sketching out his next work of art. Farhad's phone buzzed loudly. He answered, his eyes gazing around the room as he waited for his friend to speak. "The Taliban have taken over Kabul," the voice on the other end said in a weak tone. Farhad strained to understand the news as his eyes widened in shock. He sunk back in his chair as fear washed over him.
"The Taliban came and our entire lives changed," said Farhad. On Aug. 15, 2021, the Taliban took over the city of Kabul, causing citizens to flee for their safety. People crowded the airports, desperately trying to get on a plane anywhere, some were even desperate enough to hang on to the outer parts of the plane, risking their lives to run away, resulting in many casualties.
Farhad's decision to leave Afghanistan was not an easy one. No one wants to leave their home and begin the unknown journey of finding another home. Farhad refused to leave Kabul at first, but in order to keep his family safe, he made the decision to leave.
His mind filled with memories of the numerous hours he spent in his studio, working on his art. But he had to stop thinking about that. All of it, including the passion, colors, and feelings he had poured onto the canvas had to be left behind. Leaving his native country with its well-known streets, vibrant community, and lively culture was even harder than leaving his artwork behind. He knew he might never come back.
With the help of a friend, Farhad managed to escape Afghanistan with his wife and young son a few days after the invasion. The journey to Canada was not an easy one. After spending time in Albania, Farhad arrived in Toronto in May 2022.
Today, there are members of ArtLords all across the globe. The group has a presence in Pakistan where they have developed a safe space for Afghan refugees, especially women, and girls. This organization provides women with many creative outlets, such as painting, writing, and music.
ArtLords also launched their "I Stand With You Campaign", where they are reaching out to 50 schools and universities across the United States to join and share the work of Afghan women that include stories, art, poems, and writing against the Taliban. Thirty artworks were retrieved from the ArtLords gallery in Afghanistan and are now being displayed at the Tyson Corner Center in Virginia. ArtLords also recently had a women's rights panel in Pakistan to discuss Afghan women's rights.
The group's artwork was featured in their own exhibit called "Afghanistan, My Love" at the Aga Khan Museum in Toronto. "We want people to focus on that, rather than what they see in the day-to-day media," Fenton said, who describes ArtLords art as a showcase of how Afghans see other Afghan people.
"When the Taliban came they destroyed all our paintings and murals on the walls," said Frohar Gullistani, another member of ArtLords. "[Us] artists here in Canada, we are trying to tell the stories of Afghanistan [and be] the voice of people still in Afghanistan." Since August 2021, 29,735 Afghans have arrived in the country according to Immigration, Refugees and Citizenship Canada.
The first mural of the eyes that Farhad saw connected him to ArtLords. It was one of ArtLords first murals. Now, that mural has been painted over by the Taliban. After taking over Afghanistan, the Taliban banned all activities related to art, such as music, painting, and television. Women in Afghanistan have lost years of progress: girls cannot attend school, women are not allowed in public, and women are not allowed to work for non-governmental organizations.
"When I found out they destroyed all our artwork, it was like the feeling of leaving Afghanistan again," said Farhad. "I was so upset. All our efforts, all our memories, all our stories — they wiped it all away."
After being in Canada for almost a year with his wife and young son, Farhad awaits the day he can return back home. He misses the noisy streets, the rich culture, the loving community, and the familiar places that made Farhad hopeful to return again. "I know I may have some opportunities here that I don't have back in Afghanistan, but that doesn't matter to me. It's not the same being here away from my home," said Farhad.
"I have hope that one day I'll be able to go back to Kabul and work on these walls again and make memories," said Farhad.
---