By Sebastian Zucchet
A look into how players in the GTA are changing hockey's culture
At that moment, he knew he won. He had so many emotions, and he was so angry, but rather than him taking it out on the other players physically, he knew he would feel more satisfied if his team were to beat them on the scoreboard. It was the first time something like this had ever happened to him, and it really bothered him for the rest of the game. He was pretty pissed off. He just wanted to score and win the game, and that's what he did. He won't let those words, or someone else's actions define me, and when the other player refused to look me in the eye during the handshake line, that's when he knew he won.
That was a story told by Elijah Roberts after he was called a racial slur before a game while playing minor hockey. Elijah is just one of many players who have experienced something similar, but he is striving to make a change for the better of hockey culture and its wide community.
For over 100 years, hockey has been a part of Canada's national identity and culture. It is played and watched by millions of people all over the country. In recent years, the National Hockey League (NHL) has made strides to increase diversity within the hockey community. Whether it is NHL teams hosting a pride night, or the league having women compete in the all star skills competition, it is clear and obvious that the NHL is attempting to move in the right direction in terms of diversifying the game.
Hockey culture itself however, is still not where many people expect it to be. Minor hockey is notorious for still having a reputation of racism and problems with inclusivity. There have been many reports where players have experienced racist, and homophobic slurs at some points in their hockey careers.
In this day and age, there are many activists trying to help make the game of hockey more inclusive and diversified, so that all players, no matter their religion, race or gender feel welcome. Two activists from Toronto are doing a great deal to help with the diversity of hockey for Black, Indigenous and other people of colour (BIPOC). Elijah Roberts of the Toronto Metropolitan University (TMU) Bold hockey team, and Saroya Tinker of the Toronto Six. Toronto is a hotbed for hockey, and it is important for voices to be coming from a mainstream hockey market.
Elijah Roberts' hockey journey started when he was about six years old, after his dad saw his cousin enjoying it and thought Elijah should give it a try. He played AAA in the GTHL before being drafted to the OHL where he spent five seasons between two teams, the Niagara Ice Dogs and the Kitchener Rangers.
He recently brought his talents over to TMU, where he is studying Child and Youth Care, while also playing for the Bold's hockey team.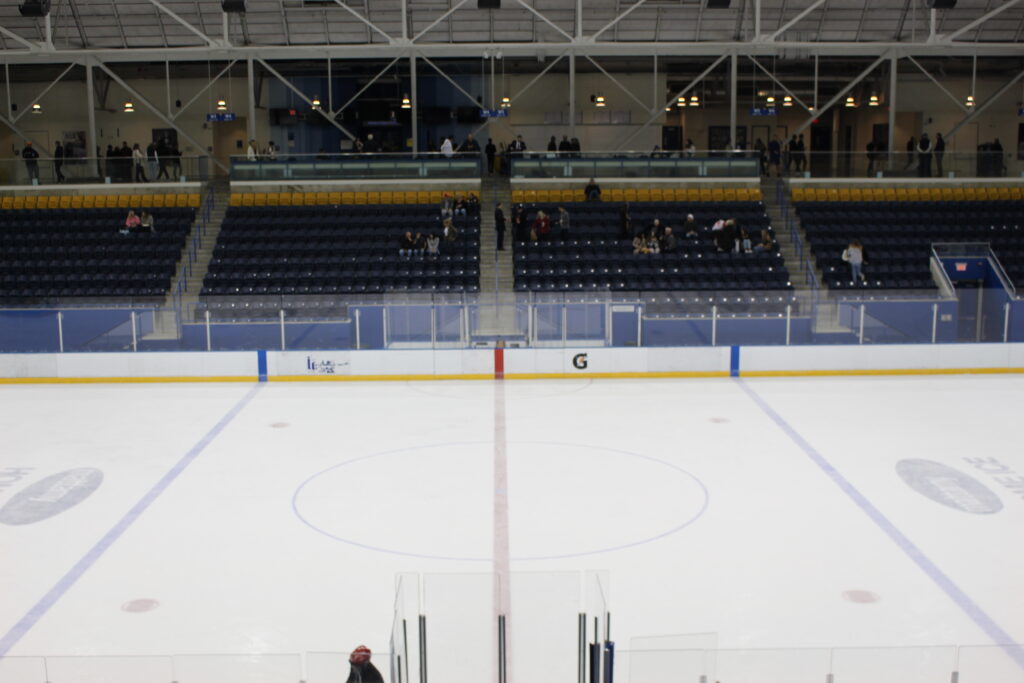 It was in Niagara where Roberts and his teammate, Akil Thomas, who is a Los Angeles Kings prospect, decided they would start the "Soul On Ice Podcast." They are joined by their other co host Kwame Damon Mason, and the podcast features stories from guests who are former and current Black professional hockey players, as well as other guests such as NHL legend Luc Robataille. The podcast highlights the issues of racism in hockey, and offers a unique perspective on the game they all love.
The podcast really took off after the idea was rekindled during the Covid-19 pandemic, and when George Floyd was murdered. After these events, the trio felt like there were important things that needed to be discussed, and so the podcast was officially born.
"It could become bigger than a podcast, possibly a media outlet, just like BarDown has become," said Roberts when asked about what the future could look like for the podcast.
"Also just continuing to spread awareness, and help out people of colour in the game where we can," he said.
Roberts and his girlfriend are celebrating the recent birth of their daughter, and he believes that his work could potentially help her in the future.
"Some of these issues that we talk about on the podcast she may face, and gathering experiences from other people and learning over time will definitely help with the way I manage her hockey, and deal with problems if they arise, and help me become the father I want to be," said Roberts.
Saroya Tinker is a professional hockey player in the Premier Hockey Federation (PHF), the women's professional league in North America for the recently crowned champions, the Toronto Six. She played college hockey at and graduated from Yale University, before being drafted by the Metropolitan Riveters
"I was always a leader on my team in terms of the way I played, and the work ethic I put in, but I wasn't very comfortable being a leader on my Yale team."
It was during her time at Yale, where she really found her voice. She wanted to help create change, and inspire other young Black athletes to follow in her footsteps. She graduated from Yale with a Bachelor of Arts in the history of science, medicine, and public health.
Being a leader on an Ivy League hockey team just didn't sit well with Tinker, and she didn't feel it was her space to lead. She decided to use her voice in the community around Yale, especially for Black women in New Haven.
"When I was on the Yale Black Women's Coalition, we would find ways in which we could help the New Haven community as Black women, and to reach out to the Black women within New Haven, as there is a large Black community off of the Yale campus."
It was also at Yale, in her senior year, that Tinker first got involved with Black Girl Hockey Club. She mentioned she was having a tough time in her senior year, and that her mom was looking for organizations to help her out, and that is when she came across the club.
Black Girl Hockey Club was started by Renee Hess in California, and Hess reportedly loves the Pittsburgh Penguins and Evgeni Malkin, and just wanted some girls to go to the games with.
"Black Girl Hockey club was really just a space for Black women to come together and watch hockey. My parents and my two younger brothers went to Pittsburgh for their first Black Girl Hockey Club night, and my mom mentioned that I was at Yale, and right then I got in contact with them and started working on the scholarship committee," she said.
In November of 2022, Tinker and her colleagues helped to launch Black Girl Hockey Club Canada officially as a non profit organization in Canada.
"Our main goals of the organization are to be a welcoming space for these Black girls to have friends, and a community and make connections to make sure that Black girls at any age can play hockey."
Black Girl Hockey Club Canada actively works to prevent exclusion in hockey based on race, gender, sexuality or ability in the face of institutional racism, financial gatekeeping and program access. The Black Girl Hockey Club Canada provides financial aid and scholarship opportunities as well as mentorship and community spaces that give Black women access to hockey.
There is still work to be done in terms of improving the inclusivity of hockey, even though things have been better. With the help of Saroya and Elijah, the proper steps can be taken to assure that people's voices are heard.
 It stems from past experiences of players, and the work they've done is allowing the important conversations to be had, and gives hope to a better culture that young kids can be a part of, and follow their dreams of becoming professional hockey players.