By Duaa Rizvi
It was three hours past noon and the lunch rush was dying down at The Cold Pressery. The distinct sound of the coffee machine could be heard echoing throughout the café. A bell rings as an Iced Vatte – yes, Vatte – is ready at the pick-up counter. A head pops out from the sea of laptops as a customer gets up to retrieve their daily dose of caffeine. Eric Vilayhong-Bolivong runs out of the back kitchen calling out lunch orders. It is one of the many kitchen runs he's done on this day.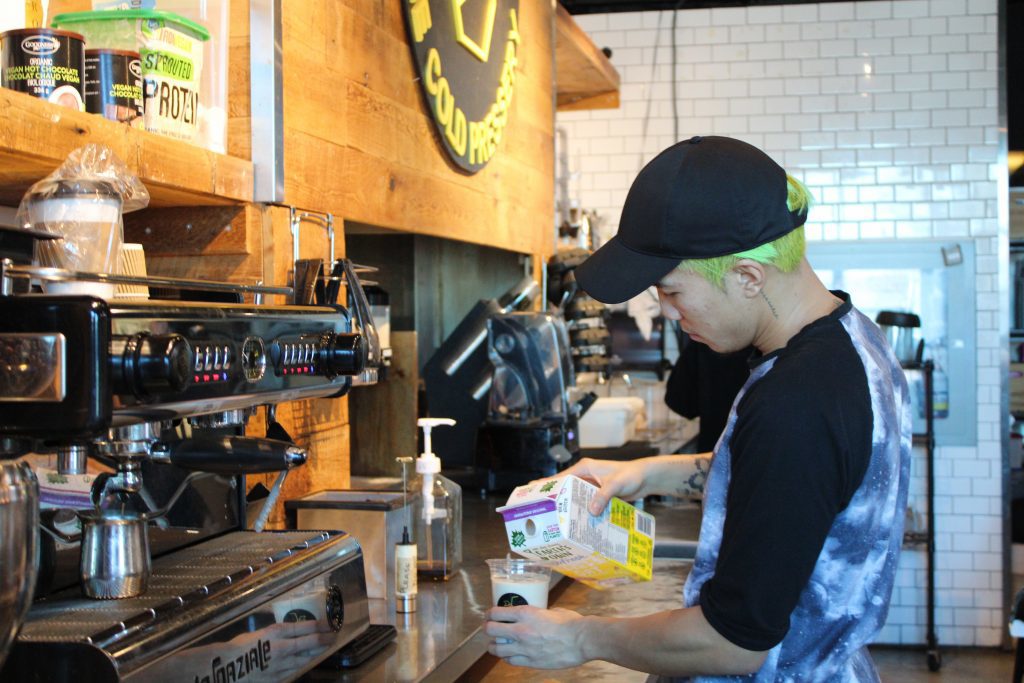 Eric is one of the many busy employees at The Cold Pressery, a vegan café in the heart of Mississauga. The store opened its doors to the public in May 2015 as one of the first 100 per cent vegan cafés in the neighbourhood. What started off as a cold pressed juice bar, now serves a wide array of smoothies, vegan dishes and an endless supply of caffeine. This café is also an event space where creatives can come together to display their work. They even offer open mic-nights, paint nights and fundraisers. Most of these events are non-profit; it fits with one of the cafe's central themes – community before profit.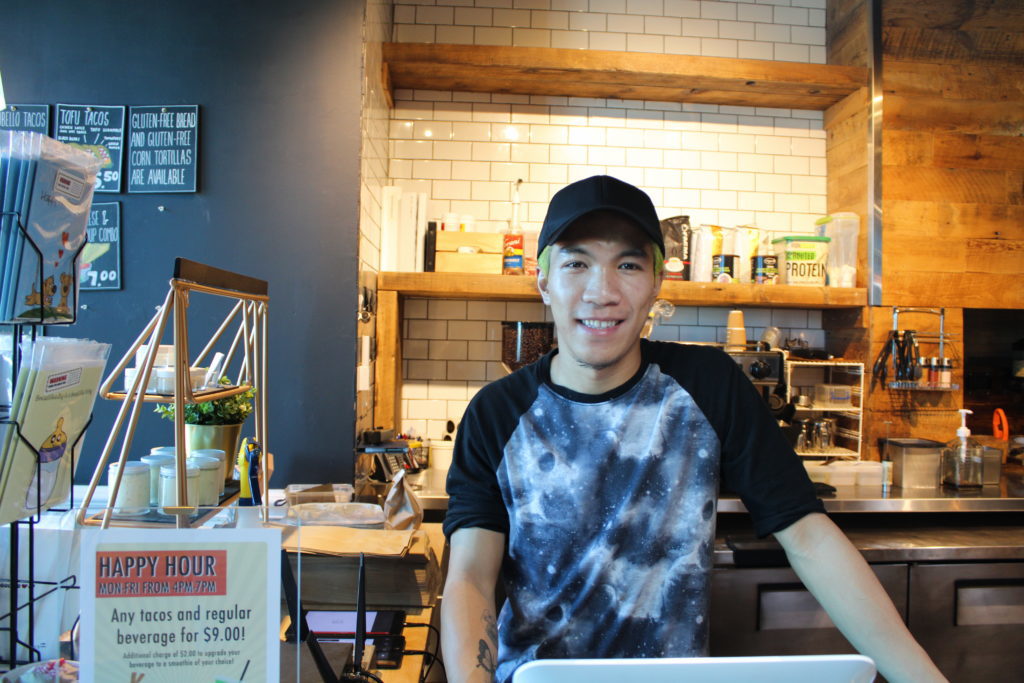 The Cold Pressery attracts a large demographic of people; the space has a very homey feel with its metal and wood-themed interior. There's a mural of the skyline of Mississauga featuring: The Monroe Towers, Square One Mall, Mississauga City Hall and many of the city's other landmarks. The mural was hand drawn by Jenny Le, the owner of the establishment.
While they try to turn a profit, many of the events hosted by the café are free to help out creatives and good causes. "Sometimes it's hard to want to help others when you feel like you need help yourself," says Le, who bought the café five years ago. "I believe it's just a matter of perspective. Once we started contributing what we could to the community, we started receiving so much more support in return. The contribution and support shouldn't always be measured by a monetary value."

While the juice bar turned café was one of the first of its kind in Mississauga, more eateries like it have popped up around the area, especially near Lake Shore and Port Credit. The café maintains the same mindset even with its competitors. "I feel like we really are happy with the fact that there are more places like us," says Eric. "We are happy to see the other small businesses that are popping up because it's showing that our niche is becoming more common."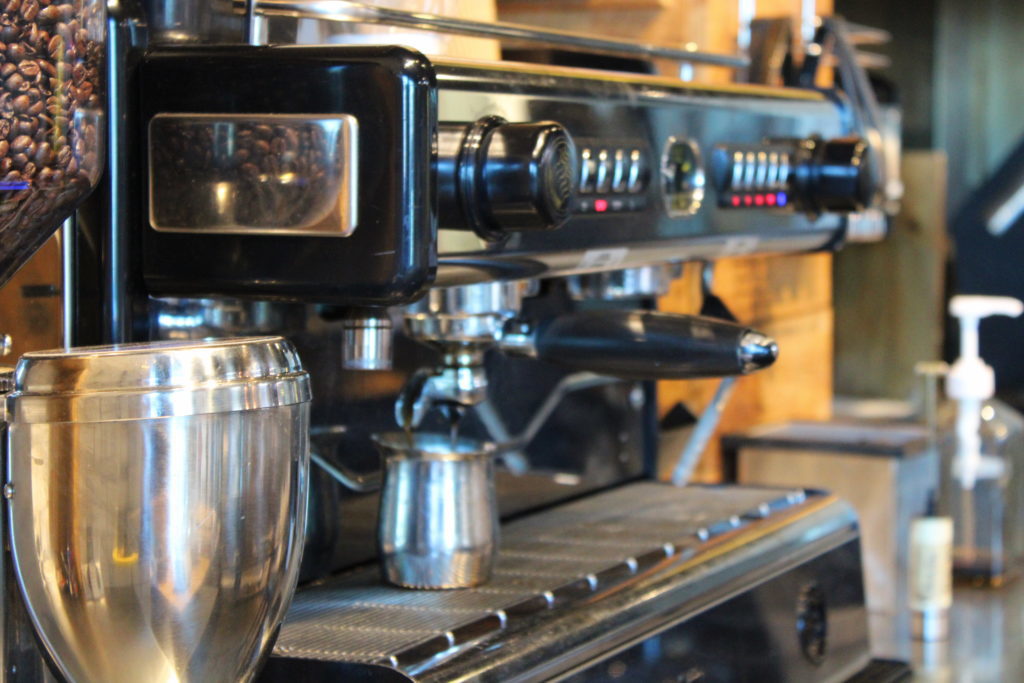 Eric believes these new vegan restaurants actually open more doors for The Cold Pressery. "It helps us to know that people are opening up their minds to having vegan food," he says. "It's not just something for vegan people but really for anybody. We support them. We don't think of them as competition. That's not beneficial to our business."
The space is a perfect representation of Mississauga's progressive core. As a small business, The Cold Pressery believes in supporting other small businesses and causes. While their business thrives, they can focus on maintaining a supportive, eco-friendly space. "We try to do things that really help enforce people to make a difference," Eric says.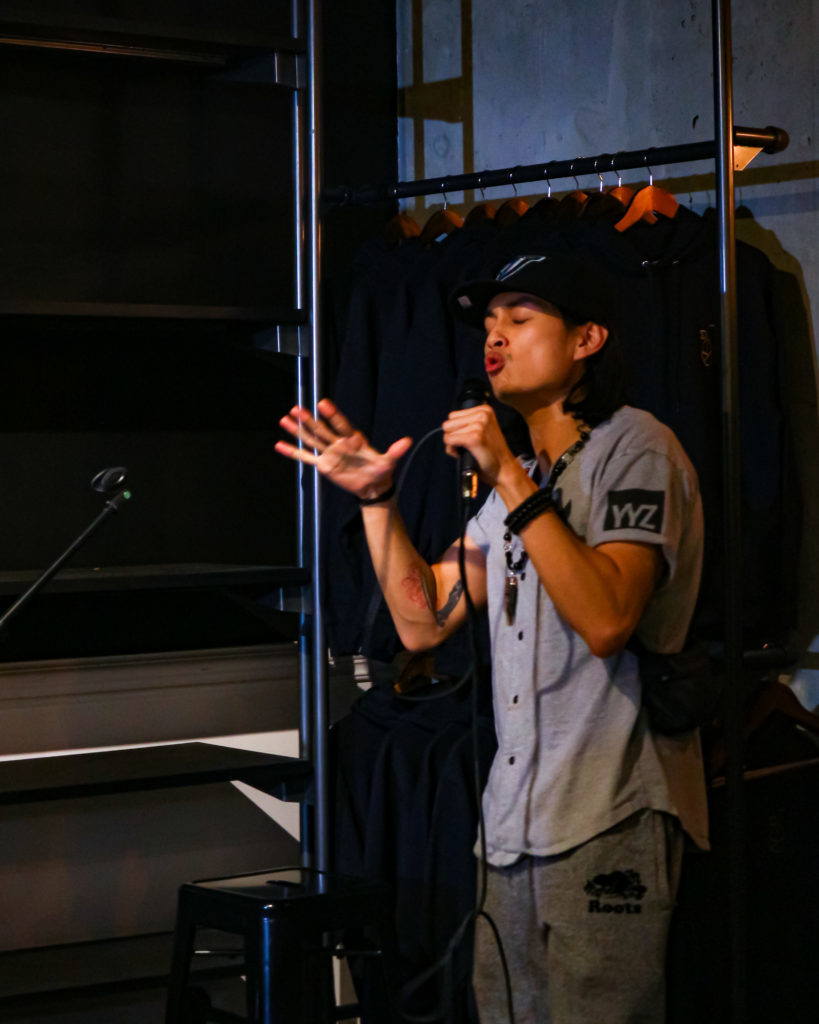 Their monthly open mic nights have become a staple in the community, catering to many styles of art. Leumas Rey is one of the artists that has used the space to display his work. The Toronto-based artist has been a regular at Cold Pressery mic nights.
"I've been a customer for about three or four years, since it opened," says Leumas. "When I started making music, they gave me an opportunity to get my feet wet and get to know myself in front of a crowd."
The café partners with small businesses outside of their niche too. Dry goods from small businesses like Adorable AF and Three and Soul can be found on display near the cash register. "It's almost like our job" says Eric. "We take pride being one of the first vegan cafés in Mississauga. It's our duty with competition … to create a sense of community rather than just worrying about our own business.
"I think it just feels right to us rather than worrying about being on top or being number one," he adds.
Jenny could easily raise menu prices to compete with the industry standard, but she doesn"t for their customers' sake. The Cold Pressery has become a vital part of the community built around it. It's a very small fish in a pond filled with all types of life. It resonates with those who are familiar with it and stands out to those who have just gotten a taste of it. The Cold Pressery has formed a community that will look to overcome any hardships they face together.
They are a family. And that's what families do. They help each other.