By Alexandra Holyk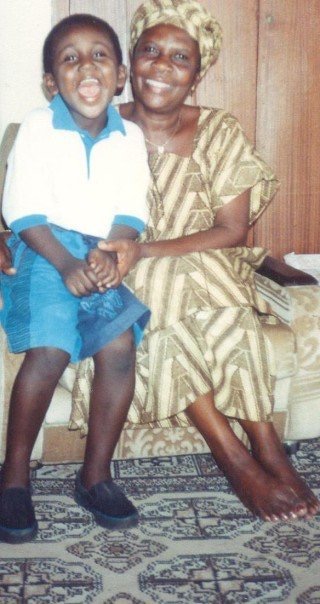 Chieff Bosompra recalls spending lots of time with his grandmother Lucy, growing up in Accra, Ghana's capital.
As a child, Bosompra liked to be outdoors and to play soccer with his cousin in the courtyard of his gated home. He'd run around under the scorching sun, panting heavily with a smile on his face, happy to be doing something he loved. His grandmother would keep an eye on him from the cool shade of the porch, the family dogs laying by her side. She would often call out to him, making sure he wasn't getting into any trouble.
Bosompra says his grandmother was always extremely supportive and continued to guide him during his teen years after he moved in with his parents who were studying in the United States. She checked in on him regularly to "make sure [he] was being good," he says, and encouraged him to avoid making his parents' lives more difficult.
"When you can't listen to your parents, your grandparents come in and they just have this way of making you listen to what they say," Bosompra says. "In the midst of being a teenager and trying to grow up and find your own path, having a grandmother [that] always believed in me…and knew that I would become something was always very reassuring."
Bosompra went on to study marketing and moved to Canada where he established Undisposable, a brand consultancy company. Based on the success he had as an entrepreneur, he decided to take a chance by launching a pop-up restaurant in December 2019 called Aunty Lucy's Burger Shop as an ode to his grandmother. The odds were against him initially—according to a 2020 report from Statistics Canada, sales in food and drink services drop every year after opening. Bosompra also had no prior experience in the hospitality industry, but he was motivated by his grandmother's unconditional support.
Days before the shop opened, his grandmother passed away after a long illness. Bosompra was unable to attend the funeral in Ghana. However, after selling out every day during the three-day pop-up, he took the project's success as a sign from his grandmother to keep going and dream even bigger. In the months following her passing, Bosompra decided to establish a permanent Aunty Lucy's Burgers restaurant, which opened in June 2020.
Located at The Annex Hotel, Aunty Lucy's Burgers is what Bosompra calls a "modern" space that fuses Los Angeles's In-N-Out Burger with Ghanaian flavours. Walking into the restaurant, the white walls sandwiched between a concrete floor and blue-tiled ceiling look simple, but simplicity is part of the brand. On one side of the room, t-shirts and tote bags adorned with the Aunty Lucy's logo hang from the ceiling to give customers something to look at — and maybe even purchase — as they wait for their order.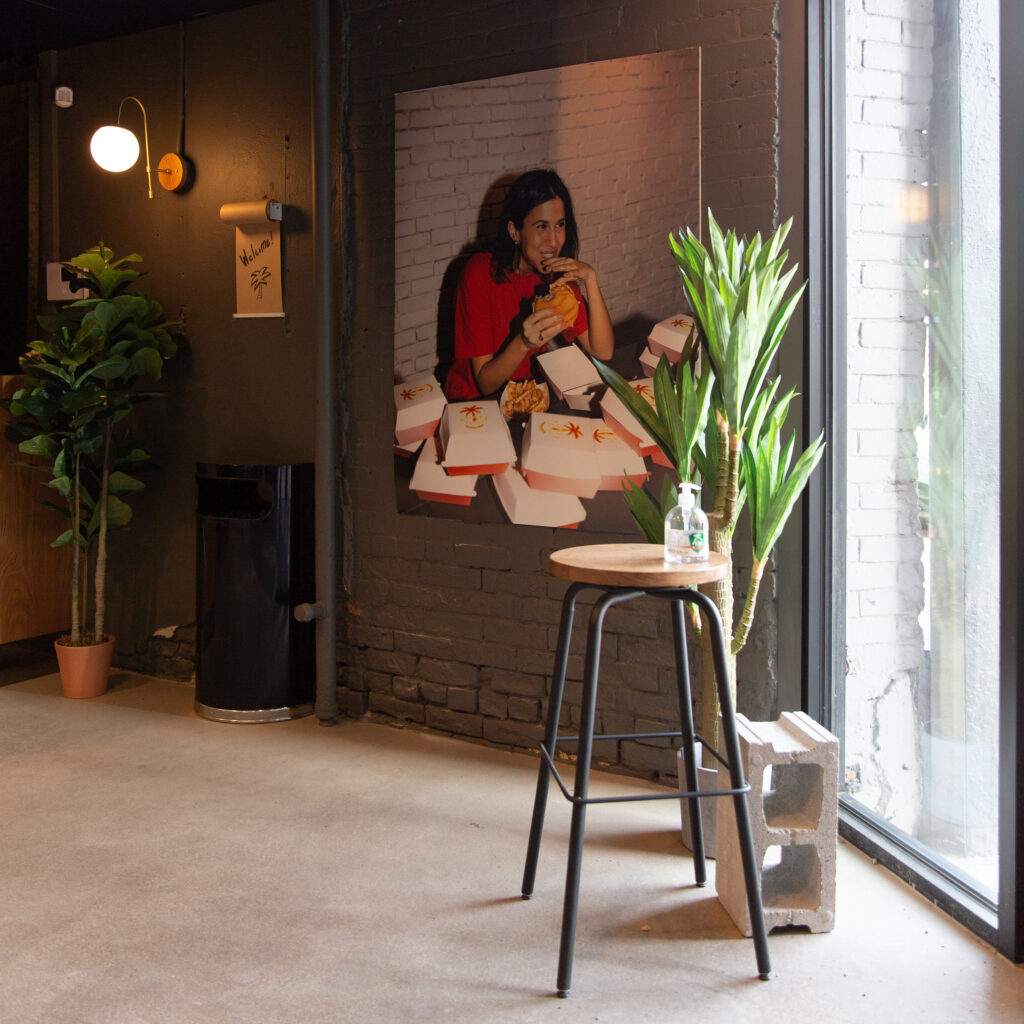 In the summer months after Aunty Lucy's moved to The Annex from its original location in Parkdale, Bosompra recalls that the patio regularly filled up with customers and passersby, which helped make his dream of establishing a community restaurant hub in the heart of Toronto a reality.
"The atmosphere is one of inclusion," he says, adding that the open patio allowed groups of friends and complete strangers to interact, enjoy the food and "relax."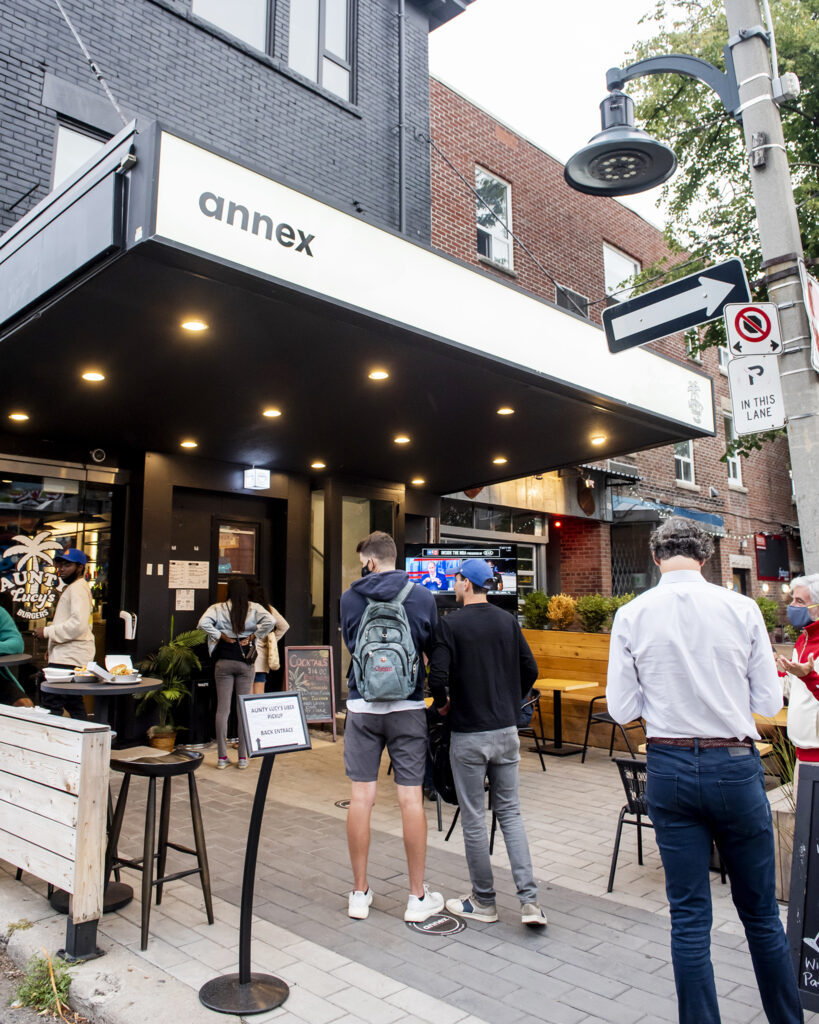 Bosompra's idea of going beyond the initial pop-up shop started with a single conversation.
In May 2020, Bosompra called in a favour from Adrian Forte, his long-time friend and a chef consultant for restaurants and culinary start-ups. At the time, Forte was sitting on his couch, scrolling through media requests on his phone. Season 8 of Top Chef Canada was airing on TV, and Forte was one of the final five contestants. As the only one from Toronto, local news outlets were trying to contact him, and he felt overwhelmed by all the calls.
But when Bosompra's name lit up on his screen, something told Forte to answer.
Bosompra explained that he had an idea for a restaurant in Parkdale, building off of the pop-up he'd done months before. He wanted to further develop the menu, going beyond the burgers and fries. Bosompra dreamed of bringing in the Ghanaian flavours he grew up with that reminded him of his heritage, his family and his grandmother, Lucy.
Bosompra had already leased the kitchen and patio. His next step was to ask Forte to join the team and use his experience to turn Aunty Lucy's into a successful restaurant.
The pair met up at Aunty Lucy's soon-to-be-finished first location. Sitting at a table on the patio in the cool evening air, they caught up over a couple of beers and discussed business plans. Forte remembers Bosompra turning to him and saying, "I have no idea what I'm doing. I don't know how to run a restaurant and that's why [I'm glad] you're here."
Over the next two weeks, Forte and Bosompra were in constant contact as they gathered all the necessary ingredients for a successful restaurant. This included sourcing the best beef for the burgers — Forte says the lean-to-fat ratio is particularly crucial — and coming up with a menu. To accomplish his goal of integrating his Ghanaian culture into the restaurant, Bosompra included culinary specialities and Ghanaian landmarks in the names of dishes. The Kumasi Burger, Accra Burger and Nima Sandwich are all named after cities in Ghana, and the restaurant sells kelewele, Ghanaian fried plantains.
Some of the most popular items featured on Aunty Lucy's menu
Since opening in the middle of a pandemic and relocating to another area in downtown Toronto after a month in business, Aunty Lucy's Burgers continues to be the go-to restaurant for Ghanaian-infused comfort food in the community. One of the things Bosompra enjoys most about the menu is hearing customers try to pronounce the Ghanaian cities and dishes.
"Seeing people trying to pronounce…different words they never would've known or had a reason to know, that's always exciting to me; this person now knows," he says.
Though his grandmother didn't have a chance to visit her namesake before she passed, Bosompra knew he made the right decision by opening up the restaurant. He says she would've loved the food and would be surprised at how he managed to pull this off since she didn't teach him about Ghanaian cuisine.
As Bosompra finds himself doing something he loves, he hopes to continue building Aunty Lucy's, making it into a well-established community hub for all ages — where everyone can learn about and partake in his Ghanaian heritage and appreciate the piece of his grandmother that will always stay with him.