By Stephanie Davoli
It's almost midnight when Evangeline Racho stumbles into her Mississauga home. She's exhausted after spending her eight-hour shift as a personal support worker in a retirement home feeding, bathing and dressing older and vulnerable people.
While Racho loves her job, the stresses of COVID-19 have made the past year emotionally and physically draining. She can't relax when she gets home either, as a raging headache from the mask and face shield she's been wearing makes it difficult for her to sleep.
But she knows that she needs to fall asleep soon because she has a lot to do tomorrow – despite it being one of her rare days off.
Racho has an order of puto to be picked up in a few days and, since it usually takes four days to make the traditional Filipino dessert, she has to get started right away.
Racho's made the authentic Filipino treat, a sweet steamed rice cake, under her home-based business Geline's Puto since 2018, with the occasional help from her husband, sister and daughter. Since opening, she's become well-known within the Filipino-Canadian community, with her clientele growing to over 100 customers across the country.
So why is Geline's Puto so popular? Racho says it's thanks to the "secret family recipe" her grandmother passed on to her after she immigrated to Canada. This recipe makes Racho one of the few authentic puto-makers in Ontario – and her customers can taste the difference.
"I think I'm the only one who makes puto the traditional way," says Racho with a chuckle of disbelief. "I use rice, just like how they do it in the Philippines. The puto I see in the stores all use flour."
To help support her family, Racho immigrated to Canada in 1991 when her uncle sponsored her to care for his mother-in-law who was suffering from Alzheimer's disease. As Racho spent time with her, she soon realized that she felt drawn to this line of work.
Dealing with COVID-19 as a Caretaker
Yet, she would work several jobs before re-visiting her true passion of caring for vulnerable individuals, which she now does at Forum Italia Retirement home in Mississauga. Racho, who has learned to speak Italian to bond with the residents, says this past year has been a struggle.
When COVID-19 hit, Racho and her coworkers were overwhelmed by the new precautions they had to take, such as excessive cleaning of surfaces and wearing layers of personal protective equipment. They've now learned to live with the new rules, but they can't get used to seeing how emotionally drained their residents are.
Due to restrictions on social gatherings, residents must stay in their rooms at all times, except for their daily walks, and family visits are seldom allowed. After an outbreak hit the home in early February 2020, the mood only worsened as several employees, including Racho, caught the virus and two residents passed away.
As she self-isolated in her bedroom for 14 days, Racho suffered from many severe COVID-19 symptoms, including loss of taste, smell, and appetite, and difficulty breathing. Sitting alone in her room, watching Netflix while hydrating with Gatorade to help replenish electrolytes, the loneliness was almost as difficult to deal with as the symptoms. But nightly virtual Bible study with relatives from the Philippines and constant check-ins from coworkers on a WhatsApp group text lifted Racho's spirits.
Racho's coworker and customer Maricel Pansoy hardly sees Racho anymore and misses the sense of community they once had at work, especially since their break-room parties for birthdays and holidays have been put on hold.
"We'd always talk, laugh and share food with each other and we can't do that anymore," she says. "I miss Evangeline's puto the most. It's my favourite and I don't buy puto from anywhere else."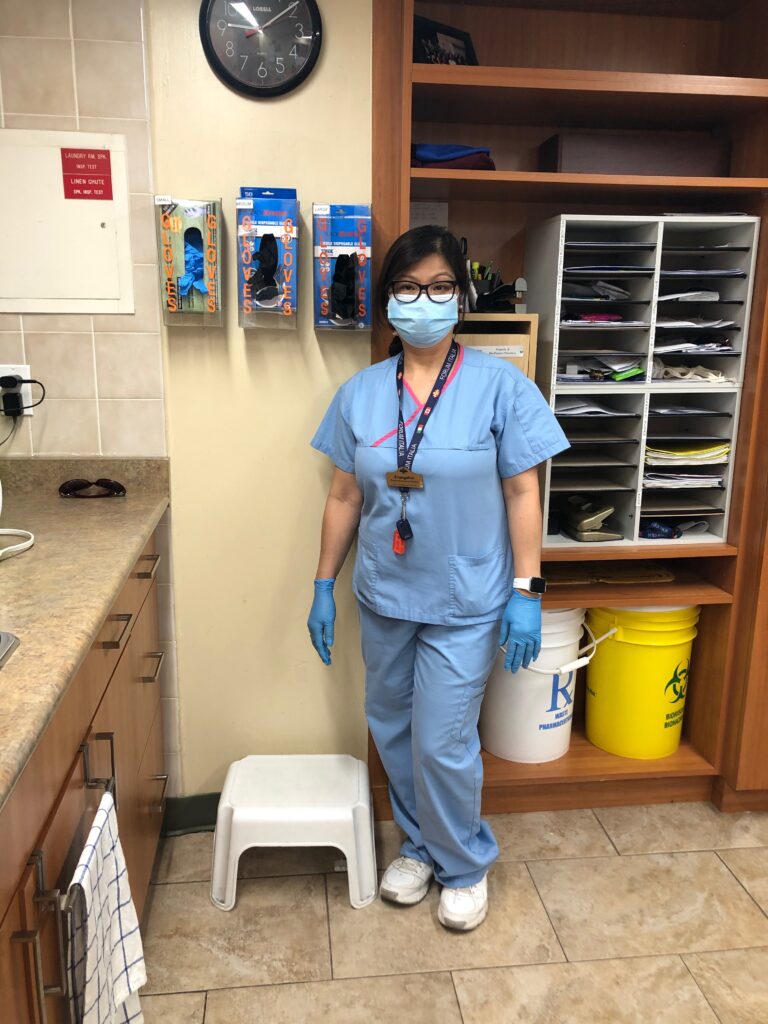 Although it's disappointed her, Racho's had to limit the number of orders she's taken this past year because of the pandemic.
"My customers call me and say, 'Please make me puto! I miss it!' and I have to say no because I don't want anyone getting sick. I only make it if I have enough time to follow the COVID precautions now."
Racho requires herself and everyone who assists her to wear a mask and gloves, constantly clean surfaces and cooking tools, and frequently wash their hands while making puto. While these precautions add more time to the already lengthy puto-making process, they have become an essential part of keeping her customers safe.
Memories of Home
When Racho does find time to make puto, she savours every step of the process – as the sweet rice cakes have always been more than just a dessert to her.
Racho's mother sold puto at a local market to help put her children through college, and she
was just as dedicated to the art of puto-making then as her daughter is today.
Some of Racho's earliest memories involve the rich aroma of puto consuming her senses as she'd walk into her childhood home in Alaminos, Philippines. The smell was so powerful that it hit her the second she opened the door, stopping her in her tracks as she paused to take in several whiffs of the delicious air for a few seconds.
If the sweet scent of fresh puto didn't catch Racho's attention first, the multiple patches of the rice-dough stuck to the walls were sure to. The bits of dough were everywhere, including the ceiling, fridge and floor. But this never fazed Racho, she was used to seeing dough scattered throughout her house because it meant one thing – her mother was working.
As her mother mixed the water and ground rice together, the vigour of her stirring caused the batter to fly out of the bowl and onto any nearby surface. Today, Racho's walls are often covered in puto dough, too.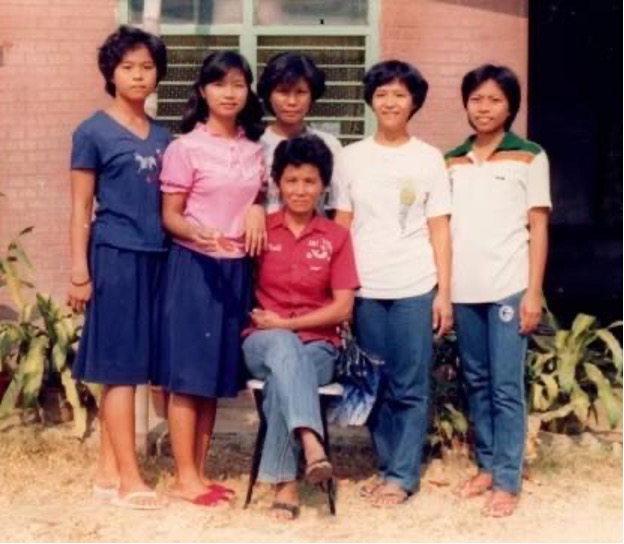 "It reminds me of my mom and my house back home," says Racho. "We'd have to scrub the walls with water every day to get the dough off and now I do the same thing at my house, too."
When her mother passed away, Racho was only 23 years old. At 54, she still doesn't like talking about her loss, but making puto continues to help her cope.
Making the Puto
On the first day of the puto-making process, Racho soaks pounds of rice in multiple mixing bowls for several hours.
By the second day, she grinds the softened rice to begin making the dough. Nowadays, Racho uses her trusty Vitamix blender to cut down on the manual labour she has to do, but she remembers the days when she'd help her mother by crushing the rice by hand with a stone grinder, a tedious process that would leave her arms sore for days.
By the third day, Racho adds yeast to the ground rice mixture, covers it with a cloth, and puts it in a cupboard so the dough can rise overnight until it's soft and fluffy.
Finally, on the fourth day, Racho separates the dough into small, smooth pieces and places them in colourful, miniature cupcake-like molds. At this point, Racho's sister, Vilma Alcantara, often helps to cook the puto in Racho's giant steamer that holds up to 100 pieces at a time.
As the two sisters spend hours in the kitchen, they often end up discussing childhood memories of life in the Philippines. For Alcantara, who is 12 years younger than Racho, making puto with her sister especially helps her reconnect with her culture and family.
"It's funny because when we're making it, Evangeline looks like my mom. Seeing her like that, it's like she's my second mom," says Alcantara. "I'm very happy that she's kept this tradition alive."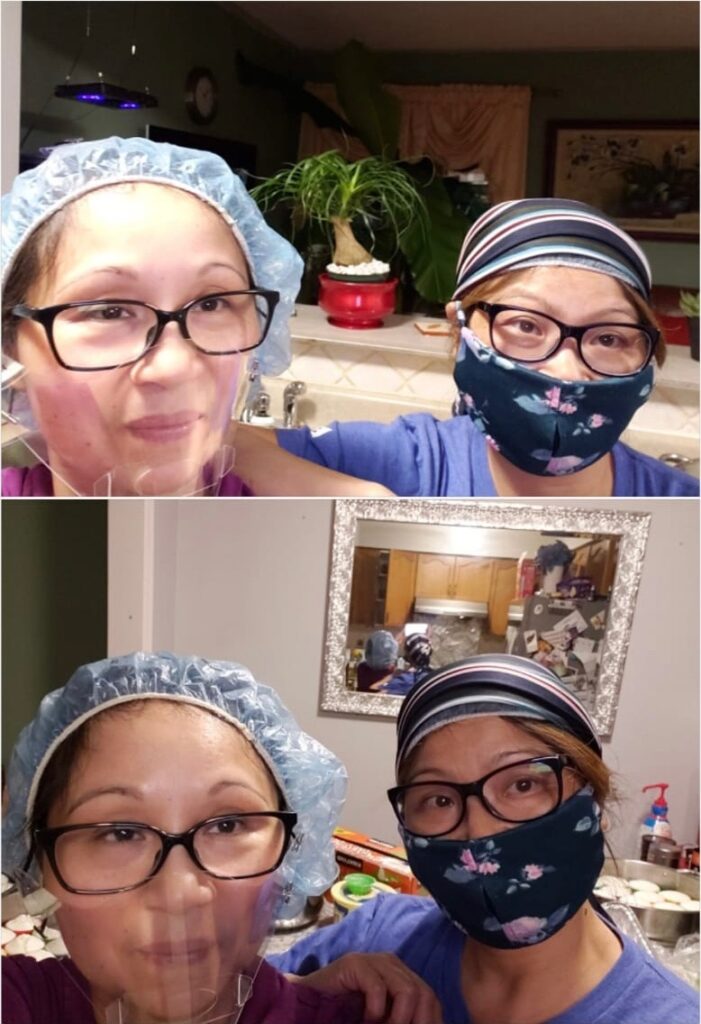 As Geline's Puto continues to grow, Racho thinks that she'll start spending more time making puto once she retires, especially since her customers and family always encourage her to expand the business.
"I'm excited to make my own schedule and to make puto with my family more often. It's already my favourite hobby so I'll always have the energy to make it."