By Sydney Bartos
As the storefronts on Gerrard Street East change, a defunct tavern has stayed the same.
When Kire Paputts was around four years old, he and his father were enjoying a meal at New Town Family Restaurant when a fight broke out. "I was only so big, so I only saw this hand desperately reaching up, trying to get back up and this guy stomping on another guy," Paputts recalled on a recent Thursday. "And then the guy gets totally beaten up, thrown out and business goes on as usual. It was like nothing happened."
It is one of the independent filmmaker's many stories about growing up near Gerrard Street East and Coxwell Avenue. Paputts describes the East end neighbourhood of his youth 30-odd years ago as "rough and tough… but if you weren't an idiot, you never had a problem."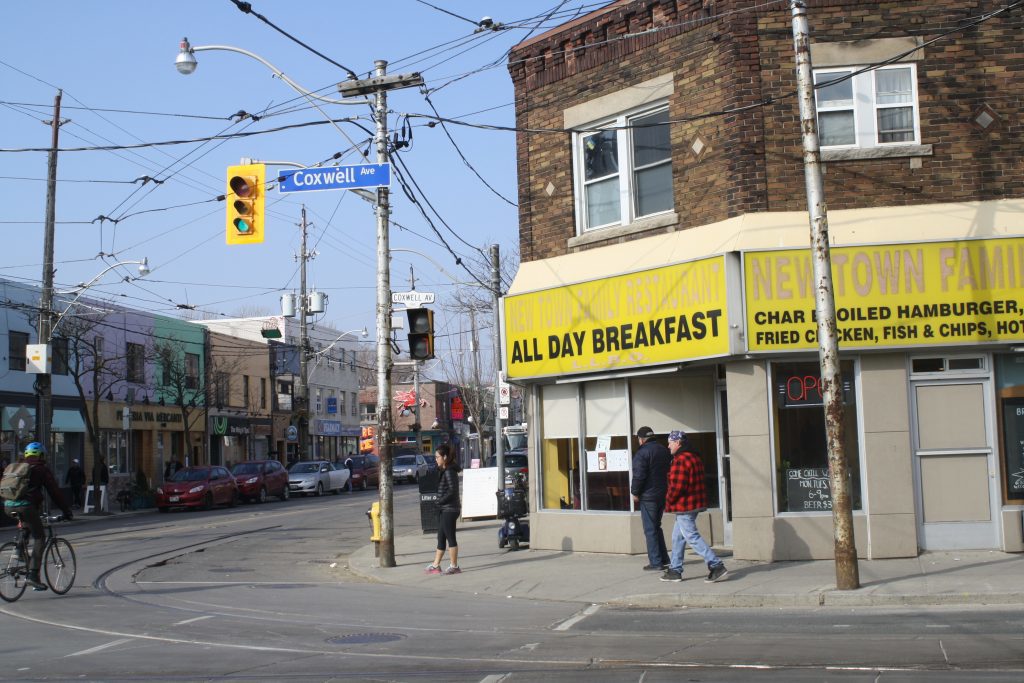 But the neighbourhood that he knew as one of Toronto's last affordable areas has shifted away from the blue-collar roots Paputts sprung from. While New Town is still serving its all-day breakfast, the rest of the strip now hosts a yoga studio, health food stores and gourmet doughnuts.
On a sunny morning, a young parent pushes a stroller down the sidewalk and a couple strolls by and pops into Glory Hole Doughnuts, the spot for raspberry pistachio and coconut cream-filled doughnuts. The 506 streetcar grumbles as it approaches, then screeches as it halts at Rhodes Avenue to drop off several more passengers with errands to run.
The neon-painted exterior of Flying Pony stands out against the other brick façades. Seated inside the coffee shop, Paputts says he began documenting his neighbourhood in 2014 in an attempt to preserve it before gentrification swallowed it whole.
What started out as capturing a single shot of each storefront along Gerrard Street East in between Greenwood and Coxwell avenues developed into a Bell Media-sponsored documentary series, each episode following the eclectic characters and businesses that made up the community.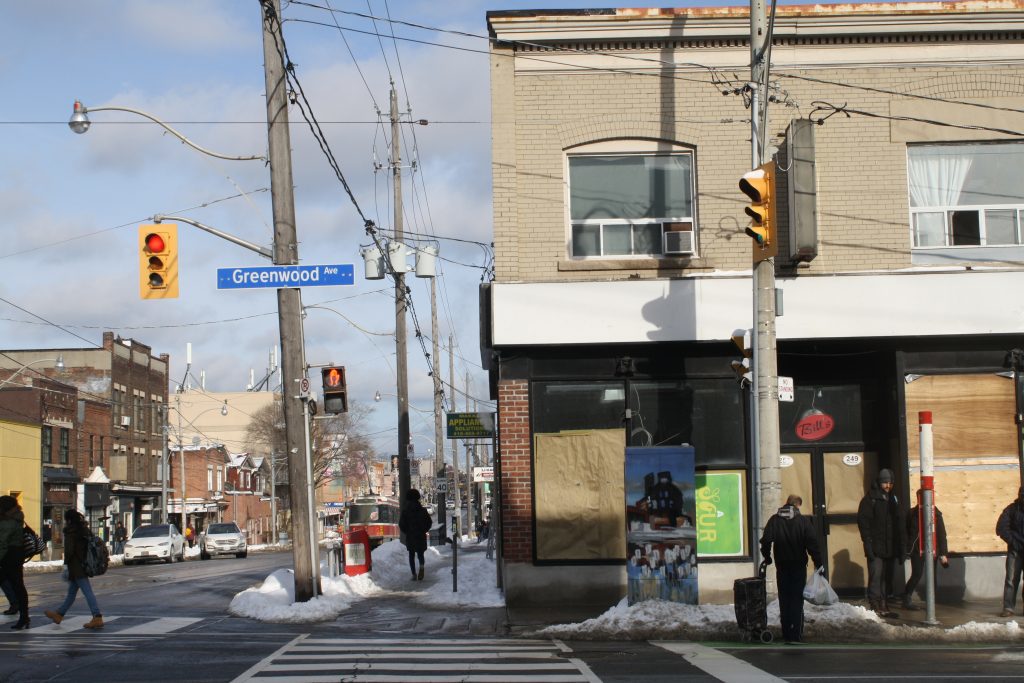 Paputts and his film team, Made by Other People, documented long-standing Gerrard East spots like the Ulster Arms Tavern, a defunct dive bar and rooming house, and Coffee Time, where regulars gathered all day to drink two-dollar coffees and play cards.
The timing of the film project was impeccable. The filmmakers managed to capture both the tavern and Coffee Time before the businesses permanently shut down. Paputts had created a time capsule of what his Gerrard Street East once was.
In a shifting neighbourhood where the new has gradually replaced old, the Ulster Arms' exterior is unchanged. The two-storey house, graffitied and still stamped with a sign promoting Friday night karaoke, continues to occupy its lot just past Greenwood Avenue on the outskirts of the colourful India Bazaar.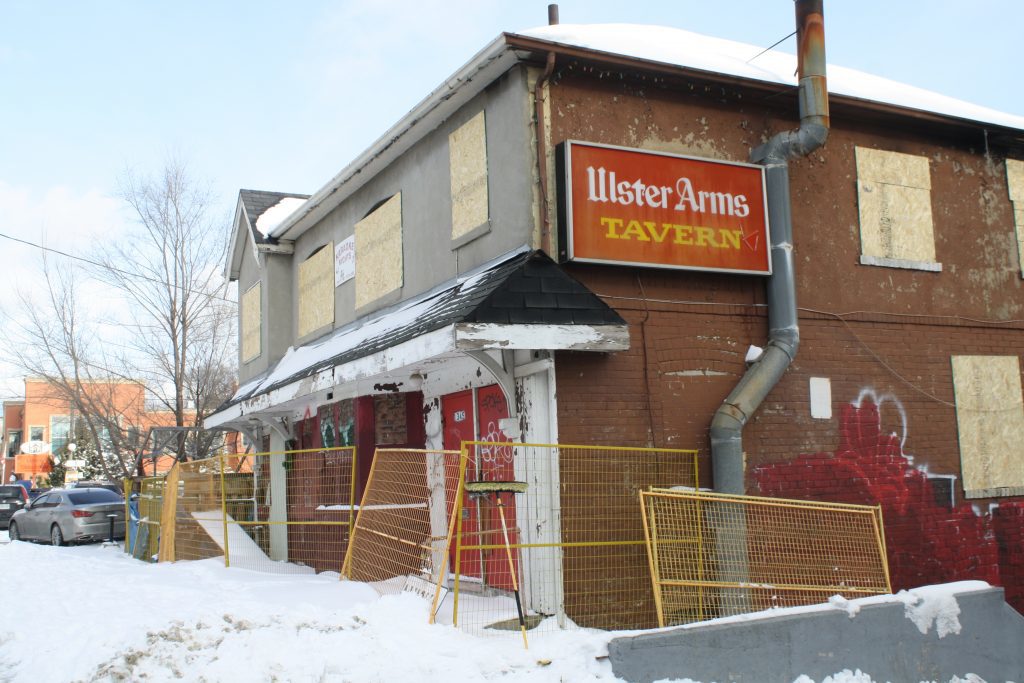 When it was open, the Ulster Arms embodied the character of a man likely to pick a fight at an all-day breakfast joint. Like the bar he frequents, he's older and disheveled. He's rough-around-the-edges, but interesting when he opens up.
Although Paputts barely frequented the tavern, he'd heard stories of what went on inside. Fights broke out. Someone was apparently killed in the parking lot. Back in the 1980s, the previous owner was shot inside, at least according to neighbourhood lore. The film-making team could still faintly see what looked like blood leaching into the paint on one of the walls when they had filmed just before the bar shut down. Unchanged since then, the dilapidated tavern stands in stark contrast to the trendy transformations happening around it.
Across the street, vintage-collector Cheryl Gudz opened her antique furniture and gift shop three years ago. Her white-painted storefront brightened that side of the street. The front window displayed a mid-century modern rocking chair and a glowing "open" sign.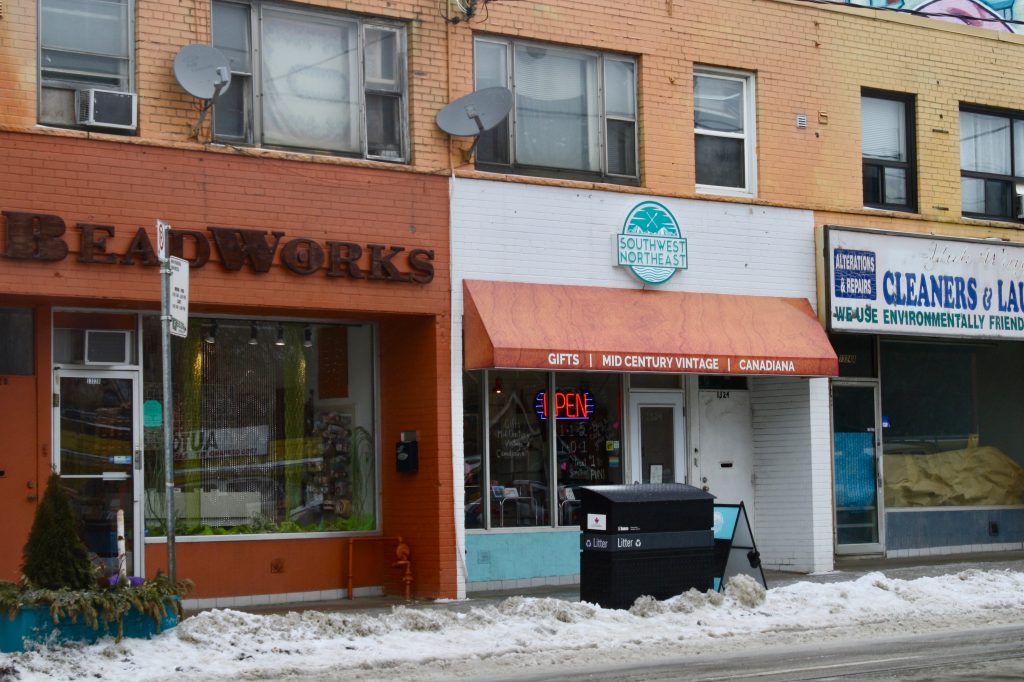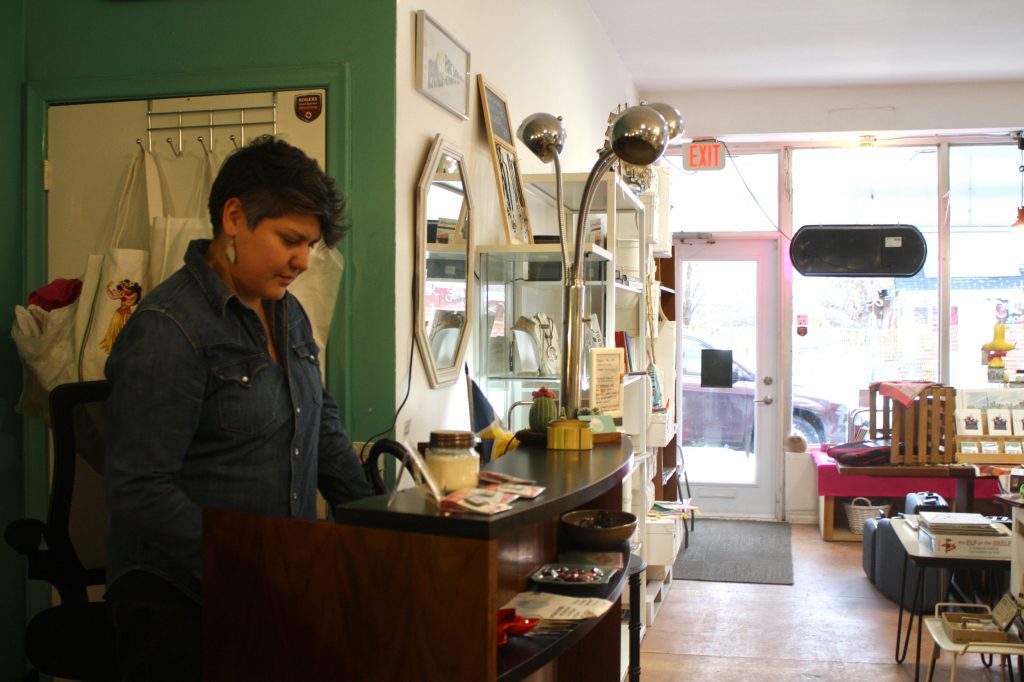 Although she's seen it transforming, Gerrard East still has remnants from its past in the Ulster Arms' heyday. Development has been happening in certain pockets of the East end neighbourhood. For Gudz, she would like to see her block attract more business in the coming years. "I think it sometimes makes it harder for my shop to be discovered because people have been used to blowing by this stretch and going to Gerrard and Jones or Coxwell," she said of the more attractive clusters of the strip. "That's how it is in neighbourhoods that are still up and coming."
Adjacent to Southwest Northeast, Beadworks' owner Jo Penny moved in two years ago. Both she and Gudz were searching for affordable rent and were drawn to the Gerrard East charm.
Although it hasn't been stopping the development for businesses on the block, the Ulster Arms is an eyesore. "Can somebody tear it down?" Penny wondered aloud while gazing out at the abandoned tavern through her bead shop's front window and musing about all the unsubstantiated stories making the rounds on the block.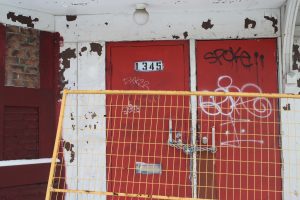 "People keep saying they can't tear it all up because what's under there is toxic," she said. "Last I heard they're turning it into a storage facility." It's also possible that the owner is waiting for the right price to sell.
Considering Gerrard East'strajectory, the Ulster Arms could've fit the predictable gentrification narrative: the run-down tavern revamped into chic bar and restaurant to fit its trendified neighbourhood. Toronto has seen it done before to the Gladstone Hotel, the Broadview Hotel, and just down the street at the Maple Leaf Tavern.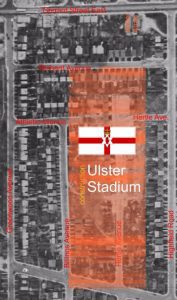 The tavern also has a history in the neighbourhood. Behind it, what is now properties was a soccer stadium. The tavern was formerly the team's clubhouse.
It was 1925 when an investor who bought the land inaugurated the Ulster Arms Stadium. Under the floodlights, the Red Handers Football Club would march out of the basement of their clubhouse to meet their visiting opponents on the pitch. That same year the club took home their first of three national championships.
The clubhouse and stadium hosted visiting teams in the Inter Cities League until the 1940s when the housing demand increased, meaning the stadium grounds were to be divvied up for property lots. The clubhouse was left alone, and became the Ulster Arms Tavern.
Today, the interior is destroyed,the victim of a fire in early December. Boarded up and apparently rarely tended to, revamping and reopening isn't the tavern's likely fate.
"Unfortunately, no one is going redo that bar and make it into something cool again. I'd have hoped someone would have," Paputts said. "It just had a good charm and look to it that you don't see anymore."
It stands as a time capsule of the Gerrard Street East that lives in Paputt's memory.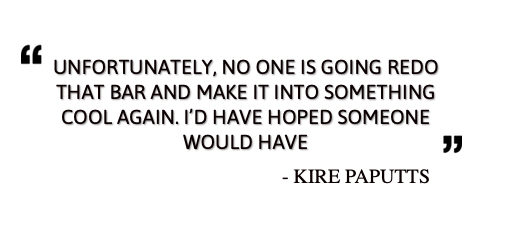 Growing up a part of the community has shaped him as an individual and an artist. From witnessing that fight at New Town, to the Gerrard East "dive-bar crawls" he and his friends used to embark on as a test of endurance and strength of character, Paputts grew up interacting with a colourful mix of characters.
"I just think as a person you learn so much more by being in a community that is filled with all walks of life, instead of just one walk of life," he said."I guess I was lucky to be in that one small sliver of time, where it was what it was, until it became something totally different."
See more: Historian and Leslieville resident, Robin Burgoyne, is in the business of telling stories. In a shifting area, Burgoyne doesn't simply research how houses have changed, she tells neighbourhood stories.