By Angel Agbontaen
On this cold February day, the air of the Toronto Metropolitan University's (TMU) Black Student Lounge (BSL) is stale with the only source of ventilation the standing fan at the corner of the room. All the chairs and tables had been moved around to make space for the huge sheet of canvas as well as other painting materials. The space smells industrial with a hint of different odours and cologne scents from the people coming in and out of the room. Some of them are unaware of the mural being painted, but others are checking out the work. Either way, the space gives off the feeling of hot and cold, and calm and busy, just like the mind of an artist would be. 
The lounge feels small, but artist Laneigh Ramirez moves through the space smoothly. Ramirez is a full-time oil-painter and airbrush artist who at 21 has shown numerous work across the United States and Canada. As they move around the lounge with a sense of urgency, gathering the materials to prepare the canvas, it is clear that they are a force to be reckoned with. Being a full-time artist and relying on their art for income, Ramirez, who took a break from schooling in the film program at TMU, is in some way always on the move, constantly working, looking for grants and submissions, while also trying to engage in activities to stay motivated.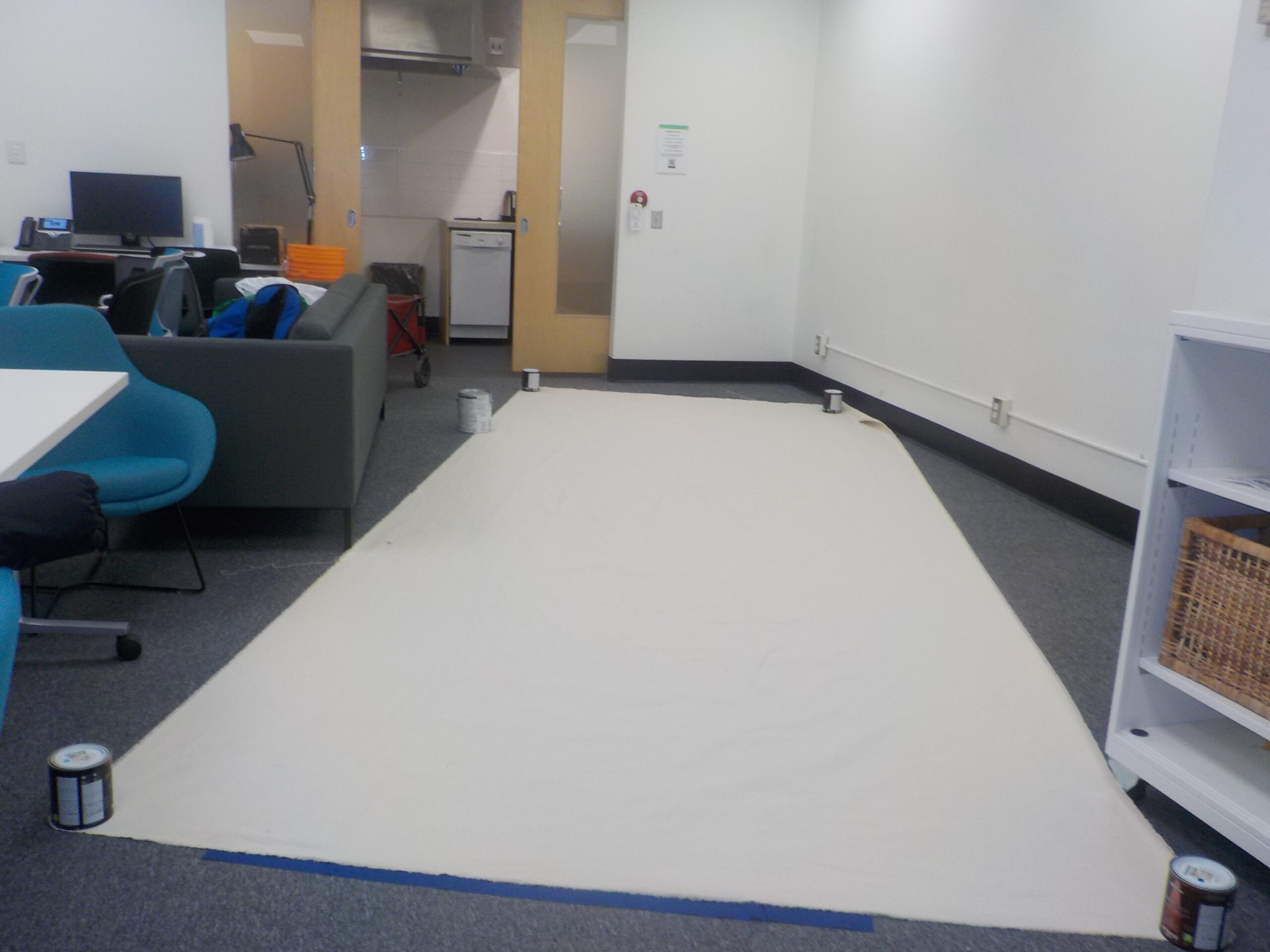 For people like Laneigh Ramirez, living as a full-time artist in Toronto and relying solely on art for their livelihood can be a daunting task. As they face financial challenges and the decision to choose between a steady job or being fully committed to their craft, they must also work tirelessly to maintain their motivation and creative inspiration.
To support their passion and living expenses, Ramirez makes murals and paints art pieces. "I always want my work to lead to success and that is exhausting. Sometimes I wish I could just create just to create, but I also need to pay my bills and feed myself," Ramirez says as they dip a brush into some blue paint. "If I am making work I am thinking if I can make a collection that can sell." They say that since there is pressure to sell art to keep a steady income, the process becomes exhausting and sometimes demotivating.
According to an online 2019 report by the Canadian Arts Coalition (CAC), the average income for visual and performing artists in Canada was $22,800, which is well below the poverty line of around $32,000. The report also notes that COVID-19 has had a devastating impact on artists, with many losing work and struggling to make ends meet. Photographer and TMU student Isaiah Bagni concurs, "It was a challenging time for artists everywhere, I'm sure. I personally could not find the heart to create anything and that went in the way of trying find work with my photography".
Back at the lounge, Ramirez notes that although they have been painting with different mediums since 2013, they took oil painting seriously during the 2020 pandemic, as they had so much time on their hands. Besides oils, Ramirez talks about their passion for airbrushing, as well as filmmaking, pointing out how their aim is to capture the essence of Black beauty and the Black lifestyle. Ramirez has created portraits of well-known musicians such as Solange Knowles and Chloe and Halle. Recently, Ramirez received recognition on Instagram from musician Steve Lacy who liked, commented, and reposted their airbrush artwork of him.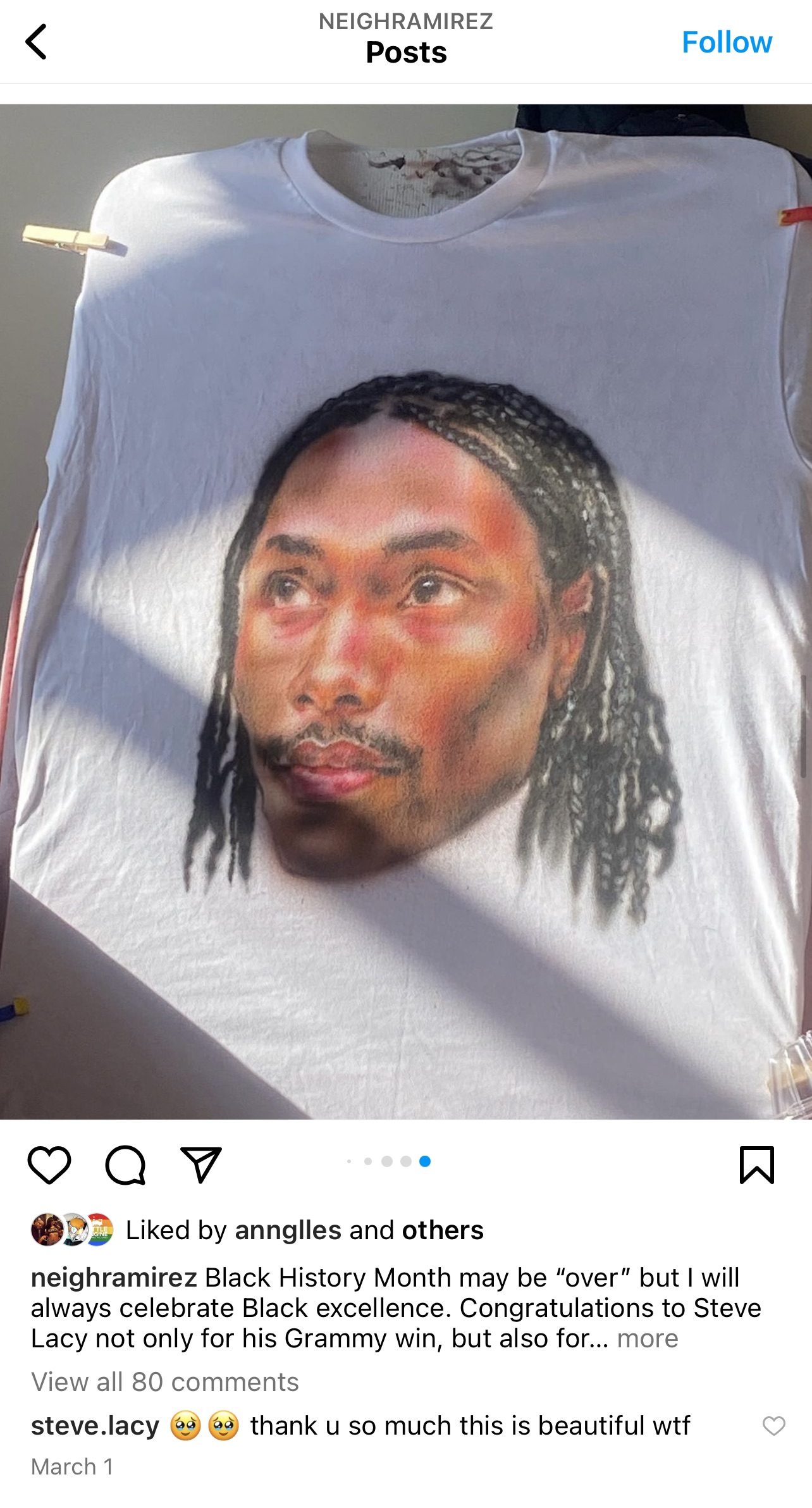 Toronto printmaker Victoria Day says that living costs in Toronto are impacting artists across the board. Prior to 2023, Day worked as a studio manager and mural assistant for established artists. In 2022, she assisted with and painted murals, wrote grants, taught silkscreen, and worked on her own practice. "In the end I think the high cost of living is driving artists towards two paths: The first is working extra jobs, the second is changing directions away from a traditional professional art career—making, exhibiting and selling artwork—and towards careers that are arts-based but more stable—becoming muralists, tattoo artists, arts administrators etc".
Ramirez might be a bit of an anomaly since they haven't sacrificed their practice to make ends meet. As they run a brush through the canvas, the sound of the electric fan blends with the slow sultry music playing in the background. Ramirez shares more about their work, reminiscing about how they developed an interest in portraiture during their grade 10 art class and painted their first portrait of the late singer Michael Jackson. The experience fueled their passion for painting, and with the support of their mother who purchased their first oil paint set in 2018, Ramirez was able to explore various mediums and continues to develop their talent.
On the flip side, Blair Tran-Hoang, mostly known only as the artist's name Blair, made the decision to quit his job as a marijuana bud tender, a little over a year ago, to focus more on his art practice. "It was truly a leap of faith," Blair explains. The spray painter, and all-round creative, says that it was like he was only holding on to the job just for survival which went in the way of nourishing his soul for his higher purpose. "My job was never going to give a shit about me, and the pandemic gave me a lot to think about. I was also starting to hone in on how I want to express myself in this world".
Although family, friends and creatives in the scene supported Blair's decision, they were also skeptical about the abrupt transition into being a full-time artist. "I had my aunt, uncle and cousins visit my home studio a little while back to see my works and they loved it, they seemed very proud. My first glimpse into income through art was by friends who saw potential in me. My practice would be nothing without the love and support of my community".
According to Blair, support from Toronto as a municipal body though, is nonexistent as the city barely has resources for people who cannot make income. "Take a look at the houseless populations of the city and you will see just what the city thinks of its citizens. Displaced, brutalized by the cops, with no actual solutions in sight. To emerge as an artist in this city is difficult without resources, aka money".
As one song ends and another begins, the room falls briefly silent before the upbeat music takes over, infusing the space with a playful energy. The rap song "1539 N. Calvert" by the artist JPEGMAFIA, with its lively tempo, seems to reflect the colors of blue, orange, and green that are prominent in Ramirez's paintings. Ramirez explains that they enjoy listening to lively music, particularly from artists such as Kendrick Lamar and Beyonce, while painting, as the powerful lyrics and melodies inspire them to keep creating.
The statement "Art is the imitation of life" is often attributed to the ancient Greek philosopher Aristotle. Although creating art is Ramirez's a full-time job, there have been times when they had to take a break to find new inspiration before returning to their craft. Ramirez found that being involved in ballroom provided a source of inspiration and motivation for their art. A member of a ballroom house in Toronto, "Haus of Telfar," Ramirez participates in competitive events against other houses or members in various categories.
"Ballroom has forced me into a lot of self-reflection. As my work reflects my identity so naturally, the art content is shifting into more queer stories and perspectives." Ramirez says. "Ballroom also brought me so much joy that I decided to take a break from art and enjoy life for once. This led to me wanting to enjoy my art making process more."
Ramirez is nearly finished with one section of the mural, carefully going over the paint and adding final details. As the day turns into an evening, the atmosphere of the room becomes cozy, resembling a bedroom. The sound of the brush strokes and the gentle clink of the brush hitting the paint bucket create a rhythmic ambiance within the space. Ramirez says that they are grateful to have people such as their friends and chosen family, who support the journey they are on. "It elevates me as an artist as I am trying to challenge myself. I have the ability to withstand the pressure I have been put under, but I have faith in myself and where this is leading me."