She stands confidently on the block as she snaps her ivory cap over her dirty blonde locks and then swiftly slices into the water like a harpoon.
Already a record breaking swimmer, 14-year-old Katrina Bellio, earned the Ontario age-group record for her favourite race: the 800-metre front crawl last year. In the swimming world today, the term 'front crawl' is obsolete; Bellio is a 'freestyler'.

Bellio has been swimming since she was seven-years-old and is currently training to attend the Tokyo 2020 Olympics.
The team sits in a tight semicircle around their coach. They study the rusty wood framed whiteboard while he waves his hands, directing what they will do next.
"A race is very painful — when you're racing against your competitors you kind of black out the pain and focus on beating that other person or beating the clock," Bellio says. "Our muscles get really tight and it's really hard to keep swimming but you have to keep pushing through that."
Working Hard or Hardly Working?
It's not easy to win a long-distance race in water. Bellio trains for over 23 hours a week. Nine times a week, her father drives her to swim practice. "She has a lot of determination," he says, "You have to have a lot of commitment. Otherwise [swimming] is definitely not a sport [for you]." On Mondays, Wednesdays, and Fridays Bellio wakes up at 4:40 a.m. and is in the pool long before sunrise, training for two hours before heading to school. She swims an additional two hours every afternoon, followed by one hour of strength training. "By the end of the week your body is under a lot of pain from swimming and weight lifting," Bellio says.

As a result of her hard work Bellio was accepted onto the International Swimming Federation (FINA) team this April. This August she will go international to compete in the 2019 FINA World Junior Swimming Championships in Budapest, Hungary. This competition is an important step towards the Olympic team for Bellio.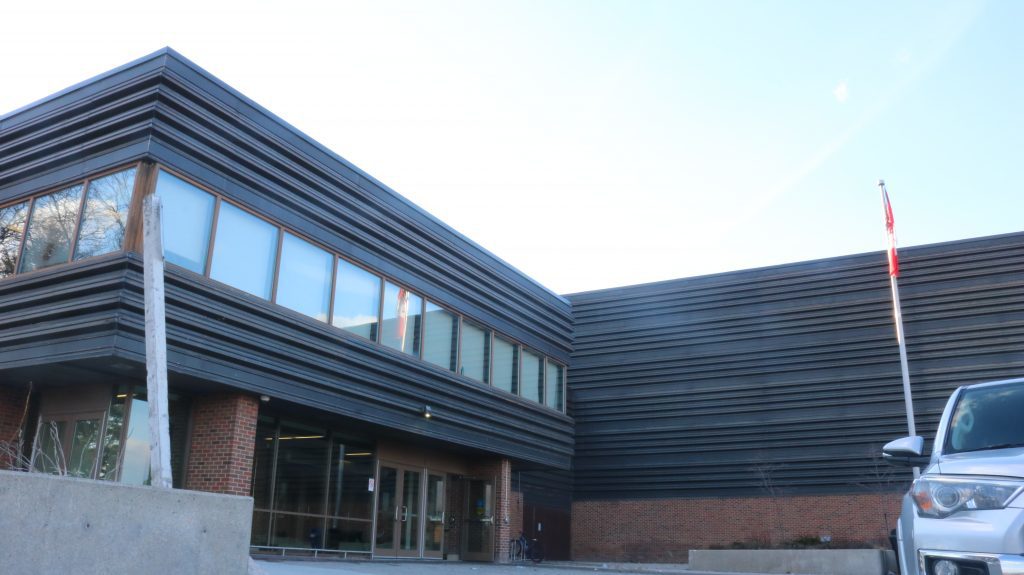 She practises at the Etobicoke Olympium, home to a colossal 50 metre pool and the Etobicoke Swim Club (Eswim).

The door to the pool deck whines as it strains to open. A strong wind of welcoming warm air escapes. The tiles are smooth like a beach of porcelain stones. The team swarms the deck. The coach yells the warm-up distance and they're off. Suddenly, the pool becomes a cavalcade of arms and legs, splashing wildly.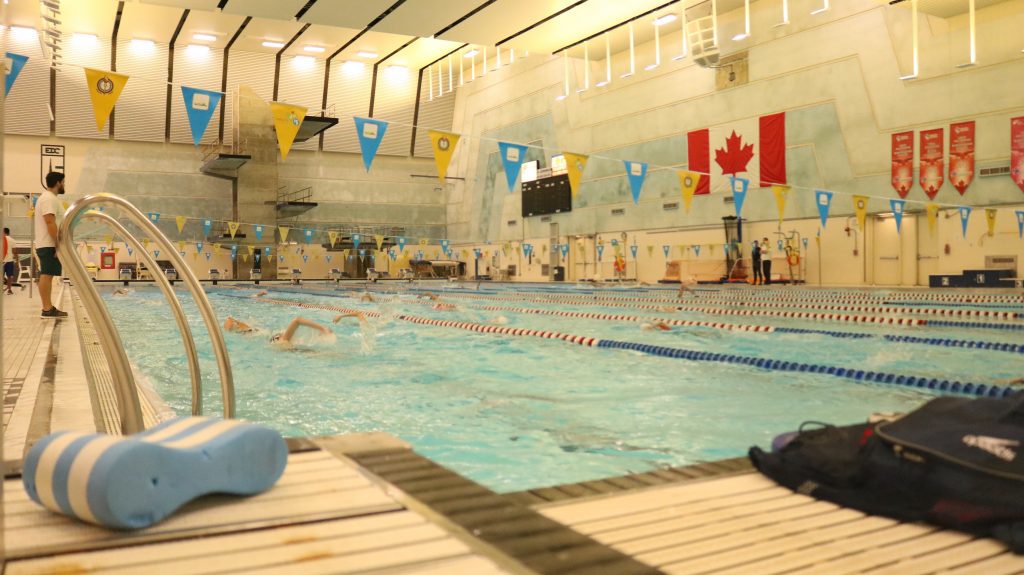 Humble Beginnings
Bellio's team, Eswim, was founded in 1954 and has produced many Canadian Olympians and international swimming champions. This includes Bellio's icon, and family friend; retired swimmer Brittany MacLean. MacLean helped Canada win a bronze medal in the 2016 Summer Olympics. "People call me the 'mini-me' of her because we race the same events. […] She'll come to the pool and she pushes me to go harder in practice and I see myself improving from that," Bellio says.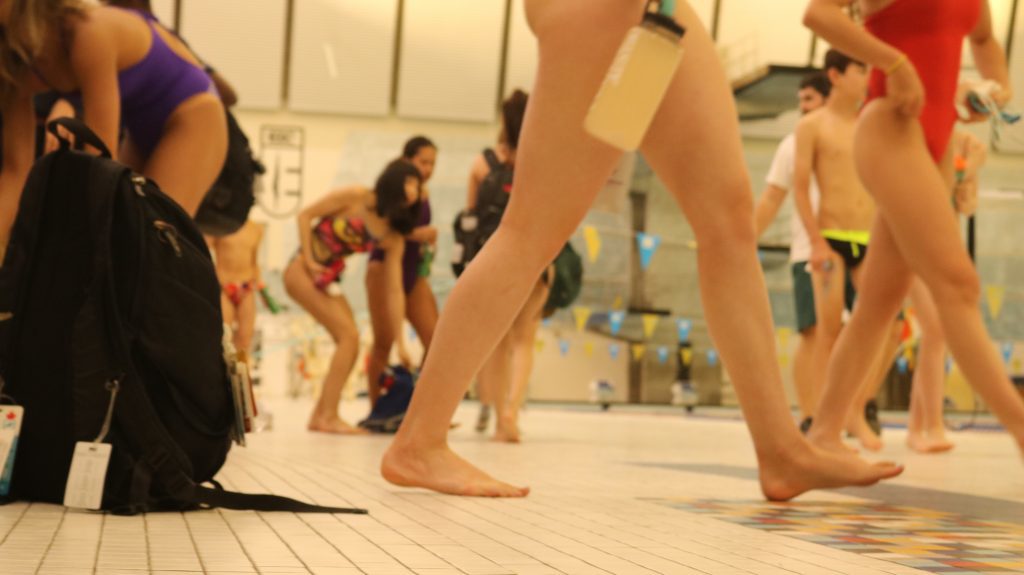 Eswim head coach Kevin Thorburn says speed comes naturally for Bellio. For instance, she is the fourth child in a dynasty of swimmers; preceded by three older sisters who were all members of Eswim. "She always had to come to the [swim] meets since she was born," Bellio's father says, "Katrina and her older sister would always come. We had the double stroller." Forerunner to Bellio is her eldest sister Olivia Bellio – who won a gold medal in the 400 freestyle race at the July 2010 Canadian Age Group Championships in Winnipeg.

Bellio's lean strong arms glide through the water almost as easily as they wave through the air. Her legs splash up and down at an alarming rate and her arms create small whirlpools as she pushes the water behind her.

A Winning Attitude
At 12, Katrina won her first big race. She set a national record for the 400m freestyle final at the summer provincials competition at the Toronto Pan Am Sports Centre in June 2017. At the time she was trained by Eswim coach Endi Babi. "We never really talked about breaking any records, that was never really part of the conversation," Babi says, "[She ended] up getting under the national record — and I don't think she's looked passed since."
Above all Babi says that once Bellio got a taste of winning, her determination skyrocketed and she hated losing.

Babi has been coaching for Eswim since 2015 and praises Bellio's tenacity. "[She wanted] to do the harder stuff [like] racing boys. She was really keen on doing all the races, all the strokes," Babi says.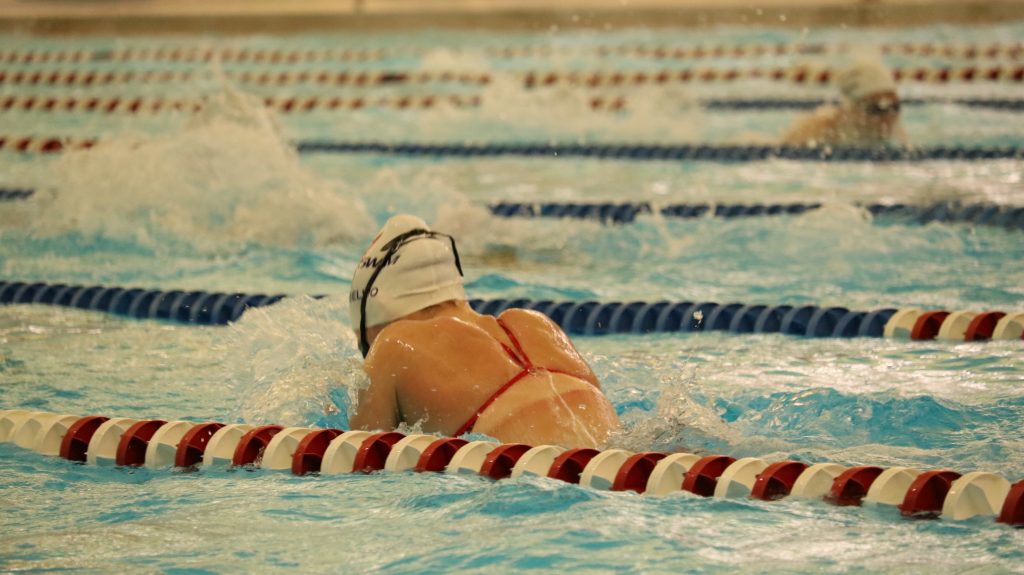 Bellio recalls a practice where her coach assigned 'El Supremo', a breakdown of consecutive sets of shorter distances amounting to 800 metres at her fastest pace. Armed with confidence, Bellio takes off from the diving block and kicks as hard as she can. She knows getting the upper hand over her fellow competitors is just as important as maintaining a steady pace. "There's a lot of pressure on your shoulders for swimming that long, but I just love it" Bellio says, "You need a lot of endurance to keep a steady pace when you're racing".
Bellio says she loves the thrill of a long race because it helps stress her competitive side and boosts her confidence. With her drive and work ethic, Bellio is a strong hopeful for the Olympics in 2020.

"I just want to do much better than I ever thought I would," Bellio says, "I want to show people that I am not just going to have one bad race … I'm going to do better from that race and I'm going to learn from it."