By Abeer Khan
The crescent moon and stars on the small Pakistani flags strung across the ceiling are illuminated by the lights that dance above them. The chatter of longtime friends mixes with the traditional Pakistani
music
playing as you enter.
For some, Laari Adda is just an ordinary, everyday restaurant. For Mississauga's Pakistani community, it is the closest thing on this side of the world to a real Karachi truck stop.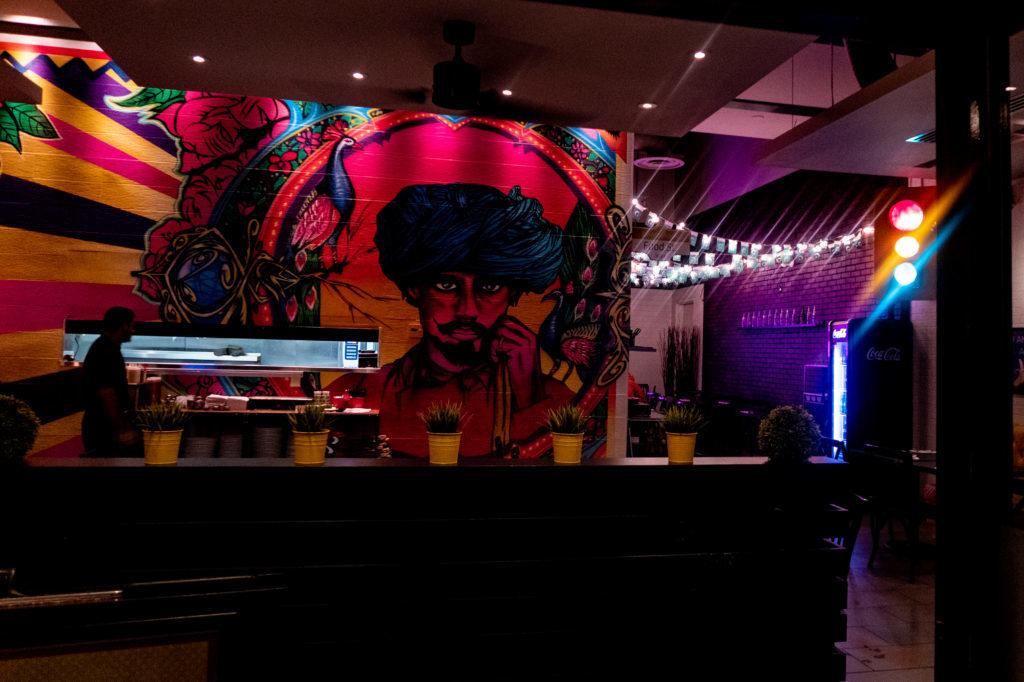 Jawwad Raza, the co-founder of Laari Adda, looks out onto the busy Mississauga streets from his restaurant. Laari Adda, which literally translates to 'truck stop' in Urdu, is famous amongst Pakistani locals for its blend of rich culture and ambience with tasty Karachi street food. Its like stepping into a truck stop in Pakistan where people, food, and culture intersect.
"At the core of our philosophy is to promote Pakistan's food and Pakistanis," says Raza.
There is art everywhere, from the painting of a blue-turbaned man peering at customers from the entrance to the framed illustrations on the walls. In the back is a neon purple sign that reads, 'On Hai.' Translated to English, it means 'the scene is on.'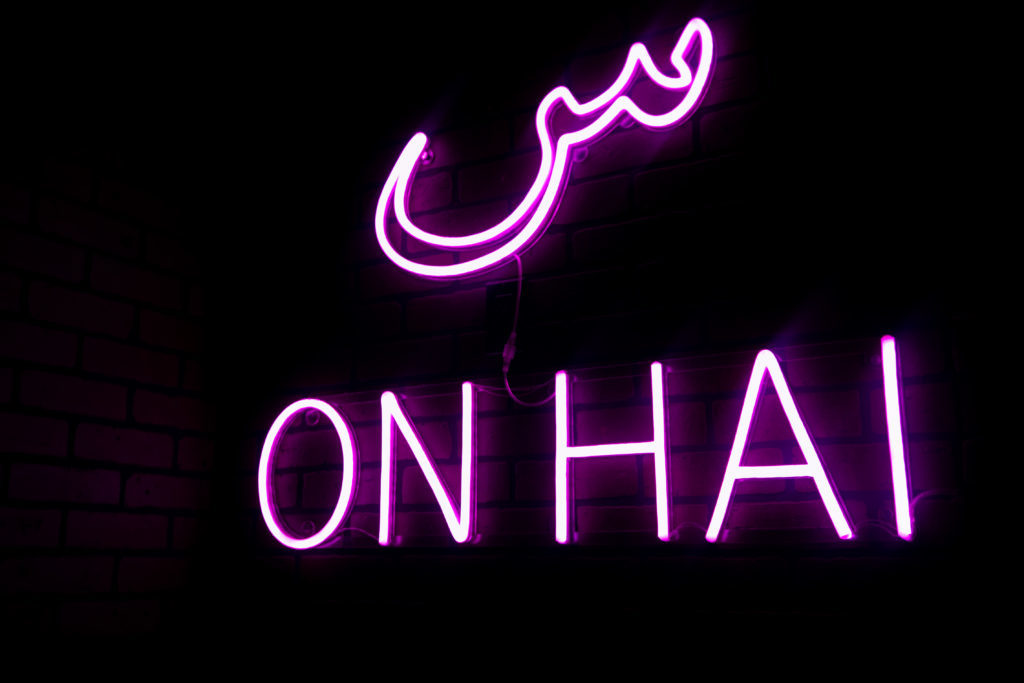 As Raza pours himself chai into a clear glass mug, he considers the impact he wants Laari Adda to have on the community. He wants the restaurant's great service and stunning decor to leave a lasting impression, not only for the business, but for his home country of Pakistan.
When customers enter the restaurant, they see the colourful lights, breathe in the aroma of biryani, and take in the sounds of music and laughter. Raza hopes it authentically showcases Pakistan's unique culture.
Raza took many risks to get to where he is today. The first came when he decided to switch from studying medicine to finance.
"I'm a bit restless. I want to work. I like to keep it busy and I didn't want to be in school for that long. I wanted to get to the workforce [more quickly]," explains Raza. He went on to work for nine years in corporate finance at RBC, before he realized he wanted to work for himself.
In 2016, Raza was visiting an Indian restaurant that served authentic Bombay street food in Toronto. He left unsatisfied. He pulled out a pen and a napkin and said to his family, "we can do better than this." That's how the idea for the authentic truck stop came to be.
He opened Laari Adda two years later, in 2018, alongside his wife Hira, mother-in-law Saba, and sister-in-law, Areeba. Saba remains in charge of the menu and making sure the food is up to par, while Hira and Areeba manage the restaurant's social media and graphic design.
At that time, the truck stop concept was just a fun idea that had never been done before; a restaurant that combined Pakistani music, art, and street food into one experience. Oftentimes, South Asian countries and their cultures are grouped together in the West, but the concept behind Laari Adda hoped to carve out a distinct Pakistani identity.
Mississauga is home to about 166,000 immigrants of South Asian descent, according to the 2016 census. Of that number, about 39,000 are from Pakistan.
After months of contemplation, the family decided to get serious. They placed a bid to purchase the real estate for their current location on Thomas St., near Winston Churchill Blvd. To their credit, Raza and his family have turned that idea into a place that fosters a genuine sense of community that Pakistani's have longed for in Mississauga. But it wasn't without its risks.
"All of our personal savings went into this," says Raza. "This is my end all be all."
Raza's risks have paid off as he now works towards opening up a new restaurant with a completely different theme.
"I think for business owners, to connect to the community, they like to build a theme around their culture," says Kaleed Rasheed, a member of provincial parliament for the Mississauga-East Cooksville area, who himself hails from Karachi.
Laari Adda is known for serving mouth-watering Pakistani street food, from chicken biryani, to delicious slow-cooked beef nihari, and, of course, flavourful Kashmiri chai.
"I think food is a very big part of our culture," says Adnan Farooqui, a regular customer at Laari Adda. Farooqui says it's a chance for people to bond with each other. "You go out, you meet friends and you eat [together]."
Farooqui, born Canadian, lived in Pakistan before coming back to Canada for his post-secondary education.
His life back in Pakistan was filled with the freedom to express himself and connect with his culture and religion. He misses walking down the street to go pray at the mosque, driving through the streets of Karachi by rickshaw, and having ten different food options just minutes away.
Farooqui recalls the very first time he walked through the Laari Adda's entrance. He was transported into his old country and a new world. A traffic light stood proudly on the right side of the restaurant, accompanied by soft lights and Pakistani flags suspended from the air. There were the works of art, from colourful paintings to amusing Pakistani jokes hanging from black picture frames on the walls. It was unlike any Pakistani restaurant he had ever seen in Canada.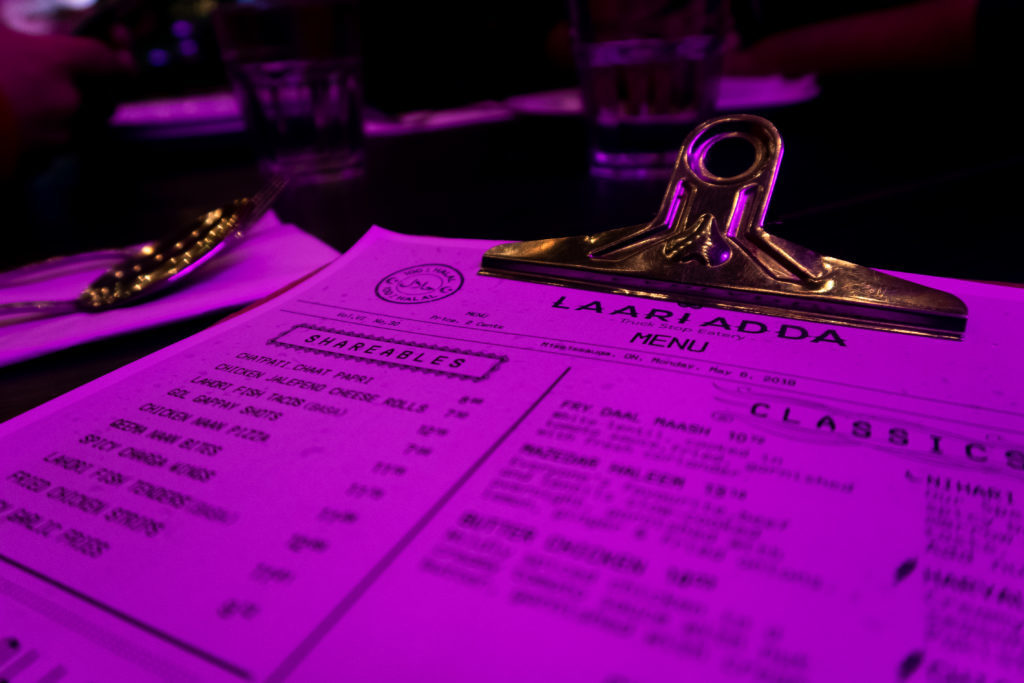 "Our culture is very rich, it has an impact over everything in our life," says Farooqui.
Raza agrees. He thinks back the times he's visited Pakistani restaurants with his family that lacked authenticity. He recalls Indian music playing in the restaurants, and the food being a blend of India and Bangladesh, instead of solely Pakistan. That's a clear differentiation he wanted to have when opening Laari Adda.
On opening day two years ago, the store had line-ups out the door. It was a brand new experience local Pakistanis wanted to try. On weekends, the restaurant is still packed to the brim with customers who yearn for a taste of back home.
"I want people to know that we have great things to be proud of. Our food, our art, our music; these components are very strong and what forms our culture," says Raza. "I want to have it portrayed in the best of lights. That's my driving force."