By Kayla Zhu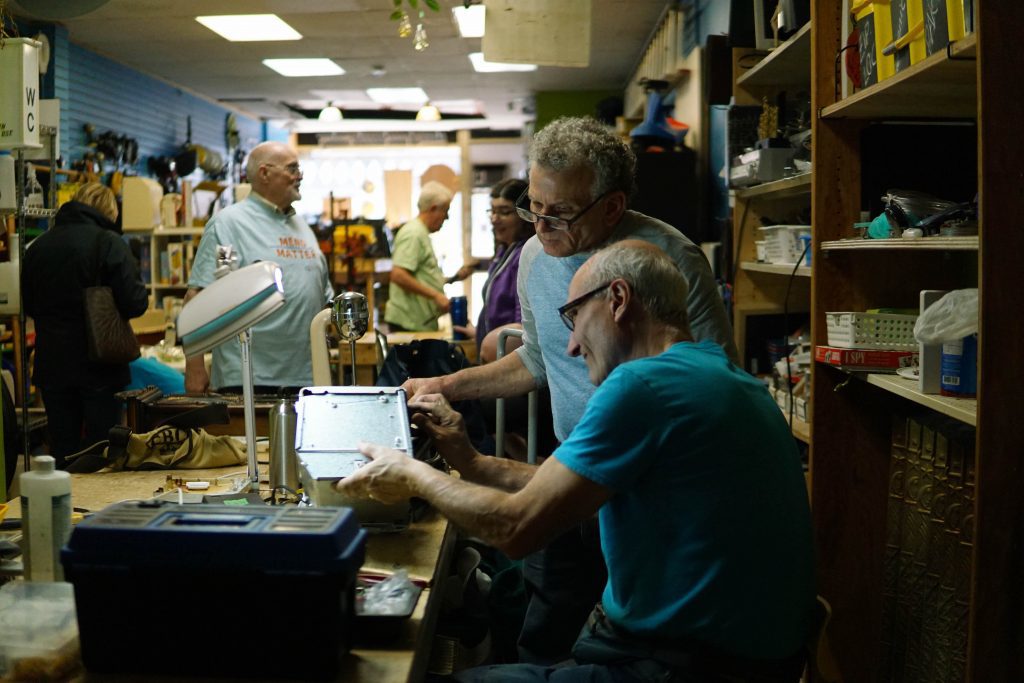 Strolling west on St. Clair Avenue on a Sunday afternoon, one might notice an assortment of people squeezing into a small, signless storefront, each of them carrying a broken item. 
Today, the motley collection consists of a popcorn machine, two toaster ovens, and a mahogany chime clock. Their owners stroll through the door of the Toronto Tool Library at 830 St. Clair St. W, propped open by a house-made door stop.
Two volunteers maneuver a massive dresser through the doorway as its owner instructs from behind.
"I found it on the sidewalk!" she tells the volunteers proudly.
Their tactics prevail and they manage to get the dresser through the door and into the cramped, bustling interior of the tool library. They're careful not to bump into the shelves of circle saws and drill sets as they heave the dresser onto a plastic table.
The dresser and other items are scrawled onto a growing list of the day's visitors, joining the company of a stereo set and a pair of jeans. Between raucous bouts of drilling, hammering and sawing, visitors and volunteers chatter about their weekly doings and lament on the construction in their area. Coffee, cakes and home baked cookies flow through the room as visitors wait for their turn, chatting in their camping chairs or perusing the nuts and bolts of the library.
Repair Café Toronto is in full swing.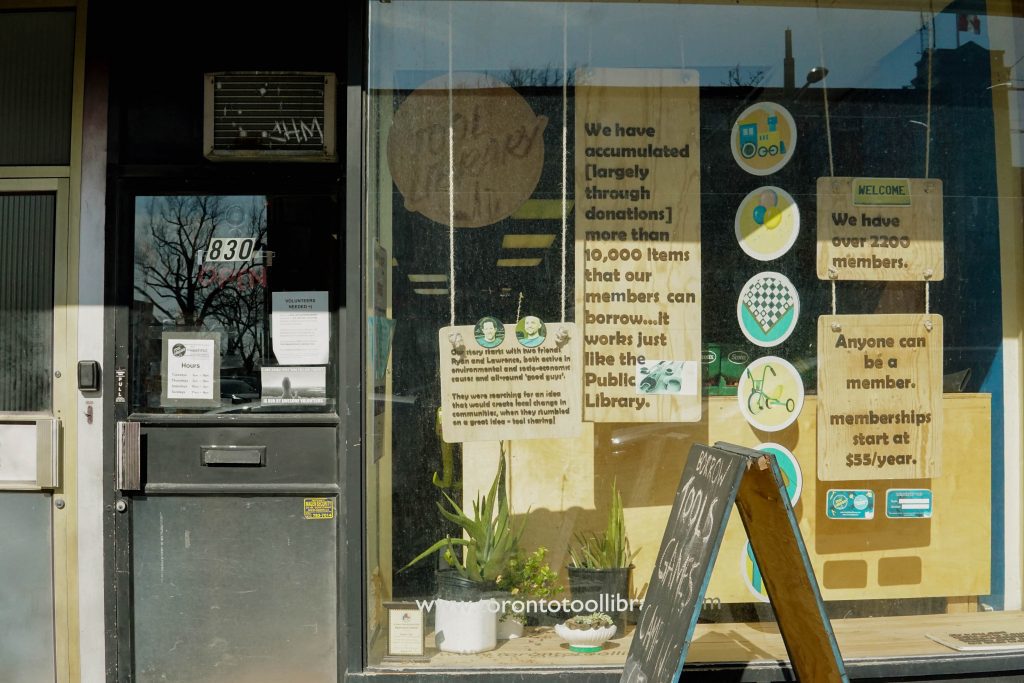 The tale of two nonprofits
Every Sunday, the café finds its home at the St. Clair location of the Toronto Tool Library. While the two organizations are distinct from each other, their missions are essentially the same: to divert waste from landfills by fixing items and giving them a second chance.
Repair Café Toronto hosts events all across the city where they help visitors repair their broken items, ranging from things like bicycles to laptops to even, according to longtime volunteer Oleg Oks, a kiln.
"That was probably the strangest item I've seen," says Oks. "It was pretty big, but it wasn't too complicated to fix and it's still working today."
Oks has been volunteering with the café for four years, ever since hearing about it in college. He says that he volunteers with the café because helping reduce the amount of waste going into landfills, in "any way [he] can" makes him happy.
His duties include helping sign in people, updating the visitor list and generally making sure the day goes smoothly.
"Oleg's the guy that knows where everything's at," says a fixer at the back. Others nod in agreement.
Volunteer "fixers" as they are reverently referred to in the repair community, repair items for free while teaching their owners how to fix them. Fixers have different areas of expertise, from sewing to computer software.
Ezra De Leon, a volunteer at both the café and the library, says that the two organizations are "complementary" to each other.
"The tool library lets them use their space to encourage repair of tools so that those things don't get thrown out. It's all about sustainability," says De Leon. "If they don't have the tools, they can use the tools here."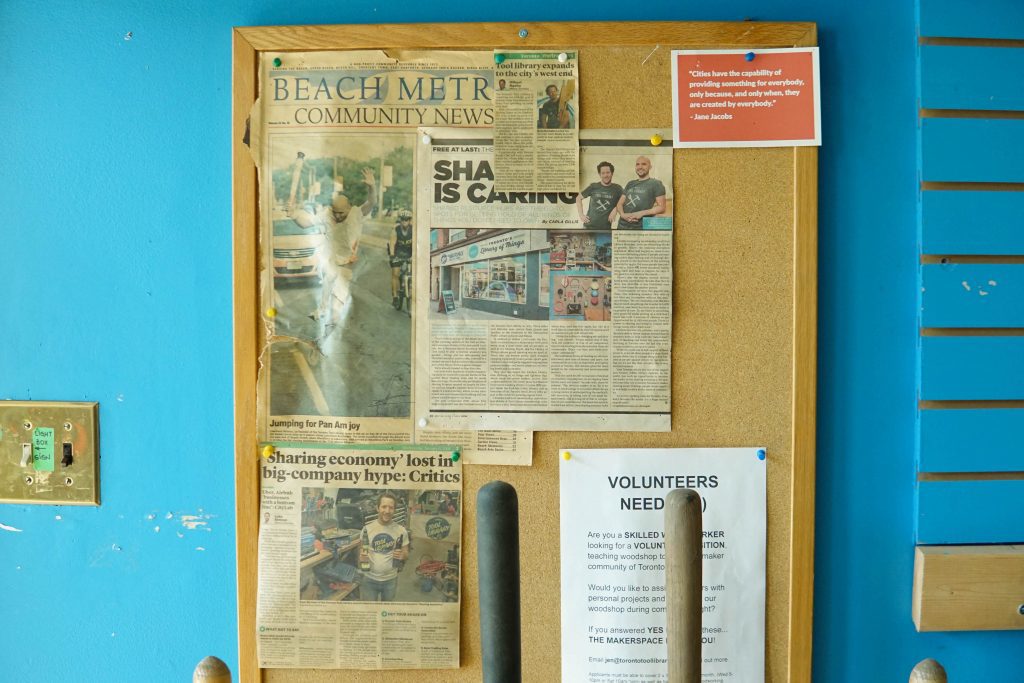 Founded in 2012, the Toronto Tool Library promotes a resource-based economy model that encourages people to borrow items instead of buying new ones. With a $55 annual fee, members of the tool library have access to a vast collection of tools and items, from a 30-foot extension ladder to a six-person tent. The library also houses a seed library and a soap dispenser for its members.
On most days, the library is relatively quiet with a few members popping in and out for a return or a rental. Sundays, says De Leon, is when it really comes alive.
"Basically, this is my social life," jokes De Leon, who works at a clinical research company during the week and volunteers with the library on the weekends.
The Sunday crowd
A new crowd of visitors spill in, hoping to get their name down and be seen before the café closes at 4 p.m. The toaster ovens make their way into the deft hands of Repair Café Toronto founder, Paul Magder, who peers into its rusty depths under a lamp. The ovens' owner, Joan, holds it steady as Magder wrestles with a tight screw.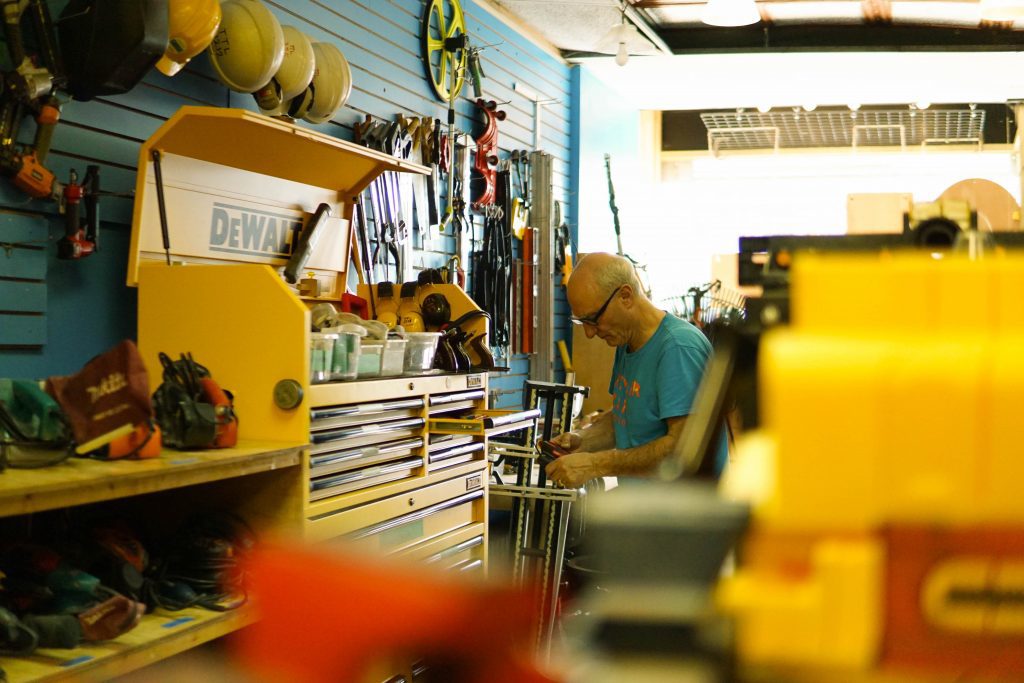 On the other side of the table, Frank Craig is poking a wire at the back of a clock face, trying to coax it back into its clips. The chiming clock had stopped chiming recently and Craig brought his family heirloom to the repair café in hopes of recovering its sound.
The clock's mechanisms are complex and delicate. Craig and his fixer deliberate for a long time before placing a 0.035mm screwdriver into the tiny world of gears, springs and brackets that allow seconds to pass.
"It's a winding clock, so the gear on the left winds it so that the hands move. The gears on the right control the chimes," Craig explains to the fixer.
Behind him, Craig's wife, Jennifer Craig, helps a member return a compound mitre saw. Jennifer, another library volunteer, is a familiar face at the repair café.
She says that about 50 per cent of the library volunteers are women, which she thinks is "almost unexpected for a tool library." She recalls one of her favourite stories of a woman who needed to saw off the legs of a table to move it.
"Just because something stops working, you shouldn't immediately view it as garbage."
"She borrowed a reciprocating saw which she had never ever used and she would never consider buying," says Jennifer.
Jennifer said that both the tool library and repair café are environmentally and economically beneficial.
"I certainly grew up in a family where you bought what you needed and this model has taught me that if you do a little bit of research, you can share and pool resources together," says Jennifer.
"Just because something stops working, you shouldn't immediately view it as garbage."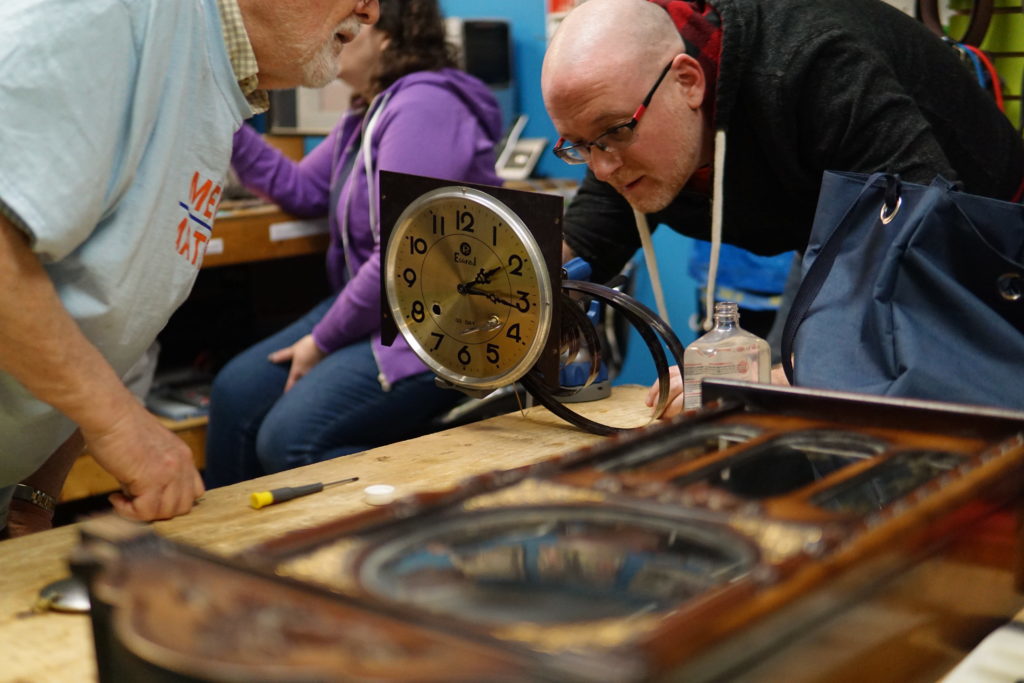 ---
With that said, her husband beside her lets out a deep sigh. The other side of the wire had snapped off while he was repositioning it, thus rendering the chiming mechanism defunct. Though the clock still works, Craig says that it will "chime no more." He begins the long process of reassembly.
But there is victory at today's repair café. Joan switches off the desk lamp as Magder shuts the toaster oven door with a satisfying click.
And like clockwork, Oks crosses out Joan's name as Magder welcomes the next visitor to his corner.
Thursdays at the Toronto Tool Library
André Queiroz often puts on a one-man show on Thursday evenings at the Toronto Tool Library. From greeting guests, answering questions about tools, doing checkouts and returns, and working on various projects around the library, he does it all. However, Queiroz wasn't always an expert on tools. He attributes his knowledge to the interactions he's had with the tool library community members.