By Arfa Rana
Misbah Tariq steps inside the polished hallways of Humber College wearing a coat that reaches her knees, a loose scarf on her head, her purse slung over her shoulder. While her son, Hizqueel, walks down a corridor to attend his only class that day, Tariq heads in a different direction.
She is looking for the baking classrooms and when she finds them, Tariq peers in awe through the glass windows into the stainless steel kitchen. About 20 student bakers clad head-to-toe in their chef whites are decorating purse-shaped cakes. Some hunch over their work, focused on smearing chocolate icing on the sides and tops of their cakes, others work with metal tools to carve out shapes or use paint brushes to add final touches. For the whole two hours while her son is in class, Tariq, a passionate baker herself, paces outside, mesmerized by the cakes that look like duplicates of Chanel or Dior purses. The low hum of
conversation
and clanging of pots and pans from inside the classroom keeps her company. When Hizqueel's class ends, she
retraces
her steps and they drive home to Milton. But the cakes never leave her mind. "What if I could bake like that?" she thinks to herself.
Tariq's passion for baking developed in her childhood. She grew up in Multan, Pakistan, among the Syeds, a caste that discourages women from leaving the house. So Tariq spent time playing with her three sisters at home and got interested in baking from flipping through Urdu Digest magazines and cutting out cake recipes for experimental baking.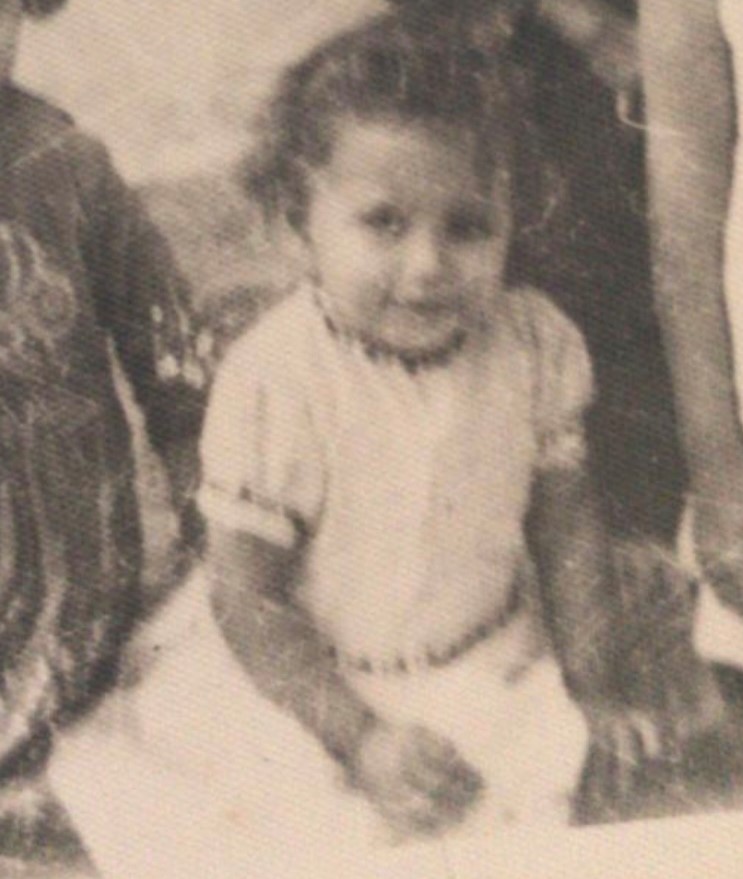 Despite the Syeds' oppression, Tariq's parents insisted on the four sisters' education. Tariq got a bachelor of arts degree from the Government College for Women in Pakistan in 1985. After she moved to Canada in 1998, she tried to pursue education but decided to focus on her four young children. As her children grew older and independent, Tariq picked up various pastime activities like
sewing
, house decorating and baking.
Naila Ahmed is a friend of Tariq's. She was in her twenties when she moved to Milton in 2011 and befriended Tariq, who was 41 at that time.
"She is a very friendly person," Ahmed says. "No matter what age you are, it's so easy to talk to her."
Ahmed was a youth co-ordinator for girls at the Ahmadiyya mosque back then and recalls Tariq would teach them how to bake and decorate cupcakes. "We went to her house in a group and she showed the girls how to make cupcakes, the icing and how to do the decorating," Ahmed says.
When Tariq turned 50 in 2017 and all her children were in her twenties, she transformed her passion for baking by officially launching Cakes by Me, an online pastry and cakes business.
Before then, Tariq would still bake cakes and share her talent on social media. Her skills caught Ahmed's eye and she ordered a cake for her younger brother's engineering graduation from Ryerson in 2016.
"She made a really nice cake for him," Ahmed says. "I told her what (my brother) likes and she designed it accordingly."
The cake had an electric circuit design on top, a large white banner around the cake on the tray that read "Congrats Zubair 2016 grad" and a graduation scroll with a blue bow tied around it.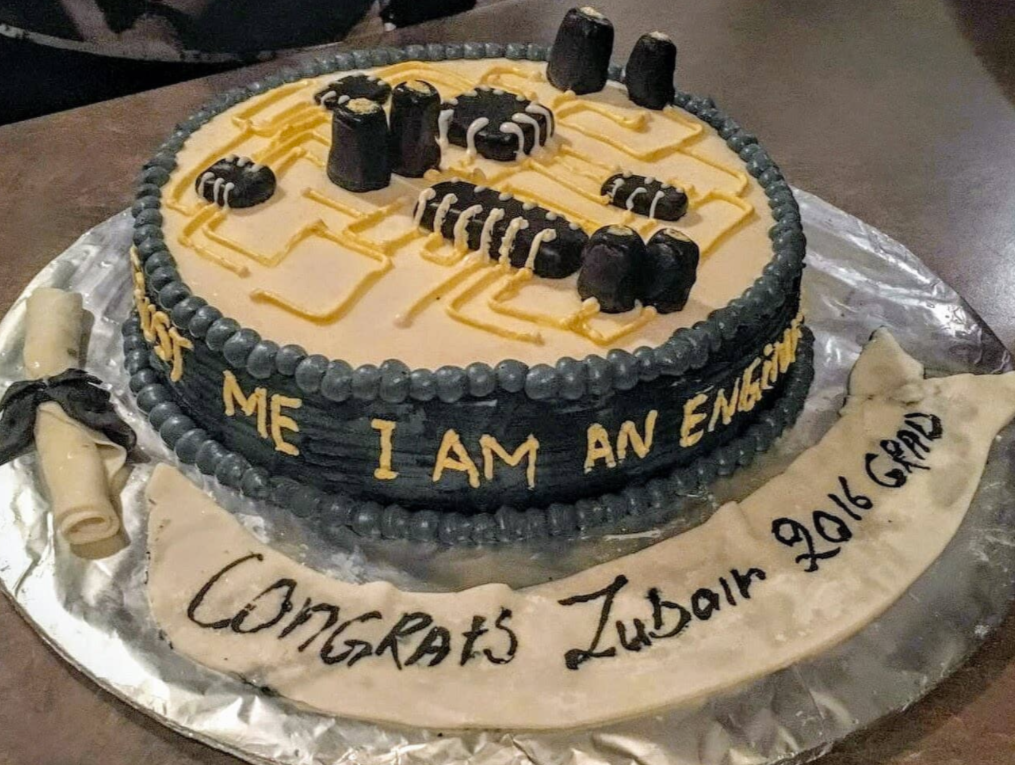 When Hizqueel started at Humber College, Tariq seriously considered returning to school. She would drive him to college, walk around campus and was fascinated by students baking and decorating fancy cakes in their classroom. She decided she wanted to learn to bake like them.
Soon after her culinary training began at Humber in 2018, Tariq began doubting herself. After all, it had been 30 years since she'd graduated in Pakistan so she found it difficult to keep up with the theory and practical courses.
"My husband would say, 'Just one week and she will give up,'" Tariq says with a laugh. Although Tariq's husband, Habib was only teasing, Tariq heard petty remarks from some women in the local Pakistani-Canadian community.
"Why are you studying at this age?" a woman asked.
"You should stay at home," another advised her.
"What will you achieve by studying at this age?" demanded another.
Despite the hurtful comments and heavy workload, Habib says his wife remained "courageous" and "hardworking."
"She (would) get up at four to offer Tahajjud," Habib says, referring to the Islamic, early-morning prayer. "She would leave home at six in the morning and she handled (school) very well, even the difficult things."
Tariq's dedication paid off; she earned her diploma and two scholarships in her first year. Motivated by her success, Tariq completed Humber's baking and pastry management program in 2020 and is now in the one-year advanced chocolate and confectionery artistry program.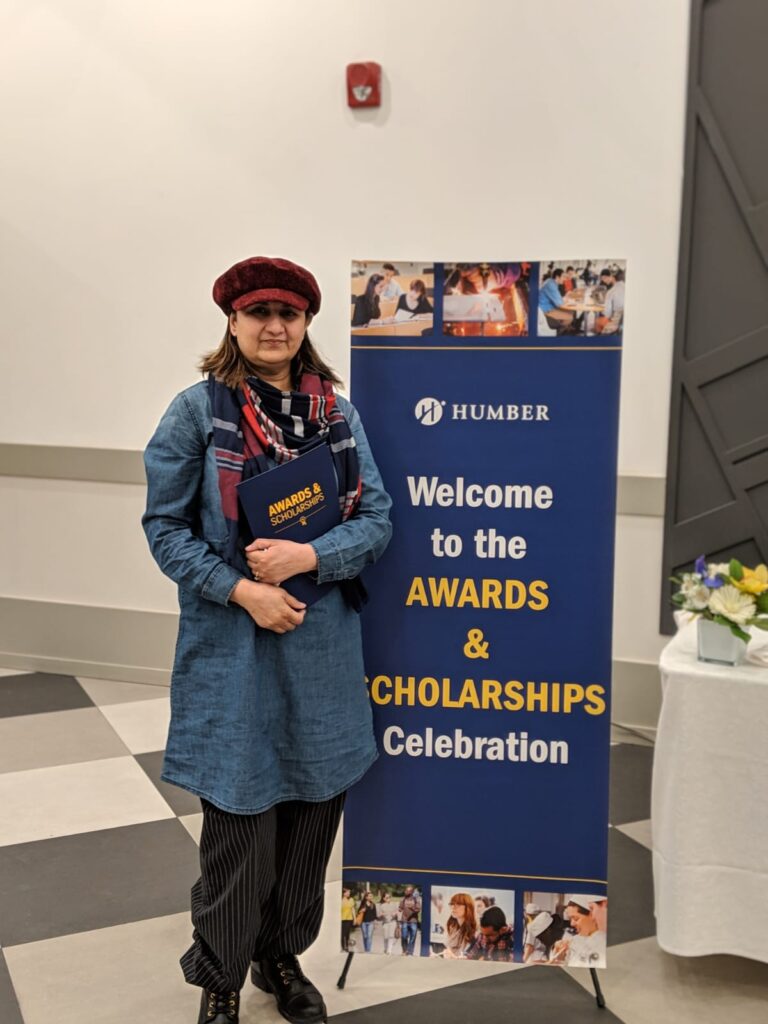 Due to the COVID-19 pandemic, Habib now stays at home and does the household chores and cooking for two or three days a week while Tariq is busy studying. Married to her for 33 years, Habib says he's been most impressed by his wife's determination.
"She will set up a goal and then she will try her level-best to achieve that goal," he says.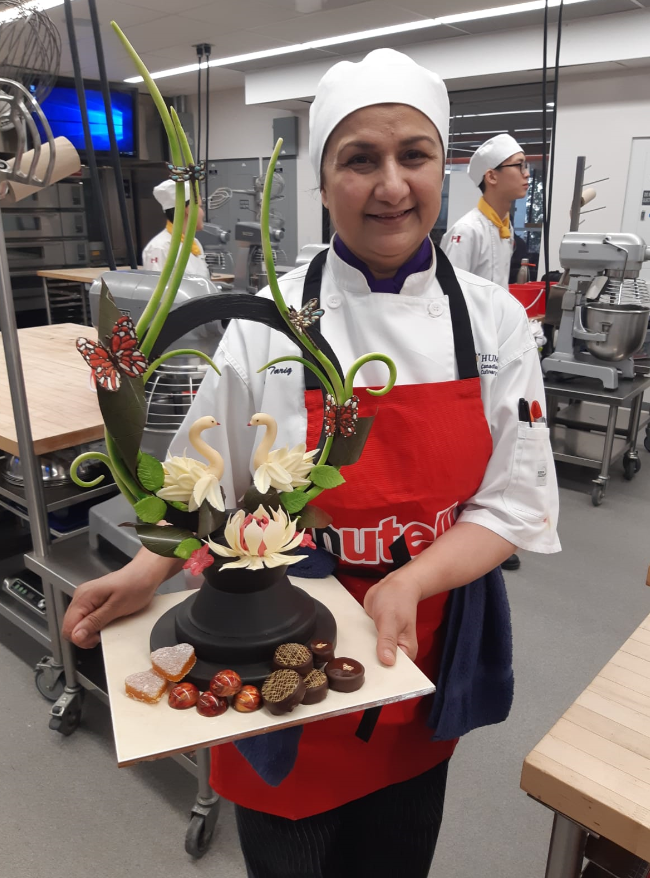 Although Cakes by Me is solely a passion-project for Tariq, it relies on social media to reach customers. Initially, Tariq's friends and family would boost her social media pages by liking and commenting on her posts. But as her reputation grew, she attracted online attention from outside her social circle.
Maheen Malik is Tariq's daughter-in-law, married to her eldest son, Danial.
"I remember once she catered for a bridal shower and she spent a week making food every day for it," Malik recalls.
The celebration was for Malik's friend, Aliya, and took place in her backyard. On the day of the event, Aliya's backyard looked like an enchanted garden. The tables were adorned in white cloth and boasted Tariq's best desserts — mini fruit tarts, chocolate and vanilla cake pops decorated with edible glitter, two-layer mini chocolate cakes designed to look like orange and pink flowers, chocolate-covered strawberries, multi-coloured cake bites and floral-themed cake pops.
Tariq prepared for the bridal shower while she was studying as a full-time student in July 2019.
"She's really good at managing her time," Malik says, then adds with a sigh of admiration, "She is so hardworking and creative."
At 54, Tariq's dream to be a professional baker is now a reality but she keeps aiming higher. She hopes to open a tea house to sell her baked goods once the pandemic is over.
She advises those who are older and wish to pursue any new passion to do so. "No matter what age you are, don't be shy. If you want to study, then go ahead and study. Just go for it!"