Vegas and her client Mamuna Sarwar in the back of Divine Tattoo. (Jessica Fonseca/T·)
By Jessica Fonseca
As soon as you walk into the shop a hyper, salt and pepper coloured dog named Floyd, who lives on the second floor, runs down the stark white stairs to greet you. He rushes to grab a toy out of his basket covered in tiny pink flamingos to signal you to play with him. His basket cohesively matches with the flamingo wallpaper on the left side of the room and a small flamingo statue next to the front door. The rest of the walls are a plain white, covered in different black picture frames featuring all kinds of drawings done by the artists in this tattoo shop. A small sign hangs off a make-shift front desk with the words "This is a safe space…" This isn't a regular tattoo shop, this is a tattoo shop who welcomes everyone, even dogs like Floyd.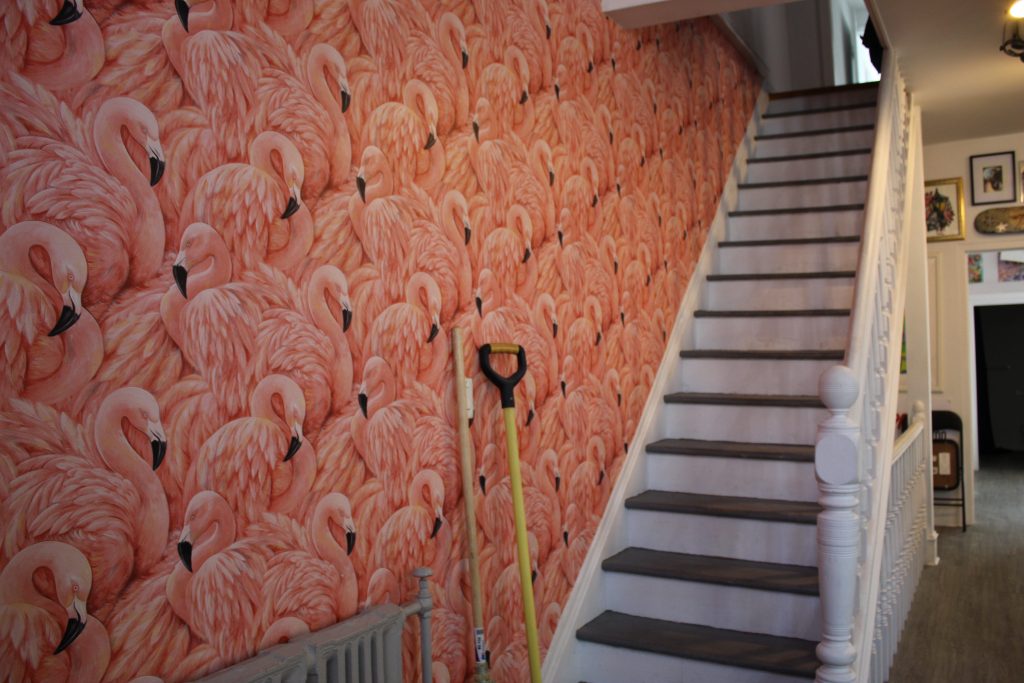 In the back of the room where the sun pours in from the glass sliding doors is where Thailand-Paige Dixon, known to most as Vegas, is working on her next client. Vegas's fiery red hair drapes over her shoulders as she hunches foreword towards the arm resting still on the ink bed. Her right hand grips tightly on the tattoo-machine, gently injecting the black ink into the stenciled image of a woman's face that is no larger than the palm of your hand. Her left hand then smears the excess ink off with a paper towel. I asked how long a tattoo like this will take, "about an hour," she said. She repeats the action of tattooing and wiping and tattooing and wiping until she is done.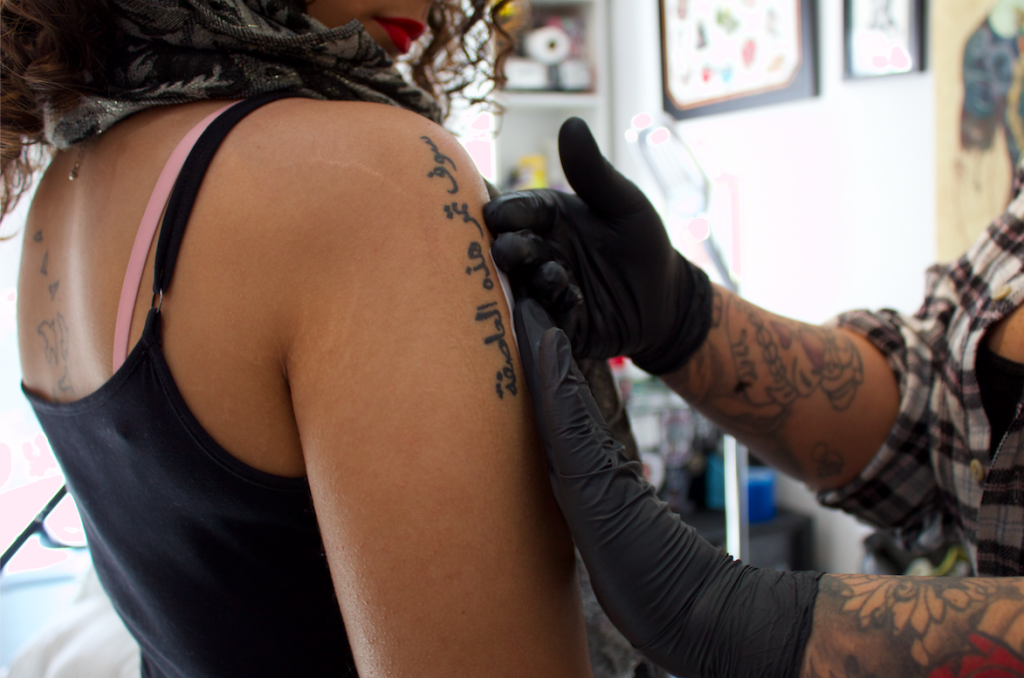 Vegas has been working at Divine Tattoo for two months, a shop located a couple blocks north of Toronto's Moss Park area. Vegas has been tattooing for eight years, and worked in many other tattoo shops before this one. She has always struggled to find a place where she and her clients felt comfortable in. She was thinking about quitting tattooing because of past experiences with racism and other issues, until she came across Divine Tattoo. They gave her an inclusive environment where she could advocate on issues such as the racism in the industry.

"I chose this shop because it was going to let me grow as an artist but was also going to align with my core values,says Vegas"
When it comes to the tattoo industry, people in the Black community in Toronto feel racially discriminated against because of the colour of their skin. Many tattoo artists, they say, are under the impression that it is harder to tattoo darker skin, making them feel avoided. Their concerns range from unnecessarily harsh pressure when the pen touches their skin to the quality of work they will receive, an experience that is ultimately different than someone with a lighter skin tone.

It's also a challenge for people of colour to find examples of tattoo artists' work on black skin in their portfolios. Scrolling through Instagram, one can see that most pictures of tattoos are done on white skin, and rarely ever on black skin. This stigma and racism leads people in the black community to feel alienated by the industry and forced to believe they can't get certain tattoos done because it won't show on them as nicely.
Vegas explained, "In tattooing if you're only seeing paler skin, light skin in portfolios, and you're not seeing yourself represented. Then you're going to feel like you're excluded from this whole culture of body modification which is no body's to sort of exclude. "

Some tattoo artists also think with darker skin they need to push harder for the ink to show. This can actually cause more harm than good. The harder they press the greater the chance that the skin will keloid, which is a scar that raises from the surface of your skin. If this happens severely then you would have to seek medical attention to fix it.

"There is a technique to working with darker skin complexions, but there is a technique in working with all skin types, not just tones. I think it's just not being well educated, and not putting in that same care to be educated," says Vegas.

A lifelong client of Vegas's, Symone Sparks has gotten at least 10 tattoos from Vegas alone, and some other tattoos from different artists. After getting her third tattoo from Vegas she decided to try another female artist to support women in the industry. The artist she went to has been tattooing for six years at the time. She mentioned to Symone how she has never done a tattoo on black skin before, and that in her portfolio she only has examples of tattoos done on lighter skin. Symone noticed while she was getting her piece done that the machine was running too high and that the artist went too deep into the skin. Symone ended up having a lot of scaring on her arm due to the improper technique in this tattoo. She has since only been to Vegas and other friends she knows in the industry that understand what they should be doing when it comes to darker skin.

"Because of the continued degradation and disrespect of black bodies from the tattoo industry, black folks and racialized folks are looking to get tattooed more by people that align with themselves, but just don't know how to find them," says Vegas.

Because of this continuous issue for Black people in Toronto to find trust worthy artists, Vegas created The Rose Underground which is a platform that highlights tattoo works from Black artists. She is currently working on creating a data-base to help people in the Black community find other Black tattooers in Toronto since there are so few in the city.

Vegas is also hosting The Rose Underground's first annual tattoo convention in September, focusing on black and racialized artists. She's working to improve the industry for Black clients.

She mentions, "If we're not acknowledging a problem then we aren't creating any solutions. So that translates into tattooing, if were not addressing that there's a lack of diversity, there's a lack of trying, there's a lack of knowledge, or that there is an environment of anti-black racism, then we're just not going to come up with the solution."
The small Moss Park arena with big dreams
In the heart of Moss Park is a hockey arena that supports a free hockey league and great players who later made it to the NHL.