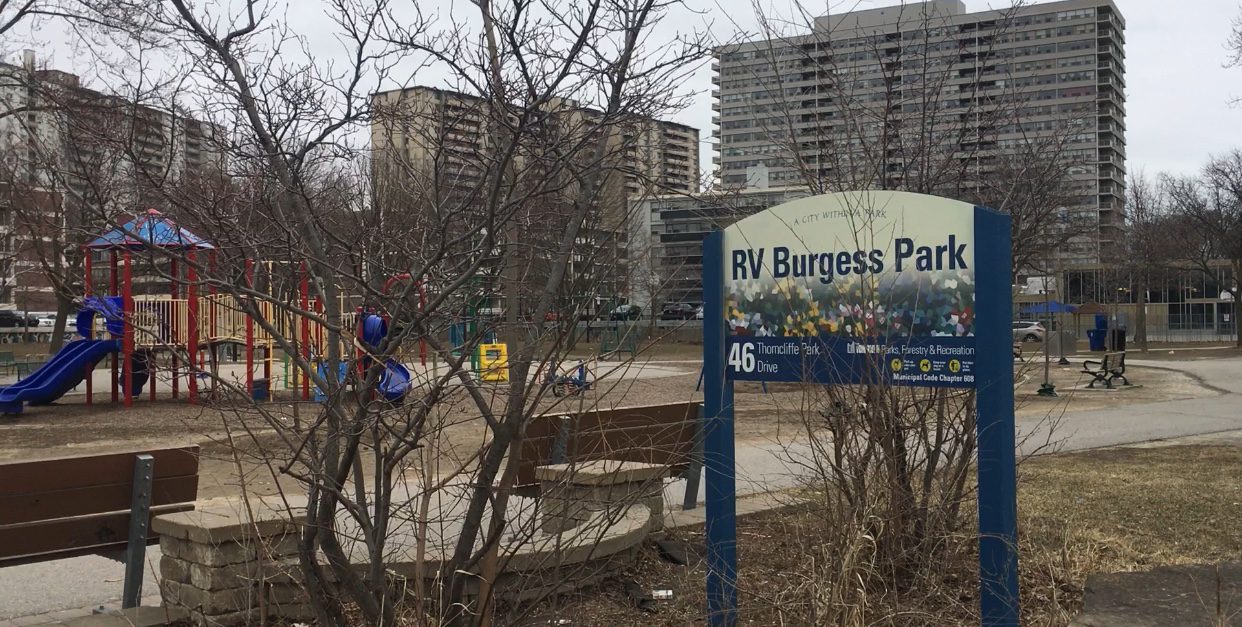 By Tashon Daley
Amid a cluster of weather-faded grey and brown high-rise apartments, R.V. Burgess Park is transformed into a modern Silk Road trade centre. Every Friday during the spring and summer, rows of vendors' stalls skirt the playground, where the children of immigrant women climb curvy metal structures painted yellow, red and blue, while their mothers get down to business, selling beautifully embroidered, handcrafted clothing, intricately beaded silk robes and other artisan-made items. The scents of fresh tandoori and chicken biryani fill the air, leading visitors to the park café, where they can sample South Asian delicacies for as little as a dollar and a half; the most expensive item costs $6. Almost everything has been produced by women of the community who are of South Asian or Middle Eastern descent.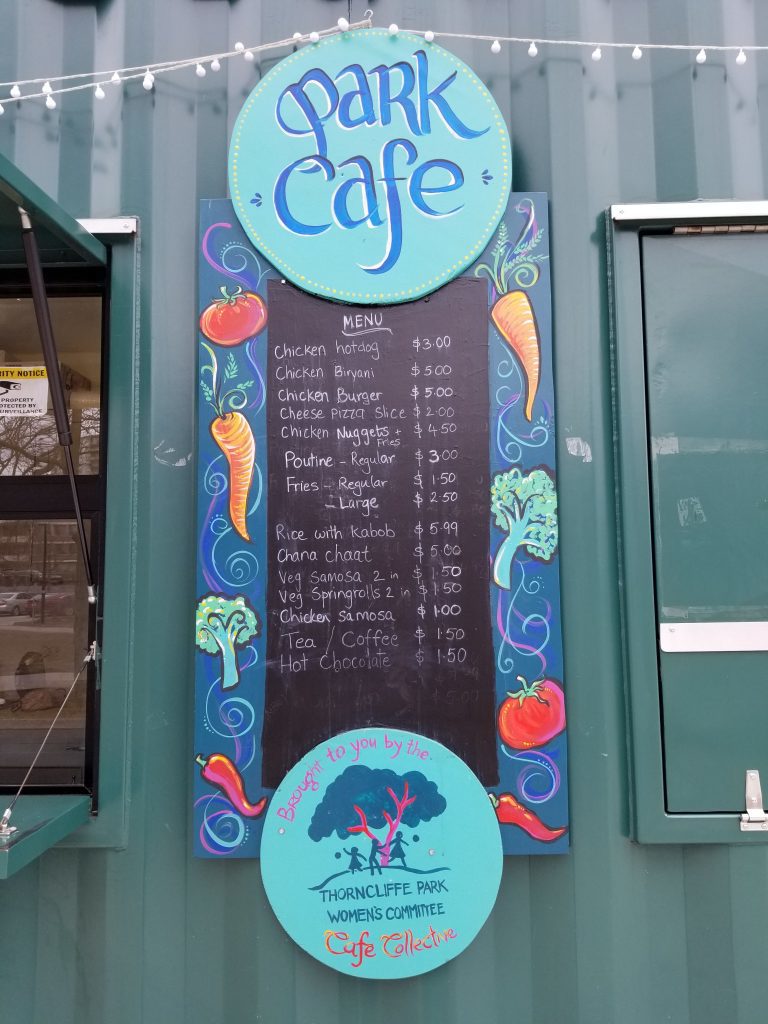 Thanks to volunteer-run coaching programs offered by the Thorncliffe Park Women's Committee (TPWC), these women are running their own businesses, earning income in ways that are flexible enough to allow them to care for their families at home as well. "You know, there's family responsibilities that are first and foremost, and they have young children in school," says Vanessa Rose, economic development programmer for The Neighbourhood Organization (TNO). "There's not a lot of flexibility in their lives to accommodate fulltime work." A separate organization, TNO handles community planning and economic development in Thorncliffe Park. Their knowledge on women workers provides insight into why immigrant women work with TPWC.
"This is for women who look for part-time opportunities where their priorities are home and children, but still they can do something for themselves," agrees TPWC chairwoman Sabina Ali, who likes to look not to look solely at economic benefits that come from participating in the markets, but personal ones as well. Among the impacts on women, Ali notes, is a change in attitude. Arriving to a new country was hard for many of these women who initially felt a deep sense of isolation. The question of whether they will be embraced with open arms by their new neighbours weighed heavily on their minds. Ali herself would know what this felt like as she herself was faced with similar doubts. As she began working with other women, she noted their growing confidence.
TPWC's community markets began running in late 2008, according to Ali. This was around the time Ali and her volunteers made changes to R.V. Burgess Park. What was once a barren, empty space now flourished with goods every Friday thanks to the booming community market.
The population in Thorncliffe Park consists mainly of immigrants, who account for around 64 per cent of the population. For this reason, Ali says the idea behind developing R.V. Burgess Park was to give them a sense of security and comfort in their community. As most residents live in apartment buildings and have no backyards, R.V. Burgess Park is meant to serve as a "backyard for all the residents," as Ali put it.
In addition to the opportunity to take part in entrepreneurship as vendors in the park café and community markets, other programs, such as sewing classes, fare available to further support women's roles as entrepreneurs in Thorncliffe Park. According to the Metcalf Foundation, around 150 women volunteers apply for these opportunities in 2015. The number is on the rise as of recently. The Metcalf Foundation is an avid supporter of TPWC, giving the organization a platform while strongly promoting its activities. They are not alone in recognizing the potential TPWC has in making changes.
Sabina Ali discusses her favourite programs from the Thorncliffe Park Women's Committee
Among her favourite programs are the park cafe, the garden program and the community bazaars.
listen
Ali vividly recalls the moment she received the Jane Jacobs Prize. Named after American writer and urban planner Jane Jacobs, the prize is rewarded to Torontonians who contribute to community building every year. "For me, it was unbelievable, and at that time, you know, I had been going through a lot of challenges and had been investing a lot of time in it." Sacrificing family time was one of these challenges. "Why are you doing all these things?" Her family members would ask her, unsure if her efforts would pay off during her difficult periods. To receive the Jane Jacobs Prize amidst her struggles proved her efforts paid off. "My family was very happy," she chuckled.
Catering is another way the TPWC engages women in entrepreneurship. A lot of the meals prepared for the markets or cafe are homemade. Catering, Rose also says, is an activity most immigrant women get involved in.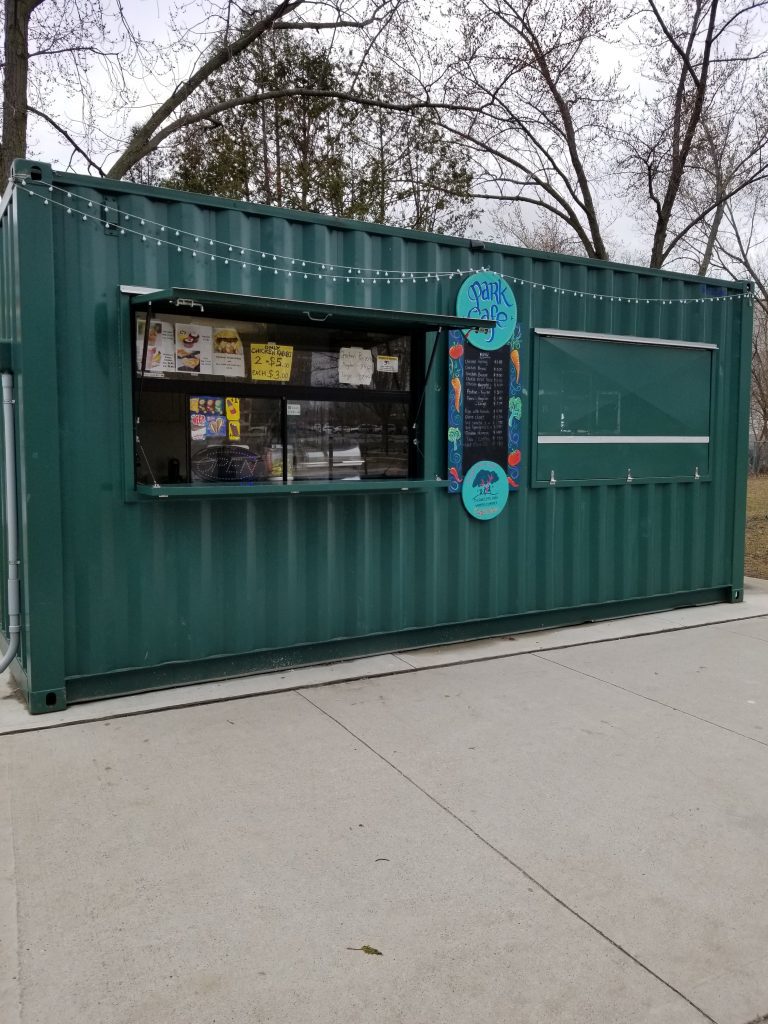 To encourage their passion for cooking, the TPWC looks for ways to create programs that center around the industry. In 2013, R.V. Burgess gained fame installing its own tandoor oven. Every summer, the scent of fresh naan reaches beyond R.V. Burgess park benches, lingering past the children's splashpad; enticing pedestrians. Flatbreads like naan are common in South Asian cuisine and as such, why not have an oven to represent the community's tastes? The oven honours women who have been preparing these meals for years, setting them in front of the catering scene.
The sewing studio, beginning around late 2008, was an idea Ali says got from immigrant mothers. Many women expressed their desires to engage in sewing and the TPWC eventually started a studio for it. The sewing studio is held at the Jenner Jean-Marie Community Centre. Ali says they received two sewing machines from a donor when they started. While sewing classes are taught by women volunteers with sewing experience, Ali says they are currently looking for professional sewing instructors.
In the meantime, Ali and her volunteers continue to work independently to make changes within the park hub. While Ali cannot yet celebrate her achievements, she can agree that TPWC accomplished a lot in 10 years. A fact Ali only started noticing. "I didn't realize it," Ali paused, "but I was made to realize it as I had other people telling me this is what I have been doing."