By Jemma Dooreleyers
listen
An audio clip of Liberty Little's mom's group singing a song about living in the city during circle time.
Gabriela Gonzalez had her name on 20 different daycare waitlists before she even knew she was pregnant. She applied for daycares in both ends of the city from Parkdale to the St. Lawerence Market. She emailed, called, toured and sent Christmas cards. But when she brings it up she talks quickly as if trying to seem nonchalant. She knows how crazy it sounds and she quickly jumps to validate the insanity.
"It was so odd planning for something that I wasn't ready for but I knew how difficult it was going to be."
listen
She was not wrong. She only heard back from two daycares. One in February of 2018, a month before her daughter, Penelope was born and one in February of 2019, a month before she would return to work after maternity leave.
Gonzalez is a planner by nature and is a public affairs consultant by profession, working for Crestview Strategy. She advises governments and city planners on issues like child care and is on the board of the Liberty Village Residents Association. She knows her way around bureaucracy and was not oblivious to the challenges that new parents face.
However, not all families in Liberty Village are so lucky. Take Hannah Hughes. She immigrated to Liberty Village from England three years ago and was not aware of the shortage and high price of child care in Canada when she became pregnant. When she was eight months pregnant, her friends told her that she had no hope of finding care when she was ready to go back to work.
"And lo and behold, I didn't."
Hughes' daughter, Violet, is now nine months old and she will not be able to start daycare until she turns 11 months old, leaving her parents in a sticky situation.
Hughes is a doctor in Etobicoke and her husband works from home. Her $2,600 per month rent and the expenses of having a baby left her no choice: she needed to go back to work.
They have no one to watch Violet for two weeks. After that Hughes' mom will arrive from England to be Violet's caregiver for two months until a spot opens up for her in an Etobicoke daycare. But for now, Hughes has to get creative. In the mornings, Violet will stay with Hughes so dad Mr. Hughes can get his work done. At 12 o'clock on the dot, Violet home and goes to work. If her mom hadn't agreed to come, they would be left with nothing, says Hannah.
As MPP for Liberty Village, Chris Glover recognizes many couples have to be creative when it comes to child care. That's because there is a "desperate shortage" of daycare in the area.
According to the 2016 census, the population of Liberty Village and the Toronto waterfront increased by 52 per cent between 2011 and 2016. With this population increase and building boom, a baby boom was not taken into account.
"It wasn't built into the planning of my riding," says Glover. "They didn't expect people to be raising children, but people certainly are, and they didn't create purposeful child care spaces, at least not nearly enough of them."
This is something that Gonzalez noticed when she moved here five years ago with her husband and 16-year-old stepson.
"We have one park in Liberty but it functions pretty much as a dog park." she says. "And that's the world's tiniest playground. It used to be open, now it has some temporary fencing but it's not appealing at all."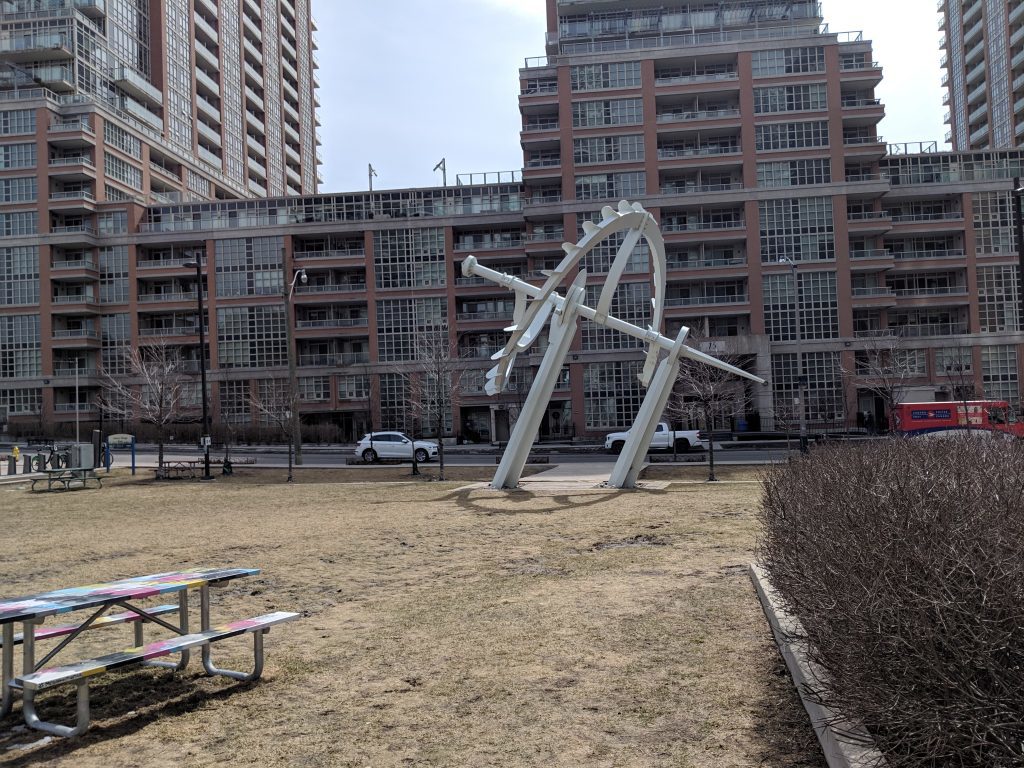 Getting a licence for child care spaces is tough because Ministry of Education regulations limit what can be counted as an outdoor space. Every licensed daycare needs to have an outdoor play space that allots at least five square metres per child. The area must be attached to the building and have a fence over one metre high.
In a vertical community like Liberty, Gonzalez says it is almost impossible to comply with this legislation and become a licensed child care provider because of the lack of green space and number of condo buildings in the area.
Along with the multi-year waitlists and shortages that seem to be never-ceasing, child care in downtown Toronto is also expensive.
Gonzalez feels lucky that she got into a daycare that is right at the streetcar stop she gets on to go to work. But she pays for that convenience, $2,200 per month, which is the average monthly rent for a one-bedroom apartment in downtown Toronto. That's $24,000 a year in after-tax dollars. Gonzalez would not disclose her salary, but an average public affairs consultant in Ontario makes around $50,000 per year.
"My husband and I are fortunate that we have decent jobs, but it means that we may not be able to go on vacation for awhile or, you know, if an expense suddenly comes up we may really have to rebudget for things because our daycare cost is so high," she says as she looks down at her book, Becoming by Michelle Obama.
"I can see in another case where other families can't necessarily afford $2,200 a month."
"And for a family that can't afford it, the wife usually makes less than the husband and will maybe work part-time or not go back to work, which is a big loss to society because women contribute a lot to the work force."
This tweet thread by @moneyaftergrad explains how it feels to be a working mother looking for child care.
It is necessary to add that before my daughter was 1yro, I couldn't get a daycare spot bc the waitlists were so long.

I could not afford a fulltime nanny which would have been 2x daycare fees.

I was a self-employed single mother and I have never felt so sabotaged in my life.

— Bridget Casey (@moneyaftergrad) March 26, 2019
Glover, a New Democrat, says the high costs of daycare is partly due to the changes in legislation in 2015 after a child died in an unregulated home daycare.
"The problem is, we don't want to put children at risk because we don't want another tragedy."
There needs to be a certain ratio of care workers to children, so salaries are a big part of the costs. There has to be programming specific to children to ensure they are playing with a purpose and the building needs to meet specific requirements, including toilets, nap spaces and wheelchair accessibility.
For something that seems so black and white, there is no simple solution to changing the child care system in Ontario and making it more accessible to families, Gonzalez says.
"Our legislation needs to be flexible enough that we can make changes, you know, obviously with safety in mind and all of those things and the well-being of the kids, but making sure if someone wants to solve a small piece of the problem let's help them do that."
She believes the provincial government should not get bogged down in bureaucracy over the process of fixing the child care system. "When we are looking at an issue as big and complicated as child care we need to think of creative solutions."
Gonzalez is not the first woman to have to plan ahead for child care and she certainly won't be the last. But she is hoping by the time her daughter reaches this stage, it will be a little easier.
***
It is a Thursday and afternoon sunshine is flooding into the coffee shop where Gonzalez has been reading her book with the few minutes of free time she has now that Penelope is at daycare, but the serenity does not last long.
She squints into the sun and glances down at her watch. Noticing the time, she suddenly makes an O with her mouth and is apologetic. It is time to go, she needs to get back to work so she can continue supporting her daughter and maybe make it a little easier for other parents to go back to work. It takes a village to raise a family and recognizing this, Gonzalez puts her coat on and heads off to conquer the rest of her day.