By Victoria Marchisello
Loud steady beeps echo in the auditorium from a Genie vertical man-lift backing up against one of the walls on stage. With four days left until Stage Centre Productions presents Blue Stockings, a large portion of this Saturday's rehearsal is going to fine tuning the lighting setup. Director Elaine O'Neal stands in the middle of the auditorium, between two rows of the royal blue plush theatre seats. She's very meticulous, down to the smallest of details. "Make that one softer to match the other!" she calls out to a crew member who is operating the Genie to adjust the lighting.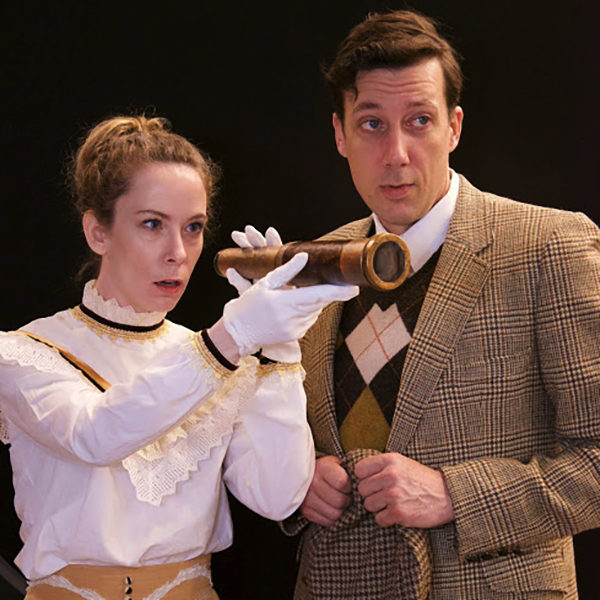 Jessica Swale's play Blue Stockings was an opportunity meant only for Director Elaine O'Neal. A year ago, the Artistic Director of Stage Centre Productions, Lorraine Kimsa, presented the opportunity to O'Neal to direct Blue Stockings. "She's seen me as an actor on stage, she directed me about a year and a half ago in a production of It's a Wonderful Life, and she offered this show to me because she knows that I also direct," O'Neal continued, "she figured it would be right up my alley and it is." Since then, Blue Stockings has taken over O'Neal's life.
With a title referring to the derogatory term used to describe female intellectuals, Blue Stockings discusses the strive for equality in the 19th century by exploring various issues that women faced. The play follows four highly intellectual female undergraduates, fighting to receive the same degree qualification at the end of their studies like their male peers. O'Neal grew a strong passion for the play because of its feminist themes and the message that it sends to its audience.
"I'm one of those people that absolutely has to love a piece in order to choose to direct it," O'Neal said. Early in the year, she allowed her passion for the play drive her imagination to create a sense of what she envisioned the play to be. "I started sourcing music a while back and thinking about what I wanted to do with it and I was pulling together images and mood boards and things that I wanted," she explained.
Yet for all of the time, energy, and work she has invested in this show, O'Neal won't make a dime off it. The same is true of everyone else who works for Stage Centre Productions, a non-profit organization that produces of a wide variety of plays performed at Fairview Theatre, steps away from Don Mills Subway station, in the community of Don Valley Village and Henry Farm. Currently in their 42nd season and already fully planned for their 43rd season, the theatre group has been providing anyone with a passion for theatre, the opportunity to explore and belong to something that they love.
Although all members of Stage Centre Productions are volunteers, each individual person contains the appropriate knowledge and expertise derived from their own passions. While some members of Stage Centre Productions want to pursue a career in theatre, many members have paid careers that are completely unrelated to their position in the group. However, each member's passion drives them to contribute their full efforts into every production.
"So many of the people that are coming out and here today, they're here because they love to do it," Kimsa explained. That includes the show's lighting designer, Mark. "Our lighting designer is not a professional lighting designer," said Kimsa. "He's a professional producer of commercials, but he loves to do lighting."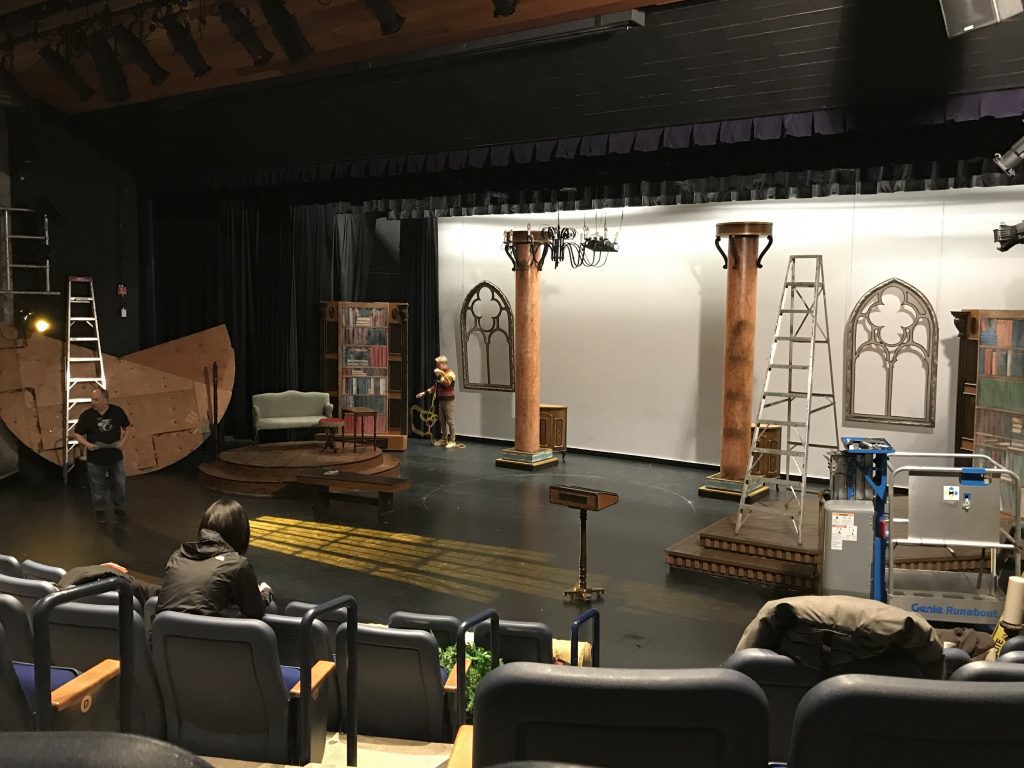 On the afternoon rehearsal four days before opening night, the lighting designer stands to the left of the auditorium on the descending stairs, a few rows closer to the glossy black stage floor that had been scuffed up from previous productions. He observes the adjusted yellow lights and exchanges with O'Neal his opinions on how they looked. After they both agreed on a specific setup, he picks up a sheet of paper and begins to jot down notes. Suddenly he stops, glances up towards the lights and realizes that a gobo had gone missing. Thinking aloud he lists where the other gobos were placed and attempts at retracing where the missing gobo could have went; but still couldn't find it. Confused, he adds another note to the paper he had been writing on before.
Currently, Stage Centre Productions has two anonymous sponsors that have been sponsoring their productions for the last three years. "This theatre is very expensive, very very expensive. We reuse and re-reuse things and change them and make them look different…because we couldn't possibly afford to be recreating everything," Kimsa said. While expressing gratitude for their current sponsors, Kimsa explains how they hope to get more in the future. "It is costly, by the time you pay for the rights and then renting out the theatre, that is the majority of what our costs are," she said. To prevent going over budget, Kimsa explains that members of Stage Centre Productions follow a strict plan that is created well in advance.
In the summer before each season begins, Kimsa casts the actors for each production. Actors then can receive their script and begin gaining a sense of familiarity with their character. All productions have a rehearsal period that begins six weeks before opening. Every week contains two weeknight rehearsals and one full day rehearsal on the weekend. "Different directors work in different ways," O'Neal explained. In early rehearsals, she prefers to "block" (position) each scene to how she believes it should be, then allows her actors to find positioning that may work better as rehearsals continue. With then two weeks until opening, the group begins to rehearse a complete run-through of the show, which gives O'Neal the opportunity to fix any slight problems that may arise. During this time, O'Neal also works with the lighting and the set designer to begin putting everything together. "My set designer has been working on this for a couple of months as well, so he actually had my set together by our very first rehearsal which is actually quite a luxury," O'Neal said. She refers to this Saturday's rehearsal as an opportunity to layer each component of the production to reach her "vision."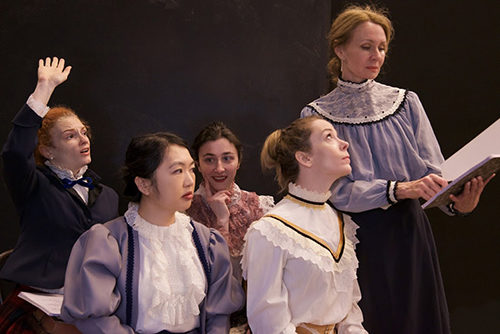 "I've been blessed with an incredible group of actors," O'Neal said. She further explains that the production contains a mix of actors who have attended theatre school, along with amateur actors. O'Neal describes how working with actors of various skill levels has also taught her to be a better director. "You can use the verbiage (technical vocabulary) that people use in theatre school to get what you need out of the actor, but if someone hasn't been to theatre school, they don't know the verbiage, so you have to find a way to communicate." She then reflects on how someone that she was working with referred to her directing style to be more similar to a teacher than a director. "I have never thought about it that way but I feel like in community theatre, because you do have actors at so many different experience levels, you do have to tailor how you communicate with everybody…to basically give them the ability to be at their best."
While the production has been extremely time consuming and at times difficult, O'Neal is grateful as well as sad that a year's work will soon come to an end. "This is going to be a hard one to let go of. I already know that it's going to be very difficult to let go of this show," she said. O'Neal reflects on her experience of volunteering for Stage Centre Productions and explains that she had learned a lot as a director. However, she also believes that community theatre can be an educational environment to benefit anyone. "That's the best thing about this…if you come in as a rather inexperienced…you actually get to watch people who either have been doing this for 20 years or are out of theatre school…and you get to pick and choose what is the most effective approach and what you can adopt for yourself," O'Neal said.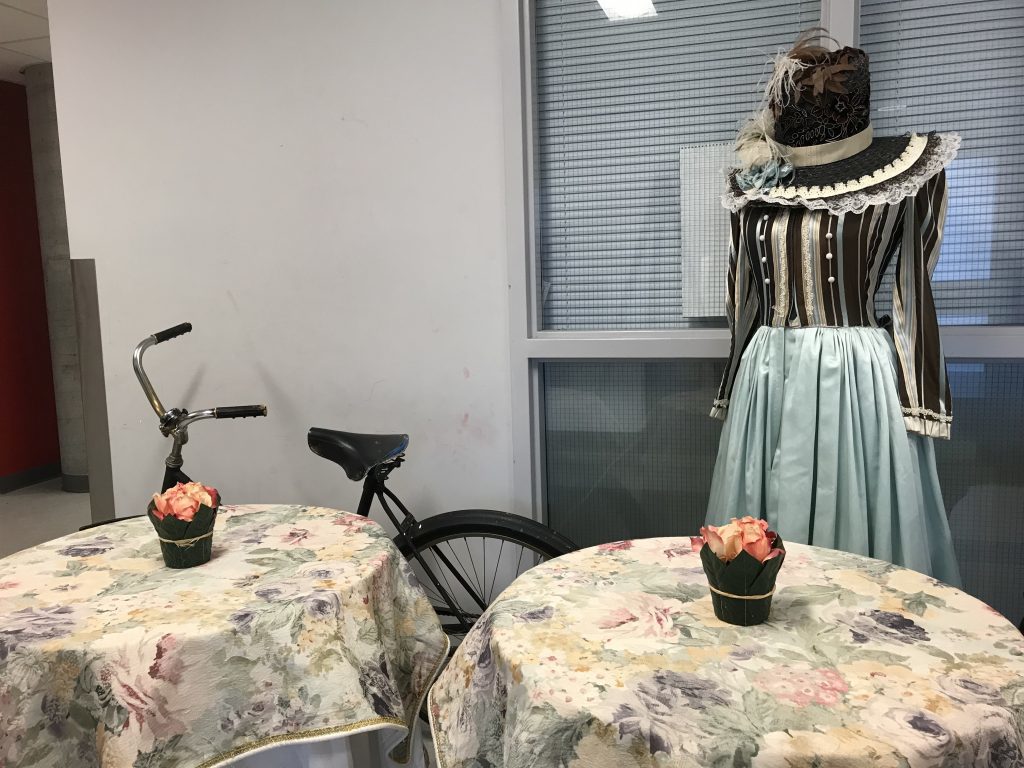 The production of Blue Stockings performed at Fairview Theatre ends March 30, 2019. Stage Centre Productions' last production of the season is Harper Lee's To Kill A Mocking Bird adapted by Christopher Sergal being performed from May 16, 2019-May 25, 2019.
The struggles and triumphs of living in Canada as a new immigrant
Post-graduate student and researcher, Angela Xiao Zhang, had recently immigrated to Canada last April with her family. Throughout this past year she has been trying to find her place within the community of Don Valley Village and Henry Farm. Xiao Zhang shares how she has reached the position she's currently in, including the struggles and successes.