By Tim Falco
Three domed ceilings stand out against a bleak, overcast sky. The large archway and white windowed door mark the entrance of what was once the historic Music Building, before its restoration and conversion. The Toronto Fashion Incubator is the first institution of its kind, providing studio workspace, equipment and mentorship for several of Canada's new up-and-coming fashion designers, including 25-year-old Brampton native Spencer Badu's innovative and forward-thinking clothing line, S.P. Badu.
A paper sign taped to the front door reads "Please knock here for designer studios." Spencer Badu ignores it and, undeterred, walks toward the plain white metal side door of the building and steps inside.
The interior of the building is clean and sleek. The outside walls of the large circular rooms are thin grey bricks, while the dividing interior walls and tables are bright white plastic.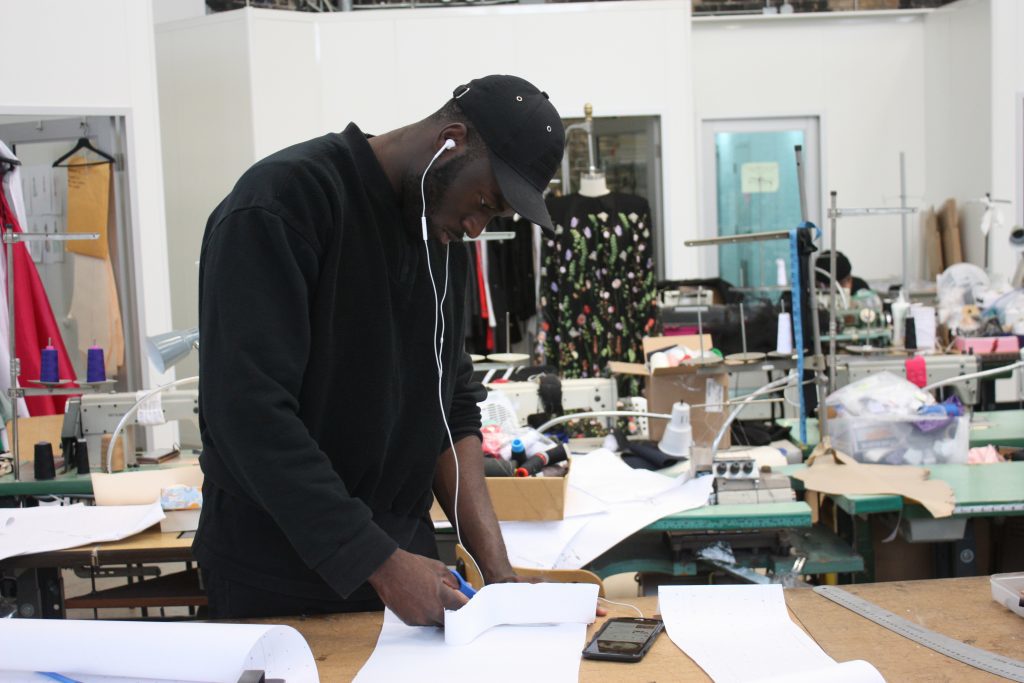 It's a gloomy Wednesday morning in March, and Badu shuffles into the shared studio space.. Countless sewing machines hum to life, scattered around the massive room in one of Exhibition Place's heritage buildings, as other designers get to work. Dressed in black pants, a black Alexander Wang x H&M jacket and a pair of all black A-Cold-Wall x Nike Zoom Vomero +5 sneakers, he swings open the door to his small office and storage area. It's scattered with books, drawings and various pieces of clothing. He thumbs through a rack of garments, picking out a pair of pants, a dress shirt and a suit jacket.
The deep burgundy jacket and pants hanging on the rack were recently teased and modelled on his Instagram page. The garment is part of the new fall/winter collection from S.P. Badu, set to hit stores and online retailers in a few months. However, this is not your dad's tailored suit. The raglan sleeves are detached from the shoulders, scrunched up at the forearms revealing a sleek, modern, sleeveless look. S.P. Badu is creating clothing for a genderless generation of fashion, moving past the constrictions of the binary.
The vision for S.P. Badu began with an idea. An idea for a fashion line that appeals to all possible points of the gender spectrum.
"When you would have a famous rapper or athlete go to a women's fashion show and sit front row, there is like literally nothing they can take from that," Badu explains. "They're just there to enhance the show or to make it more hype."
In the world of S.P. Badu, no matter who you are or how you choose to express your gender, you will be able to take something away from its show.
He grabs the clothes from the rack, calls an Uber and steps out the back door of TFI. The next stop: Paul Ho Design in Yorkville. Ho specializes in fabric grading, sampling and cutting, but Badu is here to get his pieces graded – the process of turning a garment from a sample size into its additional sizes.
Badu places his garments onto a brown wooden and metal table in Ho's basement workshop. The white dress shirt has a quarter zip, with silver metallic buttons lining the sleeves. The pants are black and white nylon, with an elastic waistband. The suit jacket is the burgundy detachable raglan sleeve teased on his Instagram.
Ho gives Badu some tips on what length to grade the garments.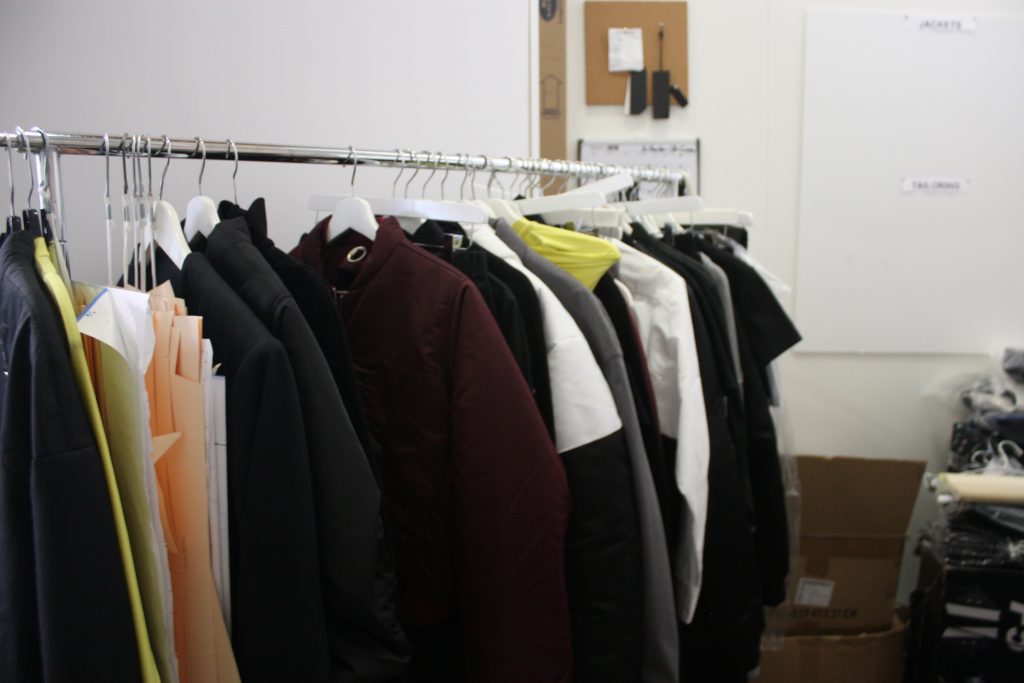 His eponymous line began while Badu entered fashion school at Olds College in Calgary in 2014. It was sort of a side project he began, designing and making his own clothing while he was in school. He continued to work on his designs and his big break eventually came when he entered the Mercedes-Benz Start Up competition in 2015.
With many of his ideas still in their early stages, Badu wasn't expecting much from the competition. With his young brand, it would be difficult to showcase the full potential of his creative vision. Maybe he could just get his name out there and have a shot in future years. However, the results gave him much more than he could have imagined. He ended up winning the whole competition, earning a $30,000 bursary and a spot at Toronto Fashion Week.
Being selected as winner forced Badu to fully commit to his brand and to start thinking about the future he wanted to create. "One of the requirements of the competition was that you needed a business licence," he says. "At the time I didn't have a business, I just had a brand that I was building. So I took all the necessary steps to get there."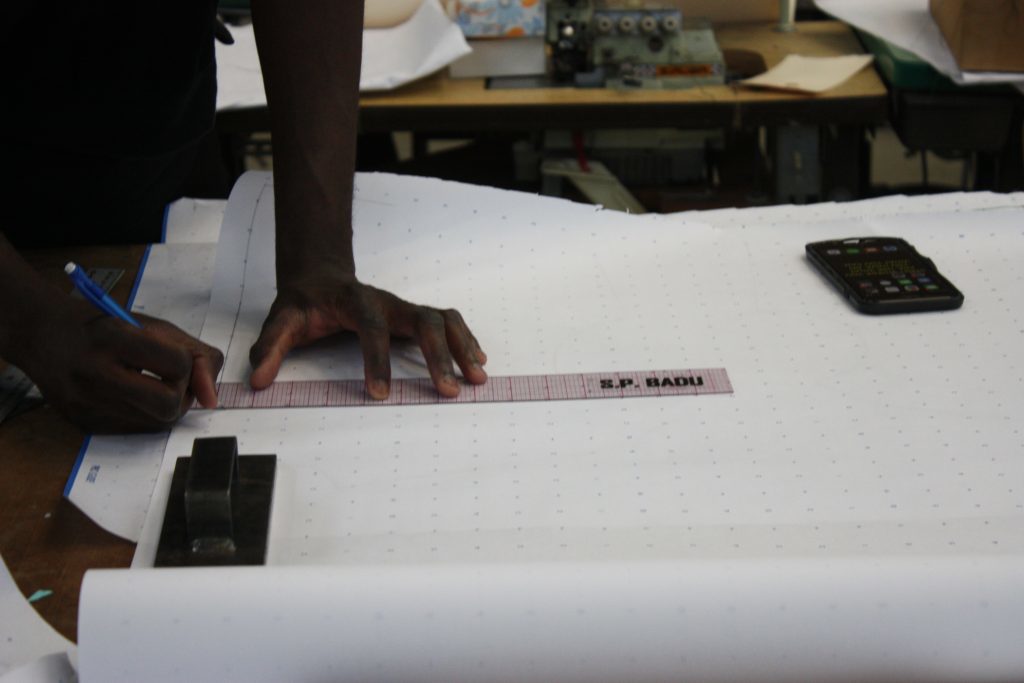 These past few months have been busy for Badu, as he works on developing the brand even further; a new capsule collection and rebranding process are underway. The main collection, what is now known as S.P. Badu, is going to become Spencer Badu, while a new, more affordable and streetwear-influenced line is going to be called S.P. Badu. He acknowledges that spending several hundred dollars on each item is simply not possible for most people, and he could be seriously limiting his customer base.
"It's about beautiful, raw energy and giving people a way to buy into the brand at a more accessible price point," he says.
Trying to balance affordability with more intricately designed high-fashion pieces is something that Badu has struggled with, but success of has allowed him to diversify.
The new S.P. Badu line will include hoodies, sweaters and T-shirts with bigger branding and logos. Badu is finalizing a new logo, and preorders will start in April with deliveries scheduled for May.
Stepping back into the TFI, Badu prepares for an afternoon of sketching and designing. He is working on a motorcycle jacket, but instead of classic leather, he is going to be using a softer type of evening wear fabric. A masculine garment is being reinterpreted as a softer, genderless piece of clothing. The jacket is from his future spring/summer 2020 collection and is inspired by the Detroit techno scene of the 1980s.
"You had this sound that was coming out of the ghetto, where people were making sounds with whatever equipment that they had. They created this movement that eventually went to Europe and became this big thing."
In Badu's description of the motorcycle jacket, this inspiration is clear.
He holds a pair of blue scissors and stares at his draft with an unwavering focus. The vibration of sewing machines and distant chatter among other designers echoes through the space. But his concentration doesn't waver as he skilfully slices through the edges of the paper.
"I'm really interested in how things can start in their purest form and change and affect the world. It grows into an industry, sometimes forgetting the people that created it."