Some students have a hard time finding employment because of lack of opportunities
By Yutang Song
It's a Wednesday night in March. Henry Cui just ended his five-hour shift at Chatime, making bubble tea for customers while secretly wishing he was making them all for himself. He is finally out of the small store, away from the towers of cups, straws, milk and coffee, and the smell of sweet jelly and tapioca. When Cui steps outside, he can breathe the fresh air. He makes his way home and remembers the crushing amount of homework that's waiting for him.
"I felt like I couldn't breathe," Cui said.

From Henry Cui, a third year Mathematic student at University of Toronto
He didn't know when he would be free of his tuition debt; he could only see a bunch of assignments due next week and bill payments for credit cards. His mother was already struggling with his own bills after losing her job after COVID-19 hit China.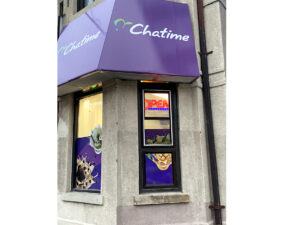 For international students, coming to Canada is a great opportunity for personal growth and development. Building new connections, finding new opportunities and getting involved in a dynamic community can help them explore a new world and manage life independently. But since the pandemic, many international students are facing financial problems and work opportunities shortages.
According to Statistics Canada, the number of international students working part-time has increased by 250,000 since the pandemic started. Most international students have to work part-time, alongside their schooling, to pay their high tuition fees and rents.
There's a big gap between domestic and international university fees in Canada. At Ryerson University, for example, international students pay four times the domestic students' fees.
"Finding a job is more than a hundred percent harder than I expected," Cui said.

From Henry Cui, a third year Mathematic student at University of Toronto
He first tried to find a job as a research assistant, but he realized the grade point average (GPA) requirements, along with the shortage of opportunities for international students, limit his options. He started to look for jobs that don't need such requirements, and ended up finding a job as a bubble tea barista at Chatime.
listen his experience
Samantha Deboer, an international student advisor at Ryerson, says students apply for financial aid for many reasons, including rising food costs and commuting to campus. Deboer said the stereotype is that international students are always wealthy, but this is not the case; many families take out multiple bank loans for their children to receive an education abroad.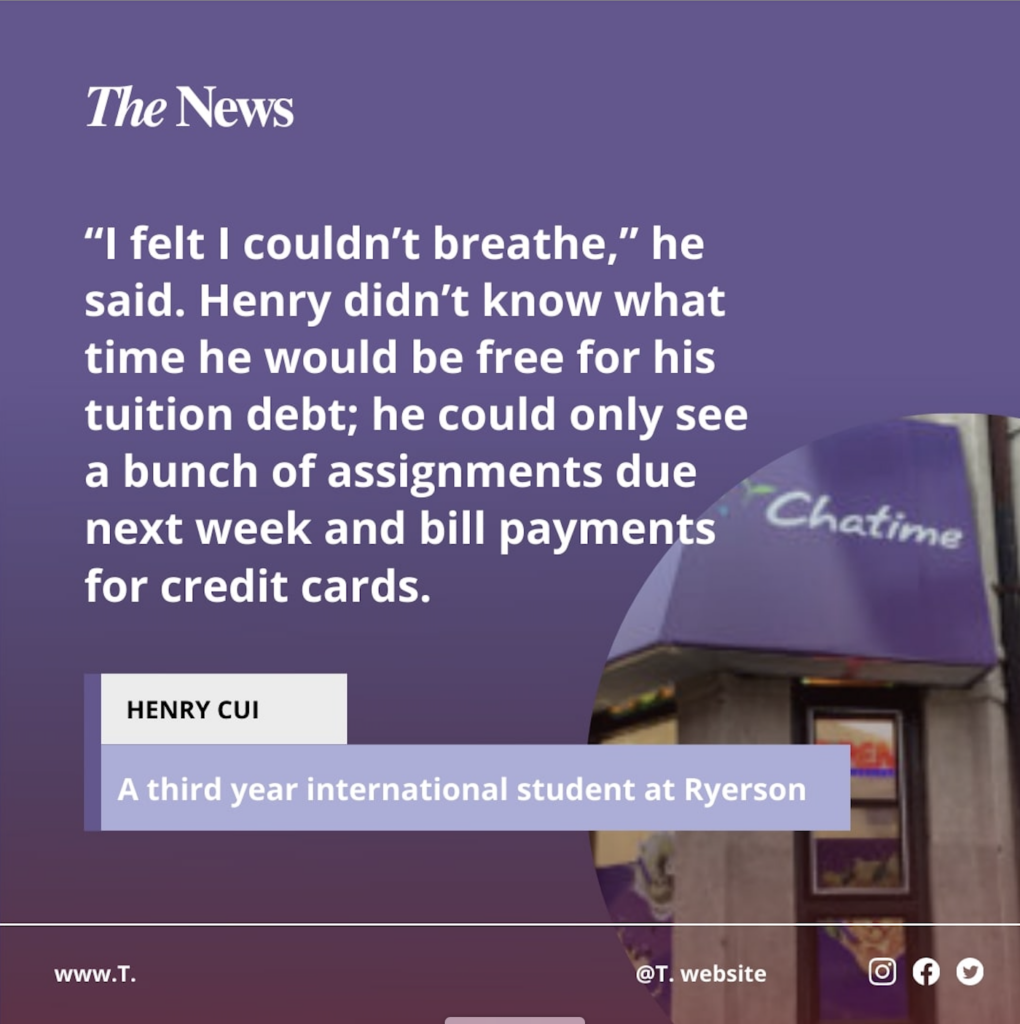 Sophie Liu, an international student from Peru, is in the same boat as Cui. Her father paid her first two years of tuition fees, but was laid off after COVID-19 affected business at the factory he worked at. Since then, Liu no longer asks for the tuition fees from her family. She is currently working as a server at Sansotei Ramen in downtown Toronto. She often feels tired, but would feel too guilty to ask for any help.
When Liu went to Ryerson's Career Boost site, there were far fewer jobs available for international students than the hundreds of domestic student positions. Deboer explained that the university is trying to offer more positions for international students. However, each department needs to apply expenses for international students, and the application process for each position is long and limited. It is helpful for students to do advanced financial research before the semester starts, to save enough money and reduce some of the burdens during the year, Deboer adds.
Students who need financial help can find support at the Good Food Centre on campus which provides students who ask for help with weekly free food boxes.
Ryerson's International Students Emergency Bursary is a lifeline; students can only apply once throughout their university career. The number of students applying for emergency bursaries increases with each passing day, according to Deboer.
International students are building and improving themselves in a new country away from home, constantly worrying about the well-being of their families back home. "It's so much guilt when I ask people for back home support when I know they urgently need money, too," said Liu. The guilt, the homesickness, and the amount of energy put into work and studies can easily take a toll, which is something people often ignore.